Without doubt this is a thought provoking screening. But as in so many cases, it all depends which side of the fence you are sitting on. It is usually the other way round, and very rarely is this side of real life situations played out to an audience to consider the effect false accusations can have on the life of the accused, who in effect becomes the victim. There are no counseling agencies for wrongly accused males!
The fact is safeguards are not in place to prevent innocent men from being ruined and sent to to prison for something they didn't do, as the number of successful appeals is suggestive of. The law protects the names of the supposed rape or assault victim, but gives free reign to the press to smear a person, who statistics demonstrate are very often not guilty of the charges they are left alone to deal with, except for perhaps a solicitor who doesn't answer calls and a couple of meetings with a hard working barrister before a trial.
The very real BBC drama is a brave attempt to show the public the other side of the coin and the fact that is sex cases, there is often little hard evidence, leaving the decision as to whether a man accused is guilty or not, down to the Jury, based on the believability of the witnesses. One can imagine that if this is the case, an actress, or a female gifted in this department, may easily fool a Jury if the person accused is not adept in this department and is easily flustered due to the nature of the allegations against the male.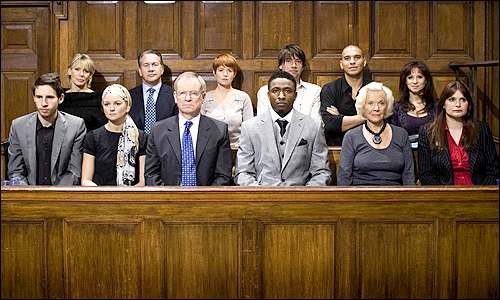 The Verdict - Jury
BBC THE VERDICT
From a real courtroom, our jury will sit on a complete trial from the opening statements to final verdict. Every possible measure has been taken to ensure that the jury's experience is as authentic as possible. All the workings of the court are just as they would be in a real trial: the actors and director researched the subject meticulously, speaking to victims of rape and support organisations.
From the moment our case's alleged incident was deemed to have taken place, the actors involved went through much of what would happen pre-trial including extensive interviews with a Sexual Offence Investigation Trained (SOIT) Officer, interviews with real police officers, and giving witness statements to police.
The case itself was worked up by David Etherington QC, the Head of Chambers at 18 Red Lion Court Chambers, a leading criminal barrister. There is a real judge, His Honour Neil Denison QC, and the barristers are Joanna Greenberg QC, Jane Humphryes QC and George Carter-Stevenson QC.
This high profile legal team wanted to take part in the series in order to gain insight into the way that juries reach their verdicts, and to expose any inherent flaws as well as the strengths of the jury system.
Nowhere is this more important than in the hotly-debated area of rape trials and it is precisely because the conviction rate for rape cases is so low that we believe a series which shines a light on how juries come to make their decisions is so timely. In rape trials especially there is often little hard evidence and the matter can come down to whose version of the truth is believed.
As for the jury, we chose twelve well-known people from a variety of backgrounds who each bring a distinctive point of view to the judgement of the case. If viewers have a degree of familiarity with the jurors and know something about them and their backgrounds, there is a unique opportunity to fully appreciate their reactions to, and thoughts on, the case as it evolves and to understand the final decisions that they reach.
In making this series, we are interested in how possible prejudices and strongly-held beliefs can play a part in a juror's decision-making process and we hope to stimulate debate around this important and serious subject.
The Verdict was a controversial 2007 BBC television programme in which twelve celebrities formed the jury in the trial of a fictional rape case. The programme was filmed with real legal and medical professionals, but with actors playing the victim, defendants, and witnesses. The jury considered their verdict in front of cameras.
Synopsis
The case featured the fictitious trial of a famous international footballer, Damien Scott (played by Javone Prince), and his friend, James Greer (Mark Wood), charged with the rape of a young woman named Anna Crane (Alice O'Connell). The twelve jurors sat in judgement on a four-day unscripted trial in a real courtroom, presided over by a real judge - the recently retired Common Serjeant of London, His Honour Neil Denison QC - with real barristers prosecuting and defending. The jury retired to begin their deliberations, with TV cameras to observe the jury as it reached its verdict.
The jury eventually reached either unanimous or majority verdicts of not guilty on all counts. Several members of the jury stated that they believed the rapes had taken place, but that insufficient evidence prevented a conviction.
Criticisms
The show has been criticised by a number of organisations, including the End Violence Against Women campaign group, who condemned the BBC2 programme. End Violence Against Women is a coalition whose members include Amnesty International UK, Refuge and Women's Aid. Professor Liz Kelly, the campaign chairwoman, said: "The Verdict is guilty of trivialising rape. This is reality television that misses much of the reality of rape - for example, the fact that most women are raped by someone they know. With rape rarely dealt with at any length by broadcasters, The Verdict is a missed opportunity to show the facts on rape. The bleak truth about rape is that little support or justice exists for women in this country".
Others have criticised the decision of the programme producers for including Jeffrey Archer in the jury, as he would not currently be able to sit in a jury in real life due to his criminal conviction for perjury. The programme is also viewed as having selected women jurors who were dominated by the male jurors, and many felt they were simply going along with these men's views. Defenders of the programme claim that - far from trivialising rape - the programme brought the difficult and complex issues surrounding rape trials into the public consciousness, and highlighted the reasons why the conviction rate for rape cases in the UK remains so low.
---
A - Z of Sussex officer investigations
---
F.A.C.T. (Falsely Accused Carers and Teachers)
PO Box 3074
Cardiff CF3 3WZ
Tel: 029 2077 7499
E-mail: info@factuk.org
Website: www.factuk.org
Campaigning organisation and support group which provides help and advice to falsely accused and wrongly convicted carers and teachers throughout the UK. The website contains a range of information, leaflets, books and links.
Guidance for education staff and volunteers in schools
Website: www.lg-employers.gov.uk/conditions/education/allegations
This website has guidance on: 1) staff facing an allegation of abuse; 2) preventing 'abuse of trust' for education staff; and 3) the conduct of education staff working with young people.
---
DIGGING THE DIRT: DISCLOSURE OF RECORDS IN SEXUAL ASSAULT CASES
The disclosure of confidential records such as those of doctors, teachers, counsellors, and therapists may be sought by the defence as a means of undermining the credibility of complainants in rape and sexual assault trials. The procedure is under section 2 of the Criminal Procedure (Attendance of Witnesses) Act 1965, under which disclosure of the records of third parties may be sought.
This may be relevant in cases where a family member involved in a case is thought to be an associate of one or more of the expert witnesses.
---
Wednesday December 13, 2006 - The Guardian

As celebrity themed reality TV goes, it's a long way from making them eat bugs. One of the cornerstones of BBC2's new year schedule will aim to meticulously recreate a high-profile rape trial using top lawyers and following 12 celebrity jurors as they reach their verdict.
But the inclusion on the jury of the likes of former MP turned perjurer, Jeffrey Archer, and Stan Collymore, the former footballer involved in well-publicised domestic violence and "dogging" incidents, has already sparked concern about the motives of the programme-makers from rape charities and support groups.
The Verdict's diverse lineup also includes So Solid Crew rapper Megaman, real name Dwayne Vincent, who was recently acquitted of murder at the Old Bailey after three trials and 18 months on remand, as well as former soap actress Patsy Palmer, the chief executive of Ann Summers, Jacqueline Gold, and Sara Payne, whose eight-year-old daughter, Sarah, was murdered by a convicted paedophile, and who has since campaigned for the so-called Sarah's Law.
They will be charged with determining if two fictional footballers gang-raped an imaginary 19-year-old young woman in a London hotel suite.
"It sounds quite sensational," said Cliona Saidlear, the policy coordinator at Rape Crisis Networks Ireland. "Rather than 12 ordinary people, they've turned to celebrities and instead of taking a standard rape trial, they've used a celebrity case. They've pitched it at such an extreme, sensational level you have to question their objectives. The celebrities are probably going into it with the best of intentions but why not 12 people from the street?" she said.
But the programme-makers insist it is a serious attempt to lift the lid on the usually unseen deliberations of the jury room. They said they were taken aback by the extent to which the celebrity jurors treated the concocted scenario as real.
Stephen Lambert, chief creative officer at Wife Swap and Faking It producer RDF, who came up with the idea, said there was a public interest defence. "Barristers and, I guess, the rest of us, really want to get an insight into how juries make up their mind in such cases. Wearing my public service hat, I'd say it's a great way of showing how a court and a trial work."
BBC2 controller, Roly Keating, also defended his motives. "It's an ambitious project that is attempting to bring the law and the jury system to life in a new way. It's an extremely complex, finely balanced case derived from case law but fictitious in its detail."
The Verdict will be screened over four nights in February on BBC2. After each programme, viewers will be encouraged to switch to BBC3 where they can watch footage of the jury debating the day's evidence over dinner at the five-star Conrad Hotel in Chelsea, where they stayed after being whisked from Kingston county court in Surrey in a fleet of black Lincoln limousines equipped with champagne chilling in buckets. Viewers will be invited to make their own minds up using background material, witness interviews and documentary evidence available on the BBC2 website.
The programme also features a number of celebrity lawyers, including retired judge Lord Dennison. Prosecuting counsel is Joanna Greenberg QC, while the two fictional footballers are represented by real-life QCs Jane Humphreys and George Carter-Stephenson.
Mr Carter-Stephenson, whose notable cases have included the first Damilola Taylor murder trial and the Millennium Dome diamond robbery, said he had been wary at first but was reassured by the lengths to which the programme makers went to make the programme realistic. "I was surprised by just how good the actors were. It was just like being in court, except the lights were a bit brighter," he said. "It gives the public a chance to see how barristers work and to show that we are not so removed from reality as they sometimes believe."
The other members of the jury are Jennifer Ellison, a dancer, singer and former Brookside actor; Michael Portillo, the former Tory leadership contender turned media commentator; Alex James, the bassist in Blur; Dominic McVeigh, a teenage millionaire who made his money from importing scooters from China, the actor Honor Blackman and TV presenter Chris Tarrant's estranged wife, Ingrid.
It is their role to cross-examine a group of actors who improvise their responses as the alleged rape victim, the two footballers, the alleged victim's girlfriend who sold the story to the tabloids, and others.
"We thought first of all about a sexual harassment case, and then a murder case, but then went with rape because it's so clearly two interpretations of reality. It's a hotly debated crime in the legal world," said Mr Lambert.
The case dramatises issues of notoriety, alcohol, race, money and the ethics of selling possibly concocted stories of sexual dalliances with celebrities to the tabloids. The case involves a young woman called Anna Crane from Epsom, who goes to see the musical Chicago with her best friend in London.
After the show they wind up in a hotel cocktail bar where the friend spots celebrity footballer Damien Scott and his friend, a less successful player called James Greer. They retire to Scott's suite where one of two things happens to Anna Crane: either she has consensual sex with Scott or she is gang-raped. Both defendants plead not guilty.
Crane decides not to go to the police. Instead, her best friend sells the story of her alleged rape to a Sunday newspaper for £30,000 and covertly tapes Anna describing the assaults. This tape was played in court to the celebrity jury who have to make up their minds as to whether it is a harrowing confession or a fake tape concocted by two money-grabbing girls.
Archer's appearance is likely to be the first of several in reality TV shows as he seeks to work his way back into the public eye following his four-year jail sentence in 2001 for perjury and perverting the course of justice. He has already agreed to take part in new ITV1 show Fortune, in which he will be filmed giving away his own money to members of the public, and is rumoured to be part of the cast list for the next series of Channel 4's Celebrity Big Brother in January.
---
BBC Two Winter/Spring 2007
Stan Collymore, Ingrid Tarrant, So Solid Crew's Megaman, Michael Portillo and Sara Payne join the jury for BBC Two's The Verdict
A former England football player, one of Britain's most successful businesswomen, a mother who campaigned for the law to be changed following the murder of her daughter and a rapper who spent time in prison on a murder charge are amongst the line-up of high profile jurors taking part in BBC Two's ambitious television event, The Verdict.
The full line up, announced today, is:

Jeffrey Archer – former Tory MP and author;

Honor Blackman – actress;

Stan Collymore – footballer;

Jennifer Ellison – actress;

Jacqueline Gold – head of the Ann Summers empire;

Alex James – Blur band member;

MegaMan – So Solid Crew member;

Dominic McVey – millionaire teen entrepreneur;

Patsy Palmer - actress;

Sara Payne – mother who campaigned for Sarah's law;

Michael Portillo – former Conservative MP and broadcaster;

Ingrid Tarrant – separated from TV presenter Chris Tarrant.
The 12 jurors are sitting in judgement on a four day trial in a real courtroom, presided over by a real judge, with real barristers prosecuting and defending.
The jury will then retire to the jury room to begin their deliberations.
But the cameras will be there, observing for the first time the dynamics of a how a jury reaches it verdict.
The Verdict, which is being produced by RDF Television, part of the RDF Media Group, will be stripped across four nights on BBC Two, to be shown early next year.
A BBC Three switch-over programme will follow the jury back to their hotel to find out how they have reacted to each day's proceedings.
The case features the rape trial of an internationally famous footballer, Damien Scott, and his friend, James Greer.
Scott and Greer are fictitious characters, but in the weeks leading up to the case the actors playing them have experienced what is like to be arrested, interviewed under caution by real policemen and examined by real forensic experts.
The trial is totally unscripted so that when the witnesses appear in the witness box, they give evidence about experiences that to them, to the jury, and to viewers will seem all too real.
The judge is the highly respected and recently retired His Honour Neil Denison QC .
Jane Humphryes QC and George Carter-Stevenson QC are acting for the Defence and Joanna Greenberg QC is the Crown Prosecution Service barrister.
The barristers are free to prosecute and defend the case in exactly the same way as they would a real trial.
Roly Keating, Controller of BBC Two, says: "This is a hugely ambitious project which brings the law to life in a completely new way.
"It will be fascinating to follow the twists and turns of the case, see the dynamics and power struggles within the jury, learn about the jury system with its inherent flaws and strengths - and engage with the whole experience even more deeply on broadband."
Stephen Lambert, RDF Media Group's Chief Creative Officer, said: "We are delighted that such a wide range of high profile individuals have agreed to serve on our jury.
"It is fascinating to see how they interact and how their different backgrounds and assumptions influence their views on the case.
"A huge effort was taken by everyone involved in the production to ensure that the jury experience was as authentic as possible.
"We were amazed by how seriously our jury treated their task and how emotionally involving it became for all of them."
This series will be accompanied by an extensive broadband service that will offer audiences high volumes of extended material, background videos, witness interviews and documentary evidence to allow viewers to form their own judgement as the case progresses.
Brief biographical details for the jurors
Jeffrey Archer
Former Tory politician and best selling author – served two years in prison for perjury.
Honor Blackman
Actress best known for her role in The Avengers and as Pussy Galore in Goldfinger.
Stan Collymore
Former Premiership footballer.
Jennifer Ellison
Actress and performer who starred in Brookside and is currently appearing in Chicago in the West End.
Jacqueline Gold
Chief Executive of Ann Summers and Knickerbox – regularly voted one of Britain's most powerful and inspirational women.
Alex James
Blur band member and Independent columnist, now lives on an organic farm with his wife and three young sons.
MegaMan
Founder member of chart-topping rap collective So Solid Crew – recently acquitted of murder after three trials and spending 18 months on remand in Belmarsh Prison.
Dominic McVey
21-year-old entrepreneur - imported micro-scooters to the UK and became the country's youngest self-made millionaire at the age of 14.
Patsy Palmer
Actress, best known for her role as Bianca in EastEnders.
Sara Payne
Mother who campaigned for Sarah's law following the murder of her daughter by a known paedophile.
Michael Portillo
Former Tory MP, journalist and broadcaster.
Ingrid Tarrant
Journalist and tv presenter, separated from husband Chris Tarrant.
Biographical details for the legal team
The Judge – His Honour Neil Denison QC
His Honour Neil Denison QC was considered one of Britain's most prominent judges. He was the Common Sergeant of London from 1993 until 2001 when he retired and was replaced by Judge Brian Barber QC. He was called to the bar at Lincoln's Inn in 1952 and became a bencher in 1993. He was a Recorder of the Crown Court from 1979 to 1985. Notable cases include the Salon killing, where a wife killed her husband's girlfriend in a beauty salon, a Muslim father who murdered his daughter in an honour killing and a man who smashed his wife's skull with an axe.
Jane Humphryes QC (1st Defence)
Jane Humphryes is a specialist in serious crime of all kinds. She is experienced in prosecuting and defending a wide range of criminal cases, although more recently nearly exclusively defending, including murder and attempted murder, money laundering, fraud, rape and indecent assault and police disciplinary proceedings.
George Carter-Stephenson QC (2nd Defence)
George Carter-Stephenson is a specialist defence advocate with a varied and wide-ranging practice extending over all types of criminal cases and disciplinary proceedings. He is extremely experienced in dealing with highly involved and complex cases, including serious fraud. Notable cases have included the Damilola Taylor first murder trial, the Millennium Dome Robbery, the Sumurai Sword murder and representing the husband of Joyti de Laurey, the Goldman Sachs secretary found guilty of stealing £4.5m from her bosses.
Joanna Greenberg QC (CPS Prosecutor)
Joanna Greenberg QC specialises in criminal law. She is now best known as a defender, although she continues to do some prosecuting. She has been head of chambers since 2003. Her defence practice has covered all types of crime, including murder, high value fraud cases, very substantial drugs cases and all sorts of sex cases involving serial offenders, witchcraft, child abuse. Listed as one of the "Leaders at the Bar" in Chambers UK client's guide to the UK legal profession, she is described as "an evasive witness's bad dream".
LINKS
---
This site is protected under Article10 of the European Convention on Human Rights and Fundamental Freedoms.
FAIR USE NOTICE
This site contains copyrighted material the use of which has not always been specifically authorized by the copyright owner. We are making such material available in our efforts to advance understanding of environmental, political, human rights, economic, scientific, and social justice issues, etc. We believe this constitutes a 'fair use' of any such copyrighted material as provided for in section 107 of the US Copyright Law. In accordance with Title 17 U.S.C. Section 107, the material on this site is distributed without profit to those who have expressed a prior interest in receiving the included information for research and educational purposes.
For more information go to: http://www.law.cornell.edu/uscode/17/107.shtml. If you wish to use copyrighted material from this site for purposes of your own that go beyond 'fair use', you must obtain permission from the copyright owner.