It was once that in merry old England you got a fair trial. Not any more. In their rush to increase the conviction rate, the government of the day, with David (himself the subject of sex scandal) Blunkett as the Justice Minister, decided to breach Article 6 of the Human Rights Act 1998, by taking away the presumption of innocence. This was achieved in subtle fashion by taking away the warning to Juries, "about the dangers of convicting a person on the unsupported say so of of a claimant." Thus, any person making a gold-digging [false] claim of abuse, will be believed, because the trial judge has not told them differently. After that little ruse and other amendments in the Sexual Offences Act 2003, the conviction rate soared - filling our prisons with many innocent men in the process. Did you say "prats?", If you did, we tend to agree. So come on all you claimants, why not accuse a politician of giving you one up the rear? Give them a taste of their own medicine. There is no need for proof and it won't matter if when they inspect your anal passage that they find no evidence of trauma - believe us, that will be put down to some incredible healing power. Bullshit! But that is what is happening out there today. It's true.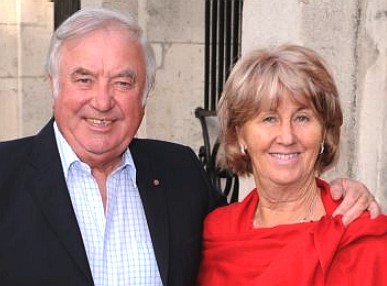 Jimmy and wife Pauline. Happily married with children - hardly the profile of a sex offender. you must bring in character witnesses - no matter what your solicitor/barrister advises.
THE MIRROR 8th MAY 2013

Jimmy Tarbuck cancels summer tour following arrest over child sex allegation. Many of his one-man show dates had already been removed from venue websites, with others saying his gig had been postponed

According to the Mirror and many other newspapers, comedian Jimmy Tarbuck yesterday cancelled a 23-date summer tour of Britain following his arrest over a child sex allegation. One theatre revealed it was because of "ill health".

The 73-year-old star yesterday stayed behind closed doors at his multi-million pound home in South West London.

When asked over his entry gates intercom about the alleged sex assault on a young boy in the 1970s, a voice believed to be Tarbuck's said: "No comment." Police have confirmed a 73-year-old man was arrested in Kingston upon Thames on April 26. He is on bail.
Last night many of Tarbuck's one-man show dates had already been removed from venue websites, with others saying his gig had been postponed. A spokeswoman for the Theatre Royal in Brighton said: "We received notification today that he has cancelled this year's tour due to ill-health."

Meanwhile a planned ITV programme celebrating the life of the late comedian Les Dawson has been edited to omit a contribution from Tarbuck. A press release posted on ITV's website publicising the programme Les Dawson: An Audience That Never Was - said it would feature "a host of stars including Sir Bruce Forsyth, Cilla Black, Sir Terry Wogan, Jimmy Tarbuck and Ken Dodd". It is understood Tarbuck will be edited out in light of his arrest. The programme is expected to be shown around two weeks from now.

Tarbuck was held at his home in Kingston, Surrey, by North Yorkshire Police on April 26 after information from Scotland Yard's ­Operation Yewtree was passed to them. The alleged assault took place in Harrogate. His arrest arose from claims made to officers working on Yewtree, the probe into Jimmy Savile's depraved past.

But Yewtree cops decided the ­allegations did not fall under their remit and gave the ­information to North Yorkshire Police. Tarbuck has three children – including 48-year-old radio presenter Liza – with wife Pauline, who he has been married to for more than 50 years. The star was awarded an OBE for ­services to ­showbusiness and charity in 1994.
THE INDEPENDENT 7 May 2013
Entertainer Jimmy Tarbuck has been arrested by police investigating an allegation of sex abuse involving a boy dating back to the late 1970s.

The Kingston-upon-Thames home of the veteran comic, aged 73, was under siege from TV crews, but so far he and his manager have declined to comment on the claims. It emerged that Mr Tarbuck was bailed by North Yorkshire Police in relation to an alleged incident involving a young boy in Harrogate four decades ago. He was arrested at his home after officers were passed information by the Metropolitan Police's Operation Yewtree, which was established in the wake of paedophile activities of the late Jimmy Savile. A dozen men have been arrested since it was founded including a number of celebrities.

North Yorkshire Police said it had not released details of Mr Tarbuck's arrest last month in line with its force policy. The Liverpudlian comedian has been named in newspaper reports.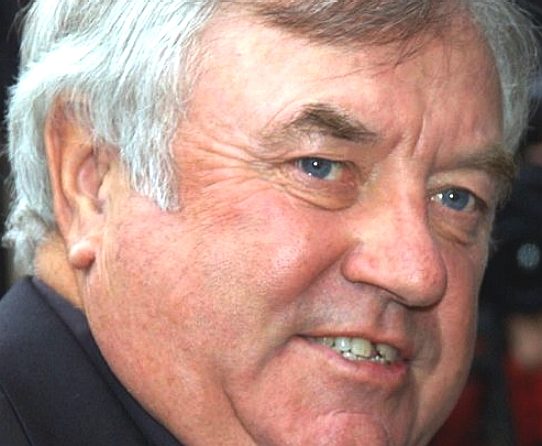 It's difficult to stay focused with such allegations ruining your career
THE MAIL 8 May 2013
Now police quiz Jimmy Tarbuck: Comedian, 73, arrested over alleged sex attack on young boy in the 70s. The 73-year-old was detained at his home in Kingston upon Thames. The arrest arises from new allegations made to Scotland Yard officers. Police have arrested 12 men as part of Operation Yewtree, including comics Freddie Starr, Jim Davidson and Rolf Harris. All deny any wrongdoing and investigations are continuing.
Jimmy Tarbuck has been arrested over an alleged sexual assault on a young boy in the 1970s.
The 73-year-old comedian was detained at his home in Kingston upon Thames, south-west London, and questioned for several hours.

The arrest arises from allegations made to Scotland Yard officers working on Operation Yewtree, set up after Jimmy Savile was exposed as a predatory paedophile with more than 450 victims.

Police have arrested 12 men as part of the operation, including convicted paedophile Gary Glitter, comics Freddie Starr and Jim Davidson, presenter Rolf Harris and DJ Dave Lee Travis. All deny any wrongdoing and investigations are continuing.

Tarbuck was questioned after claims about the alleged abuse of a boy in Harrogate, North Yorkshire, in the late 1970s.

The comedian, who became a well-known TV personality in the mid-60s, was arrested on April 26, but it had remained secret because North Yorkshire Police chose not to release the information.

It comes amid an ongoing row over the rise of secret arrests. It is common practice for police forces to release some details of high-profile arrests on the day they take place.

In the case of Stuart Hall, Lancashire Constabulary said that publicity surrounding the initial arrest of the 83-year-old broadcaster led to the majority of his sexual assault victims coming forward. In Tarbuck's case, the Met decided allegations against him did not fall under their Yewtree investigation and passed their information to North Yorkshire Police.
The comedian – known affectionately as Tarby – began his showbusiness career aged 18 as a member of a touring rock and roll show and then as a Redcoat for a Butlins holiday camp in Brighton.

After leaving school at 15 his first jobs were as a mechanic and sweeping the floor of a ladies' hairdresser. He recalled: 'It was a brilliant way to meet girls.'
Tarbuck was classmates with John Lennon at Dovedale Junior School in Liverpool. He claimed the former Beatle once spiked his drink with speed. The entertainer's first taste of mainstream success came in 1964, when he presented It's Tarbuck 65! on ITV. He went on to host numerous quiz shows, including Winner Takes All and Full Swing. In the 1980s, he hosted Sunday night variety shows Live From Her Majesty's, Live from the Piccadilly and Live from the Palladium. He was awarded an OBE for services to show business and charity in 1994.
ADVICE
Jimmy, get yourself a specialist lawyer, demand to see any evidence the police have before making any comment, that way you can evaluate the bullshit claims and take advice from a solicitor. All too often the cops ask a leading question, on a presumption that what they have been told is true, when in fact what they have been told is false and you may be in possession of factual information to disprove that allegation - but if you don't know what information the police have been given, how could you know what to say? However, sometimes it is better to keep your powder dry and force the old bill to charge you then simply make an application to the trial judge of no case to answer. Don't forget that the police are out to gain convictions, they are your enemy - they are not in it for justice and they won't investigate any leads that point to your innocence - despite the fact that their Code of Conduct, in investigations say that they must.
In one case we know of a man accused of a rape was in fact in New York at the time of the allegation - which he rather foolishly told them. Instead of dropping the case, the cops simply re-adjusted the date of the claim of rape - and believe it or not gained a conviction. If the chap concerned had kept his powder dry, he would have been charged with the date he could prove was a lie - hence no case to answer. The cops don't play fair.
If you want to keep your powder dry, tell the police that you do not want to comment at this time pending your own investigations as to the facts, and that you reserve the right to introduce evidence in your defence at any trial on a without prejudice basis - that it would not be fair to comment if not apprised of all the facts. Be careful here, or your silence when questioned may be held against you. A transcript of your interview will be given to a Jury. If you don't protect your defence in this way a judge may instruct a jury that you remained silent - and from that silence an adverse inference may be drawn.
If you want any free confidential advice on this subject, you can email us, or get your solicitor to email us to remain once removed. Ask your solicitor to see any email from us in full. Also, see: http://home.vicnet.net.au/~safari/
Some of the caselaw that Safari publish have has been invaluable. For example check out the statistics of proven false allegation cases. Such information must go before a jury - if they proceed. Any jury must be made to realise that it is very likely that the allegation is false, as supported by statistics. Sexual assault claims in the Metropolitan Police are a good indicator of the true position - about 75% of which are false. This raises the necessary reasonable doubt, which you'll need after David Blunkett and other ministers took away your right to a fair hearing. Find out all you can about your accuser. Why now? Was he promised compensation? You bet.

SIMILAR CASES
This case is not a million miles away from something closer to home in the United Kingdom, that of a certain person challenging local authority, then being convicted unjustly of sexual charges - that if one looks at them closely, are completely out of character. It appears to us that given the opportunity, local and national authorities will use whatever is at their disposal to bury anyone who dares to question their administration. Freedom of speech? Yes, but for how long?
And don't forget that the system protects the claimant by hiding his or her identity, when very often that identity is the key to the public understanding why such an allegation has been made. Usually it is at the break up of a relationship, or some other event where the motive is revenge - typically, a woman who has been jilted will seek to attack the party jilting her, by making a false allegation. The sad fact is that under the present system, it matters not if someone is innocent or not. Put a person in the dock and make the accusation, especially some time after the claimed event, and there is no way of defending yourself. Then, with the judge not giving the jury guidance as to unsupported allegations, the bloke in the dock will be convicted.
LINKS
http://www.dailymail.co.uk/news/article-2320419/Jimmy-Tarbuck-arrested-alleged-sex-attack-young-boy-1970s.htm
http://www.dailymail.co.uk/Jimmy-Tarbuck-arrested-alleged-sex-attack-young-boy-1970s
www.independent.co.uk/crime/jimmy-tarbuck-arrested-over-child-sex-abuse-allegations
Coronation Street king Bill Roache says he is 'horrified by the last 24 hours' vows to fight rape allegation TV chiefs rework scripts
Scotland Yard detectives interview woman 'witness' after travelling to Australia to pursue sex abuse claims against Rolf Harris
British detectives have flown out to Australia to investigate Rolf Harris sex abuse claims
Television comedy legend in his 70s facing questioning by Savile police over historic allegations of sex abuse
Living 24/7 nightmare Max Clifford on 'black cloud' over his life charged 11 counts of indecent assault girls 14 to 19 1966 and 1985
Comedian Freddie Starr arrested again over further allegations of sexual offences
http://www.mirror.co.uk/news/uk-news/jimmy-tarbuck-cancels-summer-tour-1874910