This site is protected under Article10 of the European Convention on Human Rights and Fundamental Freedoms.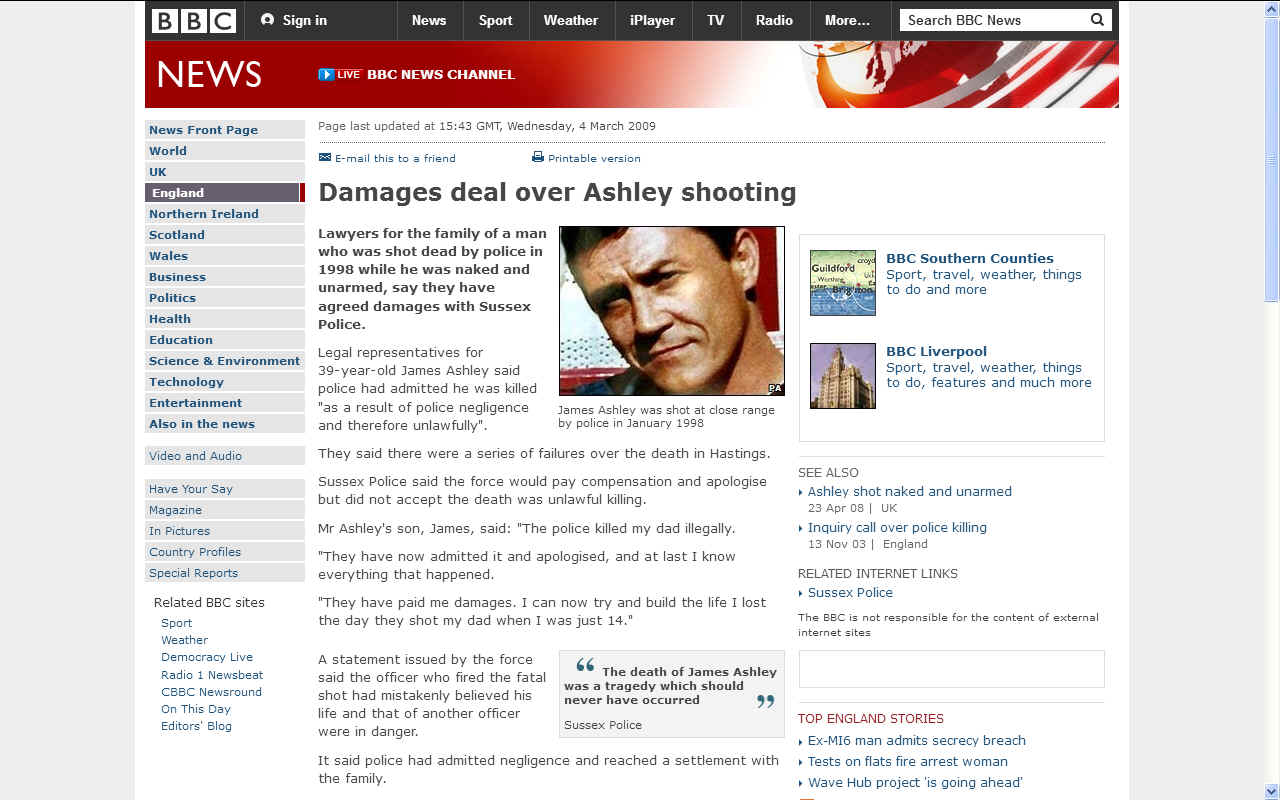 James Ashley was a 39-year-old British man shot dead by armed police while unarmed and naked, during a raid on his Sussex flat in St Leonard's on the 15th of January 1998.
COMMENT
We hope you will all agree, that no matter what the character of a person is, and no matter how he conducts himself in society, there is no justification for taking the life of anyone.
Police shooting: The victim - Wednesday 23rd May 2001
James "Jimmy" Ashley had a reputation for being cold and calculating, a man who used violence as a tool to get a job done. Police knew him as a man who rarely showed emotion and considered him dangerous. His family and friends saw him as a much-loved son, brother and father, who was a "gentleman of gentlemen".
He could well have been familiar with the world of violence and drugs as early as his childhood, as he grew up in an area of Liverpool, the Dingle, which had a history of criminal activity based on the drugs trade. At that time, it was well known for the turf wars that took place between rival cocaine gangs.
Already toughened up in his teenage years in Liverpool, Mr Ashley moved down south in his late 20s.
He headed for Eastbourne, to work as a bouncer in a nightclub, and settled there building contacts and becoming a familiar face round town. He spent many years in and out of work as a bouncer or a labourer. It was during his time working on the south coast that he became known as a hard and violent man.
In 1993, this penchant for violence led to him facing murder charges after he punched father-of-three, David Hitchmough, 41, to death, during a pub brawl at the Bourne Inn, Pevensey Road, Eastbourne. Mr Hitchmough died after one single punch to the head by Mr Ashley during the fight outside the pub.
He became involved in a row with Mr Ashley during the evening over an insulting comment made about Mr Hitchmough's estranged wife Sarah but the fight broke out when they were told to leave the pub.
During his trial, Hove Crown Court heard how Mr Ashley, and his friend Paul Howey, then of no fixed abode, had lashed out at Mr Hitchmough. Picking a fight with Mr Ashley proved to be fatal. Mr Ashley was cleared of murder, but convicted of manslaughter and affray. He walked free from Hove Crown Court in June 1993, having served two years in prison on remand, much to the anger of Mr Hitchmough's family. Less than a year later, in April 1994, Mr Ashley was taken to Eastbourne District General Hospital with stab wounds and serious head injuries following a brawl in an Eastbourne pub.
The following year he was charged with criminal damage after breaking windows at the Sherlock Holmes pub in Eastbourne, where he lived at the time. In January 1998, detectives suspected him of being part of a gang of drug dealers. Officers linked him to the stabbing of a man during a brawl in Eastbourne, although five months after his death, an independent inquiry found "no evidence" he was involved and had in fact tried to pull the offender from his victim.
Mr Ashley moved to St Leonards, near Hastings, where he met his teenage girlfriend, Caroline Courtland-Smith, in a seafront bar. She would often stay the night at Ashley's flat and she was with him on the night police decided to bring him in for questioning. He was shot dead in front of her as he stood naked by the side of his bed in the dark.
Yesterday, Judge Mrs Justice Rafferty described Mr Ashley as "a violent, dangerous and ruthless drugs dealer". She said: "He did not walk alone, such men never do." His family hit back and said Mr Ashley's two children were now planning to sue the force for compensation for the loss of their father.
His brother Tony, 32, said: "Jimmy had no convictions for drugs. I feel he is being maligned. He is being tried and convicted after they executed him."
His sister Pauline Ashley, 38, said: "We still mourn the unacceptable and unnecessary loss of a much-loved son and His mother Eileen, said: "He was my son so to me, of course, he was lovely."
The Argus News Archive Links:
The father of the police marksman cleared of murdering James Ashley today demanded to know why it took so long to bring the case to trial. more...
A seafront trader claims he was left with a bill for thousands after water poured through the ceiling of his shop under Brighton seafront's arches. more...
The three-year investigation into the shooting of James Ashley has cost £5 million and resulted in five unsuccessful prosecutions. more...
Caroline Courtland-Smith said she was still waiting for justice after the death of her boyfriend. more...
The wife of Chris Sherwood, the PC who fired the fatal shot, is expecting their first child. more...
Four of the officers cleared of wrongdoing over the James Ashley shooting said they hoped their experience would not deter other officers from doing their duty. more...
An adventurer is on top of the world after becoming the first European to reach the summit of a notoriously difficult mountain. more...
PC Christopher Sherwood, the officer who fired the fatal bullet, was rated a good shot. more...
James "Jimmy" Ashley had a reputation for being cold and calculating, a man who used violence as a tool to get a job done. more...
Sussex Chief Constable Paul Whitehouse "wilfully failed to tell the truth" when responding publicly to the shooting, a previously confidential report claims. more...
James Ashley's shooting sparked repercussions which are still being felt three years later and led to the suspension of Sussex's chief constable. more...
S.A.C
WE ARE A NEW GROUP COVERING THE SUSSEX POLICE AREA
OUR ELECTED REPRESENTATIVES DON'T ACT IN OUR INTERESTS
COUNCILS AND OTHER AUTHORITIES
ARE A LAW UNTO THEMSELVES,
SUSSEX POLICE AUTHORITY ACTING OUTSIDE OF THE LAW AND THEIR REMIT. THEY ARE NOT A PUBLICLY ELECTED BODY
SUSSEX POLICE ARE TOTALLY OUT OF CONTROL AND NOT ANSWERABLE OR ACCOUNTABLE TO THE PEOPLE OF SUSSEX
We are looking for committed persons to make this group grow we need --website builders --amateur journalists-- people with media experience-- writers typists-- computer experienced persons-
SAC NEEDS YOUR INFORMATION ON ANY CORRUPTION IN SUSSEX PLEASE E-MAIL ONE OF OUR GROUPS
CAMPAIGN FOR JAMES ASHLEY
OUR MAIN CAMPAIGN IS TO BACK THE ASHLEY FAMILIES CALL FOR A PUBLIC INQUIRY IN TO THE SHOOTING OF JAMES ASHLEY BUT WE WANT IT TO COVER POLICING IN SUSSEX TO EXPOSE ALL POLICE & COUNCIL CORRUPTION IN SUSSEX
Add corruption to your search you will be most surprised what you find
THIS GROUP IS NOT AFFILIATED TO ANY POLITICAL PARTY OR GROUP
WE STAND ONLY UNDER THE HUMAN-RIGHTS ACT
See these sites for more details of Sussex police corruption
WE FEEL SORRY FOR THE ABATANS NIGEL YEO PERVERTED THE COURSE OF JUSTICE OVER KATRINA TAYLOR'S MURDER
ASSISTANT CHIEF CONSTABLE NIGEL YEO
WHY IS HE STILL WORKING IN SUSSEX POLICE FORCE KEN JONES MR CLEAN UP
Sir John also roughed up one of the assistant chief constables, Nigel Yeo, against whom he said there was evidence of criminal misfeasance and falsehood over the press release; and the deputy chief constable, Mark Jordan, against whom he said there was evidence of criminal misfeasance, neglect of duty, discreditable conduct, and aiding and abetting the chief constable's false statements.
COUNCIL AND POLICE CORRUPTION WORKING TOGETHER
Wealden Action Group - Investigating and lobbying against council and police corruption
www.dr.des.turner.mp.human-rights.org/
CAMPAIGN JUSTICE FOR KATRINA
www.katrina.taylor.murder.brighton.human-rights.org/
SUSSEX POLICE AUTHORITY ACTING OUTSIDE OF THE LAW
LEWES DISTRICT COUNCIL CORRUPTION FRAUD AND MURDER
JUSTICE FOR JAMES ASHLEY CAMPAIGN
The Justice for James Ashley Campaign was launched on Saturday the 18th of August. The meeting was attended by about 200 people. James Ashley was shot dead by an Armed Response Unit (ARU) from Sussex Police in 1998. The trial at the Old Bailey was a total travesty and a the Officer responsible for shooting James, P.C. Sherwood was acquitted, along with the other four officers later at a similar trial in Wolverhampton. The Judge Injustice Rafferty presided over the case; this is the same Injustice Rafferty who sent Michael Stone to Jail, Surprise Surprise.
The Family and Campaign have vowed to carry on the fight for Justice for James Ashley. The meeting decided that they will carry the fight to the door of the Labour Party conference on the 30th September, Brighton is the heart of the Sussex Police, so we can do both at the same time. Sussex Chief Constable Ken Jones went to Liverpool in an attempted to stop the Ashley's from demanding a public inquiry.
IF YOU HAVE ANY INFORMATION OVER JAMES ASHLEY'S KILLING CONTACT US
---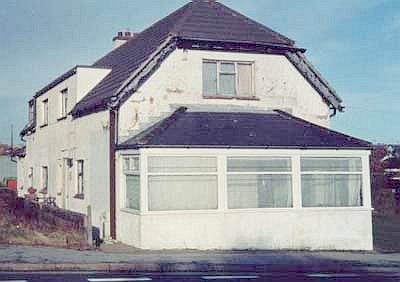 318 South Coast Road, Peacehaven, East Sussex
WE ACCEPT NO RESPONSIBILITY FOR THE ACCURACY OF ANY FEATURED LINKS