My life's in ruins, says teacher cleared of having hotel sex romps with 17-year-old pupil - 4th October 2007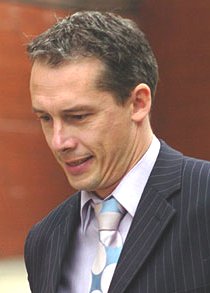 Cleared: Teacher Andrew Riley outside court yesterday
A teacher who was cleared of having cocaine-fuelled sex with a pupil has told how his life had been ruined by his teenage accuser.
Andrew Riley, 36, said his marriage and his career were left in tatters after the girl claimed the pair enjoyed a series of liaisons in hotels.
He told the jury that although he had stayed in hotels with her and admitted that their relationship made him feel wanted, there had been no sex.
The 17-year-old, who suffered from low self-esteem and had problems at home, struck up a close friendship with the handsome PE teacher after he took her under his wing.
But he and the girl began to exchange Internet messages detailing their fantasies and sexual experiences.
When the girl went to university Mr Riley decided to end the relationship but she was furious and reported him to police.
Yesterday the married father of two was found not guilty at Preston Crown Court of two counts of abuse of trust by having sex with a person under 18 and not guilty of a charge of offering to supply cocaine.
Sex with someone over 16 is not illegal, but it is against the law if the defendant is in a position of trust and the victim is under 18.
He said his wife Emma, 35, had been devastated by the claims.
'I am relieved that the trial is now over,' he added. 'This has been a nightmare for me. My wife and family have been under tremendous strain and I would now like to be given the opportunity to rebuild my life.'
The court heard that he and the teenager became close at Baines High School in Poulton, Lancashire, where Mr Riley was head of sixth form.
They would often chat and began communicating through the internet after school.
But she was a sexually promiscuous attention seeker.
The jury heard she started sending explicit emails and topless photographs of herself to Mr Riley.
Jurors were told she was a schemer and were shown details of her entry on MySpace - an Internet friendship site.
They included photographs of her licking another girl's breast and embracing male and female friends.
On one entry she said her favourite book was Notes on a Scandal - a novel about a female teacher whose career is destroyed when she has an affair with a boy of 15.
Mr Riley, who is also head of the sixth form at the school, replied to her emails and in one he wrote: 'You are intelligent, beautiful, talented and damn sexy. You are the first person to make me feel alive in a long time.'
The court heard that, during a school leavers' ball at the De Vere Hotel in Blackpool, Mr Riley and the girl took part in a drinking game, which involved passing shots of the Italian spirit Sambuca mouth-to-mouth.
He was said to have shared a lingering 30-second kiss with the teenager.
The court also heard that Mr Riley was not getting on with his wife at the time of the allegations.
Defence barrister Pippa McAtasney, QC, said the girl, who is now 20, was lying and accused her of being a 'bunny boiler'.
When Mr Riley decided to end their relationship the girl pestered him with text messages and in one telephone call, she said: 'You've let me down for the last time. I'm going to ruin your life.'
Mr Riley, who earned £36,000 a year, had told the jury his marriage of 13 years was hanging by a thread and that his life was in ruins.
He said: 'At the moment I am with my wife and kids but it is by a thread. I love my wife and I want to make that clear.'
The mother of the girl condemned him for his inappropriate relationship with her daughter. 'It makes me sick to think a teacher in a position of responsibility, and a married father, preyed on my daughter,' she said.
David Jesson, chairman of the governors at Baines, said: 'Mr Riley is currently suspended from his position as head of sixth form.'
Pupil seduced by teacher claims: 'He watched me snort coke in a hotel room'
Last updated at 17:05pm on 7th October 2007 The schoolgirl seduced by a head teacher has spoken for the first time to claim he watched her snort lines of cocaine in hotel room.
Rebecca Hatch, who was 17 when she began a sordid affair with Andrew Riley behind his wife's back, says he told her: "sex and coke is mind-blowing."
At his trial last week head of sixth form Riley confessed to planning to bed his pupil but claimed guilt always stopped him at the last minute.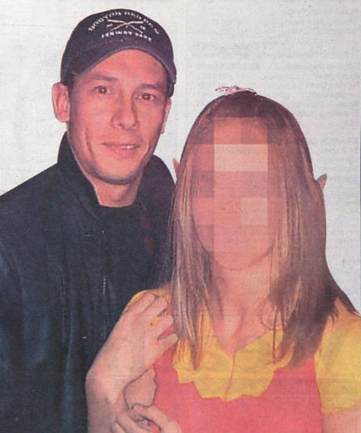 Andrew Riley pictured with pupil Rebecca Hatch.
(Her face has been pixelated)
He was cleared by a jury at Preston Crown Court of having cocaine-fuelled sex with her.
But, in an interview with the News of the World, Miss Hatch insisted: "He was there watching when I snorted lines of cocaine for the first time and he knows it."
And she hit out at his acquital, saying: "He should never be allowed to teach again.
"He denied having sex with me but why else would two people go to a hotel room?"
Miss Hatch, now 20, recalled how she took cocaine in front of her teacher at a Travelodge he'd booked for them in Manchester.
Riley, 36, who taught at Baines Sixth Form College in Blackpool, Lancs, had reportedly boasted in an email how "sex and coke is mind-blowing."
Miss Hatch said: "I was sat on a chair next to the desk in the room. He was on the bed.
"He watched me taking the first line. It was a rush and a high. It lasted about 40 minutes.
"I did a second line later that evening after we had been out for drinks.
"It was just the same as before.
"Altogether Andrew took me to hotels on three seperate occasions, spending four nights away from his wife.
"At the time I thought I loved him and thought he loved me."
But after a spa holiday in the Lake District in September 2005 Miss Hatch began to realise that Riley was just using her.
By LIZ HULL and JAYA NARAIN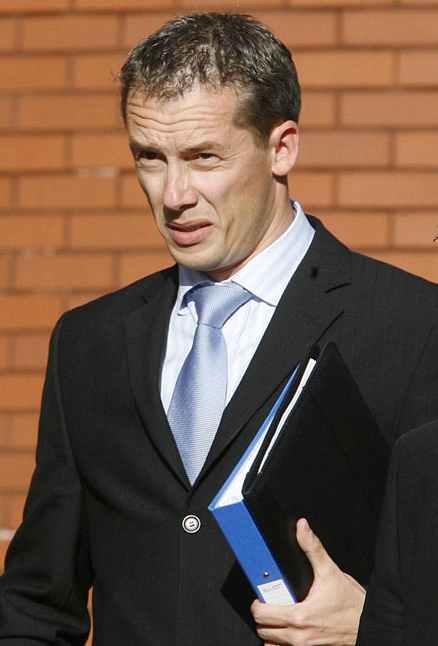 Andrew Riley at Preston Crown Court -
he admitted the affair but denied consumating it
She told the News of the World: "I was on the sofa in our suite. I was getting upset on our last night. "He didn't seem that bothered.
"I was thinking: 'This is such a mistake.' He said he loved me but he just didn't seem that fussed."
Riley began cutting the strings and told her to concentrate on enjoying her English Literature degree at Oxford Brookes University.
Now she is trying to put the ordeal behind her after Riley was cleared of two charges of abusing a position of trust by having sex with a child and a charge of offering to supply cocaine.
PUBLIC COMMENT (30)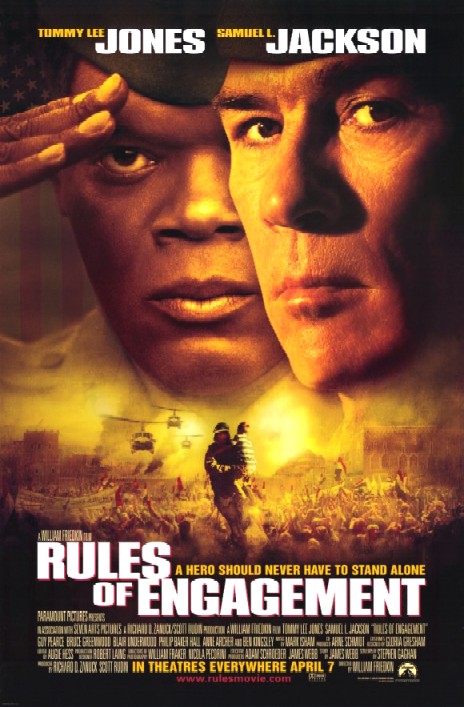 Gordon Staker works for the Child Protection Unit in Eastbourne, East Sussex. He is involved in the so-called Herstmonceux Bunny Boiler case heard in February 2008 ................... We are closely following this case and other similar cases, and please see our anatomy of an accusation coming soon......
Many of our readers will know that hundreds of men each year (many teachers) suffer accusations from girls with a grudge, many of which turn out to be false and revenge motivated.
Many policemen are Masons. This can lead to corruption at high levels, where fellow Masons, members of the public, might obtain favours, charges dropped, or charges brought against someone, as examples. The law is quite often used incorrectly (illegally) to further the objectives of private causes. But who is there to investigate? Since many, if not most high ranking officers are Masons, in whichever force, even an outside force is unlikely to identify an officer who will make any effort to investigate a fellow officer. It's a club, for a favoured few.
A - Z of Sussex officer investigations
The above is just a few of a number of persons likely to be investigated in respect of certain cases brought against Wealden Action Group members, on the instigation of known Masons, councillors, or planning officers, many of which are themselves Masons.
PORRIDGE - YOUTUBE