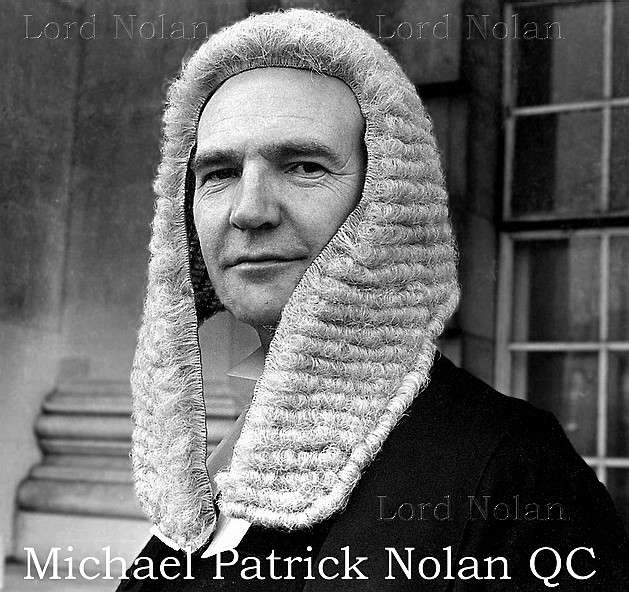 Lord Nolan proposed new legislation (that was never implemented) to make councils accountable for wrongdoing. This legislation would place on the statute books current common law offences against the person or property. Such criminal statute would deter the offenders. Equally, it will be so much easier to insist the Police take action where statute positively identifies the crime.
THE BRITISH JUSTICE SYSTEM
The present justice system in England is not as honest and corruption free as it might first appear to those who come into contact with the law.
The Criminal Prosecution service via the CPS (Crown Prosecution Service) is riddled with Masons, so too are many High Court judges caught up in this Secret Society where favours for brother masons is part of their ceremony.
Judges that are hearing a case involving a Mason anywhere in the chain of potential witnesses, should properly declare an interest and stand down for reason of tainting the proceedings.
ABOUT LORD NOLAN
Michael Patrick Nolan, Baron Nolan, PC, DL, KCSG (10 September 1928 – 22 January 2007) was a judge in the United Kingdom, and the first chairman of the Committee on Standards in Public Life 1994 to 1997. In the words of his obituary in The Guardian, "Lord Nolan .. made a profound mark on national life by substantially cleansing the Augean stable of corrupt politics as founding chairman of the Committee on Standards in Public Life."

The Committee was set up in late 1994 by John Major's government after the cash-for-questions affair, and has conducted numerous other inquiries, its first report in 1995 created waves by recommending full disclosure of MPs' outside interests. He also produced a report in standards of conduct in local government in July 1997.

The principles embodied and articulated in the first report have since become embedded in public life in Britain, and are often referred to eponymously as the Nolan Principles.
Nolan was called to the bar at the Middle Temple in 1953, and specialised in tax law, he became a Queen's Counsel (QC) in 1968, and was called to the Bar in Northern Ireland in 1974, becoming a QC in Northern Ireland at the same time. He was a member of the Bar Council in 1973 to 1974, and a member of the Senate of the Inns of Court from 1974 to 1980, he became a bencher at Middle Temple in 1975. He was a member of the Sandilands Committee on Inflation Accounting from 1973 to 1975.

He was a Recorder in the Crown Court in Kent from 1975 to 1982, when he was appointed as a High Court judge and assigned to the Queen's Bench Division, receiving the customary knighthood. In 1984, during the miners' strike, he granted injunctions to the National Coal Board to prevent the National Union of Mineworkers using flying pickets. He was Presiding Judge of the Western Circuit from 1985 to 1988.

He was promoted to the Court of Appeal in 1991, joining the Privy Council, he heard appeals in many high-profile cases, including the case brought by relatives of the football spectators who died at Hillsborough in 1989, and in the case to review the decision not to bring prosecutions after the Marchioness disaster in 1989.

He sat with the Master of the Rolls, Lord Donaldson of Lymington, in M v Home Office, finding Home Secretary Kenneth Baker guilty of contempt of court after he refused to bring an asylum seeker back from Zaire, where he had been deported contrary to an earlier court order. He also sat in the constitution of the Court of Appeal which quashed the conviction of Judith Ward for involvement in the bombing of a coach on the M62 in 1974.

After just over two years in the Court of Appeal, he was promoted to the House of Lords in January 1994, becoming a Lord of Appeal in Ordinary and receiving a life peerage as a Law lord, taking the title Baron Nolan, of Brasted in the County of Kent.


BACKGROUND

Nolan was the son of James Nolan, a solicitor, and his wife, Jane Nolan, his father's family had left County Kerry in the mid-19th century. Lord Nolan cited his parents as "the first and foremost influences on my life", the Nolan family lived in Bexhill-on-Sea. He and his elder brother, James "Jim" Nolan (died 2001) and his nephews, James, Rossa and Luke, all attended Ampleforth College.

After two years of national service in the Royal Artillery, from 1947 to 1949, he read law at Wadham College, Oxford, where he was awarded an honorary fellowship in 1992. His contemporaries at Oxford included Patrick Mayhew and Stephen Tumim, both of whom became close friends.

He married Margaret Noyes, whom he met at Oxford, in 1953; she was the younger daughter of the poet Alfred Noyes. They had one son and four daughters, they kept a second home on the Côte d'Azur.

Nolan continued to serve in a public role in his retirement.

In 2000, at the request of Cardinal Cormac Murphy-O'Connor, he investigated the issue of paedophile priests in the Nolan Report.

Outside of the law, he was also Chancellor of the University of Essex from 1997 to 2002, a Deputy Lieutenant of Kent and a Knight of St Gregory.

In retirement, Lord Nolan suffered from an unspecified degenerative disease, dying on the 21st of January 2007 at the age of 78. He was survived by his wife, their son and four daughters, and twelve grandchildren.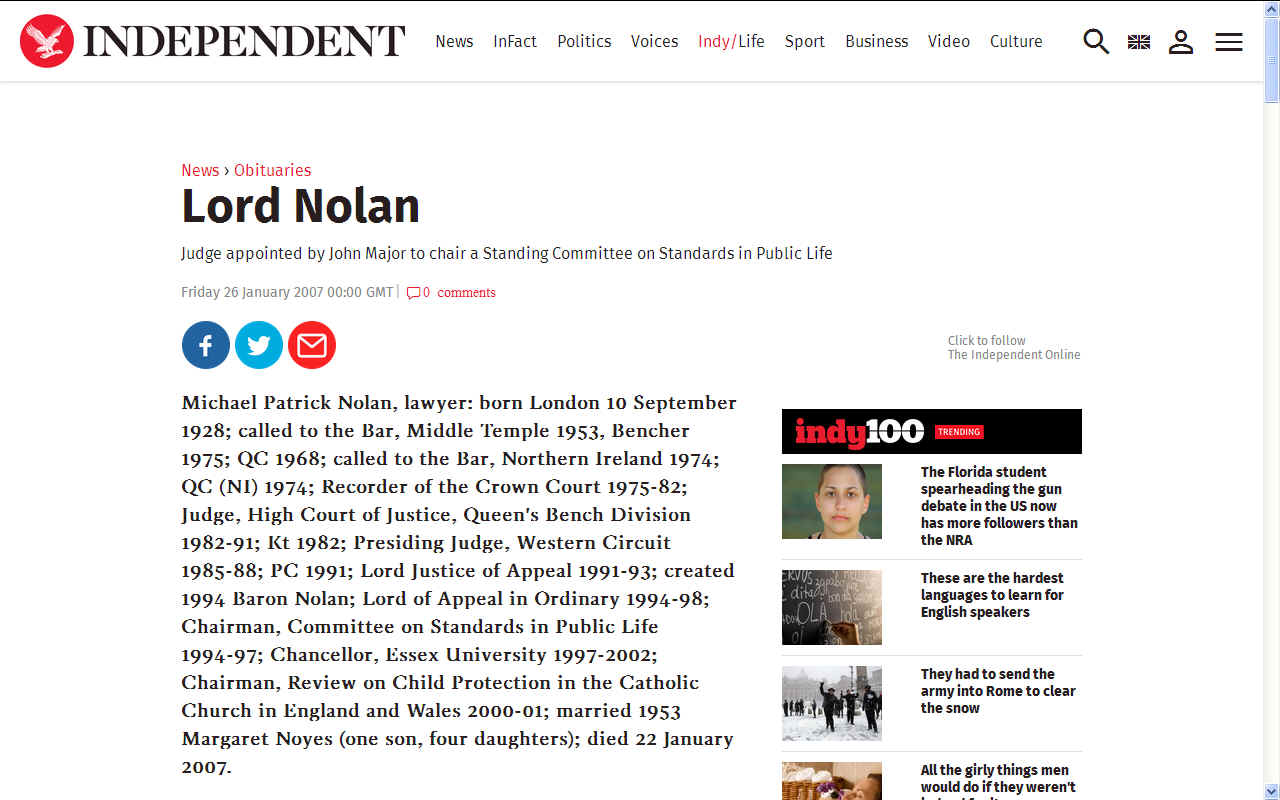 LORD NOLAN'S SEVEN PRINCIPLES OF PUBLIC LIFE
Selflessness
Holders of public office should take decisions solely in terms of the public interest. They should not do so in order to gain financial or other material benefits for themselves, their family, or their friends.
Integrity
Holders of public office should not place themselves under any financial or other obligation to outside individuals or organisations that might influence them in the performance of their official duties.
Objectivity
In carrying out public business, including making public appointments, awarding contracts, or recommending individuals for rewards and benefits, holders of public office should make choices on merit.
Accountability
Holders of public office are accountable for their decisions and actions to the public and must submit themselves to whatever scrutiny is appropriate to their office.
Openness
Holders of public office should be as open as possible about all the decisions and actions that they take. They should give reasons for their decisions and restrict information only when the wider public interest clearly demands.
Honesty
Holders of public office have a duty to declare any private interests relating to their public duties and to take steps to resolve any conflicts arising in a way that protects the public interest.
Leadership
Holders of public office should promote and support these principles by leadership and example.
THE INDEPENDENT OBITUARY - 22 JANUARY 2007
In the preface to the 1995 Nolan Report on Standards in Public Life, seven principles - selflessness, integrity, objectivity, accountability, openness, honesty and leadership - were listed as requirements for those who serve the public. Appropriately, Michael Nolan met them all.

When political lobbying first began to take off in the 1970s, efforts were modest - a drinks party on a Thames river boat, private dining rooms, drinks in bars - but within 20 years there were over 50 different lobby firms and 35 MPs were paid advisers or directors to these firms. In the summer of 1994, two Tory MPs had agreed to ask a parliamentary question for a payment of £1,000 each. In the ensuing fall-out, and under considerable pressure over "Tory sleaze", in October that year the Prime Minister, John Major, appointed Nolan, a Law Lord, to head the Standing Committee inquiring into Standards in Public Life.

Major proposed that members of the committee would probably wish to hold their sessions in private, but Nolan would have none of it. There were also suggestions that Nolan might prove a soft touch, particularly as one of the committee members was the former Secretary of State for Defence, Tom King, but it was not to be the case.

Setting a standard for other inquiries, which has not always been met, his committee was meticulously run. There were no private telephone conversations and members did not meet outside sessions. And he practised what he preached. When, in November 1995, he gave a party for the press and Whitehall civil servants to celebrate the first anniversary of his committee, Nolan made sure that the bill was paid by himself, other members of the committee and senior staff.

Nolan's first report, delivered with admirable speed in April 1995, recommended full disclosure of MPs' interests and contracts for providing parliamentary services, as well as a ban on job-jumping by former ministers going straight to the trade and industry sector. He had also reviewed the question of the funding of political parties but had considered it to be outside his remit.

There was naturally much reaction to his report, with one MP suggesting that, if sections of it were implemented, there would be no further references to "my honourable friend" because "society will have shown it no longer considers us to be honourable". Nevertheless, it has become the benchmark for public conduct. In 2005 Nolan's comments that the Prime Minister should insist on ministers obeying the rules, and that they should be disciplined if they did not, were thought to have finally brought about David Blunkett's resignation.

In July 1997, Nolan produced another report, this time into Standards of Conduct in Local Government, which he said were a confusing tangle and should be replaced by a simple and clear code of conduct. Interviewed on GMTV a week later, he impliedly criticised the Prince of Wales, arguing that those in public life had a great influence on the rest of the population and commenting:

Of all the behaviour which in my personal experience has caused the greatest misery to other human beings, I would put adultery pretty high on the list.

Born in London in 1928, Michael Patrick Nolan was the son of James Nolan, a solicitor of Irish extraction, and his wife Jane, devout Roman Catholics whom he regarded as "the first and foremost influences on my life". He grew up in Bexhill, East Sussex, and was educated at Ampleforth in Yorkshire. In an interview for The Catholic Herald he recalled,

It was a happy time, steeped in the pre-Vatican II mentality. Priests told you how to march left-right, left-right, it was dead simple. In its way it proved a good rule for life.

At the time the monks had a policy of not permitting the cleverer pupils to take control of the class. The boys were taught to hear both sides of an argument before making a decision. It was good early legal training.

After National Service in the Royal Artillery, Nolan read Law at Wadham College, Oxford, and was called to the Bar in 1953, joining Middle Temple. His early years at the Bar marked his career. Instead of the high-profile criminal and civil cases which have been the stepping stone to many a judicial career, Nolan spent his formative years practising tax law.

He took silk in 1968 and was made a Recorder in 1975 and appointed to the High Court Bench in 1982, immediately giving lie to the belief that extensive court appearances are required to conduct jury trials. Regarded as an extremely good and ever-courteous judge, who never interfered except to ask pertinent questions, he was the Presiding Judge on the Western Circuit from 1985 to 1985. "Ideal," said Lord Justice Ackner of him.

In May 1983, in one of his more entertaining civil cases, he awarded a golfer £50 for assault after he had been the subject of a citizen's arrest. The man's ball had been seized by a Yorkshire terrier and the golfer had climbed a fence to retrieve it. The fact that the golfer was trespassing did not entitle the householder to make such an arrest, said the practical Nolan, adding the incident should have been "settled by a handshake and a drink".

The first time he came to the notice of the public was during the miners' strike, when in March 1984 he granted the National Coal Board an injunction against the flying pickets who were moving from mine to mine. The injunction was immediately broken but, when push came to shove, the Coal Board backed down.

In a landmark decision in 1991 Nolan found the then Home Secretary Kenneth Baker to be in contempt for deporting a Zairean refugee in defiance of a court order. Ministers, he said, were not above the law. Appointed to the Court of Appeal that year, he was a member of the court which rejected claims for compensation for psychological damage brought by relatives of those who died in the Hillsborough football stadium tragedy.

He was, too, a member of the court which heard the appeal of Judith Ward. In the aftermath of the M62 coach bombing in February 1974, Ward was arrested at Euston Station near where she lived and where the previous year a small bomb had exploded, causing little damage and injury. This was a time when, in a number of cases, the prosecution did not disclose to the defence material which might have been helpful to them and the jury and she was convicted of both bombings. On her appeal in 1992 her conviction was described in the judgment as a "grave miscarriage of justice".

In 1994 Nolan was created a Lord of Appeal in Ordinary. The next year he was made a Privy Councillor, immediately sitting in a case which held that it was cruel and unusual punishment to hold a man on death row for nearly five years. The sentence was commuted to one of life imprisonment.

A deeply committed Catholic, in 2001 Nolan headed a committee to root out child abusers in the Catholic Church. It followed a number of high-profile cases of paedophilia, with 21 members of the clergy convicted between 1995 and 1999. Foremost amongst its 50 wide-ranging recommendations was one that there should be compulsory checks on candidates to the priesthood to discover whether the applicant had criminal convictions involving young people.

After his retirement as a Law Lord in 1998, he sat as a cross-bencher but rarely voted. He was a hands-on Chancellor of Essex University, 1997-2002. With Sir Stephen Sedley, in 1996-97 he gave the Radcliffe lectures at Warwick University, published as The Making and Remaking of the British Constitution (1997).

Described as a "tall Irish country gentleman" with a boyish face, he was regarded as modest (in the sense that he never engaged in self-aggrandisement), friendly and gregarious, if at times somewhat shy. He was, it was said, one of those people who attain high honours in the legal profession and are slightly surprised at that achievement. Throughout his life he enjoyed cricket, the countryside, horse-racing and, most particularly, fly fishing.

In 1953 he married Margaret Noyes, daughter of the poet Alfred Noyes. They had met at Oxford; three of their five children followed their father into the law. By James Morton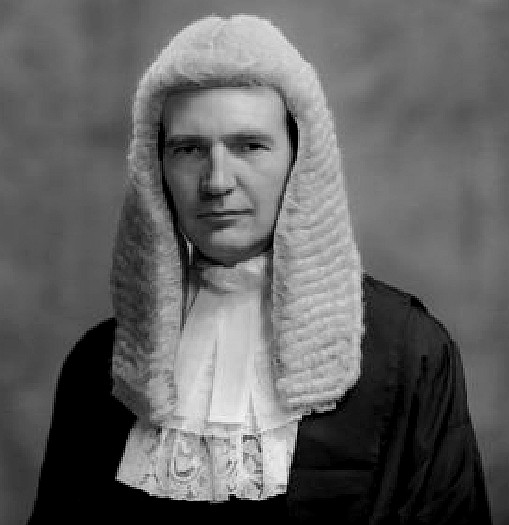 LINKS & REFERENCE
https://wikivisually.com/wiki/Michael_Nolan,_Baron_Nolan
https://en.wikipedia.org/wiki/Michael_Nolan,_Baron_Nolan
https://www.gov.uk/government/publications/the-7-principles-of-public-life