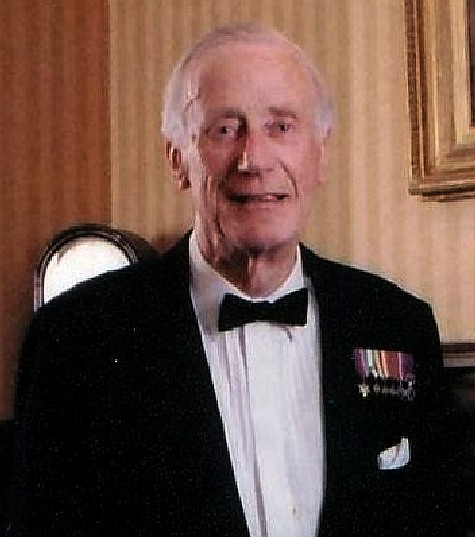 R. P. DANNREUTHER - This is a photograph of the Inspector for the Secretary of State who, it appears, was duped by council officers in 1987 into believing that the generating buildings were constructed during the Second World War of corrugated iron. Raymond Portal Dannreuther was invited to believe that the original wooden construction from the turn of the century had been demolished during hostilities to build a hospital for wounded airmen. He did not declare an interest, in knowing the occupier of The Old Rectory, one Peter Townley (see below).
R. P. Dannreuther served in the Royal Navy and is the author of "Somerville's Force H" a record of the Navy's Gibraltar based fleet from June 1940 to March of 1942. We cannot help wondering if when serving in the Navy, if RP was so easily fooled by an enemy action. We say this because there was substantial evidence internally that did tally with Wealden's argument. It must have been that the site visit was relatively short and he had to listen to arguments at the same time as taking notes - rather than taking the time to observe archaeological features for himself. We are told that the appellant took a shine to Raymond, and that given that he was being battered by several council officers all working together to pull off the deception, he did what he could to give time for the then occupier to make alternative arrangements.
Raymond Portal Dannreuther was the grandson of Edward George Dannreuther (1844-1905), pianist and writer and the son of the famous Hubert Edward Dannreuther. Hubert was born on 12 December 1880. Following in his older brother Tristan's footsteps, he joined HMS BRITTANIA as a naval cadet in 1895. He was appointed Chief Naval cadet in 1896 and in 1897 he went to the Australia Station as midshipman on HMS FLORA, and, whilst in Australia, served on HMS ORRLANDO and HMS ROYAL ARTHUR. He was promoted to lieutenant in 1902. From 1911-1912 he was a Gunnery Lieutenant on HMS EXMOUTH, flagship of the Mediterranean Fleet. Whilst in this post, he commanded a guard of honour for the official landing of the King in Malta in January 1912. During the First World War he saw action whilst Gunnery Lieutenant of HMS INVINCIBLE, then the flagship of Admiral Sturdee, at Heligoland Blight on 28 August 1914 and also, at the Battle of the Falkland Islands on 8 December 1914. In relation to the latter, he was mentioned in despatches and promoted to Commander in Jan 1915. Hubert Edward Dannreuther was the most senior of the survivors from HMS INVINCIBLE, then the flagship of Admiral Hood, when she was blown up at the Battle of Jutland on 31 May 1916 with the loss of 1025 men. After 20 minutes in the freezing waters, he was picked up by HMS BADGER. Mentioned in dispatches and awarded the DSO and the Russian Order of St Anne, he was granted a special audience with the King and Queen at Buckingham Palace on 4 June 1916 to give an account of the action. From 1916-1918 Dannreuther served as Commander of HMS RENOWN and, from 1919-20, on HMS EXCELLENT. In 1917 he was awarded the French Croix de Guerre with palms. Made a Captain in 1920, he served as the Vice-President of the Chemical warfare Committee from 1920-1923 and served on HMS DAUNTLESS from 1924-1926. He was Captain - Superintendent of Training, HM Australian Navy and in command of the Flinders Naval Depot in Australia from 1927-1929. He was Captain of HMS EAGLE 1929-1930. From 1931-1932 he served as the Commodore of the Royal Naval Barracks in Portsmouth and was appointed Naval Aide-de Camp to the King from 23 Sep 1932 before being promoted to Rear-Admiral in the same year, whereupon he was put on the retired list. He married Janie Hay Thorborn in 1916 and they had 3 children, Hubert Harold (1917), Ion Alexander (1920) and Raymond Portal (1923).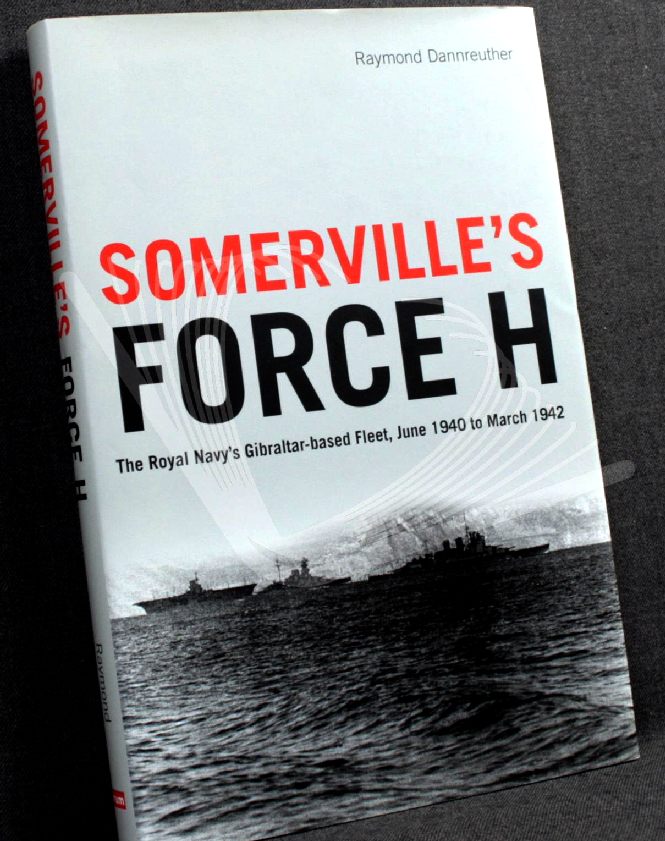 This is the book cover of RP's account of Force H. Between June 1940 and March 1942, the legendary Force H, based in Gibraltar under the command of Admiral Sir James Somerville, was almost constantly in action. Formed in haste after the fall of France, Force H began its history with the unpleasant but necessary task of disabling the French fleet at Mers-el-Kebir. The Force had two vital missions: to maintain a flow of supplies to Malta and carry the war to the Italian fleet, and to protect British shipping in the Atlantic. Its dual role was vividly demonstrated when its most famous ship, Ark Royal, flew off 48 Hurricanes to Malta from well inside the Mediterranean on 21 May 1941 and then, just six days later, played a critical part in the destruction of the Bismarck 450 miles out in the Atlantic. This fascinating and thoroughly researched history is the first book to be devoted to Force H. It is also a tribute to Somerville, one of the Royal Navy's most remarkable officers, who welded a hastily assembled collection of ships into a formidable fighting force.
D

annreuther

,
Raymond Portal

Son of R.Adm. Hubert Edward Dannreuther & Jane Hay Thorburn.
Brother of Capt. Hubert Harold Dannreuther, RN & Capt. Ion Alexander Dannreuther, RA.
Married Elizabeth Bourne; two sons.

12.07.1923
Hastings district, Sussex
-
21.03.2006
Frimley Park Hospital

| | |
| --- | --- |
| Midsh. | 01.09.1940 |
| A/S.Lt. | 01.05.1942 |
| S.Lt. | ?, seniority 01.04.1942 |
| Lt. | 01.08.1943 |
| Lt.Cdr. | 01.08.1951 |
| Cdr. | 31.12.1954 |
| Capt. | 31.12.1962 (retd 07.01.1972) |

| | | | |
| --- | --- | --- | --- |
| 01.09.1940 | - | (02.1941) | HMS Kenya (cruiser) |
| (08.1942) | | | promotion course, Portsmouth |
| 06.11.1942 | - | (08.1943) | HMS Relentless (destroyer) |
| 01.08.1943 | - | (11.1943) | HMS Relentless (destroyer) |
| 11.1943 | - | (06.1944) | First Lieutenant, HMS Lewes (destroyer) |
| 03.04.1945 | - | (07.1945) | First Lieutenant, HMS Pytchley (destroyer) |
| (04.1946) | | | HMS Camperdown (destroyer) * |
| 01.02.1948 | - | (07.1948) | HMS Excellent (gunnery school, Portsmouth) |
| 10.01.1950 | - | (05.1950) | HMS Drake (RN base, Devonport) (for miscellaneous duties) |
| 20.03.1952 | - | (05.1953) | HMS Cumberland (cruiser) |
| 08.08.1955 | - | (01.1956) | HMS President (for miscellaneous duties) |
| 02.06.1960 | - | (07.1961) | staff, Surface Division, Weapons Department, Admiralty [HMS President] |
| 07.12.1962 | - | (02.1963) | Commanding Officer, HMS Undaunted & Captain (F), 2nd Frigate Squadron |
| 24.06.1968 | - | (02.1969) | Director of Naval Operational Requirements, Navy Department |
| (08.1971) | | | HMS Glamorgan * |
| 07.07.1971 | - | 07.01.1972 | Naval ADC to the Queen |
HERSTMONCEUX MUSEUM
As a result of Mr Dannreuther being fooled by George White, Thomas Hoy and Richard Mercer in January of 1987, the old generating buildings would have to wait until 1999 when an independent archaeological survey revealed that these are the original wooden structures from 1909. Wealden's officers embarked on a conspiracy to hide the truth and deprive the then occupier, Nelson Kruschandl, of his home. The objective appears to have been to obtain the property at an undervalue for near neighbours. Other officers involved in this malfeasance in public office included David Laurence Phillips, Douglas Moss, Christine Nuttall, Ian Kay and Victorio Scarpa.
The chief executives and cabinet members are also implicated, including Charles Lant, Derek Holness and Sheelagh Douglas. This is because of their failure to ensure that their officers were acting correctly and the subsequent cover up. The solicitor acting for the council as of December 2016 is Trevor Scott.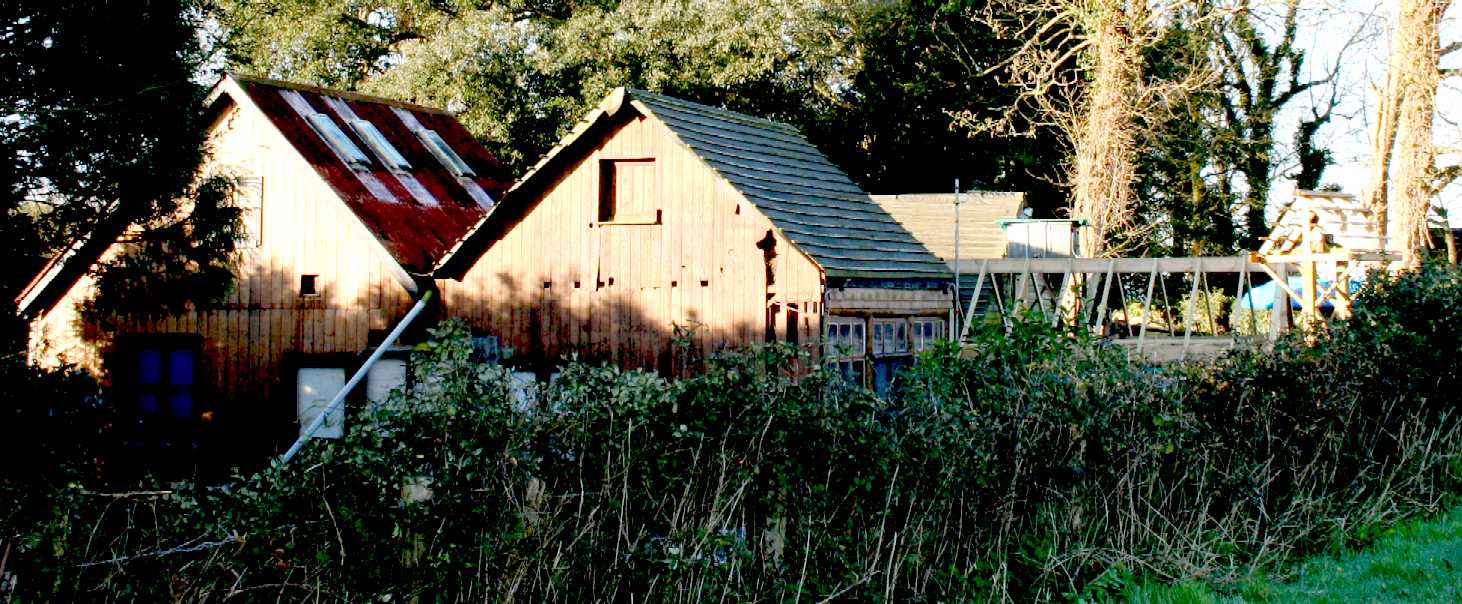 As you can see from this picture taken one sunny Sunday morning in March 2014, much work is needed to bring this unique wooden building back to life. You can see from this picture that part of the building is missing. There are square holes cut in the wall where the ceiling beams once were and the hatch is not and external window, but was for internal ventilation purposes between machine houses.
ROYAL MARINES - What a coincidence! Peter Gwyn Langford Townley was born in 1924, so was four years younger than Raymond Dannreuther. Peter Townley served as a temporary lieutenant in the forces during World War Two and in 1943 is shown in the above archive listing as being in the Royal Marines.
Townley lived in and around the Hastings and Bexhill area, in very close proximity to our intrepid Inspector. We wonder then if the two gentlemen knew of each other. Or, more on point, how they could not know of each other with so many garden parties for war veterans and the like. Yet this interesting factor was not mentioned during the Appeal inquiry and no interests declared. Peter Townley was noted as being an interested person at the public inquiry and gave evidence in the Lewes Crown Court appeal in 1988, when a conviction for Breach of an Enforcement Notice was quashed. Peter and June Townley live adjacent to Herstmonceux Museum and have done so since at least 1986.
SUSSEX INDEX A - Z
CHIDDINGLY - HORSE SHOW and GYMKHANA
CUCKMERE VALLEY - EXCEAT
HERSTMONCEUX - PARISH COUNCIL - MUSEUM - ACTION GROUP - WD/2014/2663/MAO - 70 HOUSES
TWISSELLS MILL, OLD HEATHFIELD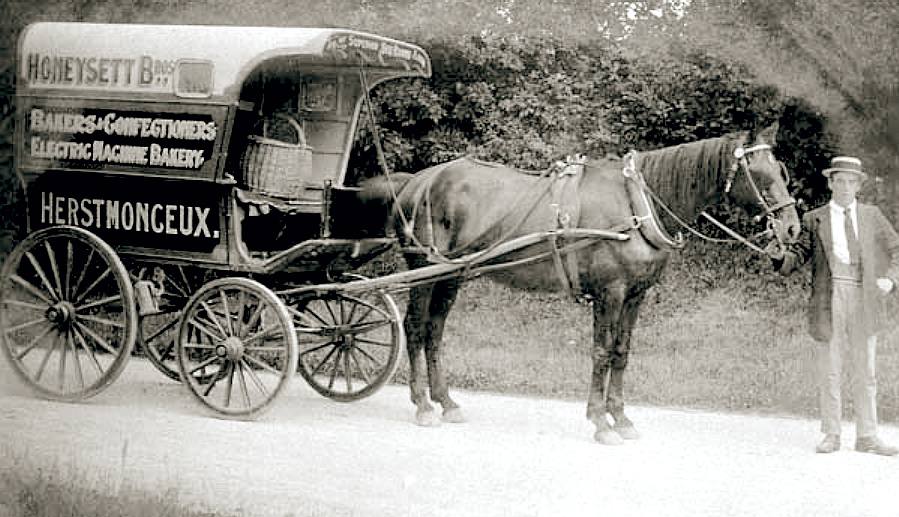 BAKING BREAD - An amazing archaeological find. This picture confirms that the old Bakery that was operated by the Honeysett Brothers between 1900 - 1914, baked their loaves using electricity that could only have come from Herstmonceux Museum at the time. Wow! The carriage may not have survived, but the building is seen in the winter scene below.
COUNCIL OFFICERS HAVING CONDUCT OF PLANNING MATTERS RELATING TO HERSTMONCEUX MUSEUM
http://digital.nls.uk/british-military-lists/pageturner.cfm?id=93364722&mode=transcription
COUNCIL MEMBERS SITTING ON - AREA PLANS SOUTH
Andrew Long - (no email address)
David White - cllr.david.white@wealden.gov.uk
Diane Dear - cllr.dianne.dear@wealden.gov.uk
Charles Peck - cllr.charles.peck@wealden.gov.uk
Chris Hardy - cllr.chris.hardy@wealden.gov.uk
Chris Triandafyllou - cllr.chriss.triandafyllou@wealden.gov.uk
Daniel Shing - daniel.shing@wealden.gov.uk
Dick Angel - cllr.dick.angel@wealden.gov.uk
Barby Dashwood-Morris - cllr.barby.dashwood-morris@wealden.gov.uk
Barry Marlowe - cllr.barry.marlowe@wealden.gov.uk
Bill Bentley - cllr.bill.bentley@eastsussex.gov.uk
Brian Jarman (deceased)
Brian West - (retired)
John Blake - cllr.john.blake@wealden.gov.uk
Lin Clark - cllr.lin.clark@wealden.gov.uk
Nigel Coltman - cllr.nigel.coltman@wealden.gov.uk
Nigel McKeeman - cllr.nigel.mckeeman@wealden.gov.uk
Raymond Cade - cllr.raymond.cade@wealden.gov.uk
Ron Cussons - cllr.ron.cussons@wealden.gov.uk
Stephen Harms - cllr.steve.harms@wealden.gov.uk
Stephen Shing - cllr.stephen.shing@wealden.gov.uk
Susan Stedman - cllr.susan.stedman@wealden.gov.uk
LOCAL NEWSPAPERS CONTACTED
Sussex Express - sussex.express@jpress.co.uk
amie.morrell@jpress.co.uk
Eastbourne Herald - eastbourne.herald@jpress.co.uk
The Argus - lucy.pearce@theargus.co.uk
emily.walker@theargus.co.uk