Councillor Robert Standley (left) - a team player, but does that extend to covering up the inconvenient truth, or are the officers pulling the wool over his eyes? Nelson Kruschandl (right) - is not alone as a victim of council discrimination, Human Rights violations and abuses. This appears to be institutionalized, all departments put on alert to cover up past lies - and that implicates all of the staff that go along with it ........ Why is our Bob not responding to these issues? Why indeed. A matter for investigation is the declarations of members interests of those who have been serving for a long time without tackling the issues that matter. What is important is a council that is discrimination and corruption free.
Councillor Robert Standley
Party: Conservative
Ward: Wadhurst
Leader of the council
Contact Information

Berriedale
Mayfield Lane
Wadhurst
East Sussex
TN5 6JE

Telephone: 01892 783579
Email: cllr.robert.standley@wealden.gov.uk

Download Councillor Robert Standley contact details as VCard
Download Councillor Robert Standley contact details as a CSV file
OPEN LETTER

Dear Councillor Standley,
As a member of a council responsible for a great many historic towns and villages, and also caretaker of the public purse, could I ask you to be especially vigilant against maladministration within the Wealden District Council.
It is my experience that your council has allowed some departments to run riot with taxpayers money. Some officers have used council resources for their own goals and as a playground for acts of impropriety, sometimes to cover up mistakes, and other times to pursue agendas for profit or personal ambitions and desires.
Your officers have persistently lied to government planning inspectors concerning The Old Steam House in Lime Park. [now Herstmonceux Museum]
It took me more than 20 years to reach an understanding with your council about the Generating Station at Herstmonceux, then having signed a Court Order by way of Agreement, accepting that the buildings are historic and that your officers deceived the Secretary of State, they then breached that contract and once again denied everything.
You must know that this is a serious breach of my Human Rights - discrimination run wild. It looks to me as though this may be to allow a resident in Lime Park to purchase the historic buildings at an undervalue - which of course constitutes fraud under the Fraud Act 2006. I recall that David Phillips was in written communication with solicitors to Peter and June Townley, residents in Lime Park for many years, suggesting that they might benefit from use of these historic buildings - clear discrimination. What was wrong with my occupation? Why should any person have preference to another?
I hope you agree that we cannot afford to let situations like this go unchecked. It is the duty of every law abiding member to report suspected crime within their council. Should any member not report suspected crime, then they become party to that crime and vicariously liable.
You were elected to represent the community, not the officers. You were elected to run the council to the best of your ability, and to stamp our corruption and discrimination - a clear violation of my rights and a Human Rights abuse using a position of authority - which makes it all the worse. It is your duty to conserve the historic built and natural environments. It is also your duty to seek to secure adequate services, education, policing and health care.
These are particularly difficult times, where public funding is under scrutiny against local issues, terrorism and global warming are serious international issues that should be targeted for spending, rather than waste money trying to cover up the inevitable publication of the wrongs of your council.
I am also aware that your council has failed to provide rolling stock for affordable housing, so perpetuating high house prices, denying those on low wages a chance to own their own home. This is surely an elitist society, where those with wealth rape those starting out in life - with help from officials who consistently fail to provide land for development as per government directions. And so the housing shortage continues. Empire building is nothing new in the Wealden district. Big houses for the wealthy and bungs for the planning officers who steer the planning applications.
I am relying on you to do the right thing for your district. If you decide to do nothing, I expect to read about your resignation, rather than hear you are collecting monies for doing nothing and staying silent. That would also be fraudulent in my opinion - by way of obtaining monies by deception. The deception being that you have failed to represent the people, or only choose to represent some (favored) people, which is again discrimination and abandonment of duty - and of course accepting money for services that you have no intention of providing.
Thank you for taking the time to read this message and I look forward to hearing from you in the near future.
Yours sincerely
Nelson Kruschandl
LEFT: Councillor Robert Standley (left) - a team player, but does that extend to covering up the inconvenient truth, or are the officers pulling the wool over his eyes? Nelson Kruschandl (right) - is a victim of council discrimination, Human Rights violations and abuses. This appears to be institutionalized, all departments put on alert to cover up past lies.
RIGHT: Councillor Robert Standley - Did you know that Wealden prosecuted Nelson Kruschandl for breaching an enforcement notice (which he finally proved in the Crown Court that he didn't) and that the enforcement notice was fraudulently obtained by lying to Inspector Dannreuther (Secretary of State) in 1986. Wealden told this Inspector at a public hearing that Herstmonceux Museum was not the original generating building, but a later building constructed on the same site. That was of course a cold hard calculated lie. The fact the Inspector was stupid enough to take this council's word for it, was not the Secretary of State's fault. Council's should not lie to Government officials. Wealden do this routinely. The fact they used a fraudulent document to seek to prosecute an innocent man was and is an abuse of process and a malicious prosecution. The Sussex Police are of course unwilling to investigate this crime - probably because they were party to the conspiracy. This same sequence of events was to be repeated in 2008, only this time it was the Sussex Police hiding evidence.........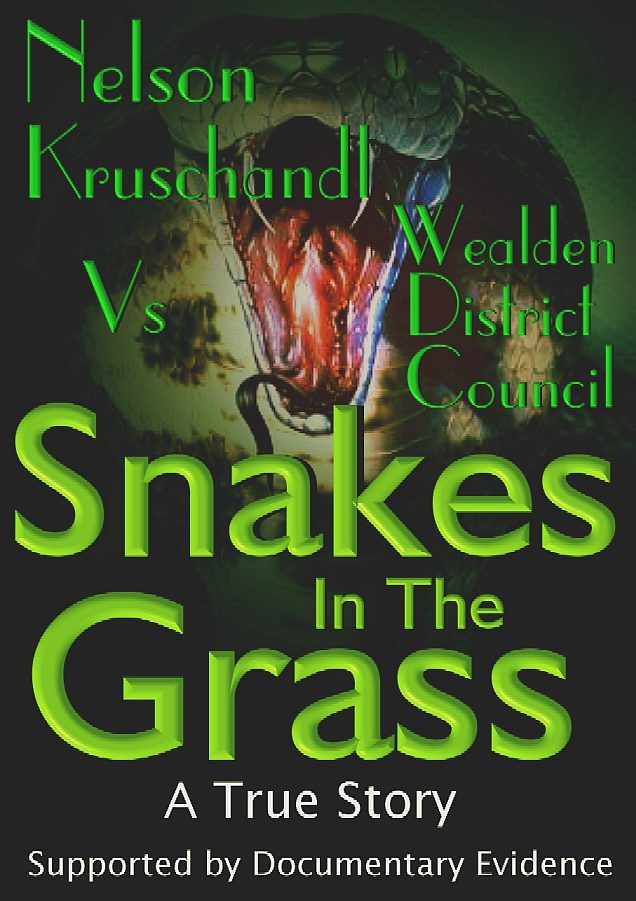 The first volume was the revelation of archaeology undisturbed for 80 years being slowly dusted off over a 30 year timeframe, adorned with witness testimony; laced with archived artifacts. The second volume is a no holds barred exposé, exploring the depths of deviousness, fraud and corruption by un-elected officials of the Wealden District Council and complicit representatives of the people - a veritable WealdenGate of a story told in the style of a murder mystery - a cross between Agatha Christie's Hercule Poirot and the Midsummer Murders. The only difference is that this story is true. This volume will follow the publication of 'The Energy Age,' which is due for publication in 2014.
HERSTMONCEUX & PARISH COUNCIL CONTACTS
COUNCIL MEMBERS SITTING ON - AREA PLANS SOUTH 2015
Andrew Long - (no email address)
David White - cllr.david.white@wealden.gov.uk
Diane Dear - cllr.dianne.dear@wealden.gov.uk
Charles Peck - cllr.charles.peck@wealden.gov.uk
Chris Hardy - cllr.chris.hardy@wealden.gov.uk
Chris Triandafyllou - cllr.chriss.triandafyllou@wealden.gov.uk
Daniel Shing - daniel.shing@wealden.gov.uk
Dick Angel - cllr.dick.angel@wealden.gov.uk
Barby Dashwood-Morris - cllr.barby.dashwood-morris@wealden.gov.uk
Barry Marlowe - cllr.barry.marlowe@wealden.gov.uk
Bill Bentley - cllr.bill.bentley@eastsussex.gov.uk
John Blake - cllr.john.blake@wealden.gov.uk
Lin Clark - cllr.lin.clark@wealden.gov.uk
Nigel Coltman - cllr.nigel.coltman@wealden.gov.uk
Nigel McKeeman - cllr.nigel.mckeeman@wealden.gov.uk
Raymond Cade - cllr.raymond.cade@wealden.gov.uk
Ron Cussons - cllr.ron.cussons@wealden.gov.uk
Stephen Harms - cllr.steve.harms@wealden.gov.uk
Stephen Shing - cllr.stephen.shing@wealden.gov.uk
Susan Stedman - cllr.susan.stedman@wealden.gov.uk
Herstmonceux Electricity Generating Works Circa. 1900 - 1936 Links:
Introduction | Instructions | ISBN | Batteries | Boiler Room | Floor Plan | Ron Saunders
Industrial Revolution | Lime Park | Machinery | Map | Power House | Argus 1999
Public Supply | Roof Construction | Rural Supply | Sussex Express 1913 | Conclusion
Archaeology South East | East Sussex CC | English Heritage | SIAS | Sx Exp 1999
Herstmonceux Links Page | Wentworth House
THIS SITE CONTAINS MANY EXAMPLES OF WEALDEN D C'S UNREASONABLE BEHAVIOUR - With thanks to Action Groups across the country for the supply of real case history and supporting documents. *THAT THE PUBLIC MAY KNOW*
Vicarage Lane, Hailsham, East Sussex, BN27 2AX T: 01323 443322
Pine Grove, Crowborough, East Sussex, TN6 1DH T: 01892 653311