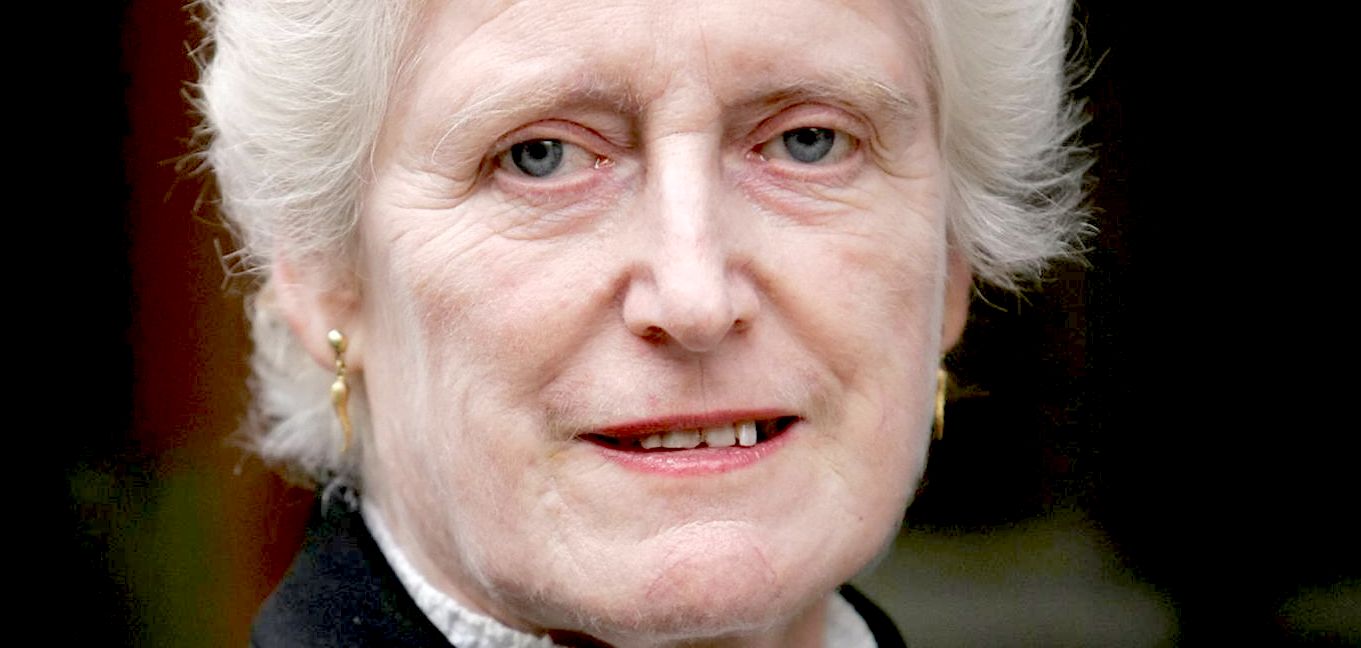 THE TIMES JULY 12 2014 - The retired judge leading the Westminster child abuse inquiry kept allegations about a bishop out of a review of how the Church of England dealt with two paedophile priests because she "cared about the Church", The Times can disclose. Baroness Butler-Sloss told a victim of alleged abuse that she did not want the claims to be in the public domain because "the press would love a bishop". Ref: Sean O'Neill Times Crime Editor
Dame Butler-Sloss is featured in connection with the long-running vendetta by the State against citizen Nelson Kruschandl, involving multiple frauds. Butler-Sloss heard a matter where Wealden District Council were trying to empty a building to make it unusable for anything, knowing full well that it was/is an important historic building. On this, as with many occasions before, this Council went too far - asking the Courts to make an Order that was Illegal. That did not deter our Dame from Ordering costs to be paid by the appellant of £26,000, having refused to admit the Health & Safety Regulations. The Court of course knows about these state granted rights and may not ignore them - but in this case the Lady chose to look the other way.
Sloss heard an Appeal in the High Court where she denied the citizen the Statutory Rights accorded to him by the State, that Wealden District Council had, in perversity, asked the Courts to deny Nelson Kruschandl - his right to basic sanitation under the Health & Safety Regulations.
The amazing part of this story is that a female High Court judge actually went along with it. Just as fascinating is that the barrister defending activist - Mr Kruschandl - also chose to ignore obvious legislation that would have defeated WDC's injunction: The H&S Regulations.
But the Mrs Justice Steel did order removal of all sanitation from Herstmonceux Museum, just as David Phillips, Vic Scarpa and Christine Nuttall were requesting, backed up by Rex Pettigrew with Derek Holness being the mastermind behind the assault working with (Herr) Ashley Brown and we would imagine the long-term master of deception, Ian Kay, not forgetting his ally in keeping his mouth shut in committee meetings; George White, somewhere in the mix. Wealden thus secured an illegal costs order, which they intended to keep in their back pocket until they needed to strike again. The Lady Judge thus became not just an accessory, but a willing accomplice and party to the fraud.
It goes without saying that such malicious actions by Wealden District Council were violations of Kruschandl's basic Human Right to enjoyment of property without interference from local authority - a breach of Article 8. That is perhaps why our Prime Ministers' are doing their best to dilute this important legislation - David Cameron being well on board with that until he wet the bed. We are heading back toward the days of Adolf Hitler like dictatorships. Who are we then to invade Iraq?
"Mr Kruschandl, having taken out the toilets to comply with the Order of the Court below, presumably you can then put them back to comply with Health and Safety Regulations." Does that seem logical to you? Surely, the Court below had no right to insist that the toilets were removed. The right to have a toilet is granted to all persons by the State. A statutory right may not be denied any person by a Court. When Nelson Kruschandl asked for permission to adduce a letter from the Health & Safety Executive, which explained the legal situation to Dame Butler Sloss, she refused. "You keep that letter in you pocket Mr Kruschandl." That is what she is said to have replied, or words to that effect. The law is indeed an ass.
So, David Phillips and Christine Nuttall did not get what they wanted from the Court, but then they had put Mr Kruschandl and his then partner through a terrible ordeal that was in fact unlawful. The Wealden District Council then sought to enforce costs - putting Mr K to even more trouble, which had the effect of destroying that relationship - as they threatened then tried to follow through to bankrupt their victim. Of course, without the authority granted to them by the Members, these officers would not have been able to run amuck wasting public money and destroying citizens lives. A lesson to all councilors in the dis-united kingdom that the UK is rapidly heading toward. Can you blame Scotland for wanting independence.
NEW STATESMAN, JULY 14 2014
It's another shambles for David Cameron: the government has just announced that Dame Elizabeth Butler-Sloss has stepped down as head of the child abuse inquiry. No.10 insisted at this morning's lobby briefing that the decision was her own and that Cameron and Theresa May continued to believe that she was the right person to lead the panel. May spoke to Butler-Sloss by phone at the weekend but only after she had made her decision to resign.

Here's Downing Street's statement on the news:

[Lady Butler-Sloss] has taken the decision to step down as chair of the panel inquiry. It is entirely her decision. The government's view hasn't changed, that she would have done a first-class job as chair. The reasons for her appointment still absolutely stand in terms of her professional expertise and her integrity, which I don't think has been questioned from any quarter whatsoever, and rightly so.

Calls for the former high court judge's resignation began almost immediately after her appointment last week owing to the fact her brother, Michael Havers, served as Margaret Thatcher's attorney general from 1979 to 1987, the period when many of the offences are alleged to have taken place (No.10 insists that Cameron was aware of this). They then intensified when the Times reported on Saturday that she excluded allegations about a bishop from of a review of how the Church of England dealt with two priests allegedly involved in paedophilia because she "cared about the Church".

Here's Butler-Sloss's statement in full:

I was honoured to be invited by the Home Secretary to chair the wide-ranging inquiry about child sexual abuse and hoped I could make a useful contribution.

It has become apparent over the last few days, however, that there is a widespread perception, particularly among victim and survivor groups, that I am not the right person to chair the inquiry. It has also become clear to me that I did not sufficiently consider whether my background and the fact my brother had been Attorney General would cause difficulties.

This is a victim-orientated inquiry and those who wish to be heard must have confidence that the members of the panel will pay proper regard to their concerns and give appropriate advice to Government.

Nor should media attention be allowed to be diverted from the extremely important issues at stake, namely whether enough has been done to protect children from sexual abuse and hold to account those who commit these appalling crimes.

Having listened to the concerns of victim and survivor groups and the criticisms of MPs and the media, I have come to the conclusion that I should not chair this inquiry and have so informed the Home Secretary.

I should like to add that I have dedicated my life to public service, to the pursuit of justice and to protecting the rights of children and families and I wish the inquiry success in its important work.

Theresa May, who will face questions on the subject when she appears before the home affairs select committee at 3pm, said:

I am deeply saddened by Baroness Butler-Sloss's decision to withdraw but understand and respect her reasons. Baroness Butler-Sloss is a woman of the highest integrity and compassion and continues to have an enormous contribution to make to public life.

As she has said herself, the work of this inquiry is more important than any individual and an announcement will be made on who will take over the chairmanship and membership of the panel as soon as possible so this important work can move forward.

A new chair for the wide-ranging inquiry, which will examine how the government, the NHS, the BBC and other public institutions handled allegations of abuse, will now be appointed. Given the seriousness of the issue, and the imminent cabinet reshuffle, this self-inflicted mess has come at a bad time for Cameron.

The key decision facing the government now is whether to appoint another establishment figure to lead the inquiry, or whether, as many would prefer, to recruit a more distant outsider.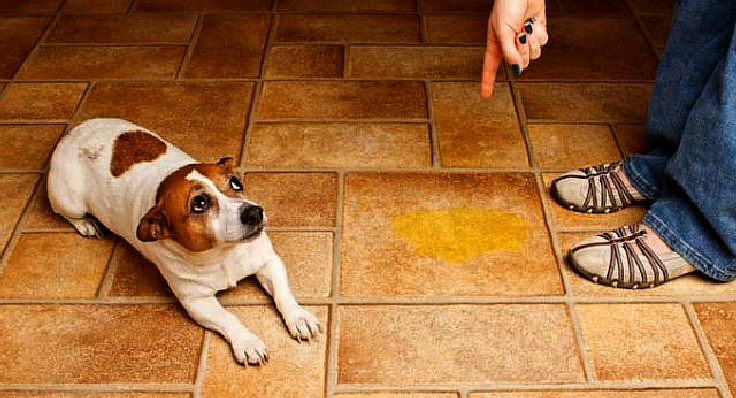 HOUSE TRAINING COUNCILS - Making councils obey the law of the land is incredibly difficult where institutionalized discrimination is rife and there are too many vested interests for them to be able to do the right thing. We need then to look at how we train animals not to foul our houses, for guidance on how to treat officers and member councillors that are well versed in controlling development to suit their pockets, rather than the pocket of all those young families that cannot afford to live and have become financial slaves to the renting society that Margaret (Hatchet) Thatcher created, the woman who thought she could tax every citizen in the UK, so inciting riots that eventually saw her ousted.
ABOUT DAME BUTLER SLOSS
Elizabeth Butler-Sloss, Baroness Butler-Sloss (née Havers; born 10 August 1933), GBE, PC, is a retired English judge. She was the first female Lord Justice of Appeal and, until 2004, was the highest-ranking female judge in the United Kingdom. Until June 2007, she chaired the inquests into the deaths of Diana, Princess of Wales, and Dodi Fayed. She stood down from that task with effect from that date, and the inquest was conducted by Lord Justice Scott Baker.

Early life

Born Ann Elizabeth Oldfield Havers in Buckinghamshire to Sir Cecil Havers, a judge, she was sister to the late Lord Chancellor, the Lord Havers, and is aunt to his sons, the actor Nigel Havers and Philip Havers QC. She was educated at Broomfield House School in Kew in west London, and Wycombe Abbey School in High Wycombe in Buckinghamshire, followed by a year at the University of Lausanne.

Legal career

She was called to the Bar from the Inner Temple in 1955. In 1958, she married Joseph Butler-Sloss. She was appointed a Registrar at the Principal Registry of the Family Division in 1970. In 1979, she became the fourth woman to be appointed a High Court judge, after Elizabeth Lane, Rose Heilbron, and Margaret Booth. As were all previous female High Court judges, she was assigned to the Family Division. She was also made a Dame Commander of the Most Excellent Order of the British Empire (DBE).

In 1988, she became the first woman appointed as a Lord Justice of Appeal (judge of the Court of Appeal), having chaired the Cleveland child abuse inquiry in the previous year. In 1999, she became President of the Family Division of the High Court of Justice, the first woman to hold this position and the highest-ranking woman judge in the United Kingdom until Brenda Hale became the first female Lord of Appeal in Ordinary, in January 2004.

She was advanced to the rank of Dame Grand Cross of the Most Excellent Order of the British Empire (GBE) in the 2005 New Year Honours. On 12 January 2005, it was announced that she was retiring, being replaced as President of the Family Division by Sir Mark Potter, then a Lord Justice of Appeal.

On 3 May 2006, it was announced by the House of Lords Appointments Commission that she would be one of seven new life peers – so-called 'people's peers'. She was created Baroness Butler-Sloss, of Marsh Green in the County of Devon, on 13 June 2006. On 4 August 2006 she was appointed to the Court of Ecclesiastical Causes Reserved for a period of five years.

On 7 September 2006 she was appointed as Deputy Coroner of the Queen's Household and Assistant Deputy Coroner for Surrey for the purpose of hearing the inquest into the death of Diana, Princess of Wales. On 2 March 2007, she was appointed as Assistant Deputy Coroner for Inner West London for the purpose of transferring the jurisdiction of the inquest to Inner West London so that the proceedings may sit in the Royal Courts of Justice. On 24 April 2007, she announced she was stepping down in June 2007, saying she lacked the experience required to deal with an inquest with a jury. The role of coroner for the inquests was transferred to Lord Justice Scott Baker. This had been preceded by the overturning by the High Court of her earlier decision to hold the inquest without a jury.

She became Chancellor of the University of the West of England in 1993 and an Honorary Fellow of St Hilda's College, Oxford, Peterhouse, Cambridge, Corpus Christi College, Cambridge, King's College London, the Royal College of Physicians, the Royal College of Psychiatrists and the Royal College of Paediatrics and Child Health. She sits on the Selection Panel for Queen's Counsel. In December 2004 she was awarded an Honorary Doctor of Laws from the University of Bath, and in June 2005 she was awarded an honorary degree from the Open University as Doctor of the University. She is Chairman of the Security Commission.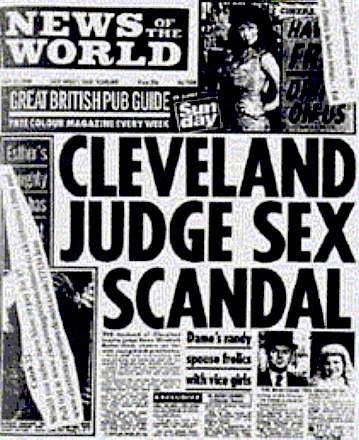 News of the World front page, 17 July 1988
NEWS OF THE WORLD SEX SCANDAL
Previously the most senior family law judge in the UK, and as Chair of the Family Justice Committee set up to advice Parliament, Dame Elizabeth Butler-Sloss must bear major responsibility for the circumstances men and fathers find themselves in, as described elsewhere on other websites.

It is significant that as a judge she was appointed Chair of the Family Justice Committee. This implied that she had major influence in advising about future laws. But if a judge is heavily involved in law-making, doesn't that undermine democracy?

The News of the World carried an article about Butler-Sloss's husband. Under the front-page headlines "Cleveland Judge Sex Scandal" and "Dame's randy spouse frolics with vice girls" was an article reporting that he was a judge in Kenya and was 'associating' with prostitutes.

We may well ask: Has her experience of this episode in her life 'coloured' her view of men and affected her judgements about family cases and men's rights ? If so, is she capable of being an 'impartial tribunal' in family cases as required by article 6 of the European Convention on Human Rights?

(Butler-Sloss acted in the Cleveland child abuse inquiry, hence the "Cleveland judge" reference.)
BBC NEWS COVERAGE MARCH 2002
During a judicial career spanning 35 years, she was widely acknowledged as being responsible for opening up the judicial system to women. Her decisions were often sensitive, and rulings over the custody of children after divorces made her a target for campaign groups like Fathers for Justice. But colleagues say the mother-of-three was always fair in her rulings.
Child law expert Allan Levy QC is quoted as saying: "She has an extraordinary understanding of people from all walks of life... she's also very patient. Even people who have lost their cases feel that she's given them a fair and sympathetic hearing."
Richard Gordon QC said: "She's very practical, very down to earth, very robust, and very decisive."


FORMER RULINGS

Dame Elizabeth, (85 @ 2014), was thrust into the public eye in the late 1980s during the Cleveland child abuse inquiry which resulted in the Children Act of 1989.

The act incorporated many of her recommendations aimed at ensuring that children were not removed from parents unless absolutely necessary.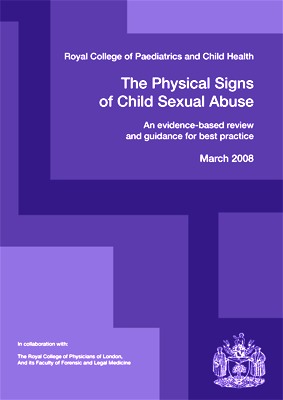 MORE RESEARCH NEEDED - In respect of forensic examinations, Dame Butler Sloss says that more research is needed. We could not agree more. But surely, we need a new law or guidance as to procedural compliance by doctors acting in an official capacity. Dr Melanie Liebenberg is accused of failing to properly (fully) carry out the inspection of a girl alleging abuse, because it is alleged that she must have realised that a girl she was examining was a virgin (unsullied), but that she kept that to herself - concentrating on another issue by way of slight of hand - knowing that that issue was dead. This is surely then, a case for investigation by the Royal Commission.
Whereas, the finding in R v Ward - where scientists had agreed to keep secret that a test for nitroglycerine also proved positive with boot polish, was that experts owed a duty to the courts to provide factual findings even where those facts do not support the Crown's case. Ward was convicted of being a bomber on the strength of such junk science and served many years in prison before the establishment realized that she was telling the truth - and referred her case to the Court of Appeal.

OTHER FAMOUS CASES


* She ruled that the child killers of toddler James Bulger should be entitled to lifelong anonymity

* She overrode the wishes of the parents whose 15-year-old daughter, already a mother, sought an abortion

* She dismissed an appeal by millionaire racehorse owner Ivan Allan against an order that his former mistress, Glory Anne Clibbery, should be allowed to reveal details of their relationship

* She blocked a mother's attempt to have her 29-year-old mentally disabled daughter sterilised

* She blocked a man's legal battle to see a test-tube baby daughter, who was conceived after his relationship with the mother broke up.

In 1999 she said she supported the adoption of children by gay couples, although she did not go so far as to advocate a change in the law.
AUNTIE
Dame Elizabeth comes from a legal family. Her father was a high court judge, who sentenced to death Ruth Ellis, the last woman to be hanged in Britain.
She is the sister to the late Lord Chancellor, Lord Havers, making her aunt to the actor Nigel Havers and his brother, Philip.
She became a High Court judge in 1979 at the age of 46 and in 1988 became the first woman appointed to the Court of Appeal.
In her early career she stood while pregnant as Conservative candidate in the Labour stronghold of Vauxhall and lost, then set up and ran a nursery for toddlers at a basement in the Temple, one of the Inns of Court.


PERSONAL LIFE
She and her husband, Joseph William Alexander Butler-Sloss, have three children:
Hon. Frances Ann Josephine Butler-Sloss (now Richmond) (b. 13 October 1959);
Hon. Robert Joseph Neville Galmoye Butler-Sloss (b. 15 July 1962);
Hon. William Edmund Patchell Minchin Butler-Sloss (b. 21 September 1967)
The Baroness Butler-Sloss is a church-going Anglican. In 2002 she chaired the Crown Appointments charged with the selection of a new Archbishop of Canterbury. She is Chairman of the Advisory Council of St Paul's Cathedral.
Famous Judgments

Re B (Consent to Treatment: Capacity) [2002] EWHC 429
Re T (Consent to Medical Treatment)(Adult Patient) [1993] Fam. 95
Infamous Judgments
Herstmonceux Museum Wealden District Council
http://news.bbc.co.uk/1/hi/uk/1887194.stm
http://www.c-g.org.uk/issues/shame/debs/content.htm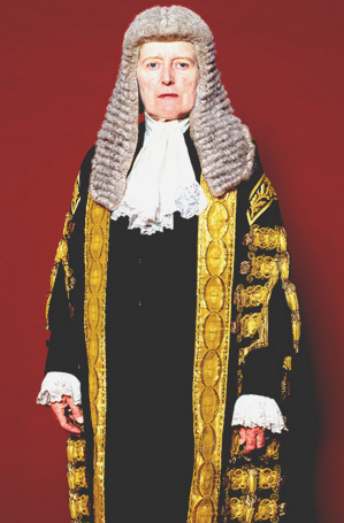 The ridiculous outfits (Robes & Wigs) that UK Judges wear - in this case suitable fancy dress for the ridiculous judgments that the courts frequently hand out. On that front, a red nose and bow tie would be more in keeping with some of the verdicts. British justice is a mockery, where more than 3% of convictions see innocent men spending time in prison.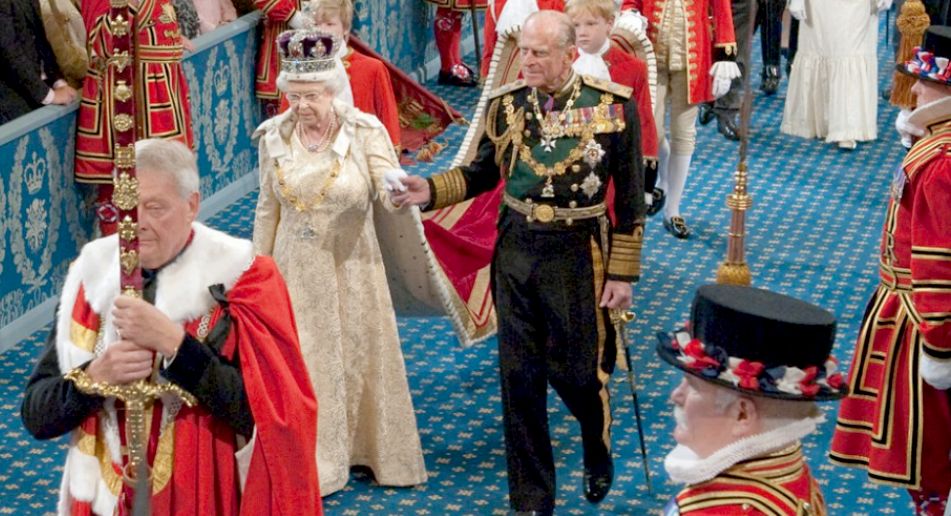 THE ROYAL COMMISSION
Then there is the Royal Commission, which in theory will put an application to a court through to the Lord Bishops. Theory, because any corrupt judges in the pipeline who rule the courts, will simply strike an inconvenient application out. Before that the Court administration, usually Clerks or Masters, is the filtering system by which claims of corruption are denied a hearing. Corrupt officials will do anything to stop the Royal Family and the Prime Minister hearing about Fraud in their courts or in the system - and for that they may be knighted by the back door - for services rendered.
Sometimes the Prime Minister is not an honest officer of the land, in which case the job of getting heard will be harder still. David Cameron is one PM who is considered to be an honest officer, properly serving Her Majesty. But, even so, applications citing the Attorney General or the Home Office are not getting through. The proof is in the pudding. Many are trying and being led a merry dance.
Barristers and Judges know that they must service local government frauds. If they do not, they will soon be cut out of the pie. So they tow the party line. They convict anyone just for the asking, knowing that council officials will fabricate evidence to help them get the job done - and they actively assist in controlling their courts in biased fashion.
Sometimes it is not fabricating evidence is the sense of creating false evidence, it is simply not investigating, or only presenting evidence for the prosecution. Those Legally Aided have almost no chance in any case where the defence has to do any work above that required for a theft case, etc. Why is that important? Well, in a theft case the onus is on the State to prove guilt. In a sex case, the onus in on the defence to prove innocence. How is that possible? Because they changed the law in sex cases to almost guarantee a conviction, where David Blunkett was too busy being serviced by his secretary to notice that the Sexual Offences Act 2003 that he put his name to took away the Article 6 rights of those accused. Talk about the blind leading the blind.
Some statute has been crafted as a tool to assist the courts obtain fraudulent convictions. Once such abomination is the Sexual Offences Act, where a person is guilty until proven innocent - instead of being innocent until proven guilty, as required by Article 6 of the European Convention of Human Rights and Fundamental Freedoms.
LINKS
BBC News UK politics the royal commission
The Guardian Australian news 2016 February 23 George Pell to give royal commission evidence from Rome's hotel quirinale
Church of England our views in parliament bishops in the house of lords
New Statesman politics 2014 July dame elizabeth butler sloss resigns head child abuse inquiry
The Times Dame Butler-Sloss conflict of interest hiding evidence
http://www.miss-ocean.com/Conferences_Exhibitions/David_Cameron_MP_Conservative_Party.htm
http://www.thetimes.co.uk/tto/news/uk/article4145685.ece
http://www.newstatesman.com/politics/2014/07/dame-elizabeth-butler-sloss-resigns-head-child-abuse-inquiry
https://www.churchofengland.org/our-views/the-church-in-parliament/bishops-in-the-house-of-lords.aspx
http://www.theguardian.com/australia-news/2016/feb/23/george-pell-to-give-royal-commission-evidence-from-romes-hotel-quirinale
http://news.bbc.co.uk/1/hi/uk_politics/258957.stm