Wealden is a substantial district covering some 323 square miles of lush downland where wealthy people like to retire. Wealden is the largest district in East Sussex, home to some 143,000 people.
| | | | | | | | | | |
| --- | --- | --- | --- | --- | --- | --- | --- | --- | --- |
| ND 2014 | £1.46 trillion (estimated) | | | | | | | | - |
| ND 2013 | £1.33 trillion | | | | | | | - | |
| ND 2012 | £1.04 trillion | | | | | | - | | |
| ND 2011 | £0.91 trillion | | | | | - | | | |
| ND 2010 | £0.76 trillion | | | | - | | | | |
| ND 2009 | £0.62 trillion | | | - | | | | | |
| ND 2008 | £0.53 trillion (banking crisis) | | - | | | | | | |
| ND 2007 | £0.44 trillion (estimated) | - | | | | | | | |

Two-thirds of the district is covered by the High Weald and Sussex Downs Areas of Outstanding Natural Beauty. There are 34 conservation areas and over 2,500 listed buildings.
Wealden places a high value on protecting the countryside, but no value at all on protecting buildings of local historic interest - and that is one reason why there is no Local List. The other reason is that was inconvenient to have certain buildings recognised, which might clash with long standing enforcement agendas. The problem with this attitude is that tourism suffers, and tourism is one of the biggest earners in the South of England according to the Department of Culture Media and Sport (DCMS). It follows that the hidden agenda has been costing local businesses for years. A sort of 'cut off your nose to spite your face' policy.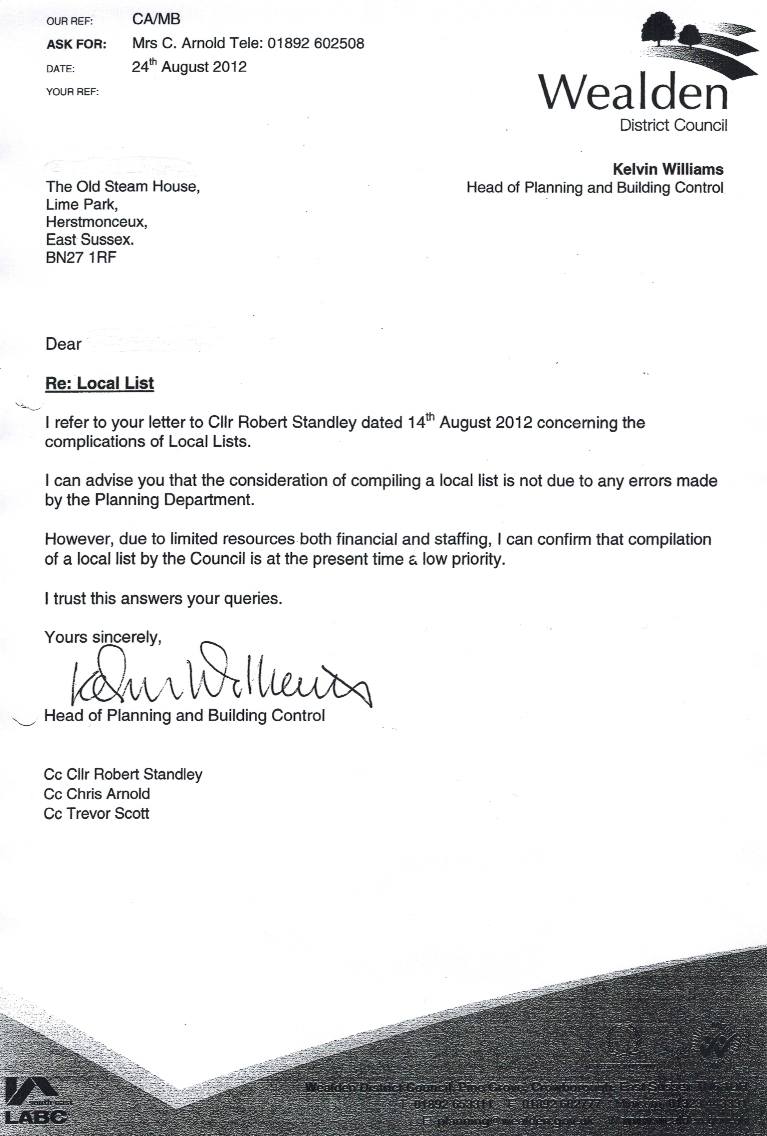 Councillor Robert Standley is obviously a team player, but does that extend to covering up the inconvenient truth, or are the officers pulling the wool over his eyes? One prominent resident has been a victim of council discrimination, Human Rights violations and abuses for many years. This appeared to be institutionalized, with all departments put on alert to cover up past HR violations - but then came the Human Rights Act, leaving a lot of egg on faces to be removed slowly over many years in the hope nobody would notice the swing in policies. Fat chance!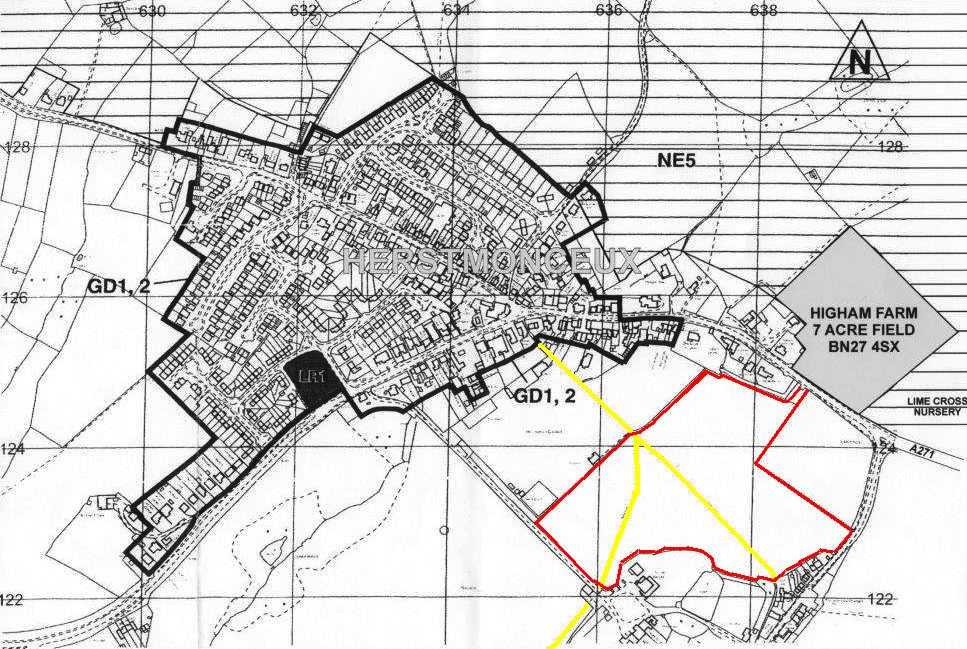 ZERO CARBON BRITAIN - Hardly! Developments such as that proposed at Lime Cross field at Herstmonceux are making home ownership more of a distant memory for most young families in Sussex. The classic 70 house mix is now a favourite tactic employed by London planners such as Barton Willmore, who are scooping up windfall profits from the current loophole that thousands of speculative property developers are scrambling to take advantage on in the biggest gold rush since the Klondike.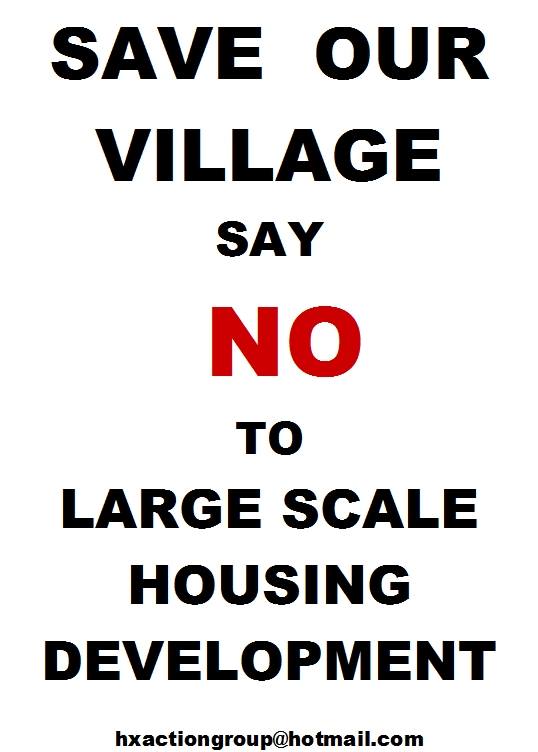 Planning policies are being cast to the wind as councils are giving consents on land previously declared as unsuitable for development. Plainly, Lime Cross is well outside the village development boundary that is outlined in black on the above plan. The size of the proposed development, outlined in red, is almost a second Herstmonceux village, consolidating and pulling into the adopted village development boundary, Chappell Row, Church Road and Lime Park. At several planning appeals Wealden has argued the above - but is now indicating a 'U' Turn in policies that have held sway and cost the ratepayer almost £500,000 half a million pounds to cement. If approved, the level of hypocrisy will exceed that anticipated by hundreds of villagers who are protesting vociferously.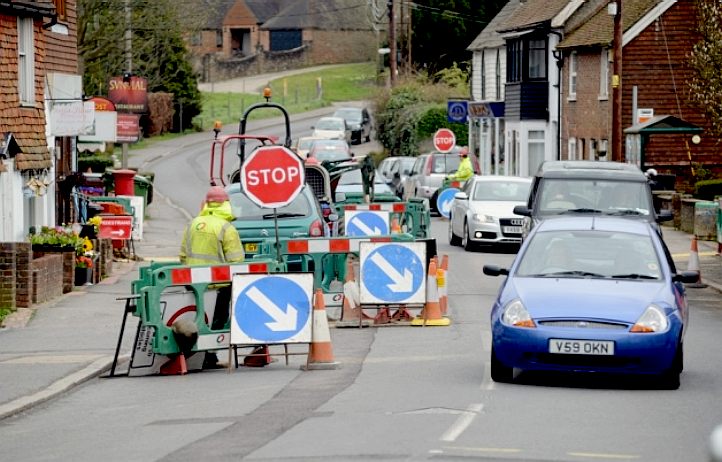 CONGESTION - In order to prevent traffic chaos, development should be balanced and gradual - so, should work from the village outward with even distribution around the compass. The proposed site access, though somehow approved by ESCC, is far from satisfactory - indicating just how deep Planning Gold Rush fever has gripped the county. Just as with the Klondike towns, excess village development will lead to long term disappointment.
WEALDEN'S CABINET & RESPONSIBILITIES:

Cllr Bob Standley — Leader; also responsible for Finance and Policy.
Cllr Claire Dowling — Corporate Services and Deputy Leader.
Cllr Jan Dunk — Corporate Assets.
Cllr Rowena Moore — Waste Management.
Cllr Roy Galley — Planning & Development.
Cllr Graham Wells — Affordable Housing.
Cllr Johanna Howell — Community and Voluntary Sector.
Cllr Jonica Fox was re-elected Chairman of the Council unopposed
Cllr Brian Redman was elected vice-chairman

The following positions were also approved by Full Council:

Chairman of the Licensing Committee: Cllr Susan Stedman.
Chairman of the Community and Environment Scrutiny Committee: Cllr David Larkin
Chairman of Internal and Audit Scrutiny Committee: Cllr Huw Merriman.
Chairman of Planning Committee North: Cllr Ann Newton.
Chairman of Planning Committee South: Cllr Barby Dashwood-Morris.
Chairman of the Personnel Committee: Cllr Claire Dowling.
Chairman of the Standards Committee: Cllr Lin Clark (from 1 July).
Wealden community strategy LSP Board member RoyGalley

OPEN LETTER

Dear Councillor,
As a member of a council responsible for a great many historic towns and villages, and also caretaker of the public purse, could we ask you to be especially vigilant against maladministration within the Wealden District Council.
Maladministration is where a local authority fails to carry out the function that it was created to perform. The reason we mention this is because of the appalling history of planning enforcement appeals that were forced on members of the public - and never should have been sanctioned in the first place. That was the reason for the creation of this website and formation of the Wealden Action Group.
Obviously, we want to do our best to keep your council on the straight and narrow - and the way to do this is to monitor your progress and where applicable, lobby members, MPs and the media, pointing our potential pitfalls, so helping your council to avoid administrative errors. We thus contribute to council efficiency.
One of the most important functions that a council is charged with, is to provide a rolling stock of land for affordable housing. The fact that most councils are not doing so, is a major problem that is making the next generations financial slaves. The UK has an unenviable history of human rights abuses, beginning with the invention of concentration camps.
While (empire) building mansions might make a lot of bankers and landlords very happy; it is fair? We were under the impression that Britain was aiming to be zero carbon by 2050. That goal relies on sustainable practices and sustainability equals affordability. Huge profits for some and slavery for others is not zero carbon friendly.
Building expensive homes, where we cannot house low wage earners, is economic lunacy. This is elitist politics, rather than an equal opportunities bedrock - that should prevail in the interests of democracy.
These are particularly difficult times, where public funding is under scrutiny against overspending, but such international issues as global warming should still be targeted for attention. We would then expect grants of planning permission for houses that are both affordable and zero carbon - to reduce global warming - and that means smaller houses with a proportionally smaller carbon footprint.
A workable formula for such housing is clear. Sweden and Germany lead with flatpack and other low energy housing - that is affordable, being in the £25-70,000 range. Young families could afford to buy such houses, provided that councils earmark land for affordable development.
What we don't want is agricultural land suddenly going from £5,000 an acre to £1,000,000 - simply because a council failed to identify land for affordable housing. The moment land is allowed to escalate in value, houses are no longer affordable.
Could we suggest that land that is identified as suitable (necessary) for affordable housing, should only be granted consent for genuinely affordable homes. That might put a stop to the Klondike planning stampede that has opened up as a result of council sloth.
Once land is earmarked for affordable developments, Community Land Trusts could build houses for letting at sensible rents - but once again, they need land that is identified as being for affordable housing.
Thank you for taking the time to read this message and we look forward to seeing many sustainable decisions in the future and perhaps hearing your views on such proposals, when you have a spare moment.
Yours sincerely
Horse Sanctuary Trust UK (an equal opportunities organisation)
HERSTMONCEUX & PARISH COUNCIL CONTACTS
COUNCIL MEMBERS SITTING ON - AREA PLANS SOUTH 2015
Andrew Long - (no email address)
David White - cllr.david.white@wealden.gov.uk
Diane Dear - cllr.dianne.dear@wealden.gov.uk
Charles Peck - cllr.charles.peck@wealden.gov.uk
Chris Hardy - cllr.chris.hardy@wealden.gov.uk
Chris Triandafyllou - cllr.chriss.triandafyllou@wealden.gov.uk
Daniel Shing - daniel.shing@wealden.gov.uk
Dick Angel - cllr.dick.angel@wealden.gov.uk
Barby Dashwood-Morris - cllr.barby.dashwood-morris@wealden.gov.uk
Barry Marlowe - cllr.barry.marlowe@wealden.gov.uk
Bill Bentley - cllr.bill.bentley@eastsussex.gov.uk
John Blake - cllr.john.blake@wealden.gov.uk
Lin Clark - cllr.lin.clark@wealden.gov.uk
Nigel Coltman - cllr.nigel.coltman@wealden.gov.uk
Nigel McKeeman - cllr.nigel.mckeeman@wealden.gov.uk
Raymond Cade - cllr.raymond.cade@wealden.gov.uk
Robert Standley - cllr.robert.standley@wealden.gov.uk
Ron Cussons - cllr.ron.cussons@wealden.gov.uk
Stephen Harms - cllr.steve.harms@wealden.gov.uk
Stephen Shing - cllr.stephen.shing@wealden.gov.uk
Susan Stedman - cllr.susan.stedman@wealden.gov.uk
LOCAL NEWSPAPER CONTACTS
Sussex Express - sussex.express@jpress.co.uk
amie.morrell@jpress.co.uk
Eastbourne Herald - eastbourne.herald@jpress.co.uk
The Argus - lucy.pearce@theargus.co.uk
The Klondike Gold Rush was a migration by an estimated 100,000 prospectors to the Klondike region of the Yukon in north-western Canada between 1896 and 1899. Gold was discovered there by local miners on August 16, 1896 and, when news reached Seattle and San Francisco the following year, it triggered a stampede of would-be prospectors. Some became wealthy, but the majority went in vain. The Klondike Gold Rush ended in 1899 after gold was discovered in Nome, Alaska prompting an exodus from the Klondike. It has been immortalized by photographs, books and films.

To reach the gold fields most took the route through the ports of Dyea and Skagway in Southeast Alaska. Here, the Klondikers could follow either the Chilkoot or the White Pass trails to the Yukon River and sail down to the Klondike. Each of them was required to bring a year's supply of food by the Canadian authorities in order to prevent starvation. In all, their equipment weighed close to a ton, which for most had to be carried in stages by themselves. Together with mountainous terrain and cold climate this meant that those who persisted did not arrive until summer 1898. Once there, they found few opportunities and many left disappointed.

Mining was challenging as the ore was distributed in an uneven manner and digging was made slow by permafrost. As a result, some miners chose to buy and sell claims, building up huge investments and letting others do the work. To accommodate the prospectors, boom towns sprang up along the routes and at their end Dawson City was founded at the confluence of the Klondike and the Yukon River. From a population of 500 in 1896, the hastily-constructed town came to house around 30,000 people by summer 1898. Built of wood, isolated and unsanitary, Dawson suffered from fires, high prices and epidemics. Despite this, the wealthiest prospectors spent extravagantly gambling and drinking in the saloons. The Native Hän people, on the other hand, suffered from the rush. Many of them died after being moved into a reserve to make way for the prospectors.

From 1898, the newspapers that had encouraged so many to travel to the Klondike lost interest in it. When news arrived in the summer of 1899 that gold had been discovered in Nome in west Alaska, many prospectors left the Klondike for the new goldfields, marking the end of the rush. The boom towns declined and the population of Dawson City fell away. Mining activity of the gold rush lasted until 1903 when production peaked after heavier equipment was brought in. Since then the Klondike has been mined on and off and today the legacy draws tourists to the region and contributes to its prosperity.
LINKS & REFERENCE
http://www.eastbourneherald.co.uk/news/local/more-water-works-set-for-rural-village-1-5310560
http://www.sussexmillsgroup.org.uk/
http://www.nationaltrail.co.uk/
https://www.gov.uk/government/organisations/department-for-culture-media-sport
http://www.english-heritage.org.uk/

THIS SITE CONTAINS MANY EXAMPLES OF WEALDEN D C'S UNREASONABLE BEHAVIOUR - With thanks to Action Groups across the country for the supply of real case history and supporting documents. *THAT THE PUBLIC MAY KNOW*
Vicarage Lane, Hailsham, East Sussex, BN27 2AX T: 01323 443322
Pine Grove, Crowborough, East Sussex, TN6 1DH T: 01892 653311


A-Z Index | Site Map | Contact Us
This site is free of © Copyright except where specifically stated. Any person may download, use and quote any reference or any link, and is guaranteed such right to freedom of information and speech under the Human Rights and Freedom of Information Acts. However, be aware that we cannot be held liable for the accuracy of the information provided. All users should therefore research matters for themselves and seek their own legal advice and this information is provided simply by way of a guide. Horse Sanctuary Trust UK.