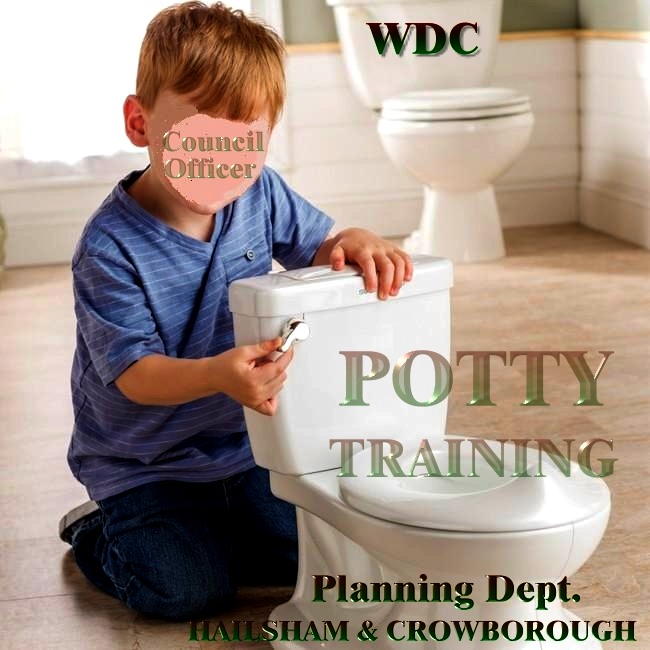 POTTY TRAINING - Using a potty correctly may be a new skill for your planning team to learn if they keep missing the bowl or forgetting to flush, wet the bed, or maybe even fumble the paperwork. Being patient and firm with them will help them get it right eventually, even if they sometimes feel frustrated. They should be taught that every person in the land is entitled to receive and impart information as a basic Human Right under the provisions of Article 10. This is no matter how much their legal team are out to keep planning consents a closed shop. And yes, we know how irritating it is to be caught out consistently by some members of the public - and yes of course that makes you hate that/those members of the public more - leading you into trying another dirty trick in revenge. But will that lead to more spillages being uncovered? The answer to all bed-wetting is to be persistent and gently keep those in positions of trust from straying too far from statute.
It was the Wealden Action Group (WAG) that forced this Council to make recordings of their own meetings, when on the 14th of September 2000, Nelson Kruschandl attended an Area Plans South committee meeting and openly recorded that session with members of the press present. Councillor Colonel Brian Hubbard was the chairman of the committee at the time.
Although full disclosure can be ordered by any Court in relation to suspected misuse of public funds, in light of this council's history of human rights violations, it might be prudent for members of the public to exercise their Article 10 right to receive information. In this manner you can compare the recording that Wealden has supplied with the recording that you have made to see if their version has been tampered with. We would suggest ordering their version in any event.
You should be aware that when exercising this human right, you do not need permission from the authority that you are seeking to expose. If you have to seek permission, it is of course no longer a right - and the Act says that it is a right. To warn them of your intention may harm the outcome where you need to catch these animals (as in nature) unaware that they are being filmed to witness their true colours.
The then Secretary of State, Eric Pickles, encouraged members of the public to make video recordings of meetings in the interests of furthering transparent local government - and this was widely reported in the media.
FAO: Martyn Garrett Fax Ref. 01892 602222
Member Services Manager
Wealden District Council
Pine Grove
Crowborough
East Sussex.
TN6 1DH
20 September 2004

Dear Mr Garrett
Your Ref. MGG/JC/WD/03/2776/F
Thank you for your letter dated 13 September 2004.

We must express some concern that the recordings your council offer, may not be of high quality, as per your advice; due to the background noise. We are advised Mr ???? ????was refused permission to make his own recording, a view endorsed by the Chairman of the Committee.

It would seem therefore, we are in the unhappy situation where the only recording available to us in respect of these meetings may not impart the information for our purposes. You will appreciate that if that is indeed the case, then the service your council are offering may not be up to the task, where the objective is to provide accurate information to the public. In the circumstances described, this may constitute a breach of the Human Rights Act 1998.

That said, on this occasion we will proceed with the purchase as per our correspondence and agree the charge for the service at £40 per meeting for the 27th May 04 and 24th June 04 meetings in connection with WD/03/2276/F. Please advise when the recordings may be collected. We will settle up on collection.

You should be aware that if the recordings prove to be inaudible, we may be forced to take the matter up at a higher level.

We look forward to hearing from you at your earliest convenience.

Yours sincerely




_______________________
Planning & Civil Rights Ltd

Victorio Scarpa, David Whibley, Julian Black, Daniel Goodwin, Chris (tine) Arnold
Christine Nuttall, David Phillips, Douglas Moss, Ian Kay, Charles Lant
MISFEASANCE & MALFEASANCE
When an officer of the courts omits to include evidence that he knows is relevant to a hearing, that is termed misfeasance in public office. Where an officer then tries to cover up his or her misfeasance (as did Ian Kay in the Stream Farm matter), that becomes malfeasance. The difference is that misfeasance is a civil wrong, whereas malfeasance is a criminal offence. The leading case precedent on malfeasance is: R. v Bowden 1995 Court of Appeal (98 1 WLR), where police constable Bowden failed in his duty to protect a member of the public.
Vicarage Lane, Hailsham, East Sussex, BN27 2AX T: 01323 443322
Pine Grove, Crowborough, East Sussex, TN6 1DH T: 01892 653311
LINKS & REFERENCE
https://web.zurich.co.uk/
http://www.royalmail.com/
http://www.sussex.police.uk/
http://www.wealden.gov.uk/

Abbott Trevor - Alcock Charmain - Ditto - Arnold Chris (Christine) - Barakchizadeh Lesley - Black Julian - Boakes Beverley
Paul Barker - Brigginshaw Marina - Brown Ashley - Coffey Patrick - Douglas Sheelagh - Flemming Mike - Garrett Martyn - Goodwin Daniel
Holness Derek - Hoy Thomas - Johnson Geoff - Kay Ian - Kay I. M. - Lant Charles - Mercer Richard - Mileman Niall
Moon Craig - Moss Douglas, J. - Nuttall Christine - Phillips David - Scarpa Victorio - Scott Trevor - Kevin Stewart
Wakeford M. - Whibley David - White, George - Williams Kelvin