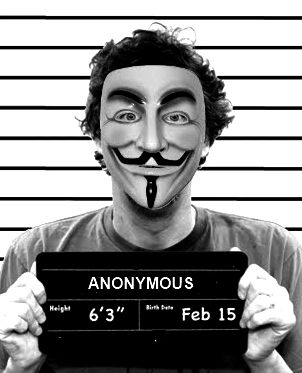 Doug Moss - wanted in connection with allegations of copyright theft. He wishes to remain anonymous - no really! This officer worked with other officers of this council to prevent restoration and recognition of the old generating buildings at Herstmonceux, now a museum. The problem is that this man is still working in the background at Wealden District Council. We were under the impression that criminals could not be employed by the Civil Service, and not hold any position of trust in local authorities! That all depends on the local authority. If they are a bunch of crooks, it might be that dishonest behavior if a prerequisite to employment.
It is alleged that J D Moss has somehow managed to persuade Charlie Lant and other officers in the council to keep him on - despite the fact he, allegedly, illegally retained copyright photographs and then supplied those photographs to his colleague, David Phillips, in connection with an Affidavit that was produced in evidence in the High Court - in an attempt to disadvantage dissident citizen, Nelson Kruschandl, now an informant and whistleblower.
Moss had signed a Copyright Agreement with Kruschandl, and when requested by the other party to the Agreement, wrote back to say that he enclosed all of the photographic material, including the negatives. That written statement by Moss was of course a lie.
It turned out that copies of the photographs had been retained on file. Naughty Mr Moss, you lied to Mr Kruschandl - and in writing. Not only that but some months later the photographs that Moss should not have had, found their way into the clutches of David Phillips, he of Bruno the Bull fame and another set of photographs that his enforcement department were attempting to use to pervert the course of justice, also a conspiracy to pervert the course of justice - no doubt involving the solicitors who prepared the papers - in this case most likely Christine Nuttall and Victorio Scarpa.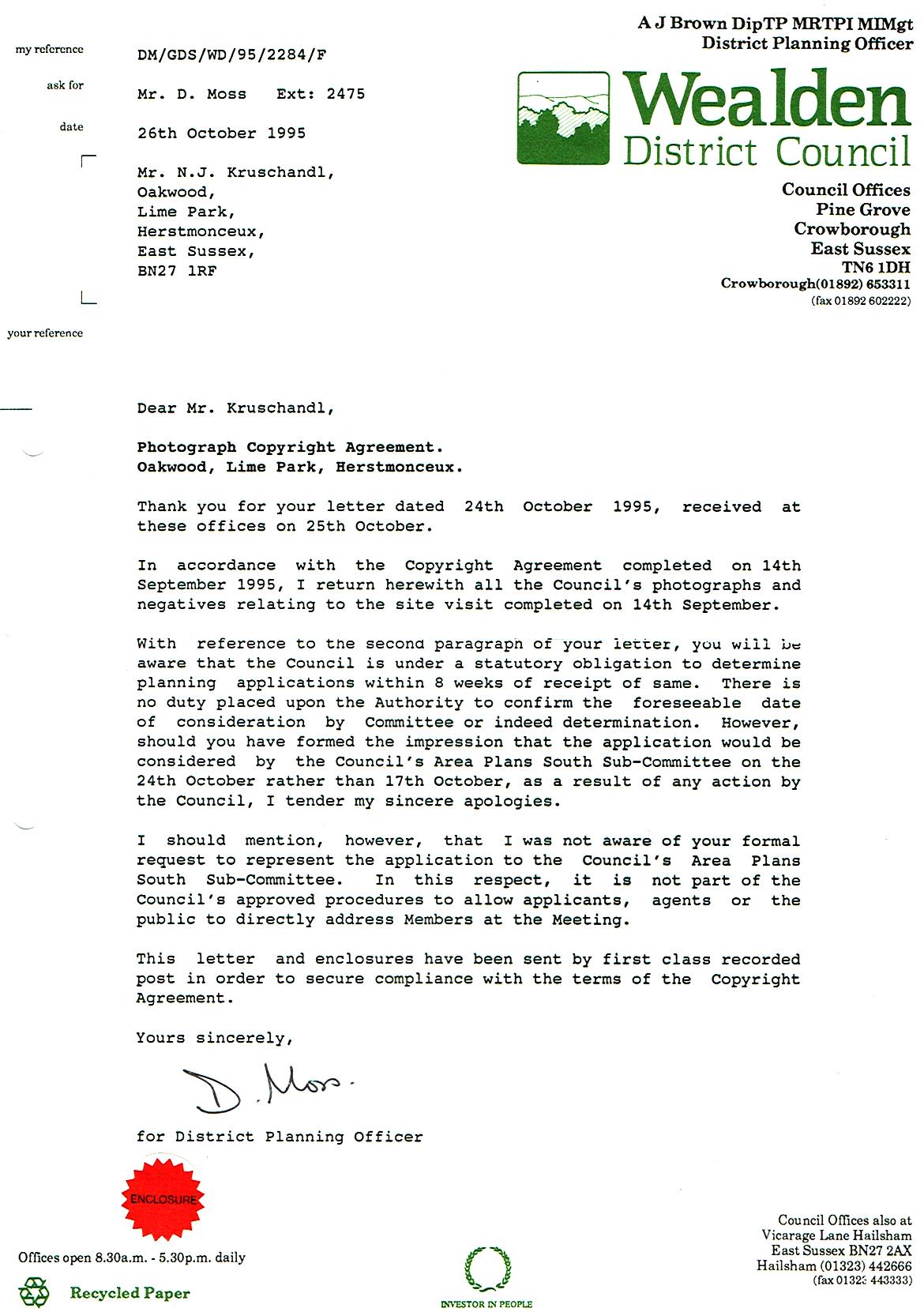 LIAR, LIAR - Like Jim Carrey in the famous film where a lawyer who habitually lies for a living is forced to tell the truth for 24 hours, Douglas Moss lied to Nelson Kruschandl when he said in the above letter that he'd returned ".... all the Council's photographs and negatives relating to the site visit on the 14th September" 1995. For he surely did not. He (his council) kept a copy of these photographs to use at a later date in connection with another attempt to stitch Mr Kruschandl up.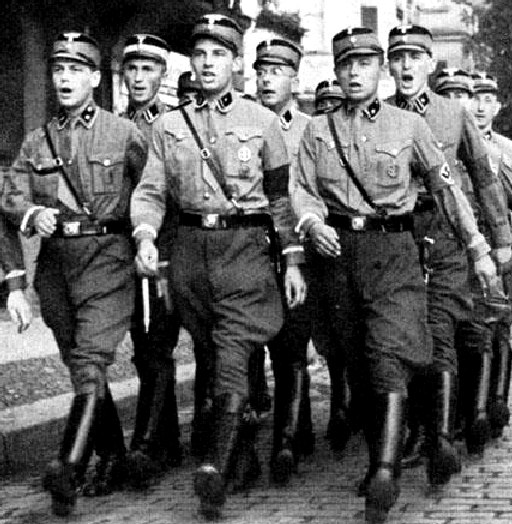 You have to admit that as vendettas go this Council really has it in for poor old Nelson. Every time they went after him it seemed to rebound and come back to bite them on the ass. It was not to stop here. Having passed the photographs to David Phillips and Christine Nuttall, this Council had another go that was thwarted when David Phillips refused to enter the High Court chamber where the matter was being heard - because he would have been held in Contempt of Court and prosecuted for Perjury - which as an Officer of the Court is rather serious business - typically involving a prison sentence that Herr Phillips could not afford because it would mean instant dismissal, even where his brown shirted chums would obviously do all they could to keep him on the staff. And they did, right up until this misguided Council awarded David Phillips an enhanced pension. In Nazi Germany he'd have been taken out, lined up against a wall and shot. In England, we give him more money to keep his mouth shut. There's a good chap, now take this money (at some expense to the tax payer) and for goodness sake keep a low profile.
POTTY TRAINING - Using a potty may be a new skill for your planning team to learn. It's best to take it slowly and go at your candidates pace, about the same pace as a child should do the trick. Being patient with them will help them get it right, even if they sometimes feel frustrated. They should be taught that every person is entitled to a toilet as per Article 14 no matter how much their team are out to get any challenging member of the public such as Mr Kruschandl - and yes we know how irritating it is to be caught out - and yes of course that makes you hate that member of the public more - so that you try another dirty trick and then an even dirtier trick until misfeasance becomes malfeasance. So, if you are going to plan a vendetta, be sure that you don't get caught with your trousers down. Bury your target good and proper - or he or she may come back to haunt you with the inconvenient truth and reveal what your council did and why they did it - and worst of all - your part in the whole sorry affair. Think then of blowing the whistle. It may be your only way out. Blow it sooner rather than later. Is your job worth living with this level of corruption?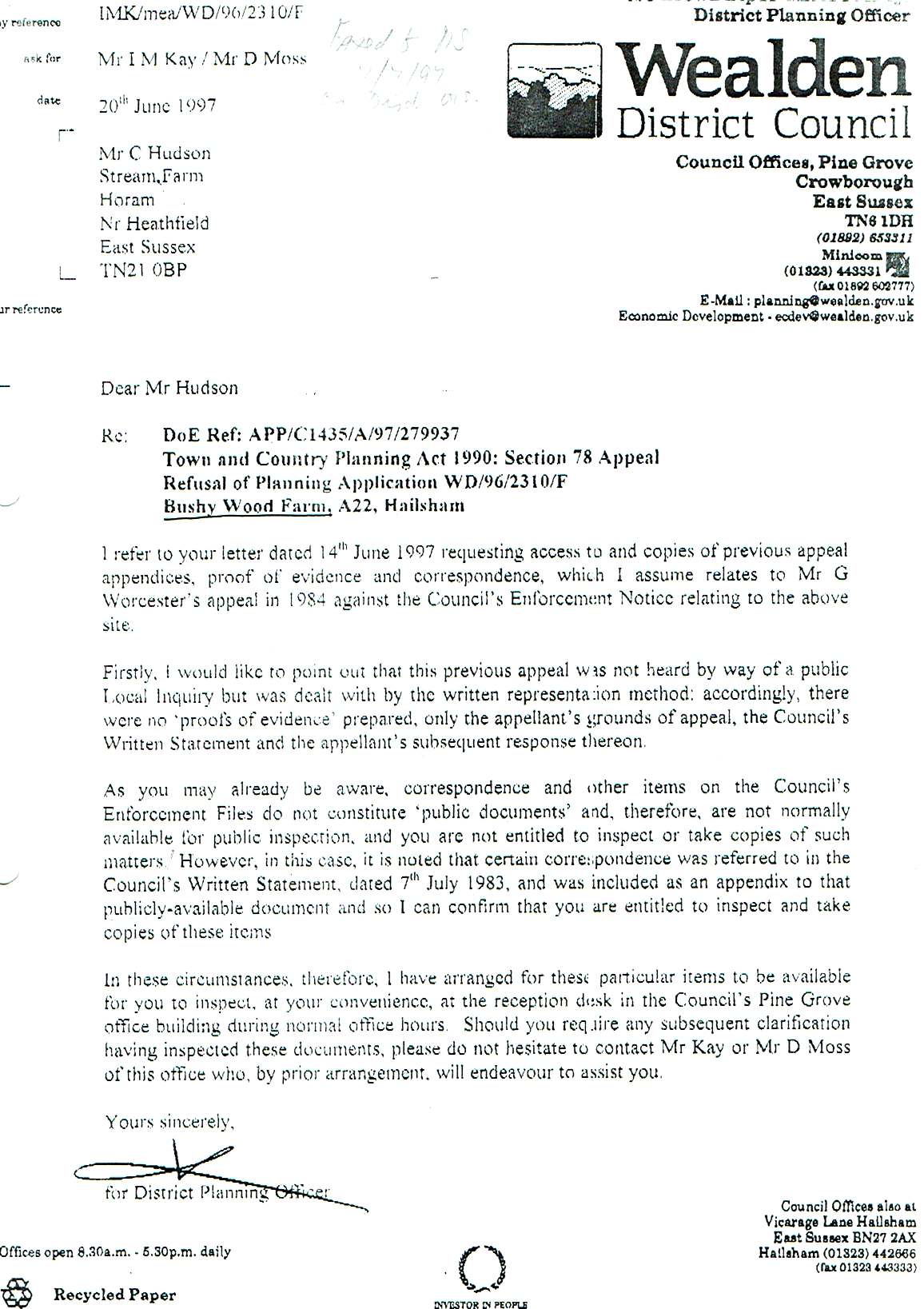 TRANSPARENCY - The need for transparency in any council dealings is clear when cases like this are involved. Councils routinely try to prevent the identity of their officers from being revealed to protect the corrupt planners and executives from being caught and prosecuted. Accountability is key to effective administration. In this case the council should have admitted their mistake early on. Advised Mrs and Mrs Punter as to a resolution and simply accepted a change of condition. But then, the power crazed Ian Kay, Doug Moss and the rest of the wrecking crew would not have had their day out. Talking of which, we understand that some officers enjoyed a vacation at the public expense.
BRUNO THE BULL - SIMILAR FACT EVIDENCE CASE SUMMARY
C. 21/7/1999 Regina V. David Charnley arraigned in Hove Crown Court case T99. "Failed to stop using the land for the storage of a lorry." Two identical photographs purporting to be taken at each end of 13/4/1999 day submitted by David Whibley of W.D.C. as evidence. Jury acquitted in less than 15 minutes. Explanation for duplicate photographs: error at processing laboratory.. "It has come to my attention that the photographs indicated as being taken at 10.15am and 5.00pm on ..13th April 1999 are identical. I have studied the negatives of the photographs and found that a mistake was made in the processing of the photograph taken on the morning of 13th April. The processors' [sic] exposed part of that photograph and to cover their error printed two copies of the photograph taken at 5.00pm. The only part of the photograph taken at 10.15am which can be printed is shown on the left hand side of the print appended to this Statement marked DGW1.

After the acquittal, Stephen Chippeck Q.C. commented "It became clear that due to the publicity surrounding Bruno the bull that the Council decided to play-dirty and they set about trying to catch Mr Charnley out. I would like to take this opportunity of suggesting a few steps that Mr. Charnley might care to take in order to assist himself with any further difficulties that they might seek to cause him." .. He keep a diary record of all the "interactions with the council. .. He should keep with him .... a camcorder. If it becomes apparent that the Council are hounding him, I would very much like to consider an action of misfeasance in public office. ... if it becomes the case that he is being further hounded by them, it would give me the greatest of pleasure to turn the tables on the council employees and put them in the firing range".
COMMENT - You might be given the benefit of the doubt if this had happened once, but twice, with the same legal and enforcement team. That is no coincidence. Clearly this is the MO of Wealden District Council.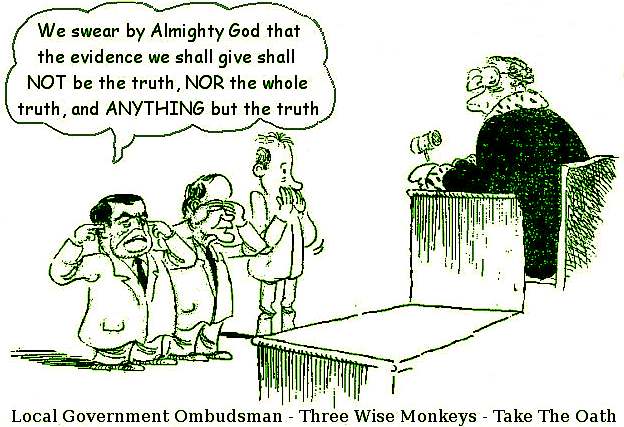 THIS OFFICER IS UNDER INVESTIGATION
AGAINST ALLEGED COPYRIGHT THEFT and CONSPIRACY TO PERVERT THE COURSE OF JUSTICE
We are not sure if it was Doug Moss, or Ian Kay, or other officers, who presented misleading evidence to the Secretary of State at appeals, and/or the courts, such as not to fall foul of the Fraud Act 2006. It was Vic Scarpa and G M White in 1987 and it was Vic Scarpa and David Phillips telling a Planning Committee not to grant planning consent because it was Nelson Kruschandl who was the applicant. We also know that Doug Moss gave evidence at a public Inquiry with Chezel Bird, both presenting evidence denying that Herstmonceux Museum is of any historic or archaeological value. That was a lie and that is the problem, this council are still nursing that lie because they dare not admit to the public or their insurers that they embarked on a vicious campaign to (in effect) procure the premises for neighbours - that soon turned into a vendetta.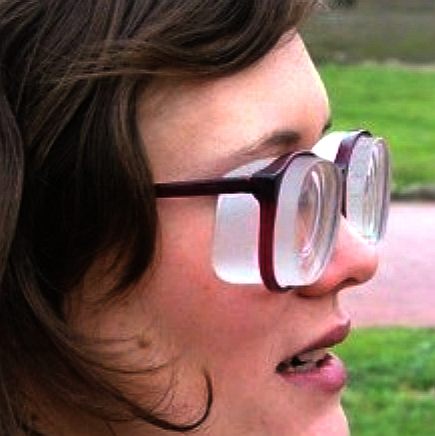 Doug Moss is accused of obstructing and perverting the course of justice by way of perpetuating a lie. This council has been asked to revisit the alleged criminal deceptions regarding Herstmonceux (Virtual) Museum. The Secretary of State, Eric Pickles, has written to us to explain that this is a matter for Wealden DC to check out and correct - if that is shown to be the case. Have they done so? Not on your life.
In addition, any officer of this council not blowing the whistle, is likely to come under suspicion for malfeasance in public office and malicious prosecution. The pictures below are those of the officers of this council who have consistently lied to Planning Inspectors and the Courts, or who have aided and abetted those who have.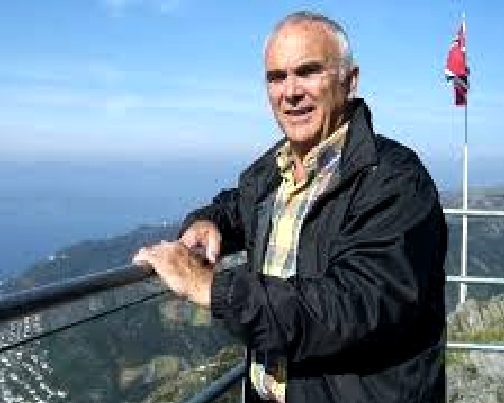 Ian M Kay - Employed by Wealden to fudge appeals and foil legitimate development
POTTY TRAINING & INSTITUTIONAL DISCRIMINATION
Through all of this of the original thugs who perpetrated such wrongs, only Doug Moss remains at Wealden District Council as far as we know, or at least we hope that is the case. The fact is that with Charles Lant at the wheel, the bad old ways of the good old days are on the return. The Member line up is not too dissimilar to that ten years ago, hence our concerns are valid.
Victorio Scarpa, David Whibley, Julian Black, Daniel Goodwin, Christine Arnold
Christine Nuttall, David Phillips, Douglas Moss, Ian Kay, Charles Lant
Abbott Trevor - Alcock Charmain - Ditto - Arnold Chris (Christine) - Barakchizadeh Lesley - Paul Barker - Bending Christopher
Black Julian - Boakes Beverley - Bradshaw Clifford - Brigginshaw Marina - Brown Ashley - Coffey Patrick - Douglas Sheelagh
Dowsett Timothy - Flemming Mike - Forder Ralph - Garrett Martyn - Goodwin Daniel - Henham J - Holness Derek
Hoy Thomas - Johnson Geoff - Kavanagh Geoff - Kay Ian - Kay I. M. - Barbara Kingsford - Lant Charles - Mercer Richard
Mileman Niall - Moon Craig - Moss Douglas, J. - Nuttall Christine - Pettigrew Rex - Phillips David - Scarpa Victorio - Scott Trevor
Kevin Stewart - Wakeford M. - Whibley David - White, George - Williams Kelvin - Wilson Kenneth - White Steve
THE LAW
At the moment the Sussex Police appear to have granted their chums at Wealden immunity from prosecution. The law is though clear, where an instrument was obtained by deception some time ago and limitations may have applied, if that instrument is being used today, then the method by which the instrument was obtained may be the subject of a criminal investigation under the provisions of the Fraud Act 2006. In other words a fraud committed before enactment of the Fraud Act 2006, may be looked at under the provisions of that Act, because the fraud is being committed anew in 2013.
Other applicable law might be the Accessories and Abettors Act 1861, Proceeds of Crime Act 2002 and the Serious Organised Crime and Police Act 2005. It could be that if convicted under the provisions of any of these acts, also including the Theft Act 1968, that where any of these officers may have profited by remaining in employment by keeping their mouths shut about their associates wrong doing, that a Confiscation Order might follow any such conviction in proportion to their salary multiplied by the number of years that they nursed the lie(s).
Douglas Moss has been under suspicion in terms of malicious prosecution and misfeasance in public office for some time. Other officers newly coming into the fray include Kelvin Williams and Christine Arnold. It's going to get ugly, with Members who do nothing to control the viral spread of corruption also coming in for a close up. The Council Leader, Robert (Bob) Standley has been asked to investigate.


Section 10 extract of a Consent Order in Case No: SD16 of 2003, in the Eastbourne County Court. This is an Agreement that Mr Kruschandl alleges this council have breached concerning recognition of and the future of Herstmonceux Museum.
Section 4 - Fraud by abuse of position [such as a planning or police officer]
(1) A person is in breach of this section if he —

(a) occupies a position in which he is expected to safeguard, or not to act against, the financial interests of another person,

(b) dishonestly abuses that position, and

(c) intends, by means of the abuse of that position—

(i) to make a gain for himself or another, or

(ii) to cause loss to another or to expose another to a risk of loss.

(2)A person may be regarded as having abused his position even though his conduct consisted of an omission rather than an act.

COMMENT - Hmmm, I can't believe it's not butter!
WDC's Planning Enforcement Officers and advertised area of cover. But please note that they like to play in each others area when a case gets too hot to handle - and where does Christine Arnold fit into all of this:
| | | |
| --- | --- | --- |
| | | Tom Holman |
| . | . | . |
| Buxted | Chalvington with Ripe | Alciston |
| Crowborough | Chiddingly | Alfriston |
| Danehill | East Hoathly | Arlington |
| Fletching | Framfield | Berwick |
| Forest Row | Hadlow Down | Cuckmere Valley |
| Frant | Heathfield and Waldron | East Dean and Friston |
| Hartfield | Horam | Hailsham |
| Maresfield | Isfield | Hellingly |
| Rotherfield | Laughton | |
| Wadhurst | Little Horsted | Hooe |
| Withyham | Mayfield | Long Man |
| | Uckfield | Ninfield |
| | Warbleton | Pevensey |
| | | Polegate |
| | | Selmeston |
| | | Wartling |
| | | Westham |
| | | Willingdon and Jevington |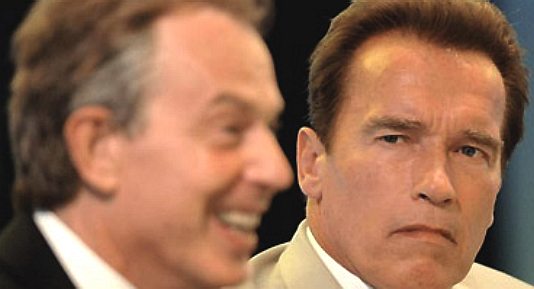 Vicarage Lane, Hailsham, East Sussex, BN27 2AX T: 01323 443322
Pine Grove, Crowborough, East Sussex, TN6 1DH T: 01892 653311

LINKS
http://dailycaller.com/2013/04/03/cnn-embarrasses-itself-with-amanda-knox-coverage/
www.dailymail.co.uk Amanda Knox victim anti American trial Hillary Clinton launch investigation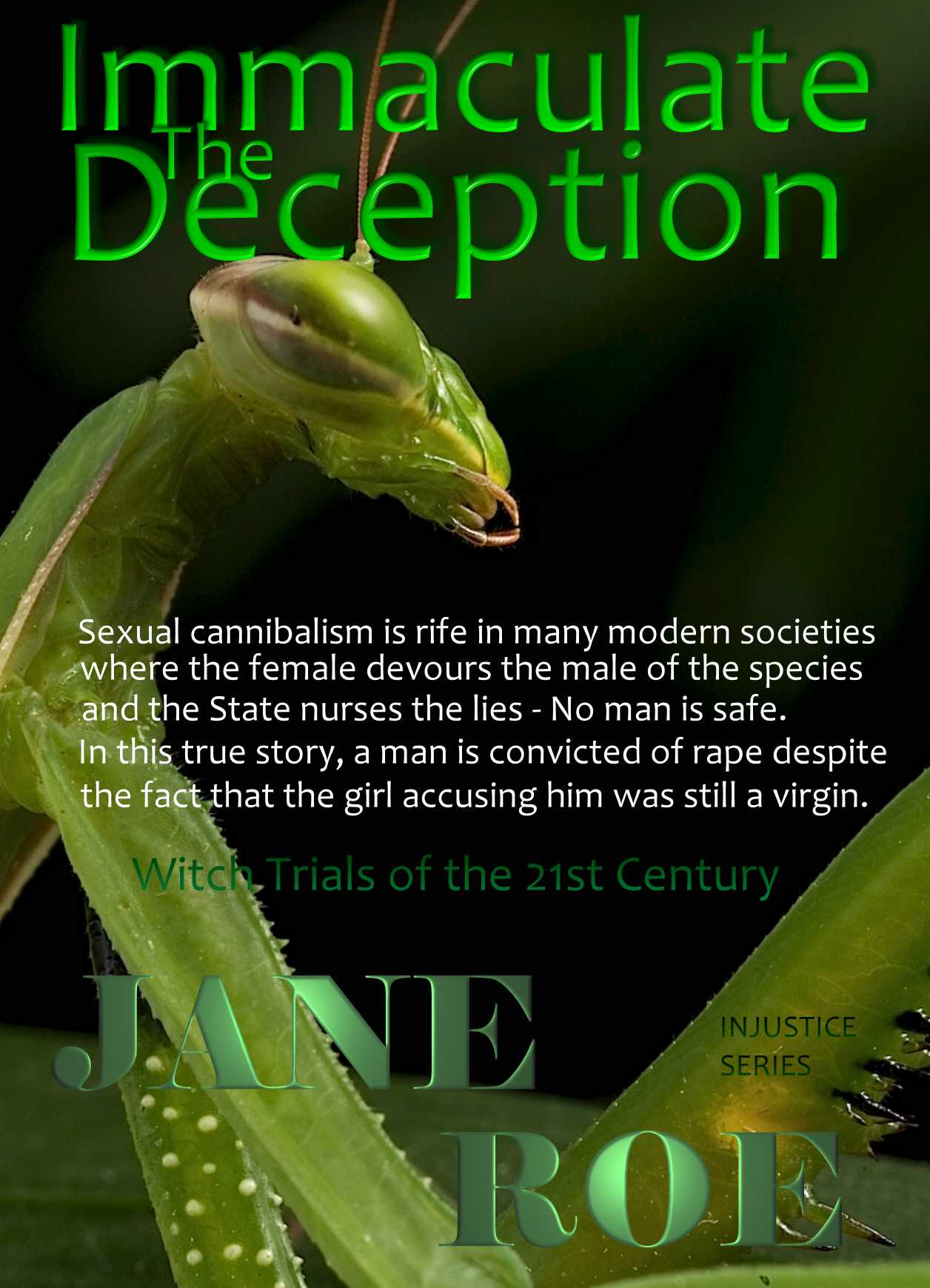 Sexual cannibalism in humans is commonplace where the (UK) state still pays bunny-boilers to fabricate allegations - despite the untenable ratio of false allegations. This is called Noble Cause Corruption, so named because the cause (more convictions of rapists and perverts) is noble, but the means (convicting significant numbers of innocent men) is corrupt. A decent justice system is one where convictions are safe; where an appeal is guaranteed and where the court system does not refuse appellants the evidence for their barristers to perfect grounds of appeal. Unlike most European countries, the right of appeal in the UK in not mandatory and the discretionary single judge paper system is open to startling abuses. This book is based on a real case study, that reveals the fatal flaws in the English justice system. No man in England is safe until these issues are dealt with - it could happen to anyone.