COUNCIL OFFICIAL SAID: "MOVE YOUR HOME AND WE'LL SAVE YOUR STABLES"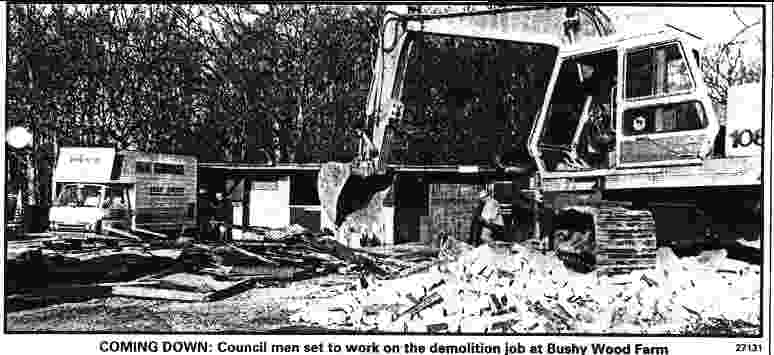 February 26th 1997
Having already been tricked into moving their home by planning, legal and enforcement officers (David Phillips, Ian Kay, Ashley Brown, Vic Scarpa). Mick and Val Punter watched in horror as the stables bought with their life savings was smashed by a ten strong team of workmen using pickaxes and bulldozers.
They were though entitled to have a mobile home of site and entitled to continue with the use of the former farm building for stabling - as the appeal conducted by Nelson Kruschandl proved.
Council officers led by Wealden's chief enforcement officer (David Phillips at the time), lied to Wealden's planning south committee when they advised the members the stables breached planning rules. The stables were a permitted development and acknowledged as such by the Council in writing. All the Punters needed was a change of a planning condition. However, the officers failed to mention this to Mick or Val or their committee when asking for authorisation to enforce.
Wealden District Council them lied to the Sussex Police who provided officers on the scene on the demolition, when in fact those officers should have been questioning the legality of the hasty demolition. The demolition was hasty because the underhanded officers wanted them gone so that the planning committee could no longer consider the valid planning application - and subsequent appeal.
It was only the fact that Mr Chester Hudson drove all the way to Bristol, to be able to lodge an appeal on behalf of the Punters, that this matter had a somewhat more happy ending. Mick and Val Punter were not in any mental or physical condition to fend for themselves after their ordeal.
Enforcement (if that was appropriate) should have taken the form of an injunction. This would have left the stables to be used for their permitted agricultural purposes and given the Punters a chance for a fair hearing. However, the council knew injunctive proceedings would fail when any Court saw what was going on. Wealden District Council are not renowned for giving people a fair hearing. So demolish it was!
As a reader, you may not quite believe that council employees can be so callous. But the facts speak for themselves. Some civil servants given positions of trust are every bit as dangerous as the infamous Adolf Hitler - and yes, eugenics policies (commonly called discrimination) are alive and well in Sussex. It was the English who invented concentration camps. A little known fact.
Article 8 of the Human Rights Act prohibits interference such as this by a local authority. This Council's actions were not only unreasonable and unlawful, but also malicious - at which point they became illegal. The reason the Conservatives want to get rid of our Human Rights Act is to strip the man in the street of this very much needed legislation.
Of this atrocity, Valerie Chidson said is was only a small mistake.
How might a council as perverse as this comply with climate change reductions in greenhouse gases?
For the full story to this picture why not visit the Sussex Express website: www.lewestoday.co.uk
FLUSHED WITH SUCCESS - We imagine that Wealden would have been overjoyed in duping the High Court into making an Order that demanded removal of toilet facilities from their long-term adversary's home, condemning him to defecate in the old fashioned way - and remarkable is it not how well an animal can adapt and build from sheer determination until it is time to reveal the truth and his gleaming new urinals. The building has toilets re-fitted of course thanks to Dame Butler-Sloss and the occupiers rejoice with each pull of the handle, at the resourcefulness of this underdog when the chips were down. The frivolity at Wealden's offices was short lived when the Health & Safety Executive chimed in to spend a penny or two. From that point on Wealden have been bogged down with the publication of what they had done - and permanent skidmarks in the underpants of their hall of shame. No amount of toilet tissue can ever wipe the brown from this council's back passages.