UK: Politics Wednesday, March 4, 1998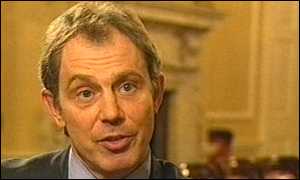 Tony Blair is warning councils they must modernise
The Prime Minister, Tony Blair, is warning councillors and local government officials that if they fail to modernise, some of their powers could be given to businesses and voluntary organisations. Mr Blair says too many local authorities are mediocre, and there is a lack of coherence in some local services. Tony Blair outlines his "deal" with local councils (38"
He says those councils which are prepared to change could be given improved powers, but those who were not could see their role diminished. Mr Blair took the unusual step of outlining his ideas in a pamphlet for the centre-left think tank the Institute of Public Policy Research. He puts forward the idea of directly elected mayors and referendums on important local issues. There would also be a tough new code of conduct for councillors. Local authority leaders, speaking on BBC Radio 4's Today Programme, give their reaction to the proposals (4'23")

Mr Blair warned: "If you accept this challenge, you will not find us wanting. "You can look forward to an enhanced role and new powers. Your contribution will be recognised, your status enhanced. "If you are unwilling or unable to work to the modern agenda then the Government will have to look to other partners to take on your role."
Criticism for Blair's plan
Directly-elected mayors and local referendums are ideas formerly rejected by chairman of the local government Association, Sir Jeremy Beecham. He said he was unhappy about the Prime Minister's indication that he was willing to involve business in local government.
"We do need a more open democracy at all levels in our country," he said. "But we need people who are accountable to the electorate and business, for all its virtues, is not accountable to the public."
THE PETROL WARS
This site is protected under Article10 of the European Convention on Human Rights and Fundamental Freedoms.

Tony Blair - Prime Minister
In August 1997, Tony Blair and John Prescott were informed of Wealden's impropriety and the estimated cost to the ratepayer.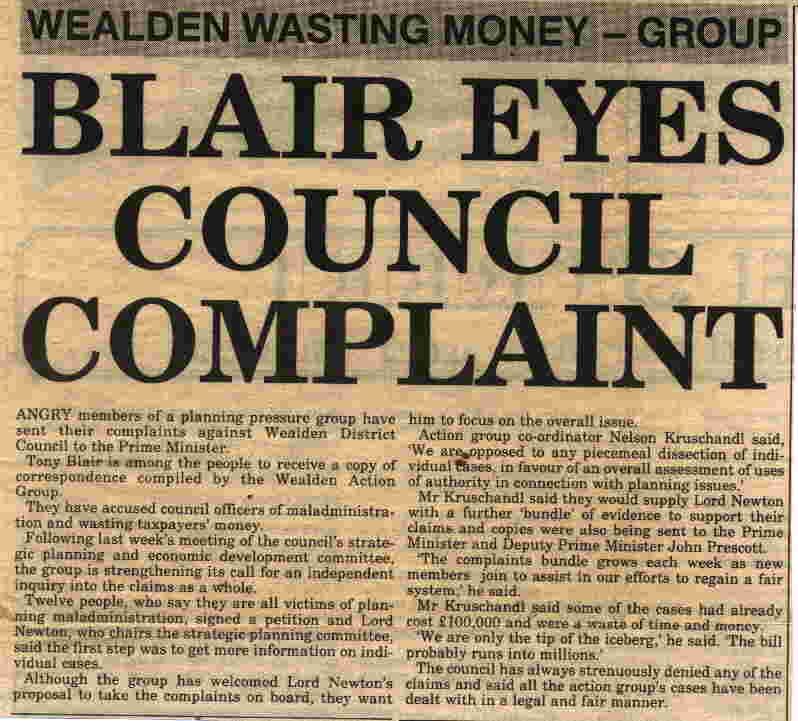 Where the Nolan Committee, headed by Lord Nolan, had recommended that a new criminal offence be admitted to statute, this was intended as prevention regarding a problem the Government was aware of and was looking for a way to curb abuses - especially where officers of local authorities were behaving badly. The term for this kind of misuse of authority is Misfeasance.
Neither the Prime Minister or the Deputy Prime Minister replied to the Group. The Nolan Report recommendations were not implemented and public funding to enable the ill treated to defend themselves, was effectively reduced to nothing with the introduction of the Right to Justice Act.
Effectively, in doing nothing to ensure fair play, this government are condoning and party to the injustices of the planning system. Come on chaps - how much longer are you going to look the other way?
Since that time Tony Blair led Britain into a war with Iraq to protect cheap oil imports (mainly for the USA). We believe he should be spearheadingdevelopment of solar and other renewable energy to free us from the oil economy.
CAROLINE ANSELL - CHARLES CLARKE - CHARLES HENDRY - CHRIS GRAYLING - DAVID BLUNKETT - DAVID CAMERON
DAVID MILIBAND - ERIC PICKLES - GEOFFREY JOHNSON-SMITH - GEORGE OSBORNE - GORDON BROWN - GREG CLARK
GREGORY BARKER - JACK STRAW - JOHN GUMMER - JOHN PRESCOTT - KENNETH CLARKE - KIM HOWELLS DR
MARGARET BECKETT - MARGARET THATCHER - NICK CLEGG - NORMAN BAKER - NUS GHANI - PATRICIA HEWITT
PHILIP DUNNE - PHILIP HAMMOND - SAJID JAVID - STEPHEN LLOYD - TERESA MAY - TESSA JOWELL - TONY BLAIR - VINCE CABLE
LINKS:
WE ACCEPT NO RESPONSIBILITY FOR THE ACCURACY OF ANY FEATURED LINKS
THIS SITE CONTAINS MANY EXAMPLES OF THIS COUNCIL'S UNREASONABLE BEHAVIOUR - With thanks to Action Groups across the country for the supply of real case history and supporting documents. *THAT THE PUBLIC MAY KNOW*
Vicarage Lane, Hailsham, East Sussex, BN27 2AX T: 01323 443322
Pine Grove, Crowborough, East Sussex, TN6 1DH T: 01892 653311