Charles Hendry - Conservative MP for Wealden
Who is keeping tabs on the mounting maladministration tally at Wealden District Council. If you have or are aware of injustice, corruption or other impropriety, please let the MP for Wealden know about it.
Charles Hendry was born in May 1959. He was educated at Rugby School and at the University of Edinburgh, taking an Honours degree in Business Studies. Mr. Hendry was elected to Parliament as the Member for Wealden in June 2001 having been selected as Prospective Parliamentary Candidate for Wealden in March 2000, following the decision of The Rt. Hon. Sir Geoffrey Johnson Smith, to retire.
Sir Geoffrey heard a number of complaints about Wealden District Council but failed to investigate either one. Sir Geoffrey failed to intervene when the Sanctuary at Bushy Wood was bulldozed. He also did nothing to urge this council to prevent Anne Harris's home being torn down around her, for which Wealden were found guilty of maladministration. Later when Anne was again under attack from Wealden's enforcement officers, again the local MP did nothing. Not a particularly good record - we think you'll agree. Mr Phillips argued before the Crown Court, that a road was actually a linear pile of rubble. Needless to say the Court showed David Phillips the door.
Before entering Parliament, Charles Hendry worked as a Public Relations and Government Relations Adviser to the international communications groups, Burson-Marsteller and Ogilvy and Mather Public Relations. He has been a Trustee/Vice President of the homeless charity, The Big Issue Foundation since 1995. He is Treasurer of the Party's Charter for Britain Campaign, highlighting the dangers of the government's constitutional changes.
Mr Hendry was joint Chairman of the All-Party Parliamentary Group on Homelessness and Housing Need, between 1992 - 1996. He was Honorary President of the British Youth Council from 1992 to 1997. He was Parliamentary Private Secretary to the Rt. Hon William Hague MP and to Gillian Shephard MP, Secretary of State for Education between 1994 and 1995. In July 1995 Mr Hendry was appointed a Vice-Chairman of the Conservative Party.
In view of Mr Hendry's impressive CV, we hope to see some action to bring about changes to make Wealden accountable for their refusal to comply with statutory requirements and other breaches of the Human Rights Act.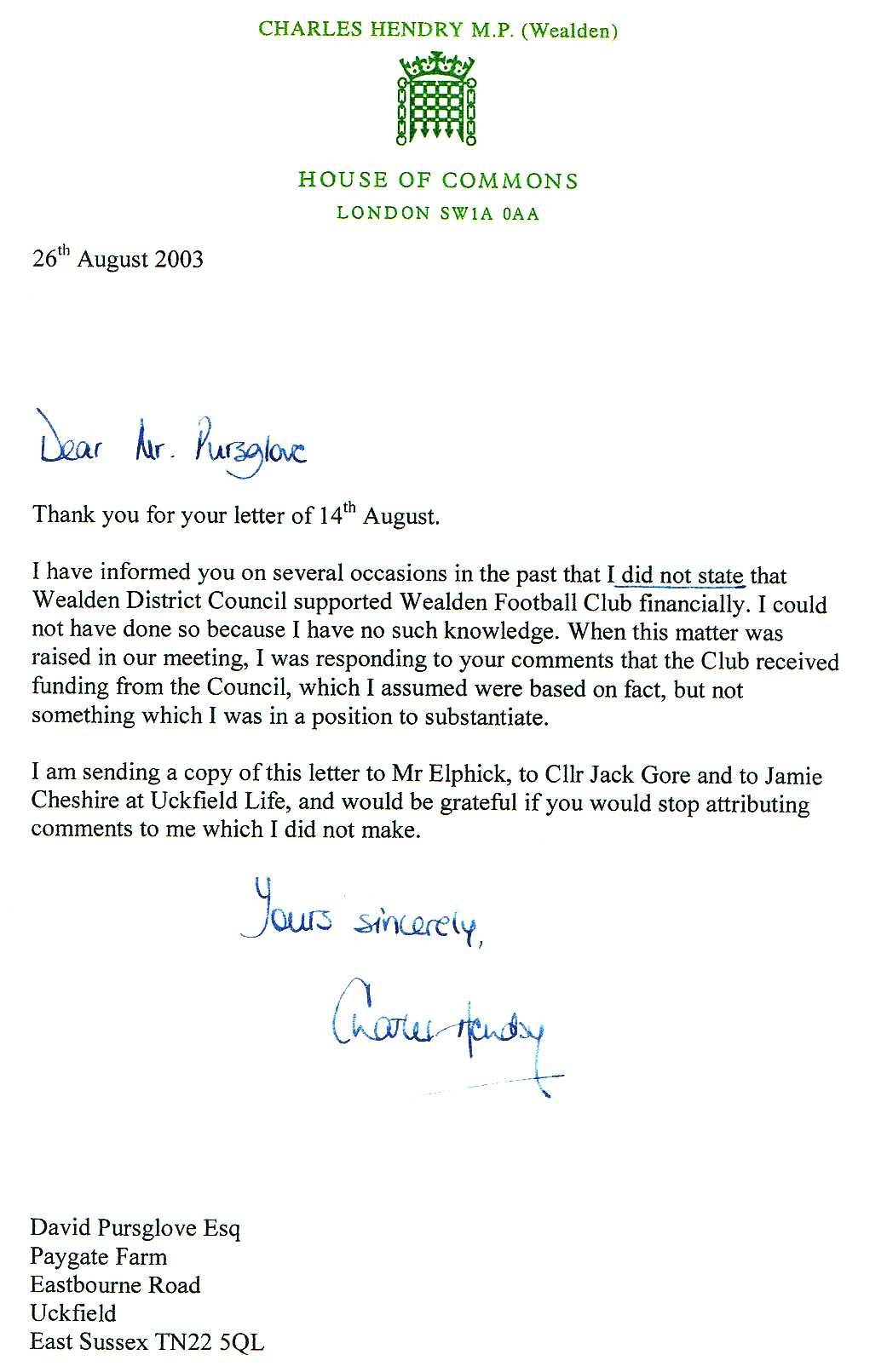 BLAIR CASTLE
Energy Minister Charles Hendry and wife Sallie have bought the 14-bedroom Blair Castle in Ayrshire. The mansion near Dalry and its surrounding estate, including 1300 acres of land, had been on the market for £8 million.

However, it is understood the Hendrys have bought only the historic castle itself and a small piece of surrounding land, and did not pay the full asking price of £2.5m for that portion.

Much of the couple's fortune comes from Mrs Hendry who received a multimillion-pound divorce settlement from her first husband - a member of the Moores family, which once owned the Littlewoods empire.

Although born and brought up in Sussex, Mr Hendry attended Edinburgh University and began his political career in Scotland as the chairman of the university's Conservative Association. He also has strong links to Ayrshire as
his father's family originally came from Ardrossan.

The sale was described as a "once in a lifetime" chance to own Blair Castle, after it came on the market for the first time in almost nine centuries.

Thought to be the oldest inhabited mansion of its type in Scotland, it has 14 bedrooms and its Norman tower is reputed to date back to 1105.

The castle had always been owned by the Blair family, which can trace its ancestry back almost 850 years to the time of William the Lion, who ruled Scotland between 1165 and 1214.

The king awarded the Barony of Blair to the first holder, Jean Francois de Blare, in 1165, and the variant spelling Blair passed down through the generations.

From its origins, the current A-listed building is thought to incorporate features dating from the late 13th century.

Its previous owners, Luke and Caroline Borwick, decided to sell so they could spend more time with their grandchildren in London.

Mr Borwick said last night: "Blair Castle has been a magnificent home to our family for many, many generations. While we are sad to see it change hands after all this time it was the only practical solution for the family. We wish the new owners every happiness."

In recent years the castle has been used as an exclusive venue for corporate entertainment and weddings and had a five-star VisitScotland ranking. Mrs Hendry, who is involved in events management, hopes to develop that business.

The couple say they will be able to spend a lot of time at Blair Castle. Although they intend to continue to live in Mr Hendry's constituency, in East Sussex, they hope to spend weekends and holidays in Ayrshire.

Mr Hendry told The Herald: "Sallie is delighted to have the opportunity to complete the restoration work of Blair, which has already been significantly carried out by the previous owners, and to develop its hospitality business
which will continue to provide local employment."

When the castle is rented out as a venue for weddings or family celebrations, local people are often drafted in as waiting staff.

The castle and its estate were put on the market in May, when the selling agents highlighted the fact it generated around £170,000 a year in income.

Last night a source close to the deal said Mr and Mrs Hendry "did not pay as much as the asking price". The estate, which the couple did not buy, covers almost 1300 acres of Ayrshire farmland and woods.

Mr Hendry worked in public relations, before becoming an MP. He was appointed minister for Energy and Climate Change last May and previously served as Conservative Party deputy chairman and chief of staff to William Hague.

email: hendryc@parliament.uk
See Nolan Committee reforms Lord Nolan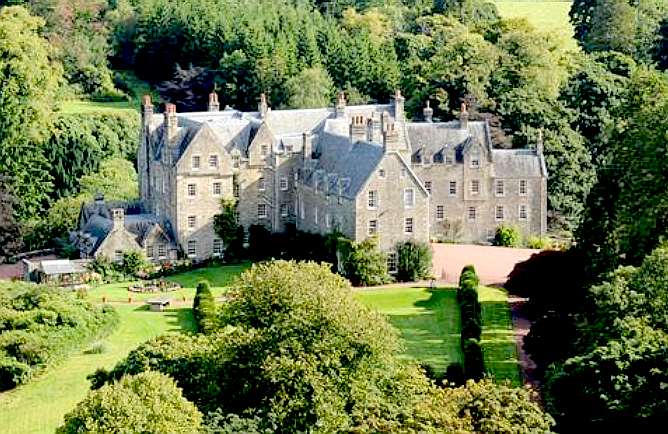 BLAIR CASTLE - Not so much a castle as a large manor house with slate roofs. Can you imagine the heating bills for this house? Estates like this contribute to global warming unless the owners install ground heat pumps and other micro generation features external to the extant buildings such as not to harm any archaeological interest. This should be the responsibility of all owners of country estates to comply with the tenets of the Climate Change Act 2008 - as Mr Hendry would know from his time as an Environment Minister. He might also drive an electric car.