Sussex is a glorious county, the so-called garden of England and for very good reason. I've lived in Sussex most of my life, including: Eastbourne, Seaford, Newhaven, Hadlow Down, and of course Herstmonceux. Corruption and injustice is still part of everyday rife in the Wealden District, with dozens of the equivalent 'Sheriffs of Nottingham' occupying positions of trust and abusing that trust routinely with immunity from prosecution, as the Weaden Action Group proved in 1997 after petitioning the Sussex Police, and the Sussex Police handing a blank sheet of paper to Derek Holness to explain to the public why they would not investigate the abuses of authority bearing all the hallmarks of misfeasance in public office.
Nelson Kruschandl on Sussex: "I can tell you a tale or two."
This sad fact of life is ignored in these geographical articles, but think on the high taxes you pay in this country. Each corrupt civil servant is costing you, the taxpayer money. This government bailed out the bankers to keep themselves in luxury. The excuses Cameron and Clegg gave you for that heinous decision is toffee. they needed to keep the fat cats fat to save their own jobs and dare we say it, continue to benefit from their positions of trust. Have you not noticed how many politicians have business interests? At the moment we are all slaves to an unfair system.
SUSSEX INDEX A - Z
CHIDDINGLY - HORSE SHOW & GYMKHANA
CUCKMERE VALLEY - EXCEAT
HERSTMONCEUX - MUSEUM - PARISH COUNCIL - COSTS SCANDAL - 70 HOUSES
TWISSELLS MILL, OLD HEATHFIELD

There is so much of interest to see and do in the United Kingdom, and I hope to expand the local geography section as time allows, to cover the most interesting aspects of this wonderful country. Please use the links below to navigate around Sussex with my compliments. If you notice any errors in your travels, please let me know. Equally, if you think I should have included something, or indeed, if you'd like to contribute something, I'd like to hear from you.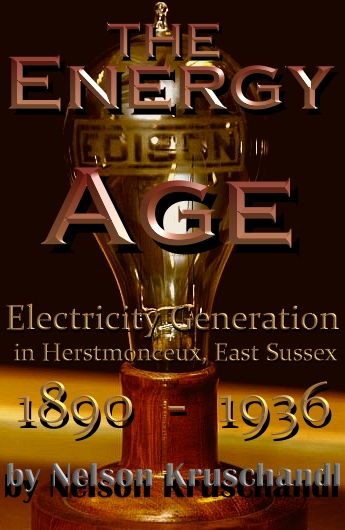 We take electricity for granted, but without these
pioneers we would not have lighting or computers.
All proceeds to the restoration of this important monument.
(published by Lime Park Heritage Trust)