Nicholas William Peter "Nick" Clegg (born 7 January 1967) is a British politician who has been Deputy Prime Minister of the United Kingdom and Lord President of the Council (with special responsibility for political and constitutional reform) since 2010, as part of the coalition government headed by Prime Minister David Cameron. Clegg has been the Leader of the Liberal Democrats since 2007, and a Member of Parliament (MP) representing Sheffield Hallam since 2005. Having attended the University of Cambridge, the University of Minnesota, and the College of Europe, he was previously a Member of the European Parliament (MEP) and an award winning journalist for the Financial Times.

Clegg was elected to the House of Commons at the 2005 general election and became the Liberal Democrats' Home Affairs spokesperson in 2006. He became Deputy Prime Minister following the 2010 general election, when the Liberal Democrats formed a coalition government with the Conservative Party. As well as his parliamentary roles, Clegg has contributed to many pamphlets and books on political issues. A fluent speaker of five European languages, he has also had a large number of jobs, including being a skiing instructor and working in the office of a bank in Helsinki.


MEMBER OF PARLIAMENT 2005 PRESENT

Clegg worked closely with Allan throughout the campaign in Sheffield Hallam – including starring in a local pantomime – and won the seat in the 2005 general election with over 50% of the vote, and a majority of 8,682. This result represents one of the smallest swings away from a party in a seat where an existing MP has been succeeded by a newcomer (4.3%) – see Sheffield constituency article. Clegg also campaigned locally on local transport, recycling, housing development and health. He established close links with both of the city's universities and opposed the closure of local services including fire stations and post offices. Before becoming Leader of the party in 2007 he also served as treasurer and secretary of the All-Party Parliamentary Group on National Parks, a particular interest given that his constituency includes part of the Peak District National Park.

Following his election to parliament, Clegg was promoted by Leader Charles Kennedy to be the party's spokesperson on Europe, focusing on the party's preparations for an expected referendum on the European constitution and acting as deputy to Foreign Affairs Spokesperson Menzies Campbell. Clegg's ability to articulate liberal values at a very practical level quickly lent him prominence, with many already seeing him as a future Liberal Democrat Leader. Following the resignation of Charles Kennedy on 7 January 2006, Clegg was touted as a possible leadership contender. He was quick to rule himself out however instead declaring his support for Sir Menzies Campbell ahead of his former colleague in the European Parliament Chris Huhne, with Campbell going on to win the ballot.

Clegg had been a signatory to the letter circulated by Vince Cable prior to Charles Kennedy's resignation, which stated his opposition to working under Kennedy's continued leadership. Some commentators claim that Clegg's support was due to a hope that he would then inherit the leadership when Campbell's age eventually forced him to retire – the so-called rule that "young cardinals elect old popes".


LEADER OF THE LIBERAL DEMOCRATS 2007 - PRESENT

After the resignation of Campbell, Clegg was regarded by much of the media as front-runner in the leadership election. The BBC's Political Editor Nick Robinson stated the election would be a two-horse race between Clegg and Chris Huhne who had stood against Campbell in the 2006 election. On Friday 19 October 2007, Clegg launched his bid to become leader of the Liberal Democrats. Clegg and Huhne clashed in the campaign over Trident but were largely in agreement on many other issues. It was announced on 18 December that he had won. Clegg was appointed to the Privy Council on 30 January 2008 and affirmed his membership on 12 March 2008.

In his acceptance speech upon winning the leadership contest, Clegg declared himself to be "a liberal by temperament, by instinct and by upbringing" and that he believes "Britain [is] a place of tolerance and pluralism". He has stated that he feels "a profound antagonism for prejudice of all sorts". He declared his priorities as: defending civil liberties; devolving the running of public services to parents, pupils and patients; and protecting the environment.

In an interview on BBC Radio 5 Live on the morning after his election to the leadership, Clegg stated that he does not believe in God, but that he has great respect for people of faith. In 2010, Clegg elaborated on this question, stating "I was asked... one of those questions where you're only allowed to answer "yes" or "no",... I was asked "Do you believe in God?" As it happens I do not know whether God exists. I'm much more of an agnostic."


PARLIAMENTARY EXPENSES

Clegg became the first party Leader in modern political history to call for a Speaker to resign following his handling of the expenses scandal, describing Michael Martin, the Speaker at the time, as a defender of the status quo and obstacle to the reform of Parliament.

In response to revelations about MPs' expenses, Clegg set out his plans for reform of Parliament in The Guardian. Speaking about the plans, he said: "let us bar the gates of Westminster and stop MPs leaving for their summer holidays until this crisis has been sorted out, and every nook and cranny of our political system has been reformed." He argued for the "reinvention of British politics" within 100 days, calling for a commitment to accept the Kelly expenses report in full; the power to recall members suspended for misconduct; House of Lords reform; reform of party funding; fixed-term parliaments; enabling legislation for a referendum on AV+; and changes to House of Commons procedure to reduce executive power.

Shortly ahead of the election, Clegg was asked about his own expenses by Andrew Neil of the BBC. Clegg allegedly claimed the full amount permissible under the Additional Cost Allowance, including claims for food, gardening and redecorating his second home. The Telegraph also said Clegg claimed £80 for international call charges, a claim he said he would repay.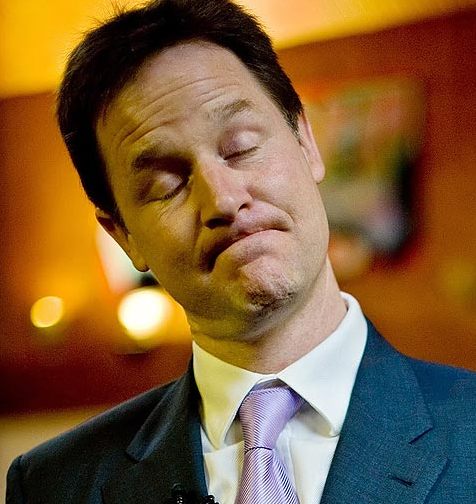 2012 POLICE & CRIME COMMISSIONER ELECTIONS

As part of the Coalition Agreement, directly elected Police and Crime Commissioners were introduced to replace Police Authorities. Elections to the new posts took place in November 2012. Liberal Democrats contested 24 of the 41 police force areas, and failed to win any of the contests (and in fact never progressed to the second round of the two-stage count in any of the elections they fought). Their best performance was in Cumbria, where they polled 22%, while their worst was Surrey where the took just 6% of the vote.

Despite not winning any contests under their official party label, one Liberal Democrat, Winston Roddick was elected as Police and Crime Commissioner for North Wales having stood as an Independent. Roddick claimed that he had never hidden his party membership and that his campaign was "financed by himself with no donations or backing from any political party and he was an independent candidate in every sense of the word". His campaign also dismissed as "sour grapes" claims from the Labour Party that "the only way in which the Lib Dems thought they could win the election was by presenting themselves as independent."


PERSONAL LIFE

In 2000 Clegg married Miriam González Durántez, from Valladolid, Spain. They have three sons: Antonio, Alberto and Miguel, who are being brought up bilingually in Spanish and English. He has said that "The most important things in my life are my three young children: I'm besotted by them".

His wife is a Roman Catholic and they are bringing up their children as Catholics; nevertheless, Clegg has stated that he does not believe in God. On 16 September 2010 during Pope Benedict XVI's visit to the United Kingdom, Clegg attended the State reception in the grounds of Holyrood Palace and was introduced to the Pope by Queen Elizabeth II.

Clegg lives close to the Peak District and often walks with his wife near Stanage Edge, which he describes as "one of the most romantic places in the world". He also has a house in Parkfields, a street in Putney, South West London. Downing Street has announced that Clegg and the Foreign Secretary William Hague will share use of Chevening, which is typically the official country residence of the Foreign Secretary of the United Kingdom. When he appeared on Desert Island Discs in October 2010, his choice of discs included Johnny Cash, Prince and Radiohead and his luxury was a "stash of cigarettes". In an interview in April 2011 Clegg stated he dealt with the pressures of political office by reading novels late at night and he "cries regularly to music". Clegg's wealth is estimated at £1.9 million.
LEADER OF THE LIBERAL DEMOCRATS

If you wish to contact Nick about his role as Leader of the Liberal Democrats or about a party matter, please write to him at Liberal Democrat HQ:

Leader of the Liberal Democrats
8-10 Great George Street
London
SW1P 3AE

Alternatively you can contact him through the form here, selecting Nick Clegg from the drop down menu.

DEPUTY PRIME MINISTER
To contact Nick regarding his role as Deputy Prime Minister or about an element of government policy, please write to him at:

Deputy Prime Minister
70 Whitehall
London
SW1A 2AS

Nick has a government website as DPM which can be found here.

MP FOR SHEFFIELD HALLAM

If you live in Sheffield Hallam and want to contact Nick as your Member of Parliament, please write to him at:

Nick Clegg MP
85 Nethergreen Road
Sheffield
S11 7EH



Please note that the Constituency Office is only able to process correspondence if you include your full name and Sheffield postal address.
CAROLINE ANSELL - CAROLINE LUCAS - CHARLES CLARKE - CHARLES HENDRY - CHRIS GRAYLING - DAVID BLUNKETT
DAVID CAMERON - DAVID MILIBAND - ERIC PICKLES - GEOFFREY JOHNSON-SMITH - GEORGE OSBORNE - GORDON BROWN
GREG CLARK - GREGORY BARKER - JACK STRAW - JOHN GUMMER - JOHN PRESCOTT - KENNETH CLARKE - KIM HOWELLS DR
MARGARET BECKETT - MARGARET THATCHER - MARIA CAULFIELD - NICK CLEGG - NORMAN BAKER - NUS GHANI - PATRICIA HEWITT
PHILIP DUNNE - PHILIP HAMMOND - SAJID JAVID - STEPHEN LLOYD - TERESA MAY - TESSA JOWELL - TONY BLAIR - VINCE CABLE
WE ACCEPT NO RESPONSIBILITY FOR THE ACCURACY OF ANY FEATURED LINKS
This site is protected under Article10 of the European Convention on Human Rights and Fundamental Freedoms.
FAIR USE NOTICE
This site contains copyrighted material the use of which has not always been specifically authorized by the copyright owner. We are making such material available in our efforts to advance understanding of environmental, political, human rights, economic, scientific, and social justice issues, etc. We believe this constitutes a 'fair use' of any such copyrighted material as provided for in section 107 of the US Copyright Law. In accordance with Title 17 U.S.C. Section 107, the material on this site is distributed without profit to those who have expressed a prior interest in receiving the included information for research and educational purposes.
For more information go to: http://www.law.cornell.edu/uscode/17/107.shtml. If you wish to use copyrighted material from this site for purposes of your own that go beyond 'fair use', you must obtain permission from the copyright owner.