Monday, 1 May 2006 - Clarke urged to address Commons
The home secretary must update the House of Commons on the hunt for 1,023 foreign criminals released without being deported, the Conservatives say.
Shadow home secretary David Davis said he wanted an "urgent statement" on how many had been arrested and sent home. Charles Clarke has faced calls to quit, but told a local paper in his Norwich constituency that he hoped to stay on.
It emerged he took three weeks to tell the prime minister the criminals, including murderers, had been freed. The Home Office said Tony Blair was briefed when officials were in a position to give him full details. The mistakes occurred over the past seven years, but 288 immigrants were released after Mr Clarke knew of the problem.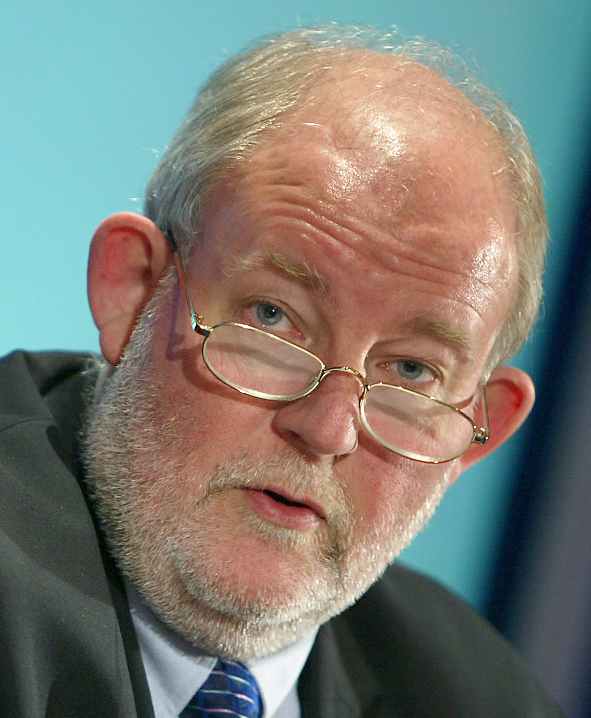 Clarke - Keeping Mum
'Refusal to answer'
Mr Clarke said in a statement on Friday that 79 of the freed prisoners were serious offenders, of which 63 were now being deported.
But Mr Davis told the BBC on Monday the Home Office had refused to tell him how many of the 1,023 had been tracked down, and how many of the 63 have been arrested.
He said: "It's not good enough for Charles to say some time this week, perhaps after the local elections, I'll come back and tell you. "I want to see an urgent statement in the House of Commons tomorrow so the public can know that these people who are putting them at risk are being brought in."
'Short-term'
Conservative leader David Cameron accused Mr Clarke of "great incompetence".
"Charles Clarke's problem is that in July last year he was told of serious problems and he failed to take the right action," Mr Cameron said.
Mr Clarke has admitted a National Audit Office report in July 2005 first alerted him to a possible problem of foreign prisoners being released because deportation was not being arranged.
Mr Cameron said: "This incompetence goes to a deeper problem within government. This is a short-term government that doesn't look at the long term."
He also accused New Labour of an "obsession with headlines instead of sound administration", adding: "A government that lives by headline will die by headline, and deservedly so."
The Liberal Democrats have called for the home secretary to resign, saying he no longer commanded the public's confidence. Mr Clarke, who is MP for Norwich South, admitted in an interview with the Eastern Daily Press he would only keep his job if he could maintain support of his colleagues.
"My own political future depends on my own strength of character dealing with the points that are raised," he told the paper. "Secondly on the support of my own political colleagues, and thirdly and most importantly, on the decisions of the prime minister. "If I lost that support, that would be different. I hope I will continue as home secretary."
But he said the pressure he was under "doesn't remotely compare" to the pressure of dealing with the 7 July London bombings. Labour backbencher Shahid Malik said the prime minister had given 100% backing to Mr Clarke, who now needed more time to put the matter right.
Series of raids
On Friday Mr Clarke said five of the freed immigrants had re-offended and been convicted for drugs offences, violent disorder and inflicting bodily harm.
Two have also faced rape claims, with one case dropped because of lack of evidence.
The Home Office has not revealed how many of the released prisoners have been tracked down so far by the 200 officers involved in the hunt.
Over the weekend police launched a series of raids on addresses throughout the UK.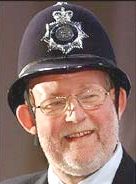 Clarke - No, I'm Noddy!
The Metric Martyrs have saved Magna Carta - SEPT 2005
It is one thing for Lord Falconer to brush aside all the legal confusion over Prince Charles's wedding plans simply by pronouncing that they are within the law after all. Quite another thing is the constitutional elephant trap that the Government has unwittingly walked into with its Prevention of Terrorism Bill, which will allow citizens to be placed under house arrest by fiat of the Home Secretary, Charles Clarke.
This drives a coach and horses through Magna Carta, which rules that "no freeman shall be arrested or detained in prison or deprived of his liberty – except by the judgment of his peers". And no doubt Lord Falconer and his colleagues might argue that it would be ridiculous to allow some fusty 800-year-old document to overrule the right of Mr Clarke in the 21st century to imprison his victims without permission of the courts.
What Mr Clarke has overlooked, however, is the landmark judgment given three years ago in the case of the "Metric Martyrs", in which Lord Justice Laws named Magna Carta, alongside the Bill of Rights, as a "constitutional statute", which cannot be overridden by any subsequent legislation, unless this is explicitly the will of Parliament.
It was on this principle that Steve Thoburn was found guilty of the criminal offence of selling bananas by the pound, because the judge ruled that the European Communities Act of 1972, under which metric weights and measures were made compulsory, was a "constitutional statute". It therefore could not be overridden by the later 1985 Weights and Measures Act, which permitted the continued selling of goods in pounds and ounces.
If Mr Clarke wishes to overrule Magna Carta, according to Lord Justice Laws's ruling of 2002, he must therefore make this explicit in his Prevention of Terrorism Bill. Parliament must be given the chance to decide that in this respect it wishes to override Magna Carta.
If Mr Clarke refuses to accept the relevance of Laws's judgment, then, as Neil Herron, the director of the Metric Martyrs Defence Fund, points out, the whole case against the Martyrs collapses and their convictions must be overturned.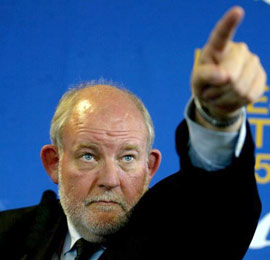 Clarke - Tap the phones and save emails Fuehrer
The Metric Martyrs have saved Magna Carta
Parliament votes itself further into the void
Flight refund rule may cost us dear
Charles Clarke new Education Secretary - Oct 2002
Charles Clarke, the chairman of the Labour Party, has been named as the new Education Secretary, replacing Estelle Morris, who resigned suddenly last night.
Mr Clarke worked in the Department for Education and Skills at the start of his career, and had been widely tipped for the job since the Labour party conference in Blackpool.
His post as party chairman is taken by the current Northern Ireland Secretary, Dr John Reid.
CAROLINE ANSELL - CAROLINE LUCAS - CHARLES CLARKE - CHARLES HENDRY - CHRIS GRAYLING - DAVID BLUNKETT
DAVID CAMERON - DAVID MILIBAND - ERIC PICKLES - GEOFFREY JOHNSON-SMITH - GEORGE OSBORNE - GORDON BROWN
GREG CLARK - GREGORY BARKER - JACK STRAW - JOHN GUMMER - JOHN PRESCOTT - KENNETH CLARKE - KIM HOWELLS DR
MARGARET BECKETT - MARGARET THATCHER - MARIA CAULFIELD - NICK CLEGG - NORMAN BAKER - NUS GHANI - PATRICIA HEWITT
PHILIP DUNNE - PHILIP HAMMOND - SAJID JAVID - STEPHEN LLOYD - TERESA MAY - TESSA JOWELL - TONY BLAIR - VINCE CABLE
LINKS:
ANALYSIS
Survival struggle
Can Charles Clarke survive the foreign criminals controversy?

BACKGROUND
Clarke urged to address Commons
BBC News, UK - 10 hours ago
... home. Charles Clarke has faced calls for his resignation, but told a local newspaper he hoped to continue in his job. It emerged ...
Update us on criminals, Clarke told Guardian Unlimited
Clarke refuses to update House Guardian Unlimited
Clarke 'must report back Telegraph.co.uk
BBC News - Angus Reid Global Scan
Charles Clarke's double standards on foreign prisoners
Mathaba.Net, UK - 4 hours ago
British Home Secretary Charles Clarke is currently under fire for having allowed the release of numerous serious criminals of foreign nationality back into ...
Desperate campaign by Clarke to cling on Norfolk Eastern Daily Press
More pressure on Labour as new Clarke revelations emerge
Unison.ie, Ireland - 14 hours ago
British Home Secretary Charles Clarke knew murderers and rapists were among foreign prisoners released without facing deportation three weeks before he told ...
Papers piling pressure on Clarke
BBC News, UK - 17 hours ago
... prisoners affair. On the other front pages, the Sun reports in an "exclusive" that Charles Clarke did not offer to resign. A "close ...
Press question Clarke's survival BBC News
Under fire: Home Secretary Charles Clarke
News & Star, UK - 15 hours ago
... Home Secretary Charles Clarke fought to save his career at the weekend after admitting that at least five foreign prisoners wrongly released by the Home Office ...
So which affair will cost Labour the most votes? Independent
Clarke quizzed on foreign prisoners in Wales due for deportation
News Wales, UK - 11 hours ago
Mrs Gillan has tabled a series of Parliamentary questions after Home Secretary Charles Clarke admitted losing track of 1,023 foreign prisoners who should have ...
Clarke's career hanging by a thread Scotsman
If Labour had any honour, Clarke would go Telegraph.co.uk
Clarke quit? Make him stay and rebuild a wrecked Home Office Times Online
Yorkshire Post Today - Times Online
Clarke must go says victim of refugee rapist
Sheffield Today, UK - 17 hours ago
... more ». A SOUTH Yorkshire mum raped by a refugee with a string of convictions has urged Home Secretary Charles Clarke to quit. Somali ...
Clarke must go, says rape victim Peninsula On-line
Charles Clarke's future in the balance
Manchester Evening News, UK - Apr 28, 2006
THE future of Home Secretary Charles Clarke is in the balance after a hunt was launched for the 1,023 foreign prisoners who escaped deportation when freed....
Heroes and villains: Harry Wales and Charles Clarke
Scotsman, United Kingdom - Apr 28, 2006
... But don't worry, everything is cool. Charles Clarke is "actually sorting it out now" according to Tony Blair - who, as we all know, cannot tell a lie. ...
Clarke takes on liberal press - and dines on humble pie
Independent, UK - Apr 29, 2006
By Peter Cole. Charles Clarke certainly chose a good week to lecture fellow professionals on how they do their jobs. Dressing-downs ...
Labour fears poll disaster after week of scandals Times Online
WE ACCEPT NO RESPONSIBILITY FOR THE ACCURACY OF ANY FEATURED LINKS
This site is protected under Article10 of the European Convention on Human Rights and Fundamental Freedoms.
FAIR USE NOTICE
This site contains copyrighted material the use of which has not always been specifically authorized by the copyright owner. We are making such material available in our efforts to advance understanding of environmental, political, human rights, economic, scientific, and social justice issues, etc. We believe this constitutes a 'fair use' of any such copyrighted material as provided for in section 107 of the US Copyright Law. In accordance with Title 17 U.S.C. Section 107, the material on this site is distributed without profit to those who have expressed a prior interest in receiving the included information for research and educational purposes.
For more information go to: http://www.law.cornell.edu/uscode/17/107.shtml. If you wish to use copyrighted material from this site for purposes of your own that go beyond 'fair use', you must obtain permission from the copyright owner.
THIS SITE CONTAINS MANY EXAMPLES OF THIS COUNCIL'S UNREASONABLE BEHAVIOUR - With thanks to Action Groups across the country for the supply of real case history and supporting documents. *THAT THE PUBLIC MAY KNOW*
Vicarage Lane, Hailsham, East Sussex, BN27 2AX T: 01323 443322
Pine Grove, Crowborough, East Sussex, TN6 1DH T: 01892 653311