NHS 'enjoying best year' - Hewitt - Saturday, 22 April 2006
Despite huge job losses and mounting financial problems, the NHS is enjoying "its best year ever" according to Health Secretary Patricia Hewitt.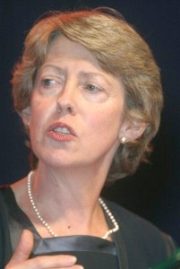 Patricia Hewitt - Uphill Struggle
The service faces a financial deficit of up to £800m and some 7,000 job losses have already been confirmed.
Mrs Hewitt said: "We have just come through one of the coldest winters for decades and we haven't had any of the winter bed crises." The Conservatives say the service's problems are down to mismanagement. Mrs Hewitt said the NHS had "saved more lives than ever before" this year.
'No complacency'
But Ms Hewitt has denied there is a crisis, insisting the deficit amounted to no more than 1% of the NHS's total budget.
She said the job cuts - which latest estimates suggest could rise to 13,000 - were in many cases allowing the service to operate more efficiently. "Despite the headlines, actually the NHS has just had its best year ever," she told the BBC.
She said the government had delivered on its promise that the maximum waiting time would be six months for operations such as hip replacements. "In the bad old days", she said, the waiting times would have been closer to two years.
The health secretary insisted she was not "complacent" about the cash problems, saying she was "determined" to sort them out before they began to threaten patient care.
Critics have claimed that NHS managers have been spending too much on staff wages, paying too high prices for some drugs and wasting cash by mismanaging cost-cutting initiatives.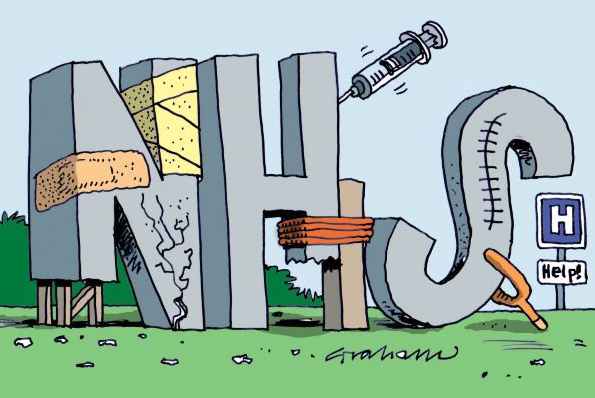 NHS cartoon by Graham

NHS Waiting Will Be History Says Patricia Hewitt, UK

Category: Public Health News

- 06 Feb 2006

The NHS has met a key target for giving patients the fastest ever access to hospital treatment, Health Secretary Patricia Hewitt announced today.

New waiting list figures released today show that by the end of last year the NHS had achieved the target of delivering a maximum wait of six months for treatment. This compares to 284,000 patients waiting longer than six months in March 1997.

Patricia Hewitt said:

"When we published the NHS Plan, many said that our waiting time targets were not achievable. The NHS has proved them wrong, time and time again.

"By March 2002 we had cleared the 6000 people waiting longer than 15 months, just as we had promised. By March 2003, the 30,000 people waiting longer than 12 months had been reduced to around 100. By March 2004, in line with the NHS Plan, no one was waiting longer than nine months for treatment.

"Now that maximum wait is down to six months - with the average wait for treatment being eight weeks. The NHS has eradicated long waits and is now delivering the fastest ever access to NHS treatment. This is dramatic and real progress.

"The challenge now is to meet our commitment to deliver a maximum wait of 18 weeks from GP to treatment. This will end the hidden waiting lists that patients often encounter and is the final step in consigning waiting lists to NHS history."



The NHS has made dramatic progress in tackling waits:

- The waiting list has decreased by almost 400,000 since March 1997;

- In October, the waiting list fell below 800,000 for the first time since records began;

- Data also released today shows that the NHS has met its target for a maximum 13 week out-patient wait by the end of 2005.

The new 18 week patient pathway will be an historic change to the way in which the NHS tackles waiting lists.

By December 2008, the whole patient journey will be managed and measured as one. For the first time, primary care trusts will be responsible for ensuring all of the local health providers move patients as quickly as possible through the different stages towards treatment.

Traditionally, individual hospitals have been responsible for achieving targets to improve access and reduce waiting times. Furthermore, until this year the NHS has only ever measured individual parts of the patient journey - for example, in-patient waits and out-patient waits - often ignoring waits for procedures such as diagnostics.

While 18 weeks will be the maximum wait, the aim is to ensure that most patient journeys are much shorter than this.



1. The December waiting list returns show:

- The number of patients, for whom English commissioners are responsible, waiting longer than 6 months for admission to an English trust, is 12.

- These figures compare with 66k waiting over 6 months in December 2004 and 284k in March 1997.

- Waiting list stands at 784k - an increase of around 10k since November due to seasonal pressures on NHS services. However, the figure represents a decrease of 374k since March 1997, and 78k since December 2004.

2. For case studies showing how the NHS is driving down waiting lists around the country please contact the DH press office on the number below.

3. Delivery of 6 Month Waiting Time Target - Historic Delivery All Specialties:

4. The table below illustrates the maximum waiting times targets through to 2008. All targets up to 2005 have been achieved by the NHS.

Year end

1 April 2002
-- Max inpatient wait time (months) 15
-- Max wait time for a first
outpatient appointment - months (weeks) 6 (26)

1 April 2003
-- Max inpatient wait time (months) 12
-- Max wait time for a first
outpatient appointment - months (weeks) 5 (21)

1 April 2004
-- Max inpatient wait time (months) 9
-- Max wait time for a first
outpatient appointment - months (weeks) 4 (17)

End 2005
-- Max inpatient wait time (months) 6
-- Max wait time for a first
outpatient appointment - months (weeks) 3 (13)

End 2008
-- Max inpatient wait time (months) 18 weeks from GP referral to start of treatment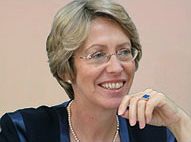 Patricia Hewitt - At least she's smiling
Hewitt names and shames 18 NHS trusts facing 'financial crisis' - 25/01/2006
Health Secretary Patricia Hewitt today named and shamed 18 NHS trusts facing financial crisis as the Government battled to bring health service deficits under control.
The Department of Health said that teams of financial specialists would be sent into 18 organisations facing the greatest financial risks, as the NHS in England braced itself for an overall deficit running into hundreds of millions of pounds.
---
Health Secretary Patricia Hewitt called on NHS leaders to kick start a big programme of public engagement in order to shape the future of NHS family health services.
Speaking to the National Leadership Network, Patricia Hewitt said:
"I said when I was appointed ten days ago that I wanted to spend the next few months listening and learning. I want to hear the views of people working in the NHS and Social Care. And I want to hear from the patients and users of its services about their experiences.
"My predecessors, Alan Milburn and John Reid, put in place a series of major structural reforms that were largely focussed on hospital services. Over the next few years we need to implement these changes, giving patients far more choice and control over their treatment, improving quality and safety, and delivering on our promise of a maximum 18 weeks between GP referral and treatment.
"I have already made clear there will be no back-tracking on the direction or pace of reform, and that under this government, healthcare will remain available to all according to clinical need and free at the point of use.
"However, the point of contact for most people with the NHS and Social Care system is their GP or other non-hospital services.
"Half-way through our ten-year programme of investment and reform, it is now time to focus more closely on the family health services provided by GPs, dentists, nurses, pharmacists, paramedics and others in primary and non-scheduled care. Most people value greatly the continuity of care provided by their GP service. But we are also seeing many new ways of getting health care – NHS Direct, walk-in and minor injuries centres, treatment provided by paramedics from the ambulance service and so on.
"In the forthcoming White Paper promised by the Prime Minister, we will set out a vision for family health services fit for the 21st century. Everyone will have their views to contribute. Because we want the White Paper to be firmly based on the experience and expectations of patients as well as practitioners, I will be initiating a programme of public engagement in which we will invite people to help design the twenty-first century 'health service outside hospitals'.
"I want the National Leadership Network to play a central role in this important task. Over the next few months as I go round visiting the front-line for myself, listening and learning, I want you - leaders from all parts of the NHS and Social Care - to consult staff in your organisations and users in your areas about what sort of family health services they want to see.
"It is vital that any future changes should come from the bottom up and not be imposed from the top down. The aspirations and expectations of patients and the public about their family health services should be the starting point for the next stage of reform. I invite you to join me in this exciting challenge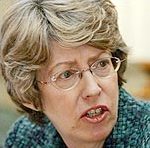 Patricia Hewitt - You try making Doctors accountable
---
Speech by Rt Hon Patricia Hewitt MP, Secretary of State for Health, 17 June 2005: Speech to NHS Confederation conference
Introduction
I am delighted to be here today, at my first NHS Confederation conference – the first, I hope, of many.
I've already had the chance to meet several of you – including, of course, Gill and Peter – and to thank you for the leadership and the commitment you are giving to our National Health Service and to hear directly about what's going well, what isn't going well, and what you need from me and my Ministerial colleagues.
So I am particularly grateful for your invitation to join you today and to give me the opportunity to hear the views of so many more people, as well as to share my own thoughts with you.
Already, in just six weeks since I became Secretary of State for Health, I have heard many different views from NHS people at every level.
But what has struck me most – and what strikes almost every patient and user – is the passionate commitment that people within the NHS feel about their work. Helping people who are in pain and distress. Caring for people because they need it – not because they can pay for it. Working in a service that provides healthcare for everybody, based on clinical need and not ability to pay. The values, on other words, that have created the fairest healthcare system in the world: and the best-loved institution in our country.
That is why I feel so lucky to be your new Health Secretary.
Nigel spoke yesterday about where the NHS is in its journey, five years in to the ten-year improvement programme.
We have made extraordinary progress. You have made extraordinary progress. So I want to start by saying thank you for all your hard work and efforts.
I know it hasn't been easy. It's been difficult for staff whom we've asked to take on new roles, work in different ways, make heroic efforts to meet targets that perhaps they don't always feel are right. And it's difficult for you – as the leaders and senior managers of the NHS – to provide clear, consistent leadership, day in, day out, in a service with over 300 different professional groups, a service that is dealing every day with life and death. Not easy to be a manager and a leader in those circumstances.
Three big challenges
I know, too, that in a service that has changed so much over the last five years, many people are tired of change. I have no doubt I'd be very popular if I said today that we're going to take a break, slow down the change, row back on the reforms.
But I'm not going to do it. I'm not going to do it because I believe it would be wrong for the NHS and wrong for patients. If the NHS is to be as valued and loved as much in this century as it was in the last, then we have to respond to the changing needs and expectations of the people we serve.
We all want the best possible health, the best possible healthcare and treatment with the best possible value for money. We want it as patients and users, and as taxpayers and contributors. We can only achieve these goals with the dedication of our staff. We can only achieve them with sustained investment. And we can only achieve them with reform. We are not making change for the sake of change: we are making change for the sake of the patient.
So the process of change and improvement will continue. But the way in which we make change happen, the way we keep improving the service, will be different in the next five years from the last five years. I certainly don't pretend to have detailed answers yet to all the questions that you and many other people in the NHS are rightly asking.
But already, I am very clear that there are three big challenges facing us.
Putting patients first.

Transforming the whole service that people receive.

And engaging all our staff.
I want to say a bit more about each of these in turn.
Putting patients first
We all know that as waiting times have been brought down – already a big achievement –patients' expectations have moved on.
Of course they still want shorter waiting times – and we've still got more, much more to do. They are a necessary condition of an outstanding health service. But they're not sufficient. Patients want to be cared for as individuals, treated with dignity and respect, made to feel welcome, and certainly kept safe. They want to feel as though the NHS cares more about their time and convenience than it does about its own. And they want to understand what's happening to them, to be involved in decisions about their treatment and given a greater say over their care. That's what I mean by a patient-led NHS.
So for every one of us, whether we're running a clinic, or the catering, a whole trust or the whole service, the start, and the end, of everything we do must be our patients and users. Whatever the issue we're grappling with, however complex or technical, we have got to keep asking ourselves: 'How will this affect our patients? How can we make our patients' and users' experience better? How would I feel if it was me or my elderly mum?'
As I was preparing what I would say to you today, and as I was thinking about the narrative that we have to use with all of our staff, I found myself thinking about one particular patient. An elderly woman called Margaret who needs a hip replacement.
At first she assumed she'd go to her local hospital: it's what most people want. But then she worried about who'd look after her when she came out. Her daughter lives in Yorkshire and it's hard for her to leave her children and come and look after her mum.
So Margaret started thinking that it might be better if she could have her operation in Yorkshire, so she could stay with her daughter for a week or so after she came out. She certainly wants to fix the date for her operation as quickly as possible – any time in the next three months, although she'd like to avoid the long weekend she's already booked to be away with friends. She's quite worried and wants to know what will happen to her when she comes out, whether she can have meals on wheels for a bit, where will she go for physiotherapy and so on. She'd like to start planning now, without worrying that her operation might be cancelled. And ideally, she'd like it if she didn't have to give the same information that her GP already has to every doctor, nurse and carer she meets in hospital and later on.
None of this is unreasonable. And I can see already how we can help give Margaret what she's looking for. Choose and Book. Money following the patient with payment by results. Elective operations done completely separately from emergency admissions, reducing last-minute cancellations – and MRSA as well. An electronic patient record, so that patients and staff can share information confidentially. And much greater integration of health and social care.
As Health Secretary, I intend to be a relentless champion for patients. But I also know that, for many NHS staff, a 'patient-led NHS' is something rather worrying rather than inspiring. Isn't it just going to mean unreasonable patients making impossible demands when staff are already overworked?
We need to take these concerns seriously. We all know in government – and we have a responsibility to explain to the public – that choice isn't an absolute right: it's choice within appropriate clinical guidelines and available resources.
We know too – and, again, we have to say to the public – that with rights come responsibilities. It is absolutely unacceptable that, today and every day, over 300 NHS staff will be abused or attacked by a patient or visitor. Our staff who give so much of themselves are entitled to the same respect from patients and the public that we are asking them to give to patients and the public.
And of course, each of us have responsibilities for our own health and well-being and that of our families … and indeed it is an increasingly important role of the NHS and care services to help us make those healthy choices.
So the NHS must give people the sort of choice and control that we expect in other areas of their lives. That is our first challenge: putting patients first.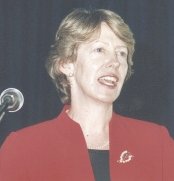 Patricia Hewitt - Speech
Transforming the whole system
Our second is to transform the whole system. Not to treat 'system reform' as a series of separate projects, each full of managerial jargon and technical detail, each a box to be ticked off. What we have got to do is seize the opportunity we now have to transform the way we shape our services, to transform each organisation and the whole service of which each is a part.
For the last five years, as you know a great deal better than I do, we've relied heavily upon centralised targets and tough performance management to achieve major improvements in the NHS.
You know all about that. You've had to do it – and have it done to you.
But no organisation can cope with this top down, command and control approach for ever. We have to move from reforms that depend upon centralised, tough performance management, to embedded reforms that create a powerful, in-built dynamic for continuous improvement.
I am very well aware that, as we enter this next phase of reform, we are making big changes, very quickly, in one of the largest and most complex service organisations in the world.
I understand that this is going to create more uncertainty, more instability in some parts of the country, and more risks – and we should be quite open about that, with each other and with all our people. The truth is that if there weren't risks, there wouldn't be enough change.
We need greater choice for patients about health and healthcare, not just because they want and increasingly expect to be involved in decisions about their health and care, but because choice will help us drive and shape and deliver consistently better care.
We need payment by results – not only because it underpins patient choice, but because it will create very sharp incentives to under-performing parts of our service to change their ways or give way to others who can do better.
We need the independent sector and the growing number of NHS Foundation Trusts to stimulate even more innovation.
And we need a proper counter-weight to the power of hospitals – which, I believe, the rapid extension of practice-based commissioning will provide.
Now I know people are puzzled when they hear me say that the reforms must continue, that there will be no let-up in the pace or direction of change … but that I also want to listen and learn from people on the front line.
I am clear that as we turn the principle of reforms in to practice – for instance, as we design and implement payment by results – we need to do more to listen and learn from you and others on the front line.
We did that when we learnt from the first wave of independent sector treatment centres, where we required PCTs to underwrite a certain number of patients to the new centres. We won't do that again. We want a level-playing field for all providers.
Now, we have to make sure that the different aspects of system reform knit together into one coherent whole.
As far as possible, we have to prevent unintended consequences and avoid conflicting incentives. And your role in helping us achieve this is vital. So for example, I have decided that we will proceed with the introduction of payment by results for emergency care from April 2006, but in doing so I will listen carefully to you about the best way of doing this.
We know, too, that we need to better manage long term conditions like diabetes, heart disease and obesity. We need to shift the focus of services towards promoting good health as well as treating disease. But in order to meet these objectives, we need to engage genuinely with staff, patients, users and the public in designing family health and social care services to meet the expectations of the 21st century. I will be saying more about that in a few weeks' time, as we launch a process of staff and public engagement that will lead up to a White Paper.
I have no doubt that in each hospital, each PCT, each mental health trust represented here today, you are already transforming some aspects of your service.
But now the challenge is to move beyond the individual projects – exciting though they are – and transform not just individual services or organisations, but the whole way in which different services and organisations come together to look after the individual.
This rethinking of how we care for patients, this reshaping of the whole service is also the only way that we can achieve the value for money that all of us, as taxpayers and as contributors, have a right to expect.
We are in the middle of the longest and most sustained period of investment in the history of the NHS. Spending has doubled since 1997 and will have reached £90 billion a year by 2008.
By that time, we will have tackled the historic under-investment in the NHS and we will have eliminated many of its main symptoms. So whilst of course growth will continue, the unprecedented increases of recent years will no longer be necessary.
And I know you're worried about delivering the huge agenda of the next 5 years. But, quite apart from the funding increases already committed for the next 3 years, a potential pot of gold is already in your hands. There are major productivity gains to be had from the extra investment that is already coming into the system. The onus is on you as managers to deliver them. And we will work with you of course to achieve that goal.
I recently heard the chief executive of a London SHA talk about the length of in-patient stay for different procedures at the seven hospitals in his area.
For hip fractures two of his hospitals were 5 days below the NHS average of 25 days. The other five were above – one of them with an average length of stay of 38 days. And the five with the longest stays also had the worst outcomes.
In future, of course, it's going to be patients and the public will have this information, not just the SHA. And if the hospital that's keeping the patient for 13 extra days has no good clinical reason to do so, then everybody is losing: the patient, the hospital and the taxpayer.
Indeed, this particular SHA calculates that if every one of its hospitals managed to achieve the same length of inpatient stay as the top 25% of NHS hospitals – and that's not world-class standards – then they would have over 600 more hospital beds than they actually need. If a shorter stay in hospital gives the patient as good – or better – outcomes, and it costs less, let's do it.
If doing the X-ray or the blood test or the minor operation in the local health centre gives the patient as good – or better – outcomes, and it costs less, let's do it.
And frankly, if your hospital trust or PCT is facing significant financial difficulties – and I know perfectly well several of you are – despite having more money than ever before, then system reform isn't an optional extra or another bureaucratic or politically imposed demand, it's your highest priority.
In all this change, the last thing we need is yet another 'big bang' reorganisation. But the difficult challenges we face mean it becomes even more important that our structures – the strategic health authorities, the primary care trusts – are really fit for purpose.
A clear priority must be to strengthen the commissioning function. PCTs must be focused, as the best ones are, on building relations with their local communities so they understand health needs and can put resources to the best possible use for their patients.
So Nigel and I will be working together to ensure that there is a clear framework and process in place when you decide what is best for your local services, ensuring that each of the vital functions you perform is being done by the best people in the best and most efficient way.
Engaging all our staff
I've set out in some detail our first two challenges: Putting patients first. Reforming the whole organisation. But we can only do those two if we also meet our third big challenge – engaging all our people. I'll want to discuss that with you in more depth on other occasions. But before I hear your comments and questions, I do just want to offer a few brief thoughts.
Our patients and users will only feel truly valued and cared for if our staff feel truly valued and cared for as well. So the new NHS has to be their NHS if it is to be the patients' NHS.
I don't believe that there needs to be any conflict between the interests of patients, and the interests of our staff – and there shouldn't be, provided that the patient, rather than the institution we work for, is at the centre of all we do. After all, NHS staff are patients and users themselves. Their families are patients and users of our services. And I have no doubt that they want to give their patients the same care and attention that they would want for themselves and their own families.
But far too many of our staff feel they're doing a good job despite rather than with the help of managers and reforms. Too many feel change is being inflicted upon them instead of happening with them. It's no wonder stress is even more of an occupational hazard in the NHS than in many other large organisations.
That is why I feel so strongly – as I know so many of you do – about making the NHS a Model Employer. We know how to do this: the tools, the inspiring examples are all there. It needs evidence-based management, and it needs personal leadership from each of you. It's not another target. It's not another demand from a politician. It is part and parcel of transforming our service to meet the expectations of our patients and the public.
So we need to carry out the next stage of reform in a way that enables staff to give patients what they themselves would want. We need to engage the people of the NHS – particularly our clinicians – in shaping and making the change: and we need to give them the support so that they can fulfil their potential. It's what many of you are already doing. And that's what we're doing with Agenda for Change – not another technical reform but one of the most radical frameworks for transformation that we negotiated with our staff and their unions.
Conclusion
There is plenty more I could say about why we should all be inspired by the opportunities of the next few years, but I want to leave more time for your questions and comments. I just want to leave you with one thought today.
The NHS has endured and is still great and commands enormous support and affection because it has such solid foundations – strong values and excellent professional services. We need to use these strong foundations to build something even more inspiring. If all of us over the next few years we can bring everybody up to the standards of the best, make the most of the system reform opportunities, make the best use of every pound going into the NHS and always keep the patient in mind, I firmly believe that we will be able to create the best healthcare system in the world.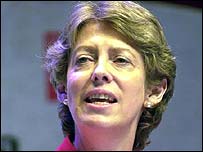 Patricia Hewitt MP
Secretary in a State
---
LINKS:
HAVING met Health Secretary Patricia Hewitt, I can tell you she's ...
Mirror.co.uk, UK - Apr 28, 2006
Despite her career, she was worried about her family like any working mum when I saw her on Tuesday - her son is studying for his A-Levels. ...
Patricia Hewitt got this right: NHS has never had it so good
Scotsman, United Kingdom - Apr 27, 2006
When my colleague Joyce McMillan declared her feminist admiration for Patricia Hewitt but added the withering criticism of the Health Secretary's "ineffable... ...
Patricia Hewitt needs to listen
News & Star, UK - Apr 27, 2006
Health Secretary Patricia Hewitt now knows how stupid she looks following her infamous boast that "this is the best year the NHS has ever had". ...
Patricia Hewitt hears your Health fears
ic Huddersfield.co.uk, UK - Apr 20, 2006
... Deep in the Palace of Westminster, Health Secretary Patricia Hewitt accepted protest letters from thousands of people concerned about hospital plans for the ...
Best year ever for absolutely everything, boasts No. 10
Deadbrain.uk (satire), UK - Apr 30, 2006
... of red-faced senior Government figures, veteran PR troubleshooter Greg Mullet today told an assembled pack of avid newshounds, "Patricia Hewitt got the message ...
Blair busy choosing his grand gesture ic Wales
State of chaos might finish off Blair, but it won't help Brown
Telegraph.co.uk, United Kingdom - 4 hours ago
... But the combination of Charles Clarke's troubles at the Home Office, Patricia Hewitt's travails at Health and John Prescott's traumas at home created an ...
Most find Labour 'sleazy and incompetent,' polls show ic Wales
Poll blow for Labour Monsters and Critics.com
What future for Falstaff and the foreign felons' friend? Times Online
Scotsman - Guardian Unlimited
Hewitt - Just get on with the job
ic Birmingham.co.uk, UK - Apr 28, 2006
Twenty-four hours after Health Secretary Patricia Hewitt was booed off the stage by angry nurses she braved meetings with NHS staff in the Midlands. ...
Sex Scandal, Low Ratings Are Latest Setbacks to Blair Government
Washington Post, United States - Apr 30, 2006
... Popularity ratings for Prime Minister Tony Blair, shown last month with embattled Health Secretary Patricia Hewitt, are at a low of 33 percent. ...
Wishful thinking Guardian Unlimited
Another 'disaster' week now looms for beleaguered Blair Unison.ie
MPs' heads must roll Daily Telegraph
Bloomberg - India eNews.com
Exactly what is it that you nurses are so angry about?
Guardian Unlimited, UK - Apr 29, 2006
Patricia Hewitt was shouted down last week when she addressed nurses. Jo Revill tracks down her loudest critic and hears what really enrages her. ...
Nursing feelings of anger The Observer
Hewitt under fire over NHS 'boast' ic Newcastle.co.uk
When the sheen is gone
Jamaica Observer, Jamaica - Apr 30, 2006
... So Blair's health minister, Patricia Hewitt, has been abused and barracked at two union conferences in the past week. The workers ...
CAROLINE ANSELL - CHARLES CLARKE - CHARLES HENDRY - CHRIS GRAYLING - DAVID BLUNKETT - DAVID CAMERON
DAVID MILIBAND - ERIC PICKLES - GEOFFREY JOHNSON-SMITH - GEORGE OSBORNE - GORDON BROWN - GREG CLARK
GREGORY BARKER - JACK STRAW - JOHN GUMMER - JOHN PRESCOTT - KENNETH CLARKE - KIM HOWELLS DR
MARGARET BECKETT - MARGARET THATCHER - NICK CLEGG - NORMAN BAKER - NUS GHANI - PATRICIA HEWITT
PHILIP DUNNE - PHILIP HAMMOND - SAJID JAVID - STEPHEN LLOYD - TERESA MAY - TESSA JOWELL - TONY BLAIR - VINCE CABLE
This site is protected under Article10 of the European Convention on Human Rights and Fundamental Freedoms.
Don't forget that Whistle-blowing protection is now available should you wish to spill the beans about Wealden's legal and planning departments!
THIS SITE CONTAINS MANY EXAMPLES OF THIS COUNCIL'S UNREASONABLE BEHAVIOUR - With thanks to Action Groups across the country for the supply of real case history and supporting documents. *THAT THE PUBLIC MAY KNOW*
Vicarage Lane, Hailsham, East Sussex, BN27 2AX T: 01323 443322
Pine Grove, Crowborough, East Sussex, TN6 1DH T: 01892 653311