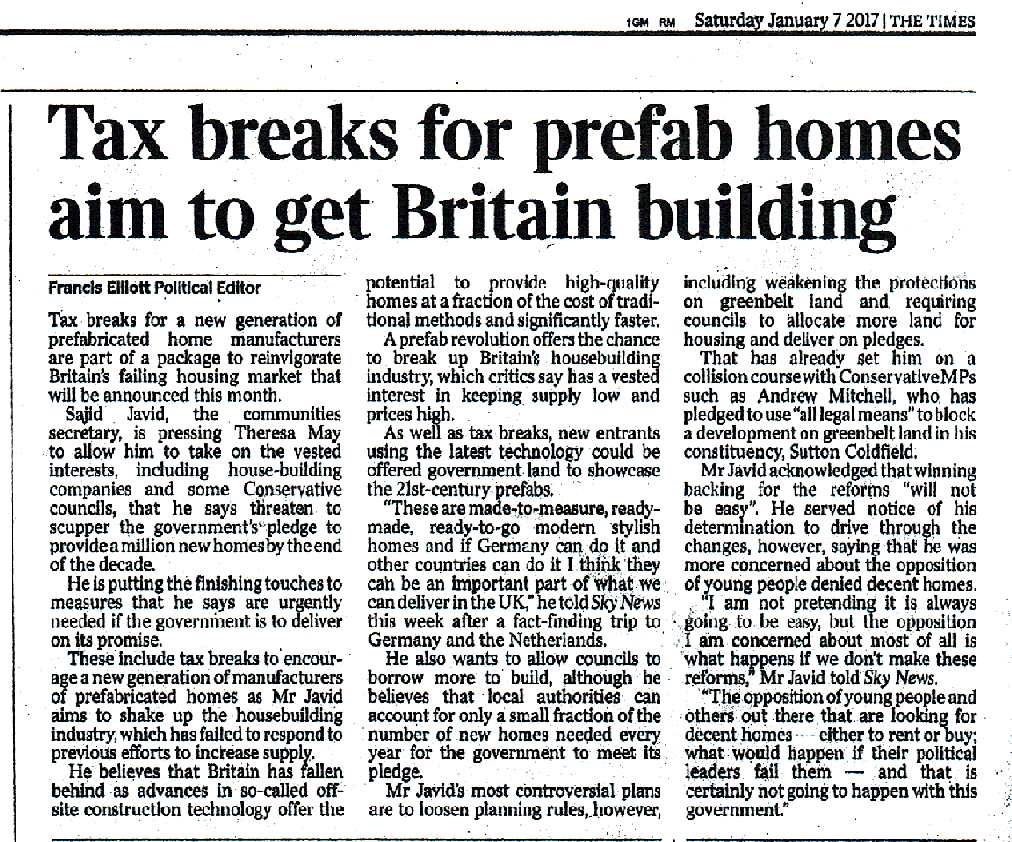 CHERRY HOMES

The Rt Hon Sajid Javid MP
House of Commons
St Margarets Street, Westminster
London
SW1A 0AA
14 January 2017

Dear Mr Javid
TRULY SUSTAINABLE HOUSING
We write having read the report in The Times about your interest in flat-packs as a means to boost affordable house building.

It might interest you to know that via (Utopia Tristar Partners) our planning strategist, Mr N Kay, our group gave evidence before Jameson Bridgewater PGDIPL MRTPI on the 20th of May 2015 at a Public Inquiry relating to PINS/C1435/429/6 and Wealden District Council's local plan.

Subsequently, we wrote to Inspector Bridgewater to re-affirm our assessment that it was land prices and availability that is the key concern in the building of affordable houses, not the price of the flat-packs, that is relatively insignificant in relation to professional fees and greedy farmers all looking to become windfall millionaires

Our agent, who like us, operates on a not for profit basis, suggested to the Inspector that Community Interest Groups could both identify and set the value of land in stead of local authorities - if the commercial fees in relation to planning applications were waived – but only for truly affordable (and sustainable) housing, aiming for a Circular Economy.

A local E. Sussex County Councillor who is interested in similar potential solutions is Cllr. Laurence Keeley. Cllr. Keeley also gave evidence before Insp. Bridgewater and is in favour of Community Land Trusts that might operate for the social good.

The accepted test for affordability is that a local person might afford to buy on a local wage, rather than a for-profit developer affording the build of 30% lesser market value houses from the profits of 70% luxury houses.

In this case, as seems to be adopted by Wealden, the "so-called" affordable quotient is nowhere near affordable by local wage earners, but rather a wonderful investment opportunity for overseas investors who are slowly usurping our sovereignty. That being the case, such developments are in truth un-sustainable where we do not have sufficient land to keep selling off high-end real estate with local authorities paying rents via housing benefit top-up that the country as a whole cannot afford.
As you know, at the moment councils are attempting to (in effect) bribe developers to build houses that are billed as affordable, by offering consents on previously undeveloped land as a 70/30 split, with 70% being large luxury houses, on land that has for years been protected against development (greenbelt) and is for the most part unsuitable in terms of overloading local facilities leading to a eventual societal breakdown and misery for locals on low wages.

By way of example we gave Inspector Bridgewater the flat-pack unit at Twissells Mill near Heathfield, that property developers would run a mile from, because there is no profit in such an installation; it being truly affordable.

Predictably, where there was no backhander for this council, they fought the developer tooth and nail, costing the occupier or the Trust who owned the land, several times the cost of the unit, which was only £15,000 at that time, plus assembly, wiring and plumbing. Whereas the legal costs in the year before arguing with Wealden, before we came to the rescue as a not-for-profit, totaled around £40,000.

It was therefore the tactics of councils to conserve cozy relationships - such as in this case, Ian Kay (former Assistant District Planning Officer) and his property developer father-in-law, B. Best – contrary to the findings of Lord Nolan in the Nolan Report on councils, rather than plan ahead for looming housing shortages.

If you were to look, you will find that many councillors on committees have some kind of relationship with a property developer, architect or other land related professional tucked away in the wings, to be able to benefit from their positions on planning committees. We would respectfully suggest that councillors should not be allowed into office with such conflicts of interest extant.

The appeal number in relation to the above example is: APP/C1435/C/05/2002769.

This is the same council that bulldozed a horse sanctuary complex to try to head off an Appeal going before the Secretary of State – but the SOS heard the appeal in relation to Bushywood Animal Sanctuary anyway and approved in principle the proposal so that the units could be rebuilt. You will not be surprised to learn that the officer at this appeal was none other than the less than evidentially reliable: Ian Kay.

Again, the same officer was caught red-handed perjuring himself during a Lawful Development Certificate Appeal relating to Stream Farm at Horam, where he had not anticipated that the proceedings were being recorded and denied knowledge of a photograph before another of your Inspectors, though the photograph in question came from his planning file and the original was marked: "return to IMK."

This is also the council that spent £500,000 of taxpayer's money denying that a historic building at Herstmonceux was a historic building, and even when English Heritage (now Historic England) confirmed that is was so, they continued to deny the truth and refused to correct incorrect data on their files. Such archaeological assets of course benefit the country, but once again vested interests came into play with the controlling mind of Ian Kay in the mix yet again.
These shocking real-life examples of malfeasance in public office are not restricted to Wealden but crop up throughout the land, unfortunate, but true. It must surely be time for a special task force to root out such corruption for the benefit on the nation. Local police authorities are sometimes in bed with such corruption and for this reason fail to investigate glaring impropriety.

The enemy of affordable housing is thus empire building local authorities with vested interests via cozy relationships, and greedy landowners who want to become wealthy landlords and live off the sweat of the brows of the masses.

We have no problem with property developers making money to generate wealth for the economy, but draw the line at immoral profiteering, taking advantage of the present lack of housing situation to perpetuate the financial slavery of millions who do not at the moment have any choice, but to shackle themselves to be drained by their wealthy landlords, when it should be the landlords suckling their tenants in a fair society.

Our agent explained to Insp. Bridgewater that the way to secure land at sensible prices is for a Community Land Trust (CLT) to apply for planning consent to enable the Secretary of State to determine if the land the subject of CLT proposals is truly sustainable, with reference to National Planning Policy (NPP).

If any such application identifies land as suitable for affordable housing, then subsequent applications will have to come to terms with the fact that this land has been identified (and so presumably earmarked as future rolling stock) for affordable housing. With that as a material planning consideration, it is unlikely that any council will grant later applications for luxury homes on land that has been identified as part of the rolling stock of land – that at the moment all council's have failed to perform.

No CLT could afford to test the water in this fashion all the while there is a substantial fee for doing the job of council concerned.

We would therefore urge this administration to look at possible solutions, one of which is to waive fees for not for profit organisations who might wish to make such applications to identify the rolling stock of land on behalf of councils who have no such stock, contrary to NPP.

Yours most sincerely,






Cherry Homes
for Utopia Tristar Partners
www.cherrymortgages.com - build@cherrymortgages.com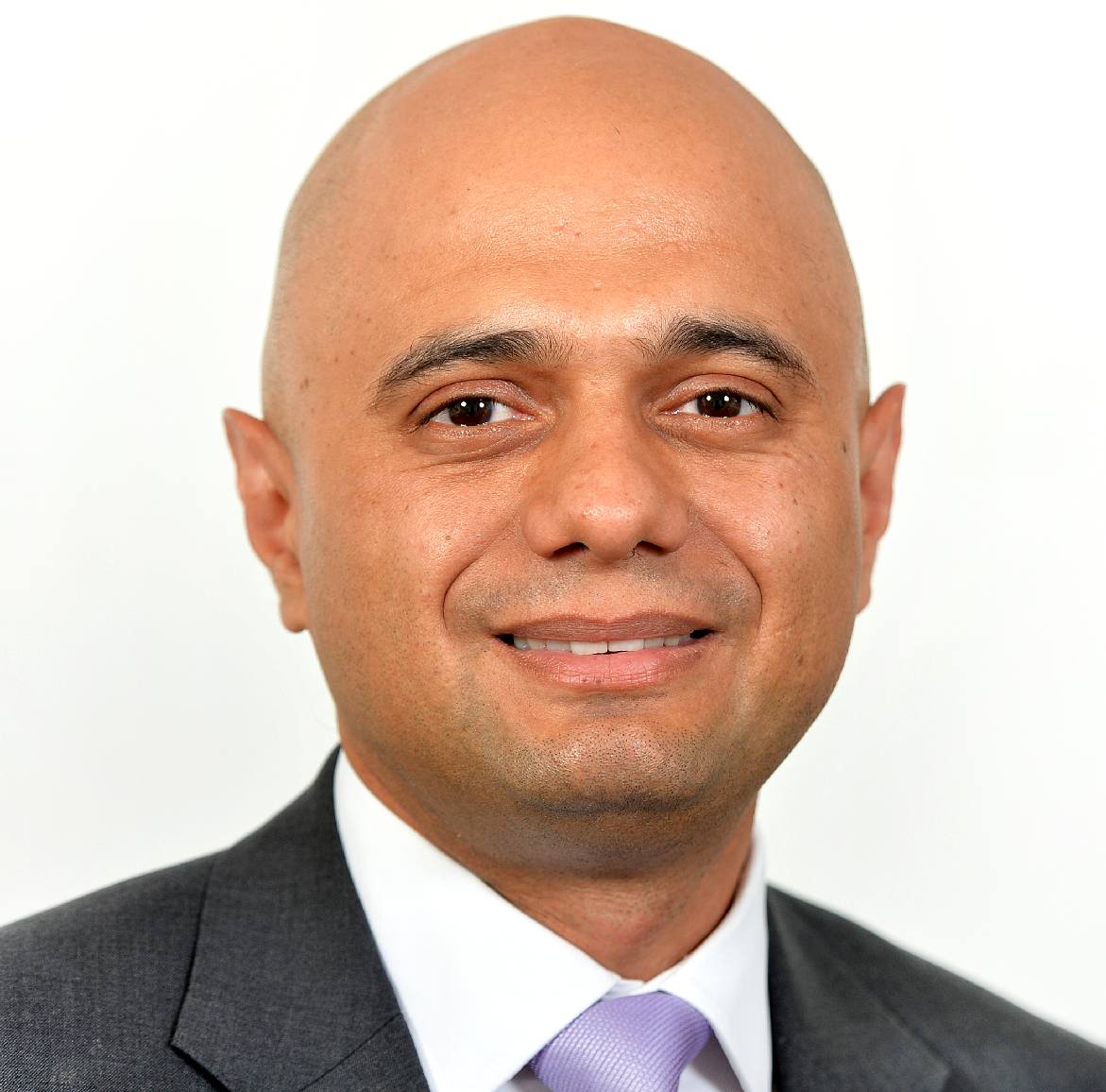 ABOUT SAJID JAVID
Sajid Javid PC MP (born 5 December 1969) is a British Conservative Party politician and former managing director at Deutsche Bank. He has been the Member of Parliament (MP) for Bromsgrove since 2010, and has served as Secretary of State for Communities and Local Government since July 2016. He was Secretary of State for Business, Innovation and Skills and President of the Board of Trade from 2015 to 2016.

Javid previously served as Secretary of State for Culture, Media and Sport from 2014 to 2015, Minister for Equalities in 2014, Financial Secretary to the Treasury and City Minister from 2013 to 2014 and Economic Secretary from 2012 to 2013.
CONTACTS
Rt Hon Sajid Javid MP
18 High Street
Bromsgrove
Worcestershire
B61 8HQ.

If you live in the Bromsgrove constituency and would like to request an appointment, call Sajid's constituency office on 01527 872 135
Or send an email to ajid.Javid.MP@parliament.uk
LINKS
https://en.wikipedia.org/wiki/Sajid_Javid
https://www.sajidjavid.com/


CHAMELEON DAVE - is quoted as saying that he had: "always believed in governing with respect", promising to implement further devolution to Wales, Scotland and Northern Ireland.

Adding: "Governing with respect means ensuring the nations of our United Kingdom have their own governments as well as the United Kingdom government. Both are important. "And indeed with our plans, the governance of these nations will become powerful with wider responsibilities."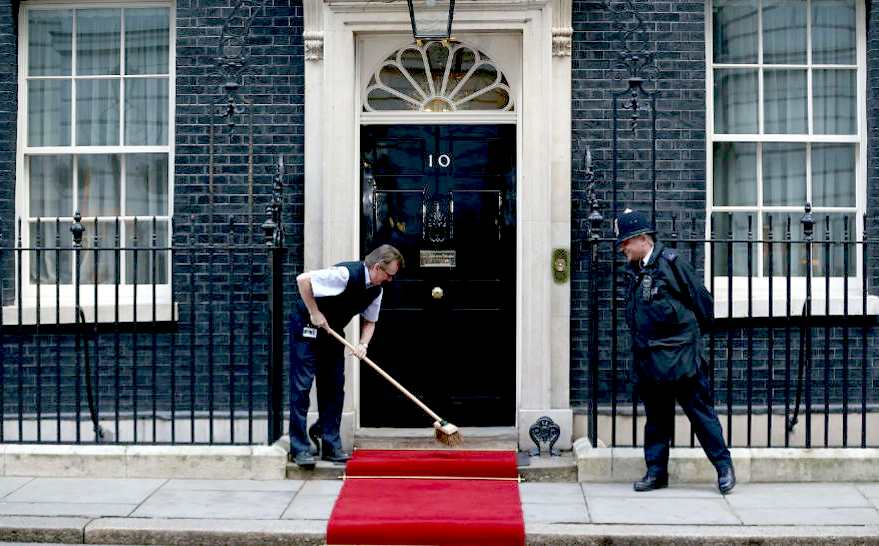 "That's another fine mess they got us into. Sweep it under the carpet luvee." "Maybe we need a bigger carpet."
WE ACCEPT NO RESPONSIBILITY FOR THE ACCURACY OF ANY FEATURED LINKS
This site is protected under Article10 of the European Convention on Human Rights and Fundamental Freedoms.
FAIR USE NOTICE
This site contains copyrighted material the use of which has not always been specifically authorized by the copyright owner. We are making such material available in our efforts to advance understanding of environmental, political, human rights, economic, scientific, and social justice issues, etc. We believe this constitutes a 'fair use' of any such copyrighted material as provided for in section 107 of the US Copyright Law. In accordance with Title 17 U.S.C. Section 107, the material on this site is distributed without profit to those who have expressed a prior interest in receiving the included information for research and educational purposes.
For more information go to: http://www.law.cornell.edu/uscode/17/107.shtml. If you wish to use copyrighted material from this site for purposes of your own that go beyond 'fair use', you must obtain permission from the copyright owner.
CAROLINE ANSELL - CAROLINE LUCAS - CHARLES CLARKE - CHARLES HENDRY - CHRIS GRAYLING - DAVID BLUNKETT
DAVID CAMERON - DAVID MILIBAND - ERIC PICKLES - GEOFFREY JOHNSON-SMITH - GEORGE OSBORNE - GORDON BROWN
GREG CLARK - GREGORY BARKER - JACK STRAW - JOHN GUMMER - JOHN PRESCOTT - KENNETH CLARKE - KIM HOWELLS DR
MARGARET BECKETT - MARGARET THATCHER - MARIA CAULFIELD - NICK CLEGG - NORMAN BAKER - NUS GHANI - PATRICIA HEWITT
PHILIP DUNNE - PHILIP HAMMOND - SAJID JAVID - STEPHEN LLOYD - TERESA MAY - TESSA JOWELL - TONY BLAIR - VINCE CABLE