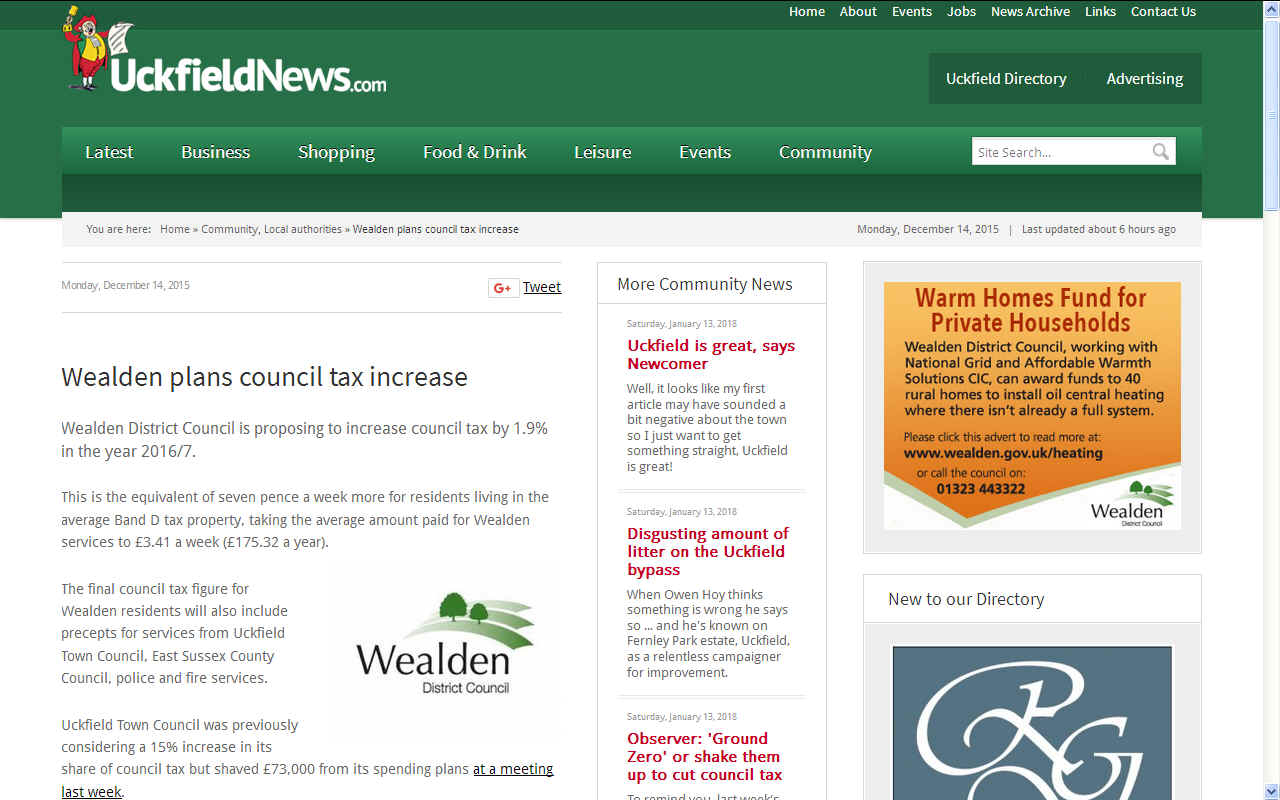 INSPECTION OF THE COUNCIL'S ACCOUNTS - PUBLIC RIGHTS

Regulation 15(2)(b) of the Accounts and Audit Regulations 2015 requires the local authority to make their accounts open for inspection between 8.45am and 5pm Mondays to Fridays, where any person interested may on reasonable notice inspect and make copies of the accounts of the council in relation to the previous year. This includes sight of all books, deeds, contracts, bills, vouchers and receipts that your council have incurred in the previous year, usually from March to March. The Accounts are typically open for inspection from June to July.
VALUATION OFFICERS SE AREA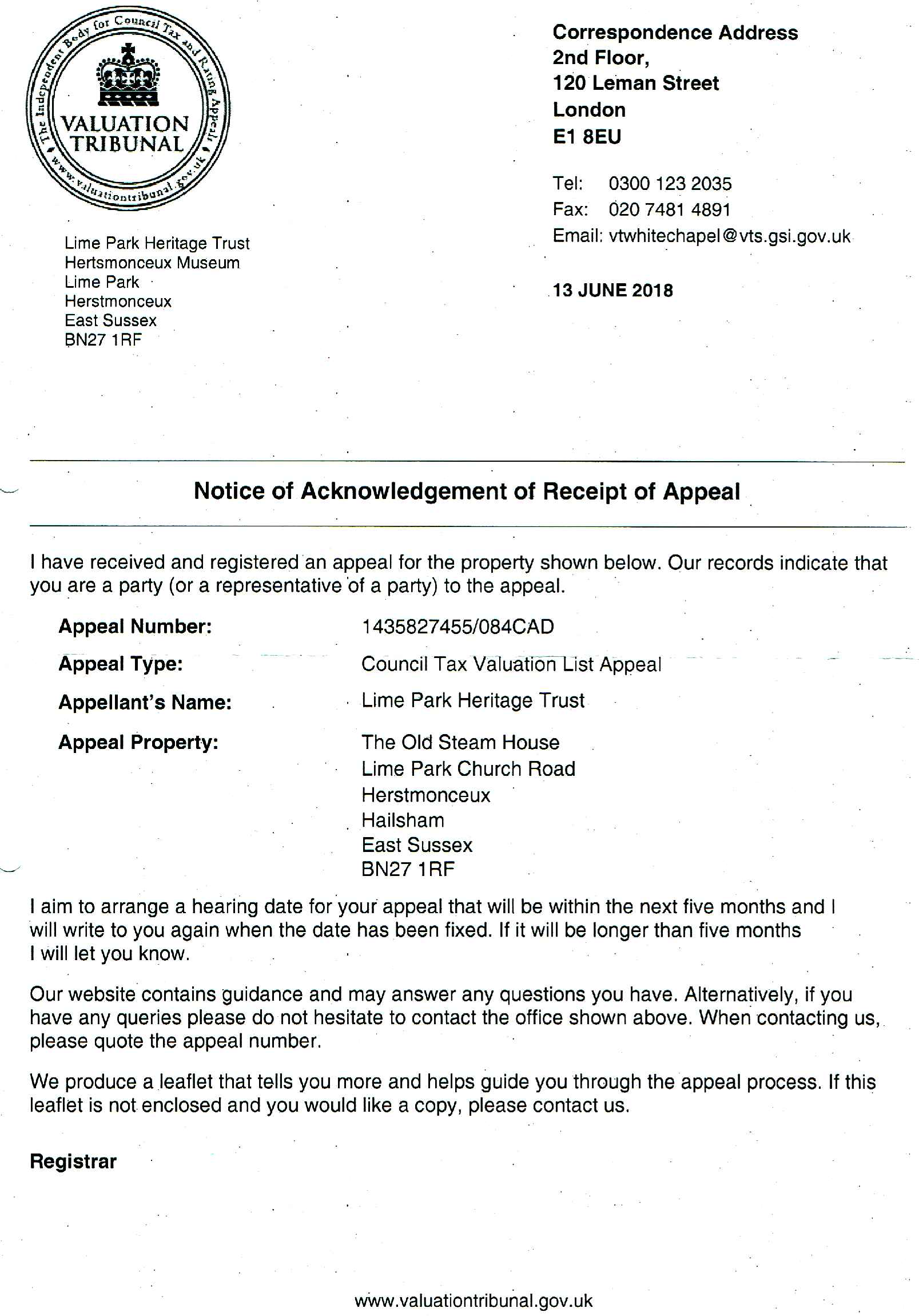 The players in this little Nazi Gestapo like charade were:
Andrew Corkish (for VO)
Charlotte Corkish (for VO)
Judith Barnes (VTS panel member)
Peter Hardcastle (VTS panel member)
Tracey Nicholson (for the VO)
Graham Wayman (for WDC)
Jon Bestow (registrar for the VTS)
Other players involved in the conspiracy to defraud over the years included:
VALUATION APPEALS
If you are unhappy with the valuation of your property, you can take the matter to the Valuation Tribunal. They are billed as being the independent body for council tax and rating appeals. The correspondence address of which is:
2nd Floor
120 Lehman Street
London
E1 8EU
One interesting appeal at the moment is that for Herstmonceux Museum, where the Trust dealing with the a proposed valuation of £660,000 by the Wealden District Council is at pains to point out that only one small section of the premises is being used residentially.
The remainder of the registered title is divided in use as an office and workshop and a studio flat. It is the studio flat that is used residentially, and this small section could hardly be valued in Band E. Whereas, according to the Government guidance on assessments:
"HMOs with adapted letting rooms: Separately let rooms in a HMO (House in Multiple Occupation) may have been adapted, for example, so that they have their own kitchenette or separate shower/bath and WC. They will be given their own band even though may share some facilities. In making a decision, the VOA will look at the degree to which each part has been structurally altered."
Previously this site was classed as "Historic" and placed in Band A. Subsequently the entry was deleted in July of 1997.
Values are based on the open market values in 1991. Clearly then, and as supported by the 1997 deletion, this property should be in Band A. It would seem to be an open and shut case except for any deliberate misdirection on the part of either Wealden District Council, or the Valuation Office.
Council Tax bands in England - Band Value at 1 April 1991:
| Band | Value at 1 April 1991 | Multiplier | 2018 value estimates | Council Tax WDC Hx |
| --- | --- | --- | --- | --- |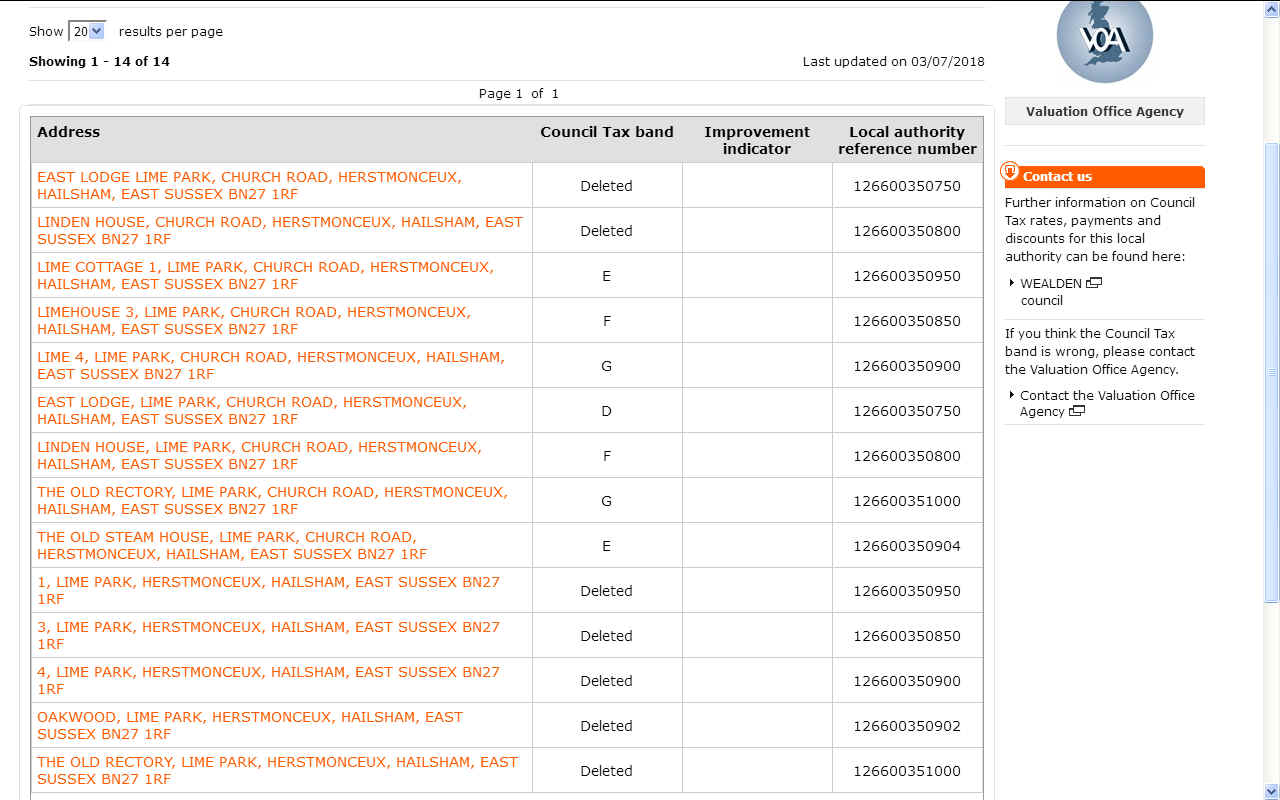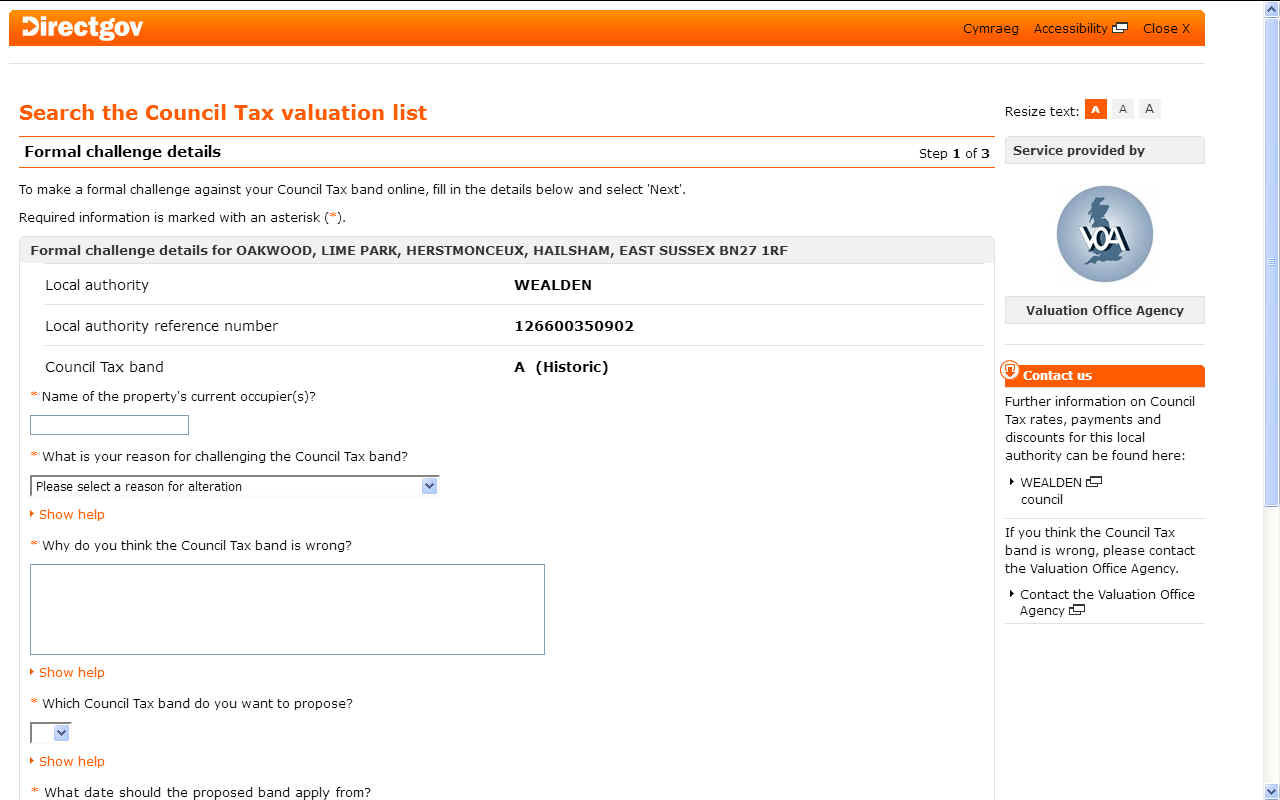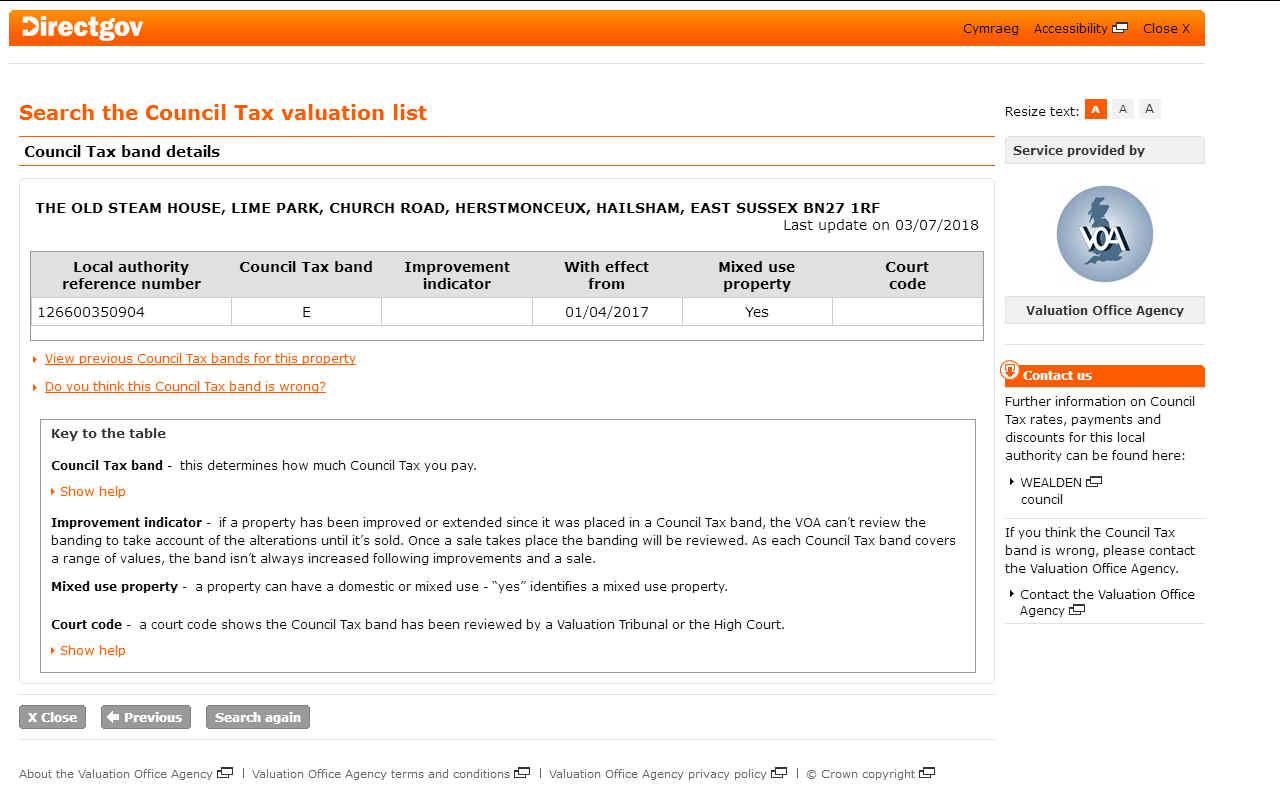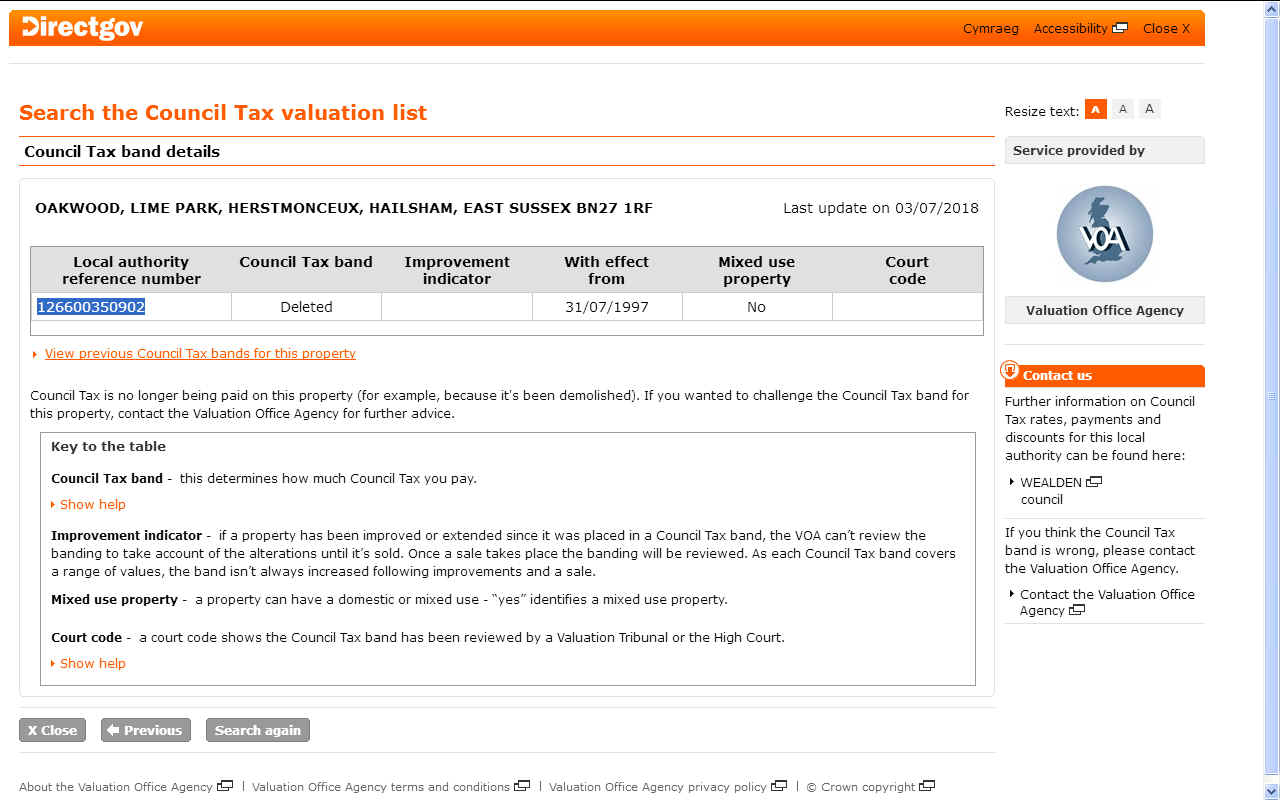 OAKWOOD, LIME PARK, HERSTMONCEUX, HAILSHAM, EAST SUSSEX BN27 1RF Last update on 03/07/2018
126600350902

Deleted

31/07/1997

No
Formal challenge details for OAKWOOD, LIME PARK, HERSTMONCEUX, HAILSHAM, EAST SUSSEX BN27 1RF
Local authority reference number:

126600350902

Council Tax band:

A (Historic)

Please send your comments and general feedback about our site to customer services: customerservices@voa.gsi.gov.uk

If you have a technical query i.e. you cannot access certain sections of our site or the Rating list application is not working, please email our IT support desk at it_support.vo@voa.gsi.gov.uk

Head Office
New Court
48 Carey Street
London WC2A 2JE
Tel: 020 7506 1700
Fax: 020 7506 1998

Birmingham Group
Regent Court
14 - 17 George Road
Edgbaston
BIRMINGHAM
B15 1NU
Tel: 0121 410 3700
Fax: 0121 410 3799

Email: birminghamgroup.vo@voa.gsi.gov.uk

East Anglia Group
London House, New London Road,
Chelmsford, Essex CM2 0QL
Tel: 01245 541200
Fax: 01245 541299
Email : eastangliagroup.vo@voa.gsi.gov.uk

East Midlands Group
Block 5, Government Buildings
Chalfont Drive, Nottingham NG8 3RT
Tel: 0115 980 0900
Fax: 0115 980 0998
Email: eastmidlandsgroup.vo@voa.gsi.gov.uk

Leeds Group
42 Eastgate
Leeds LS2 7JL
Tel: 0113 388 4500
Fax: 0113 388 4603
Email: leedsgroup.vo@voa.gsi.gov.uk

Liverpool Group
72 Church Street
Liverpool L1 3AY
Tel: 0151 802 1000
Fax: 0151 802 1099
Email:liverpoolgroup.vo@voa.gsi.gov.uk

London City Group
New Court, 48 Carey Street
London WC2A 2JE
Tel: 020 7530 7200
Fax: 020 7530 7299
Email:londoncitygroup.vo@voa.gsi.gov.uk

London North Group
Chase House
305 Chase Road
Southgate
London N14 6LZ
Tel: 020 8276 2700
Fax: 020 8276 2799
Email:londonnorthgroup.vo@voa.gsi.gov.uk

London South Group
2nd Floor
1Francis Grove
Wimbledon
London SW19 4DT
Tel: 020 8276 8600
Fax: 020 8276 8699
Email: londonsouthgroup.vo@voa.gsi.gov.uk

London Westminster Group
Wingate House
93/107 Shaftesbury Avenue
London WID 5BU
Tel: 020 7445 0500
Fax: 020 7445 0699
Email: londonwestminstergroup.vo@voa.gsi.gov.uk

Manchester Group
Portland Tower
Portland Street
Manchester M1 3LD
Tel: 0161 245 4200
Fax: 0161 245 4298
Email: manchestergroup.vo@voa.gsi.gov.uk

Newcastle Group
Eagle Star House
Regent Centre
Gosforth
Newcastle-upon-Tyne NE3 3TW
Tel: 0191 220 7000
Fax: 0191 220 7099
Email: newcastlegroup.vo@voa.gsi.gov.uk

North Wales Group
Regent House
Regent Street
Wrexham LL11 1PR
Tel: 01978 200000
Fax: 01978 200099
Email:northwalesgroup.vo@voa.gsi.gov.uk

North West Group
104 Lancaster Road
Preston
Lancashire PR1 1LX
Tel: 01772 405700
Fax: 01772 405799
Email: northwestgroup.vo@voa.gsi.gov.uk

Reading Group
Kings Wharf
20 - 30 Kings Road
Reading RG1 3ER
Tel: 0118 980 4800
Fax: 0118 980 4899
Email: readinggroup.vo@voa.gsi.gov.uk

Scotland Group
Allan Ainslie BSc (Hons), FRICS
Chief Valuer Scotland
50 Frederick Street
Edinburgh EH2 ING
Tel: 0131 465 0701
Fax: 0131 465 0799
Email: scotlandse.vo@voa.gsi.gov.uk
N.B. In Scotland council tax and business rates are dealt with by the Scottish Assessors

Sheffield Group
Cathedral Court
1 Vicar Lane
Sheffield S1 1HD
Tel: 01142 894600
Fax: 01142 894689
Email: sheffieldgroup.vo@voa.gsi.gov.uk

South East Group
Union House
Eridge Road
Tunbridge Wells TN4 8HF
Tel: 01892 796700
Fax: 01892 796799
Email:southeastgroup.vo@voa.gsi.gov.uk

South Wales Group
Ty Rhodfa
TY Glas Road
Llanishen Cardiff CF14 5GR
Tel: 02920 806800
Fax: 02920 806899
Email:southWalesgroup.vo@voa.gsi.gov.uk

South West Group
Broadwalk House
Southernhay West
Exeter
Devon EX1 ITS
Tel: 01392 606900
Fax: 01392 606998
Email: southwestgroup.vo@voa.gsi.gov.uk

St Albans Group
St Peters House
45 Victoria Street
St Albans AL1 3WZ
Tel: 01727 774700
Fax: 01727 774799
Email: stalbansgroup.vo@voa.gsi.gov.uk

Wessex Group
Overline House
Central Station
Blechynden Terrace
Southampton SO15 1GW
Tel: 023 8053 8500
Fax: 023 8053 8599
Email: wessexgroup.vo@voa.gsi.gov.uk

West Midlands Group
Crown House
Birch Street
Wolverhampton, WV1 4DS
Tel: 01902 438300
Fax: 01902 438399
Email: westmidlandsgroup.vo@voa.gsi.gov.uk

Western Group
6th Floor Temple Gate House,
Temple Gate, Bristol, BS1 6PD
Tel: 0117 930 2200
Fax: 0117 930 2269
Email: westerngroup.vo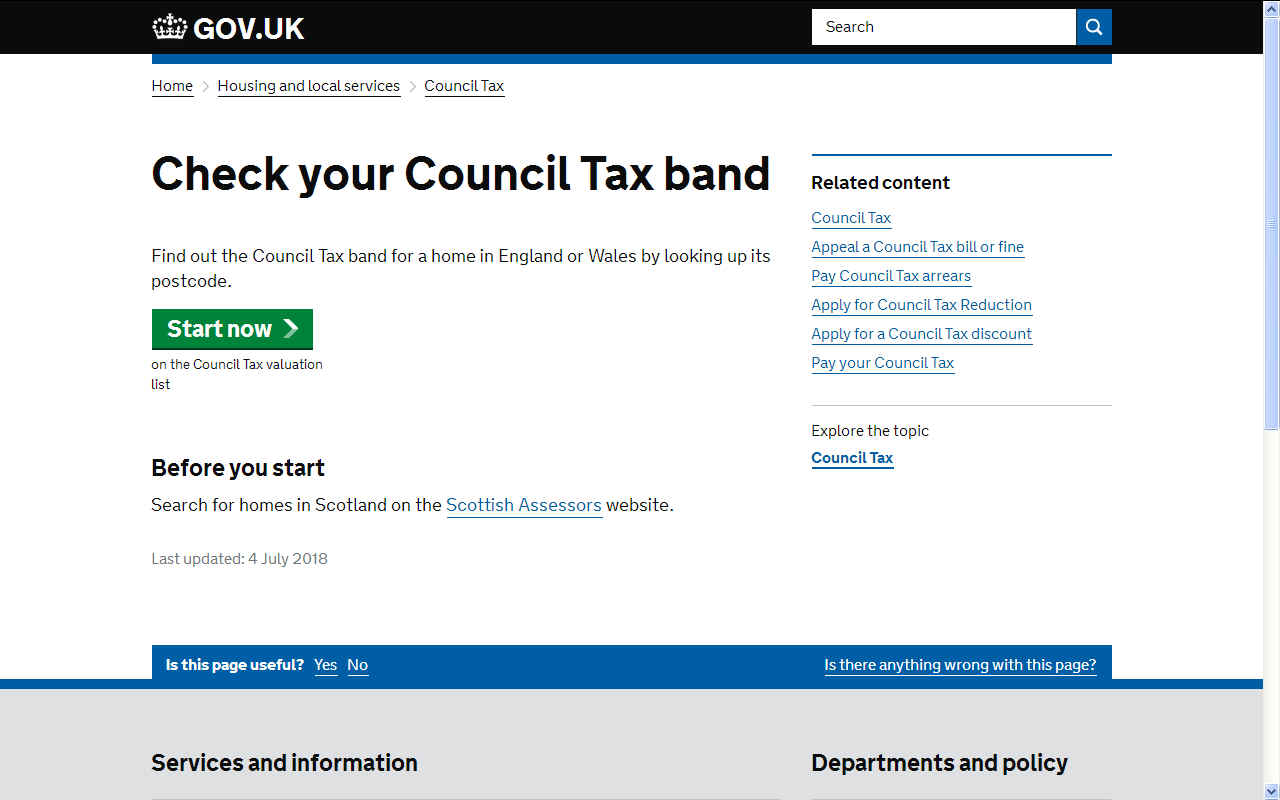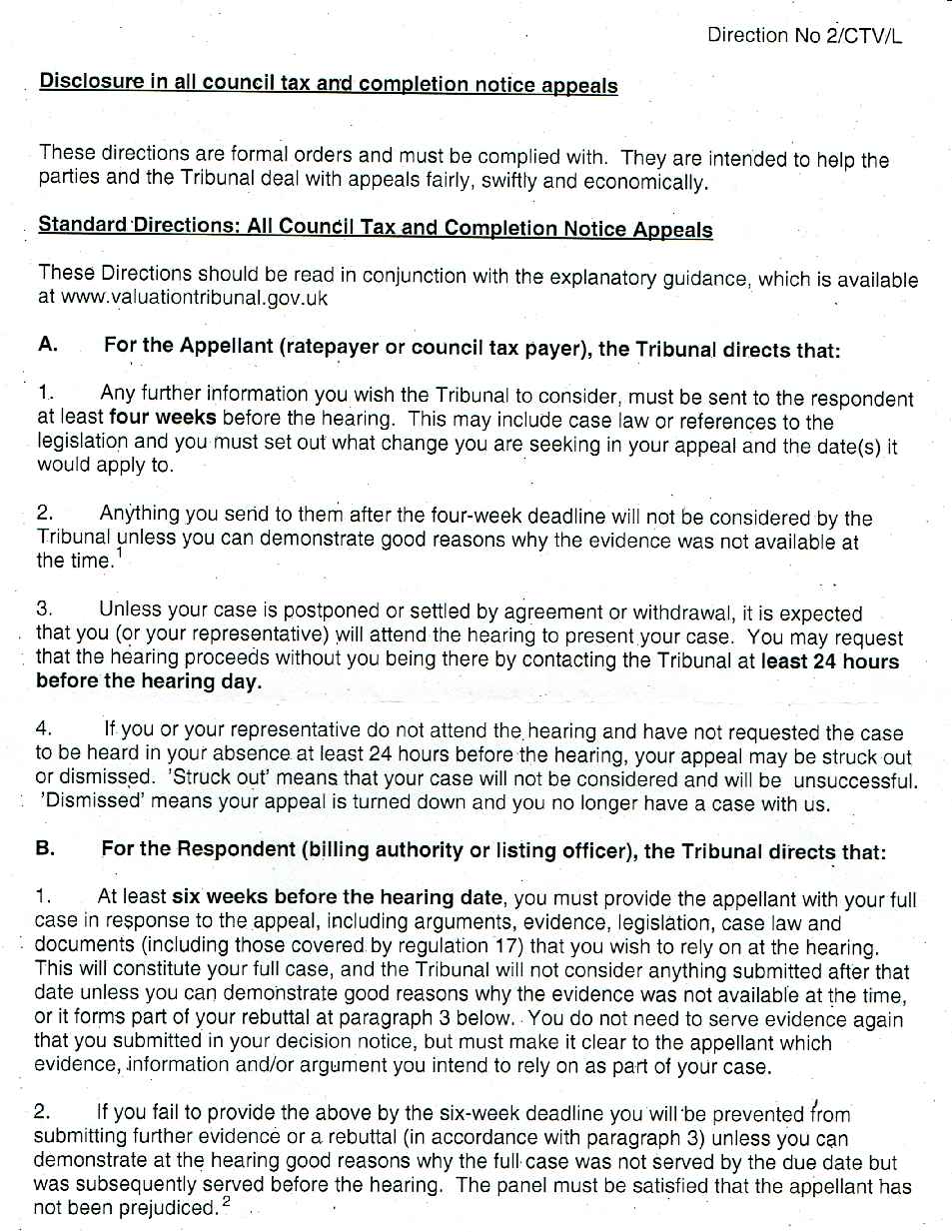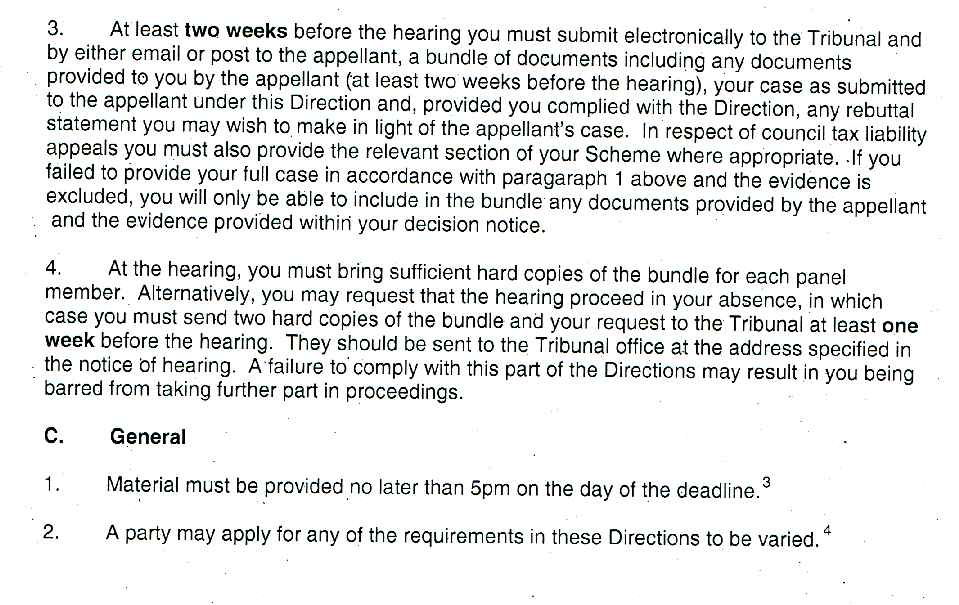 HOME | AFFORDABLE | CLIMATE | DEVELOPERS | ECONOMY | FLOOD | HISTORY | HOMES
LADDER | MORALS | POVERTY | PROPERTY | SLAVERY | TAXES | SLUMS | VALUATIONS | WEALTH
Abbott Trevor - Alcock Charmain - Ditto - Arnold Chris (Christine) - Barakchizadeh Lesley - Black Julian -Boakes Beverley
Paul Barker - Brigginshaw Marina - Brown Ashley - Coffey Patrick - Douglas Sheelagh - Flemming Mike - Goodwin Daniel
Henham J - Holness Derek - Hoy Thomas - Johnson Geoff - Kay Ian - Kay I. M. - Lant Charles - Mercer Richard - Mileman Niall
Moon Craig - Moss Douglas, J. - Nuttall Christine - Phillips David - Scarpa Victorio - Scott Trevor - Kevin Stewart
Wakeford M. - Whibley David - White, George - White Steve - Williams Kelvin
Dick Angel - Jo Bentley - John Blake - Bob Bowdler - Don Broadbent - Norman Buck - Raymond Cade - John Carvey - Valerie Chidson
Lin Clark - Nicholas Collinson - Nigel Coltman - Ronald Cussons - Barby Dashwood-Morris - Dianne Dear - Phil Dixon - Pam Doodes
Claire Dowling - Jan Dunk - Louise Eastwood - Philip Ede - Helen Firth - Jonica Fox - Roy Galley - Richard Grocock - Chris Hardy
Steve Harms - Jim Hollins - Peter Holloway - Johanna Howell - Brian Hubbard - Toby Illingworth - Stephen Isted - Brian Jarman
David Larkin - Andy Long - Michael Lunn - Barry Marlowe - Nigel McKeeman - Huw Merriman - Rowena Moore - Kay Moss - Douglas Murray
Ann Newton - Ken Ogden - Amanda O'Rawe - Charles R Peck - Diane Phillips - Mark Pinkney - Major Antony Quin RM - Ronald Reed
Dr. Brian Redman - Carol Reynolds - Greg Rose - Peter Roundell - William Rutherford - Daniel Shing - Oi Lin Shing - Raymond Shing
Stephen Shing - Robert Standley - Susan Stedman - Bill Tooley - Jeanette Towey - Stuart Towner - Chriss Triandafyllou - Peter Waldock
Neil Waller - David Watts - Mark Weaver -Graham Wells - Brian West - David White - John Wilton
CAROLINE ANSELL - CAROLINE LUCAS - CHARLES CLARKE - CHARLES HENDRY - CHRIS GRAYLING - DAVID BLUNKETT
DAVID CAMERON - DAVID MILIBAND - ERIC PICKLES - GEOFFREY JOHNSON-SMITH - GEORGE OSBORNE - GORDON BROWN
GREG CLARK - GREGORY BARKER - JACK STRAW - JOHN GUMMER - JOHN PRESCOTT - KENNETH CLARKE - KIM HOWELLS DR
MARGARET BECKETT - MARGARET THATCHER - MARIA CAULFIELD - NICK CLEGG - N BAKER - NUS GHANI - PATRICIA HEWITT
PHILIP DUNNE - PHILIP HAMMOND - SAJID JAVID - STEPHEN LLOYD - TERESA MAY - TESSA JOWELL - T BLAIR - VINCE CABLE
WE ACCEPT NO RESPONSIBILITY FOR THE ACCURACY OF ANY FEATURED LINKS