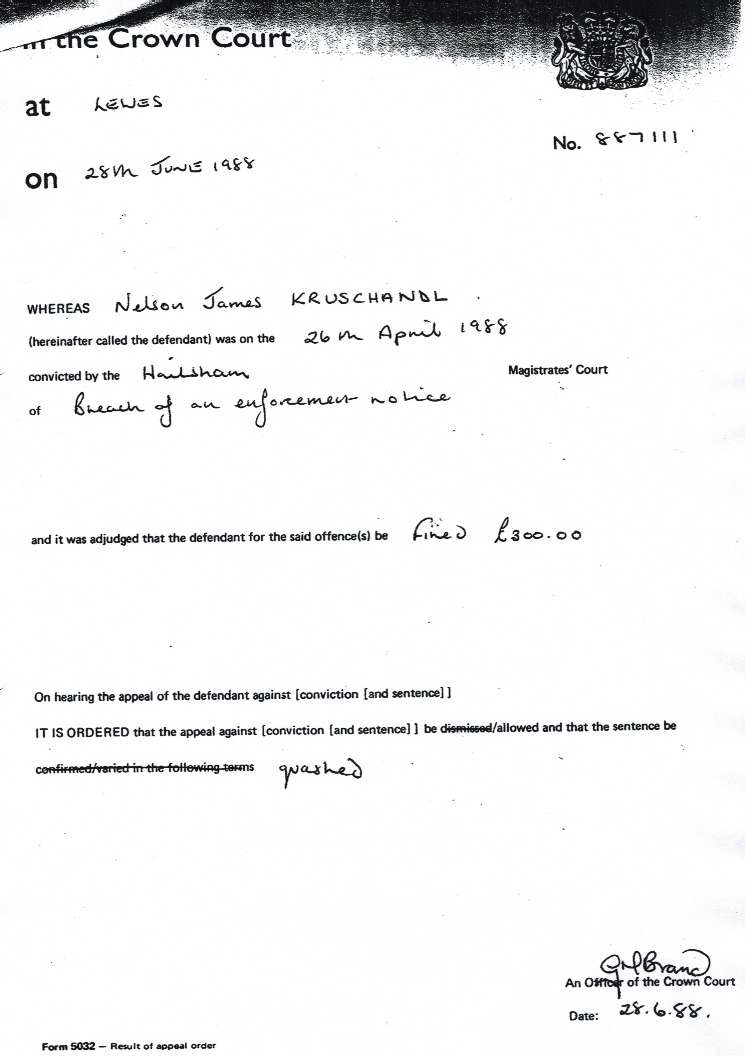 LEWES CROWN COURT - On the 26th of April 1988 (as a newly wed) Nelson Kruschandl was convicted by magistrates who ignored their clerk to return a guilty verdict in the Hailsham Magistrates Court. He was fined £300 pounds for allegedly breaching the (defective) enforcement notice. The strange thing is that Nelson was living at Polegate at the time with his new wife - so why would Wealden bother spending taxpayers money trying to obtain a conviction? Barrister Price Lewis represented the Council (taking instructions from Hibbit & Sanders, Wishdown, Wadhurst, East Sussex, TN5 6HN). Of course it was a malicious prosecution. It backfired.
Kruschandl appealed to the Crown Court calling witnesses and questioning Mr Peter Townley, a neighbour who lives at The Old Rectory in Lime Park. Peter Townley had been this Council's stooge, it is alleged, mainly because he was interested in purchasing the generating buildings - obviously, if he could blight the object of his desire, it would cost less to buy. What the Court heard and saw was that the enforcement notice did not cover the brick built building to the right of the generating buildings. He heard from witnesses that this was used as accommodation along with another underground building, but clearly the enforcement notice was defective, leaving HH Judge Clay with little option but to quash the Magistrates Court conviction. The Council had scored an own goal. The verdict effectively undid the 1986 enforcement notice by airing the cracks in public. From this point on Wealden could no longer use the criminal courts to foster their evil ambitions. Instead, they tried the High Court for injunctions - each time hiding the fact that the enforcement notice was defective - and that they'd lied to Inspector Dannreuther about the history of the building.
Council's frequently refuse to abide by the decisions of the Courts and will try anything to get around the law, such as Health & Safety legislation - another inconvenient hurdle that this Council failed to mention to the Court below Dame Butler Sloss.
HH Judge T D Clay did not like it that Wealden District Council were using his courtroom to seek to gain a conviction against a man who was obviously innocent. Once he'd seen the enforcement notice plans, he became quite red with anger that his time was being wasted.
He did not vent his anger at the Council, rather he vented his anger at the appellant, presumably for not making his case with more force in the Magistrates Court. Who knows. The fact is that when Nelson Kruschandl asked for costs, his application was denied. Judge Clay then stormed out of the courtroom, leaving Wealden and Peter Townley wondering what their next moves might be. The date was the 28th of June 1988. This matter would occupy Wealden's solicitors and enforcement officers for the next twenty-eight years at a cost to the British rate/tax payer of over £500,000 pounds and rising. We are talking about harassment on a grand scale involving some 180 recorded enforcement site visits. Never mind Article 8!
Why? Because councils consider themselves to be above the law - and to a large extent they are when the likes of Sussex Police will not investigate crimes committed by brother Masons, or whatever bond it is that ties this authority to Wealden.
The law in England is not geared up to protect the rights of the innocent. Article 6 obligations have been watered down in the drive to cut costs - and the Courts have been instructed to ignore Fair Hearings for a number of reasons. One reason is that the Courts are overloaded with cases. In England you are now guilty until proven innocent, instead of innocent until proven guilty.
NOT CRICKET - This outspoken Judge seems to like a spot of cricket, but appears not to abide by the rules of fair play - a level playing field- in dealing with cases brought before him.
Without .........
RISE IN NUMBER OF INNOCENT VICTIMS
A quite worrying statistic is the number of men freed on Appeal, having been convicted by a Jury of 12 members of the public. Clearly, then the decisions reached by many Juries are flawed. To a high degree it's a game of chance relying on the mood of the jurors and the relative skills or degrees of effort, of the prosecuting and defending barristers.
More worrying is the fact there is no automatic right of Appeal in the United Kingdom. An innocent man must remain in prison relying on friends and family, and hoping some new evidence will come to light to give any chance of an Appeal.
We use a Single Judge system that effectively gives the State a means to control what they will risk going before any Court, where not all of the Judges are masons and one or two are quite opposed to any rigging of the justice system.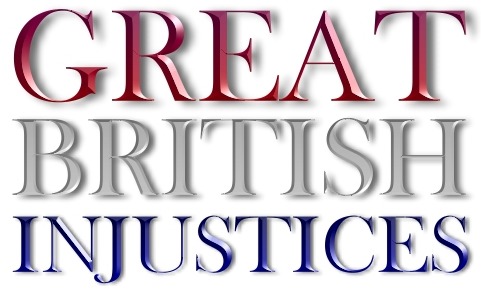 MEN CLEARED ON APPEAL
TABOO SUBJECT - The law works both ways. Sometimes it sets a rapist free, and sometimes it convicts an innocent man. In this case a man was convicted of penetration (rape) when the claimant was still intact (a virgin). We have every sympathy for women and men who suffer genuine assault, but we also have a duty to see injustice corrected, in the process furthering the cause of forensic science.
LINKS
Daily Mail UK news Judge tells ASBO thug deserved good kicking punching police womans car drunken rage
The Argus Sussex news fFamilies_of_victims_in_murder_cases_face_an_agonising_wait_for_justice
http://www.dailymail.co.uk/news/article-1220656/Judge-tells-ASBO-thug-deserved-good-kicking-punching-policewomans-car-drunken-rage.html
http://www.theargus.co.uk/news/14026478.Families_of_victims_in_murder_cases_face_an_agonising_wait_for_justice/