Re: SUSSEX EXPRESS 25 April 2003
Eddy Powell hit back at his former colleague Nick Ellwood this week, where Nick an independent candidate is campaigning to save the home of Brian Bastow's and his animals. Eddy Powell is claiming 'electioneering'.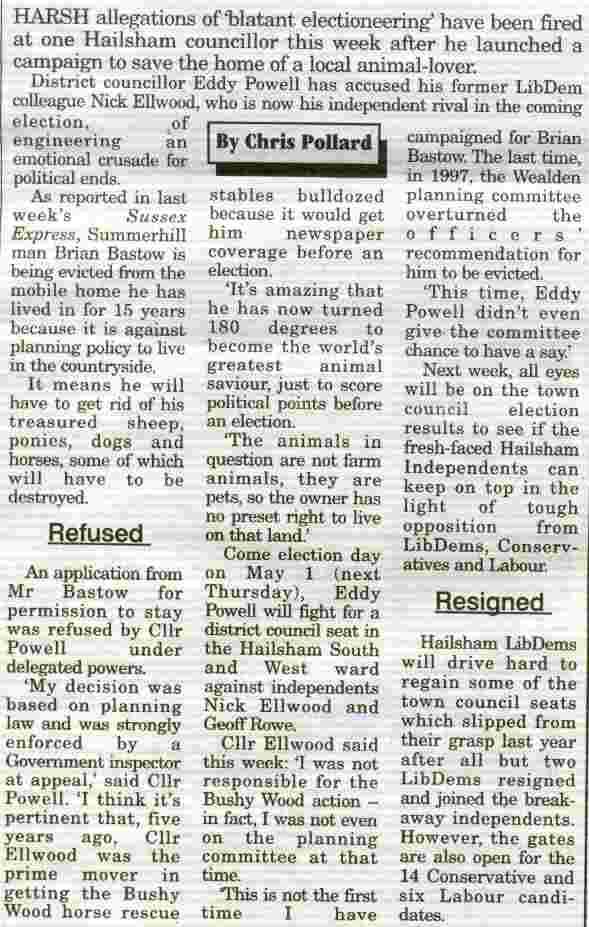 It seems to us that Mr Ellwood has mounted a valid challenge, the timing of which was beyond his control. Where Wealden's planning committee gave permission for Mr Bastow to remain at his home in 1997 - and nothing has changed on site - why would their decision differ, except only that the officers enlisted Mr Powell to avoid the matter going before any committee.
Planning decisions should be consistent and fair in Human Rights terms. Where is Mr Bastow to go if Wealden destroy his home. We believe Mr Bastow's life will be ruined if the council carry through their officer's threat to turf Mr Bastow off his land, which ruinination will constitute interference contrary to Article 8. We also believe, if this should happen, that Mr Bastow should mount a legal challenge in the High Court by way of a Judicial Review.
If you are reading this Mr Bastow, you may want to consider obtaining a temporary Injunction restraining the council, then seek Leave from the High Court for a Judicial Review. A solicitor may be able to help you apply to the Legal Services Commisssion for public funding. Why not write to the council asking them to confirm their intentions by way of a letter before action - better still, ask a solicitor for help to write this letter.
* THIS SITE IS CONSTANTLY UPDATED AND REVIEWED *
With thanks to the Wealden Action Group and other Action Groups across the country for the supply of real case history and supporting documents.
*THAT THE PUBLIC MAY KNOW*