Aung San Suu Kyi MP AC (born 19 June 1945) is a Burmese opposition politician and chairperson of the National League for Democracy (NLD) in Burma. In the 1990 general election, the NLD won 59% of the national votes and 81% (392 of 485) of the seats in Parliament. She had, however, already been detained under house arrest before the elections. She remained under house arrest in Burma for almost 15 of the 21 years from 20 July 1989 until her most recent release on 13 November 2010, becoming one of the world's most prominent political prisoners.

Suu Kyi received the Rafto Prize and the Sakharov Prize for Freedom of Thought in 1990 and the Nobel Peace Prize in 1991. In 1992 she was awarded the Jawaharlal Nehru Award for International Understanding by the government of India and the International Simón Bolívar Prize from the government of Venezuela. In 2007, the Government of Canada made her an honorary citizen of that country, the fourth person ever to receive the honour. In 2011, she was awarded the Wallenberg Medal. On 19 September 2012, Aung San Suu Kyi was also presented with the Congressional Gold Medal, which is, along with the Presidential Medal of Freedom, the highest civilian honour in the United States.

On 1 April 2012, her party, the National League for Democracy, announced that she was elected to the Pyithu Hluttaw, the lower house of the Burmese parliament, representing the constituency of Kawhmu; her party also won 43 of the 45 vacant seats in the lower house. The election results were confirmed by the official electoral commission the following day.

On 6 June 2013, Suu Kyi announced on the World Economic Forum's website that she wants to run for the presidency in Myanmar's 2015 elections.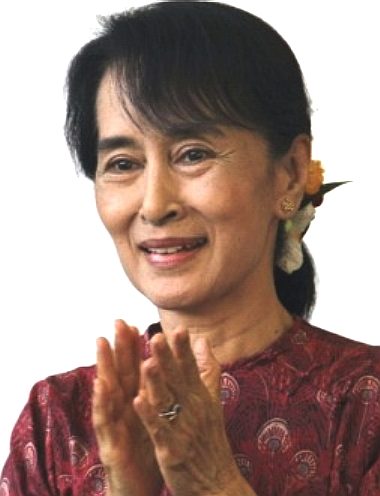 POLITICAL CAREER

Coincident with Aung San Suu Kyi's return to Burma in 1988, the long-time military leader of Burma and head of the ruling party, General Ne Win, stepped down. Mass demonstrations for democracy followed that event on 8 August 1988 (8–8–88, a day seen as auspicious), which were violently suppressed in what came to be known as the 8888 Uprising. On 26 August 1988, she addressed half a million people at a mass rally in front of the Shwedagon Pagoda in the capital, calling for a democratic government. However in September, a new military junta took power.

Influenced by both Mahatma Gandhi's philosophy of non-violence and more specifically by Buddhist concepts, Aung San Suu Kyi entered politics to work for democratisation, helped found the National League for Democracy on 27 September 1988, but was put under house arrest on 20 July 1989. Offered freedom if she left the country, she refused.

One of her most famous speeches was Freedom From Fear, which began: "It is not power that corrupts, but fear. Fear of losing power corrupts those who wield it and fear of the scourge of power corrupts those who are subject to it."

She also believes fear spurs many world leaders to lose sight of their purpose. "Government leaders are amazing", she once said. "So often it seems they are the last to know what the people want."
1990 general election

In 1990, the military junta called a general election, in which the National League for Democracy (NLD) received 59% of the votes, guaranteeing NLD 80% of the parliament seats. Some claim that Aung San Suu Kyi would have assumed the office of Prime Minister; in fact, however, as she was not permitted, she did not stand as a candidate in the elections (although being a MP is not a strict prerequisite for becoming PM in most parliamentary systems). Instead, the results were nullified and the military refused to hand over power, resulting in an international outcry. Aung San Suu Kyi was placed under house arrest at her home on University Avenue (16°49′32″N 96°9′1″E) in Rangoon, during which time she was awarded the Sakharov Prize for Freedom of Thought in 1990, and the Nobel Peace Prize the year after. Her sons Alexander and Kim accepted the Nobel Peace Prize on her behalf. Aung San Suu Kyi used the Nobel Peace Prize's 1.3 million USD prize money to establish a health and education trust for the Burmese people.

Around this time, Suu Kyi chose non-violence as an expedient political tactic, stating in 2007, "I do not hold to non-violence for moral reasons, but for political and practical reasons," however, nonviolent action as well as civil resistance in lieu of armed conflict are also political tactics in keeping with the overall philosophy of her Theravada Buddhist religion.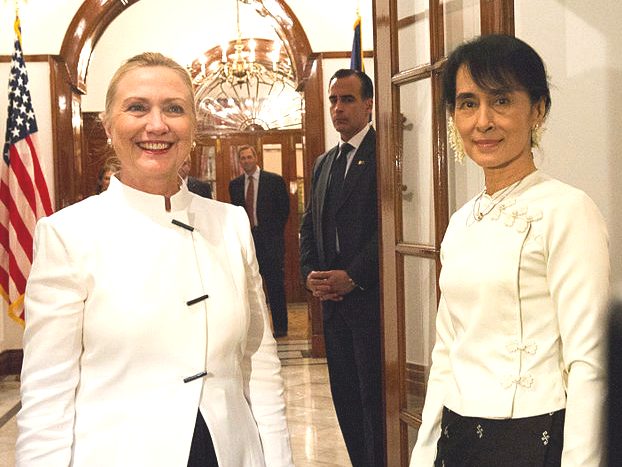 1996 attack

On 9 November 1996, the motorcade that she was traveling in with other National League for Democracy leaders Tin Oo and U Kyi Maung, was attacked in Yangon. About 200 men swooped down on the motorcade, wielding metal chains, metal batons, stones and other weapons. The car that Aung San Suu Kyi was in had its rear window smashed, and the car with Tin Oo and U Kyi Maung had its rear window and two backdoor windows shattered. It is believed the offenders were members of the Union Solidarity and Development Association (USDA) who were allegedly paid 500 kyats (@ USD $0.50) each to participate. The NLD lodged an official complaint with the police, and according to reports the government launched an investigation, but no action was taken. (Amnesty International 120297)


House arrest

Aung San Suu Kyi has been placed under house arrest for 15 of the past 21 years, on numerous occasions, since she began her political career, during which time she was prevented from meeting her party supporters and international visitors. In an interview, Suu Kyi said that while under house arrest she spent her time reading philosophy, politics and biographies that her husband had sent her. She also passed the time playing the piano, and was occasionally allowed visits from foreign diplomats as well as from her personal physician.

The media were also prevented from visiting Suu Kyi, as occurred in 1998 when journalist Maurizio Giuliano, after photographing her, was stopped by customs officials who then confiscated all his films, tapes and some notes. In contrast, Suu Kyi did have visits from government representatives, such as during her autumn 1994 house arrest when she met the leader of Burma, General Than Shwe and General Khin Nyunt on 20 September in the first meeting since she had been placed in detention. On several occasions during Suu Kyi's house arrest, she had periods of poor health and as a result was hospitalized.

The Burmese government detained and kept Suu Kyi imprisoned because it viewed her as someone "likely to undermine the community peace and stability" of the country, and used both Article 10(a) and 10(b) of the 1975 State Protection Act (granting the government the power to imprison people for up to five years without a trial), and Section 22 of the "Law to Safeguard the State Against the Dangers of Those Desiring to Cause Subversive Acts" as legal tools against her. She continuously appealed her detention, and many nations and figures continued to call for her release and that of 2,100 other political prisoners in the country. On 12 November 2010, days after the junta-backed Union Solidarity and Development Party (USDP) won elections conducted after a gap of 20 years, the junta finally agreed to sign orders allowing Suu Kyi's release, and Suu Kyi's house arrest term came to an end on 13 November 2010.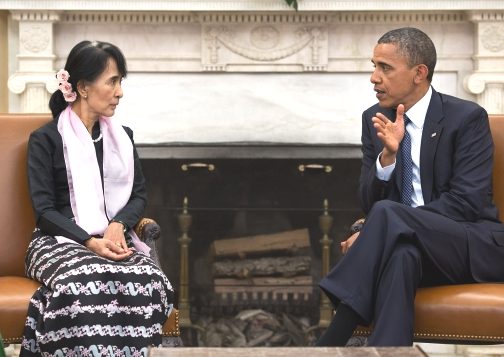 2012 RELEASE
On the evening of 13 November 2010, Suu Kyi was released from house arrest. This was the date her detention had been set to expire according to a court ruling in August 2009 and came six days after a widely criticised general election. She appeared in front of a crowd of her supporters, who rushed to her house in Rangoon when nearby barricades were removed by the security forces. The Nobel Peace Prize laureate had been detained for 15 of the past 21 years. The government newspaper New Light of Myanmar reported the release positively, saying she had been granted a pardon after serving her sentence "in good conduct". The New York Times suggested that the military government may have released Suu Kyi because it felt it was in a confident position to control her supporters after the election. The role that Suu Kyi will play in the future of democracy in Burma remains a subject of much debate.

Her son Kim Aris was granted a visa in November 2010 to see his mother shortly after her release, for the first time in 10 years. He visited again in 5 July 2011, to accompany her on a trip to Bagan, her first trip outside Yangon since 2003. Her son visited again in 8 August 2011, to accompany her on a trip to Pegu, her second trip.

Discussions were held between Suu Kyi and the Burmese government during 2011, which led to a number of official gestures to meet her demands. In October, around a tenth of Burma's political prisoners were freed in an amnesty and trade unions were legalised.

In November 2011, following a meeting of its leaders, the NLD announced its intention to re-register as a political party in order to contend 48 by-elections necessitated by the promotion of parliamentarians to ministerial rank. Following the decision, Suu Kyi held a telephone conference with U.S. President Barack Obama, in which it was agreed that Secretary of State Hillary Clinton would make a visit to Burma, a move received with caution by Burma's ally China. On 1 December 2011, Suu Kyi met with Hillary Clinton at the residence of the top-ranking US diplomat in Yangon.

On 21 December 2011, Thai Prime Minister Yingluck Shinawatra met Suu Kyi in Yangoon, becoming Suu Kyi's "first-ever meeting with the leader of a foreign country".

On 5 January 2012, British Foreign Minister William Hague met Aung San Suu Kyi and his Burmese counterpart. This represented a significant visit for Suu Kyi and Burma. Suu Kyi studied in the UK and maintains many ties there, whilst Britain is Burma's largest bilateral donor. Aung San Suu Kyi is on her visit to Europe and is due to visit the Swiss parliament and collect her 1991 Nobel Prize in Oslo.


2012 by-elections

In December 2011, there was speculation that Suu Kyi would run in the 2012 national by-elections to fill vacant seats. On 18 January 2012, Suu Kyi formally registered to contest a Pyithu Hluttaw (lower house) seat in the Kawhmu Township constituency in special parliamentary elections to be held on 1 April 2012. The seat was previously held by Soe Tint, who vacated it after being appointed Construction Deputy Minister, in the 2010 election. She ran against Union Solidarity and Development Party candidate Soe Min, a retired army physician and native of Twante Township.

On 3 March 2012, at a large campaign rally in Mandalay, Suu Kyi unexpectedly left after 15 minutes, because of exhaustion and airsickness.

In an official campaign speech broadcast on Burmese state television's MRTV on 14 March 2012, Suu Kyi publicly campaigned for reform of the 2008 Constitution, removal of restrictive laws, more adequate protections for people's democratic rights, and establishment of an independent judiciary. The speech was leaked online a day before it was broadcast. A paragraph in the speech, focusing on the Tatmadaw's repression by means of law, was censored by authorities.

Suu Kyi has also called for international media to monitor the upcoming by-elections, while publicly pointing out irregularities in official voter lists, which include deceased individuals and exclude other eligible voters in the contested constituencies. On 21 March 2012, Aung San Suu Kyi was quoted as saying "Fraud and rule violations are continuing and we can even say they are increasing."

When asked whether she would assume a ministerial post if given the opportunity, she said the following:

"I can tell you one thing – that under the present constitution, if you become a member of the government you have to vacate your seat in the national assembly. And I am not working so hard to get into parliament simply to vacate my seat."

On 26 March 2012, Suu Kyi suspended her nationwide campaign tour early, after a campaign rally in Myeik (Mergui), a coastal town in the south, citing health problems due to exhaustion and hot weather.

On 1 April 2012, the NLD announced that Suu Kyi had won the vote for a seat in Parliament. A news broadcast on state-run MRTV, reading the announcements of the Union Election Commission, confirmed her victory, as well as her party's victory in 43 of the 45 contested seats, officially making Suu Kyi the Leader of the Opposition in the lower house.

Although she and other MP-elects were expected to take office on 23 April when the Hluttaws resume session, National League for Democracy MP-elects, including Suu Kyi, said they might not take their oaths because of its wording; in its present form, parliamentarians must vow to "safeguard" the constitution. In an address on Radio Free Asia, she said "We don't mean we will not attend the parliament, we mean we will attend only after taking the oath... Changing that wording in the oath is also in conformity with the Constitution. I don't expect there will be any difficulty in doing it."

On 2 May 2012, National League for Democracy MP-elects, including Aung San Suu Kyi, took their oaths and took office, though the wording of the oath was not changed. According to the Los Angeles Times, "Suu Kyi and her colleagues decided they could do more by joining as lawmakers than maintaining their boycott on principle." On 9 July 2012, she attended the Parliament for the first time as a lawmaker.

On 6 July 2012, Suu Kyi announced on the World Economic Forum's website that she wants to run for the presidency in Myanmar's 2015 elections.
THE UNOFFICIAL PRISON DIARIES CHAPTER 1 (CRUCIFIXION)
A series of publications using records made at the time, contemporaneous notes, applications, and other forensic documents that were not available for the trial, but have since been published as a result of a compilation of clinical trials conducted outside the United Kingdom. These unofficial volumes are not for publication in the UK, until the appeals of the subject have been finally disposed of.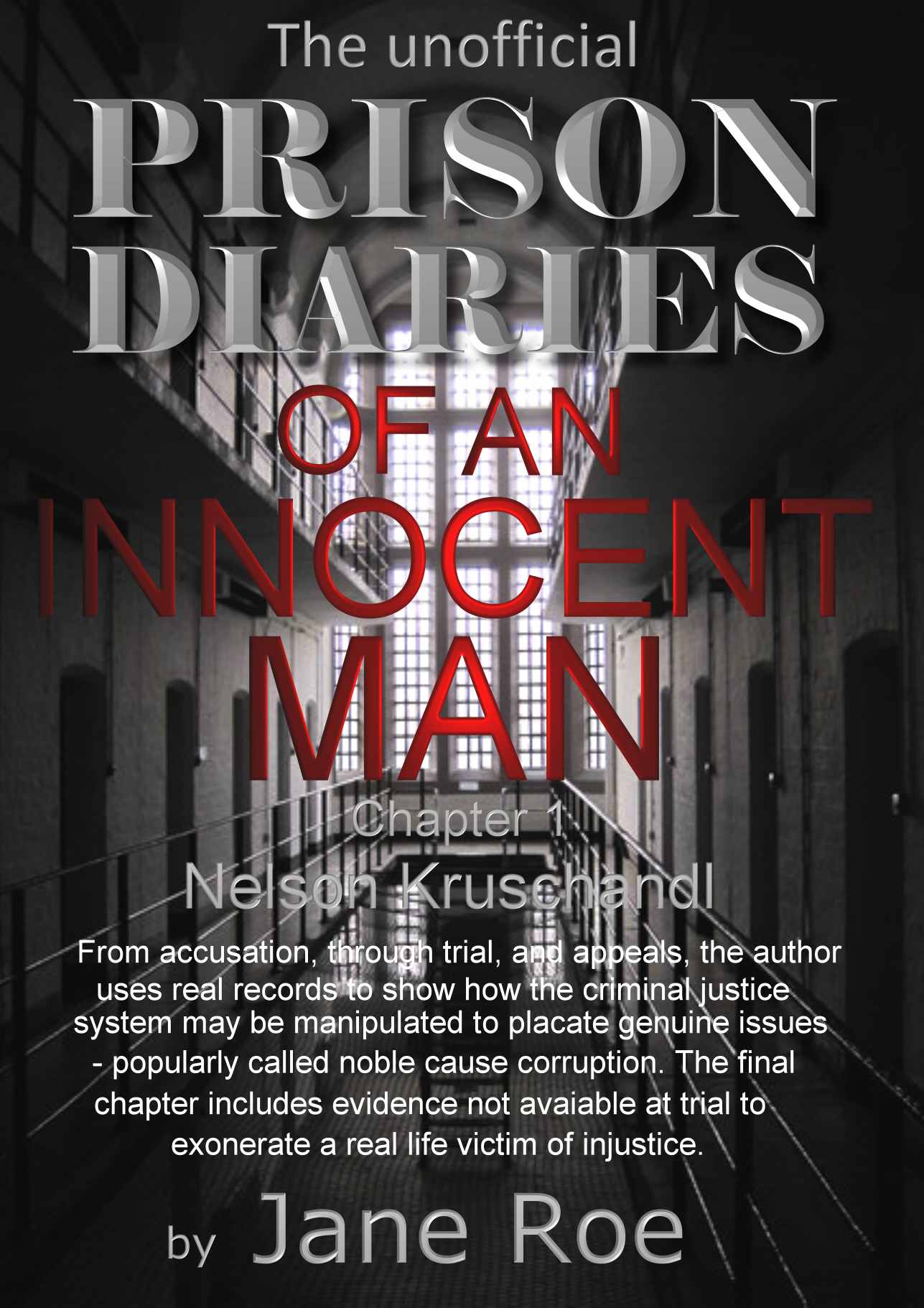 His barrister didn't challenge the so-called scientific evidence produced at trial. He should have. It was junk science. You'll have to wait for the subjects appeals in the ECHR to conclude before this book is published. Maybe then we'll see an official version in 2016/2017? European appeals take 4 years on average, from date of lodge. But first you have to exhaust any domestic remedy. He has finally, as of February 2013.
LINKS
http://theprisonersdiaries.blogspot.co.uk/
http://en.wikipedia.org/wiki/Aung_San_Suu_Kyi