TV documentary shows rail 'flaws'
Britain's railway lines have been heavily criticised by experts in a BBC documentary.
The BBC 1 Whistleblower programme claims parts of the UK's railways are "dangerous" and of "great concern". The track on the Forth Rail Bridge was singled out for concern and a 20-yard stretch elsewhere was held in place by only one safety clip. Dozens of rail insiders helped construct the programme, set up by three reporters who worked undercover.
The probe also found a track fault was wiped from computer records a week after a derailment occurred. The makers of the programme also revealed that an examiner allowed a candidate to cheat in a track exam. Track cards, vital to workers' safety, were often not checked for days on end and were in clear breach of safety rules, according to the programme.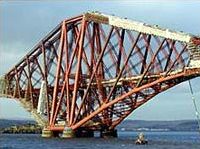 Network Rail insists the track on Forth Rail Bridge was safe
'Very worrying'
Professor Brian Clementson, former director at British Rail and Virgin Trains, said: "I found the whole thing very worrying and very concerning. And I hope that Network Rail will take this film as being a positive contribution to trying to improve things."
But the BBC approached Network Rail, which provided a written statement: "The track on the Forth Bridge is safe and in a satisfactory condition. "The reports we have of the track quality and condition on the bridge taken over the last year can establish that it is fit for purpose.
"The conditions you describe are not a safety risk and do not require immediate attention or speed restrictions." The firm added: "We wish to state that the safety of the railway and its operations is without question our paramount priority. "The company has taken the allegations extremely seriously and has completed as full an investigation as possible. "This investigation has concluded that passenger or train safety has not been compromised."
---
Ted Francis: Archer whistleblower - Thursday, 19 July, 2001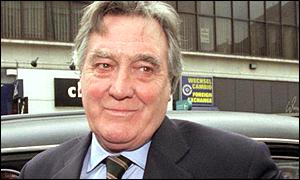 Ted Francis: Exposed his former friend
TV producer Ted Francis first met Lord Archer in 1970. Over the years the two became good friends. When the peer requested he agree to say they had been having dinner together on a night in September 1986 - Mr Francis said he assumed he was being asked to protect Lord Archer from a possible divorce.
But it was alleged that Lord Archer wanted an alibi in the run-up to the libel case in 1987, in which he was accused by a newspaper of having sex with a prostitute, Monica Coghlan. In the end Archer won the case without any reference to the pair of them dining together.
But when the two fell out some years later Mr Francis decided to expose the story.
The actor and the politician
The two men first met in 1970 to discuss a movie deal that Mr Francis was trying to put together. Mr Francis was an actor who had worked in the City before embarking on a career in TV. Lord Archer was then an up-and-coming Conservative MP. The movie deal never came off but the two kept in touch.
A few years later Lord Archer was down on his luck having resigned as MP for Louth following the loss of £400,000 at the hands of fraudsters in a business deal in Canada. He arrived at Mr Francis's West End office with a sheaf of longhand notes he hoped would bring him renewed riches.
Mr Francis told Lord Archer the story was good. Within months, Not A Penny More, Not A Penny Less became Lord Archer's first published work and eventually a best-seller and TV series, netting millions.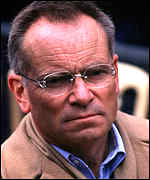 Lord Archer
False alibi
So it was to Mr Francis that Lord Archer turned in 1987 when he needed some help. "He (Lord Archer) said, 'What were you doing on September 9 last year?' I said, 'God, I don't know', bearing in mind this was four months later," said Mr Francis. "I said 'I don't know, I could check in my diary' and he said, 'Could we have been having dinner?'
"'I want you to do me a favour and say we were having a dinner. I was having dinner with somebody else on that night but it would embarrass me with Mary' (Lady Archer). "'So will you say it was with you and not with Andrina (Colquhoun)' as it turned out." Mr Francis said: "I was a bit reluctant to do it at first. "I said 'Yes, but if it's going to end in divorce or anything, I'm not going to commit perjury for you'."
"I knew that he (Lord Archer) and Andrina were close and I connected it automatically with that. I guess there had been strains put on his marriage by his relationship with Andrina."
Soon afterwards, Lord Archer was initially receptive to Francis's development work for a children's TV series based on some Enid Blyton stories. Mr Francis said he needed £100,000 for the project and Archer promised a £25,000 investment. "Jeffrey told me he would like to invest £25,000 personally," Mr Francis reportedly told newspapers.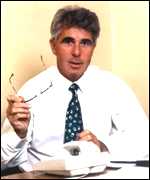 Max Clifford
'Deeply hurt'
But when Mr Francis collected his promised money from the bank it was £12,000. Mr Francis said Lord Archer told him the money was a gift not a loan, saying: "I don't expect to see this back, you know."
However, the arrangement was eventually to sour their friendship. Mr Francis said he was invited to one of Archer's famous 'champagne and shepherd's pie' gatherings in his penthouse overlooking the Thames in 1990.
Mr Francis was approached by Lord Archer as he was chatting to an actress, he said. Archer reportedly said: "You want to watch this man, you know. I lent him £20,000 once and I'm still waiting to get the money back."
Mr Francis said: "She was dreadfully embarrassed and I was deeply hurt. For a start it was untrue, it was only £12,000, and it was an investment, not a loan. "He humiliated me in front of my peers. I didn't understand why."
When Lord Archer became the Conservative candidate for London mayor, Mr Francis decided to expose his former friend and blow the whistle on the false alibi. Publicist Max Clifford, brother of Bernard Clifford, with whom Mr Francis had been at school, helped him make a £20,000 deal with the News of the World.
Mr Francis said: "I disapproved of the idea of Jeffrey Archer becoming Mayor of London. That basically is the motivation." But the decision to sell the story backfired. Mr Francis found himself charged with perverting the course of justice and standing in the dock at the Old Bailey alongside Lord Archer.
---
"Accounting scandals, interference in scientific research, environmental cover-ups... From Enron to BC's fish farm, whistleblower protections are needed to keep governments and corporations accountable. Why are there so few protections for people who find the courage to speak out in the public interest?"

From promotional material for the March 27, 2003 Whistleblower Public Forum at the Vancouver Public Library sponsored by the BC Office of the Canadian Centre for Policy Alternatives
---
This site contains copyrighted material the use of which has not always been specifically authorized by the copyright owner. We are making such material available in our efforts to educate people in order to advance mutual understanding of artistic, environmental, political, social, economical, governmental, scientific, and judicial arenas of human activity. We believe this constitutes a 'fair use' of any such copyrighted material as provided for in section 107 of the US Copyright Law. In accordance with Title 17 U.S.C. Section 107, the material on this site is distributed without profit to those who have expressed a prior interest in receiving the included information for research and educational purposes.
For more information go to: http://www.law.cornell.edu/uscode/17/107.shtml. If you wish to use copyrighted material from this site for purposes of your own that go beyond 'fair use', you must obtain permission from the copyright owner.