Bribery is a crime implying a sum or gift given alters the behaviour of the person in ways not consistent with the duties of that person. It is defined by Black's Law Dictionary as the offering, giving, receiving, or soliciting of any item of value to influence the actions as an official or other person in discharge of a public or legal duty. The bribe is the gift bestowed to influence the receiver's conduct. It may be any money, good, right in action, property, preferment, privilege, emolument, object of value, advantage, or any promise or undertaking to induce or influence the action, vote, or influence of a person in an official or public capacity.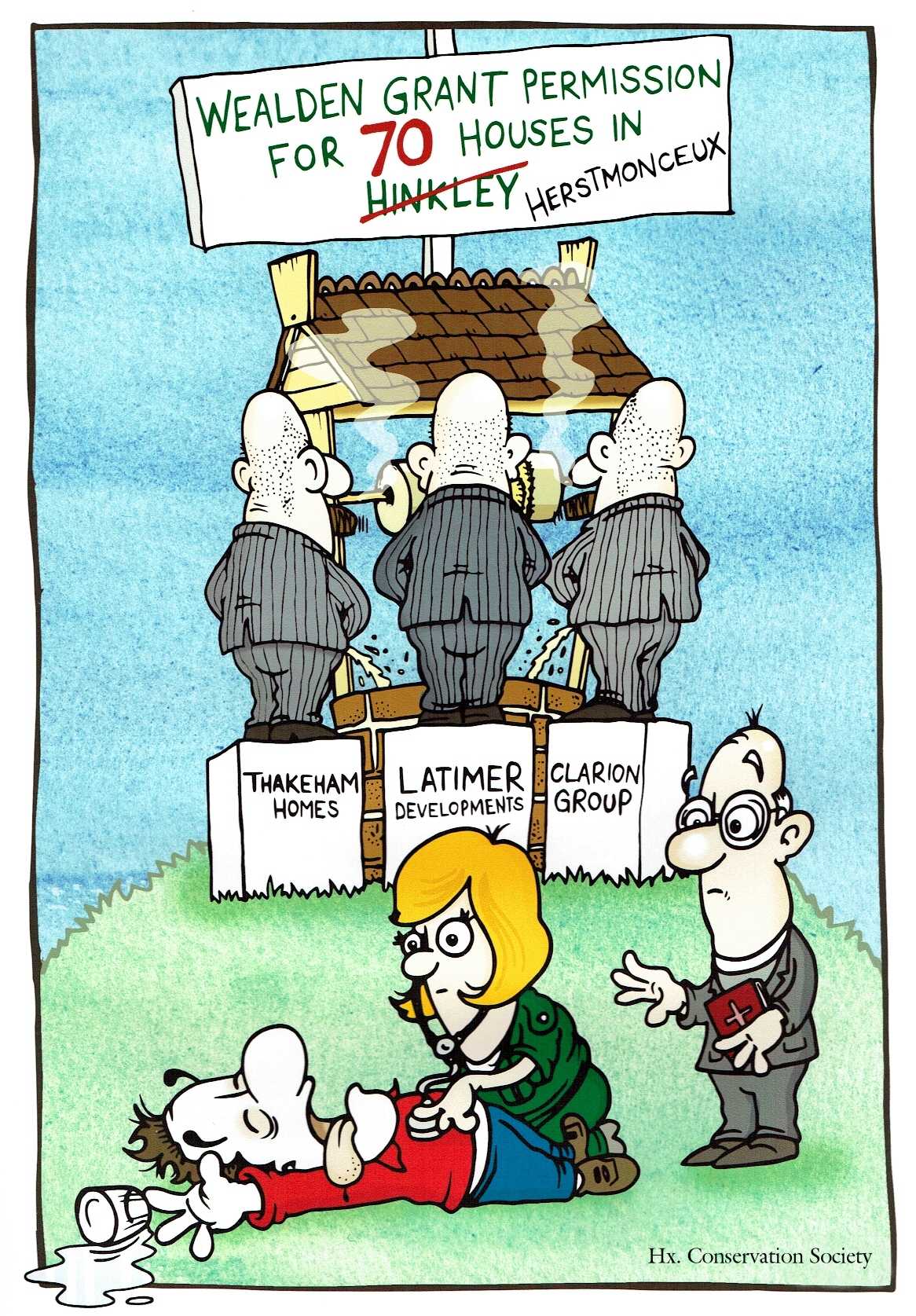 WATER CONTAMINATION - If houses are built on the hill that supplies the last surviving well in Herstmonceux, all of those who presently enjoy a sustainable water supply are likely to be poisoned by pesticides from a number of the gardens of the proposed housing - at the moment that looks like being 28 units positioned directly above and in the groundwater soakage line of fire. In addition, where the hard standings of the proposed 70 houses are to be gully drained to a point lower than the twin wells, rainwater soakage that supplies the wells will be diverted away potentially starving the wells of water, save that from the garden areas that are impossible to gully. The amusing cartoon above portrays the situation that perhaps the present developers (Clarion, Latimer, Thakeham) were not aware of, when they bought into a situation that they should have been able to rely on.
Unfortunately, the council concerned and the advisers to the original applicants (Gleeson Developments) appear to have been less diligent than they might have been in the rush to profit from a windfall situation. The question that is probably on your lips is: "Was that an oversight, or was it deliberate"?
Another problem that is rearing it's head with many developments is that corporations are building what they want to build without constructing the affordable unit quotient or making improvement to drainage and access roads that some council's have been kind enough to overlook at the grant stage with a promise from developers to overcome, when in fact those developers simply vanish without trace, leaving nobody to pick up the tab. In other words development is never completed to a stage where flooding and other contamination measures are safe.
It is a form of political corruption and is generally considered unethical. In most jurisdictions it is illegal, or at least cause for sanctions from one's employer or professional organization.
For example, a motorist may bribe a police officer not to issue a ticket for speeding, a citizen seeking paperwork or utility line connections may bribe a functionary for faster service, a construction company may bribe a civil servant to award a contract, or a narcotics smuggler may bribe a judge to lessen criminal penalties.
In some cases, the briber holds a powerful role and controls the transaction; in other cases, a bribe may be effectively extracted from the person paying it.
Expectations of when a monetary transaction is appropriate can also differ: tipping, for example, is considered bribery in some societies. The level of non-monetary favours that constitute an incentive to unethical behaviour is variable and may constitute a matter of opinion in a given field:
MUSIC
Payola is the commonplace practice where record companies buy air time from radio and television stations for songs they are promoting.
GOVERNMENT
A grey area may exist when payments to smooth transactions are made. United States law is particularly strict in limiting the ability of businesses to pay for the awarding of contracts by foreign governments; however, the Foreign Corrupt Practices Act contains an exception for "grease payments"; very basically, this allows payments to officials in order to obtain the performance of ministerial acts which they are legally required to do, but may delay in the absence of such payment. In some countries, this practice is the norm, often resulting from a developing nation not having the tax structure to pay civil servants an adequate salary. Nevertheless, most economists regard bribery as a bad thing because it encourages rent seeking behaviour. A state where bribery has become a way of life is a kleptocracy.
MEDICINE
Pharmaceutical corporations may seek to reward doctors for heavy prescription of their drugs through gifts. The American Medical Association has published ethical guidelines for gifts from industry which include the tenet that physicians should not accept gifts if they are given in relation to the physician's prescribing practices. Doubtful cases include grants for travelling to medical conventions that double as tourist trips.
Dentists often receive samples of home dental care products such as toothpaste, which are of negligible value; somewhat ironically, dentists in a television commercial will often state that they get these samples but pay to use the sponsor's product.
LAW
In legal situations, lawyers, judges, and others with power may be subject to bribery or payoff for making a decision that benefits someone willing to pay for favours. Operation Greylord revealed that bribery was rampant in the bench and bar community of Chicago in the early 1980s.
POLITICS
Politicians receive campaign contributions and other payoffs from powerful corporations or individuals when making choices in the interests of those parties, or in anticipation of favorable policy. However, such a relationship doesn't meet the legal standards for bribery without evidence of a quid pro quo. See also influence peddling and political corruption.
WE ACCEPT NO RESPONSIBILITY FOR THE ACCURACY OF ANY FEATURED LINKS