Stalking is the unwanted or obsessive attention by an individual or group towards another person. Stalking behaviors are related to harassment and intimidation and may include following the victim in person or monitoring them. The term stalking is used with some differing definitions in psychiatry and psychology, as well as in some legal jurisdictions as a term for a criminal offense.

According to a 2002 report by the U.S. National Center for Victims of Crime, "virtually any unwanted contact between two people that directly or indirectly communicates a threat or places the victim in fear can be considered stalking", although in practice the legal standard is usually somewhat more strict.


GENDER

According to one study, women often target other women, whereas men generally only stalk women. However, a January 2009 report from the United States Department of Justice reports that "Males were as likely to report being stalked by a male as a female offender. 43% of male stalking victims stated that the offender was female, while 41% of male victims stated that the offender was another male. Female victims of stalking were significantly more likely to be stalked by a male (67%) rather than a female (24%) offender." This report provides considerable data by gender and race about both stalking and harassment. The data for this report was obtained via the 2006 Supplemental Victimization Survey (SVS), conducted by the U.S. Census Bureau for the U.S. Department of Justice.
In an article by Jennifer Langhinrichsen-Rohling she discusses how gender plays a role in the difference between stalkers and victims. She says, "gender is associated with the types of emotional reactions that are experienced by recipients of stalking related events, including the degree of fear experienced by the victim." In addition, she mentions how gender also affects how police handle a case of stalking, how the victim copes with the situation, and how the stalker might view their behavior. Next, she discusses how victims might view certain form of stalking as normal because of how gender influences the acceptability of certain behaviors.
It is also important to note that she mentions how in the United Kingdom, Australia, and the United States strangers are viewed as more dangerous when it comes to stalking than a former partner. Media is also important to focus on because media portrays stalking amongst men as acceptable hence influencing men into thinking it is normal. Since gender roles are socially constructed, sometimes men don't report stalking. She also mentions coercive control theory, "future research will be needed to determine if this theory can predict how changes in social structures and gender-specific norms will result in variations in rates of stalking for men versus women over time in the United States and across the world."


CYBER STALKING

Cyberstalking is the use of computers or other electronic technology to facilitate stalking. In Davis (2001), Lucks identified a separate category of stalkers who instead of a terrestrial means, prefer to perpetrate crimes against their targeted victims through electronic and online means.

Amongst college students, Ménard and Pincus found that men who had a high score of sexual abuse as children and narcissistic vulnerability were more likely to become stalkers. Out of the women who participated in their study, 9% were cyberstalkers meanwhile only 4% were overt stalkers. In addition, the male participants revealed the opposite, 16% were overt stalkers while 11% were cyberstalkers. Alcohol and physical abuse both played a role in predicting women's cyberstalking and in men, "preoccupied attachment significantly predicted cyber stalking".


UNITED KINGDOM

Already before the enactment of the Protection from Harassment Act 1997, the Malicious Communications Act 1988 and the Telecommunications Act 1984 (now the Communications Act 2003) criminalised indecent, offensive or threatening phone calls and the sending of an indecent, offensive or threatening letter, electronic communication or other article to another person. Before 1997 no specific offence existed in England and Wales but in Scotland incidents could be dealt with under pre-existing law with life imprisonment available for the worst offences

ENGLAND AND WALES

In England and Wales, "harassment" was criminalised by the enactment of the Protection from Harassment Act 1997, which came into force on 16 June 1997. It makes it a criminal offence, punishable by up to six months' imprisonment, to make a course of conduct which amounts to harassment of another on two or more occasions. The court can also issue a restraining order, which carries a maximum punishment of five years' imprisonment if breached. In England and Wales, liability may arise in the event that the victim suffers either mental or physical harm as a result of being harassed (or slang term stalked) (see R. v. Constanza).

In 2012, the Prime Minister, David Cameron, stated that the government intended to make another attempt to create a law aimed specifically at stalking behaviour.

In May 2012, the Protection of Freedoms Act 2012 created the offence of stalking for the first time in England/Wales by inserting these offences into the Protection from Harassment Act 1997. The act of stalking under this section is exemplified by contacting, or attempting to contact, a person by any means, publishing any statement or other material relating or purporting to relate to a person, monitoring the use by a person of the internet, email or any other form of electronic communication, loitering in any place (whether public or private), interfering with any property in the possession of a person or watching or spying on a person.
Katy Bourne is an ex conservative councillor, now crime commissioner who, it appears from an article in the Daily Mail dated 14 April 2018, may be lobbying to extend stalking laws to include muzzling the freedoms of the press in potentially seeking to take away their Article 9 and 10 European rights and Articles 18 and 19 United Nations rights to express opinions and receive and impart information.


SCOTLAND

In Scotland, behaviour commonly described as stalking was already prosecuted as the Common Law offence of breach of the peace (not to be confused with the minor English offence of the same description) before the introduction of the statutory offence against s.39 of the Criminal Justice and Licensing (Scotland) Act 2010; either course can still be taken depending on the circumstances of each case. The statutory offence incurs a penalty of 12 months imprisonment or a fine upon summary conviction or a maximum of five years' imprisonment and/or a fine upon conviction on indictment; penalties for conviction for Breach of the Peace are limited only by the sentencing powers of the court thus a case remitted to the High Court can carry a sentence of imprisonment for life.

Provision is made under the Protection from Harassment Act against stalking to deal with the civil offence (i.e. the interference with the victim's personal rights), falling under the law of delict. Victims of stalking may sue for interdict against an alleged stalker, or a non-harassment order, breach of which is an offence.


UNITED STATES

California was the first state to criminalize stalking in the United States in 1990 as a result of numerous high-profile stalking cases in California, including the 1982 attempted murder of actress Theresa Saldana, the 1988 massacre by Richard Farley, the 1989 murder of actress Rebecca Schaeffer, and five Orange County stalking murders, also in 1989. The first anti-stalking law in the United States, California Penal Code Section 646.9, was developed and proposed by Municipal Court Judge John Watson of Orange County. Watson with U.S. Congressman Ed Royce introduced the law in 1990. Also in 1990, the Los Angeles Police Department (LAPD) began the United States' first Threat Management Unit, founded by LAPD Captain Robert Martin.

Within three years thereafter, every state in the United States followed suit to create the crime of stalking, under different names such as criminal harassment or criminal menace. The Driver's Privacy Protection Act (DPPA) was enacted in 1994 in response to numerous cases of a driver's information being abused for criminal activity, with prominent examples including the Saldana and Schaeffer stalking cases. The DPPA prohibits states from disclosing a driver's personal information without permission by State Department of Motor Vehicles (DMV). As of 2011, stalking is an offense under section 120a of the Uniform Code of Military Justice (UCMJ). The law took effect on 1 October 2007.

Stalking is a controversial crime because a conviction does not require any physical harm. The anti-stalking statute of Illinois is particularly controversial. It is particularly restrictive, by the standards of this type of legislation.


MOVIES

Stalking has been a key plot element in a number of movies. Robert De Niro has notably played a stalker in at least four films.

In the 1962 film Cape Fear (1962), Robert Mitchum plays vengeful ex-convict Max Cady, who stalks and terrorizes his former lawyer (Gregory Peck), whom he blames for his imprisonment, and the lawyer's family.

In Play Misty For Me (1971), a disc jockey (Clint Eastwood) has a one-night stand with a fan (Jessica Walter) but gets more than he bargained for when she begins trying to insert herself into his life and violently attacks anyone who gets in her way.

Robert De Niro starred in Taxi Driver (1976), a film about troubled cab driver Travis Bickle, who is attracted to a pretty political campaign worker (Cybill Shepherd), who spurns his attentions after he takes her to a risque film; Bickle then stalks and plans to assassinate the senator she is campaigning for.

In the made-for-TV movie Mad Bull (1977), Alex Karras—himself a sometime professional wrestler after his football career—played a "heel" wrestler trying to shed his kayfabe bad-guy image—only to be relentlessly stalked by a crazed fan mistaking the scripted and staged dramatics he saw in the ring to be reality and trying to kill the "evil" "Mad Bull".

The Fan (1981) stars Lauren Bacall as a movie star being stalked by a deranged young man who considers himself a fan of hers but who is angered and turns violent when she ignores his impassioned love letters. The movie was released five months after John Lennon was murdered by obsessed fan Mark David Chapman outside The Dakota, the famous New York City apartment building—coincidentally, also the real-life home of Lauren Bacall.

In The King of Comedy (1983), a black comedy, De Niro played Rupert Pupkin, a would-be comedian who tries to ingratiate himself with a famous talk-show host (Jerry Lewis), even fantasizing that the two are friends, and when that fails, he teams up with another stalker (Sandra Bernhardt) to kidnap the celebrity in order to appear on television and break into big-time show business.

In Fatal Attraction (1987), a married man (Michael Douglas) has what he thinks is just a short weekend fling with another woman (Glenn Close) - who stalks him, his wife and daughter when he tries to break the affair off.

The stalking theme was also played more for laughs in What About Bob? (1991), a comedy starring Bill Murray as an unstable psychiatric patient whose desperate need to be close to his new therapist (Richard Dreyfus) - even seeking out and meeting the doctor's family while they are away on vacation and ultimately charming them and winning them over to his cause - ends up literally driving the doctor crazy.

In the 1991 remake Cape Fear, De Niro plays Max Cady and Nick Nolte plays the lawyer.

The 1996 film The Fan (not a remake) stars De Niro as an obsessed sports fan who admires a baseball player (Wesley Snipes) - but who then stalks him and ultimately menaces him and his son.


In the 2007 film 'Blades of Glory'starring Will Ferrell as Chazz Michael Michaels and Jon Heder as Jimmy MacElroy, Jimmy's obsessive stalker, Hector (Nick Swardson) tells him of a loophole in the ban allowing him to compete in pair skating.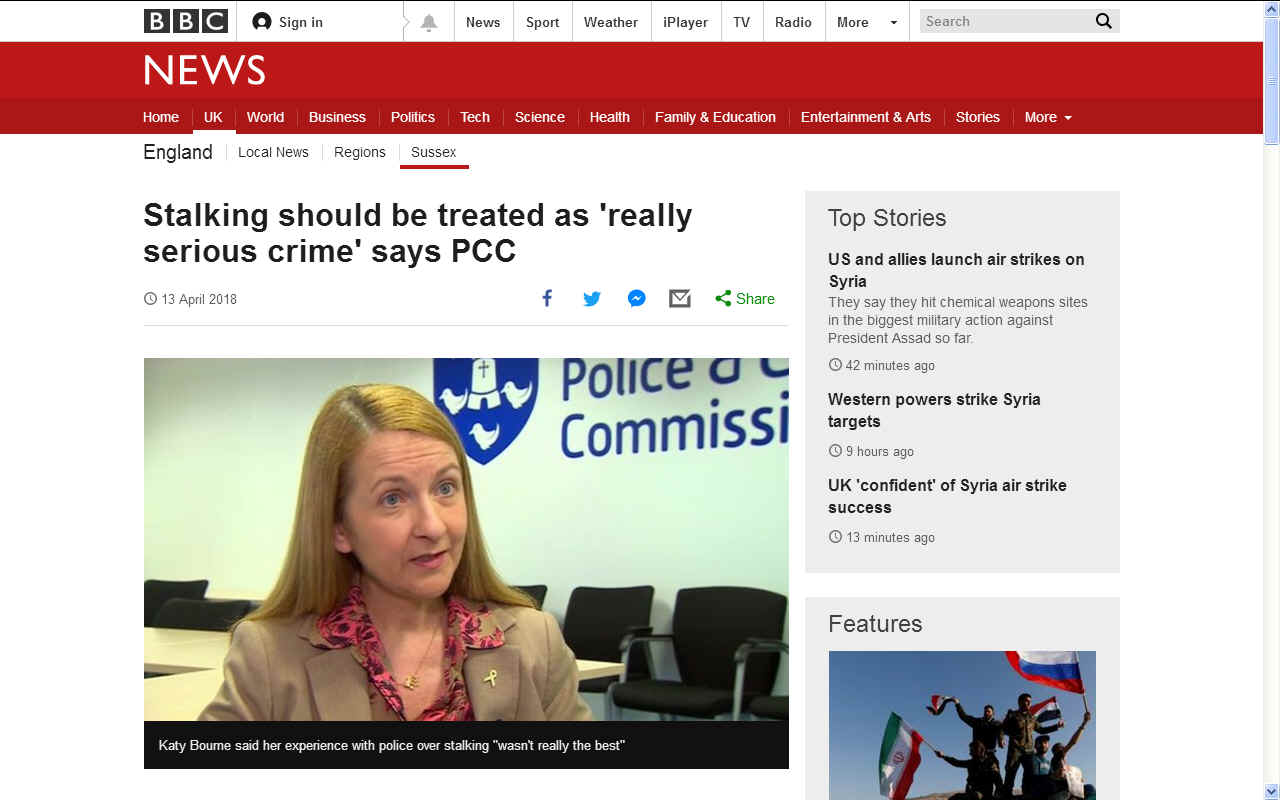 BBC NEWS APRIL 13 2018 - A police and crime commissioner has called on fellow PCCs to take the crime of stalking more seriously.

Sussex PCC Katy Bourne said she was left "frustrated" by the legal system after she was stalked for five years. She urged PCCs to adopt measures such as those she had introduced in Sussex, including a specialist support service for victims of stalking,

"I want all PCCs to step up the plate and take this on board as being a really serious crime," she said. "I have been a victim and I do know how it feels."

'Fixated and obsessed' The stalking of Ms Bourne, a Conservative, began after she was elected as PCC. The man became "really fixated" and obsessed, but she ignored it, hoping "it would go away", she said. "He wasn't just going to take me down professionally; he was going to take me down personally. "I reported it to police and I have to say my experience wasn't really the best." Her complaint was handled by another force, which, she said, "took a while" to understand the situation.

"My great frustration was the Crown Prosecution Service said that, despite nearly five years of evidence, there was no case to answer," she said. Ms Bourne then took out an injunction against her alleged stalker. The CPS has not yet responded to a request for a comment.

Three years ago Ms Bourne carried out a review and, finding no support for victims of stalking, funded with Sussex Police a new specialist support service.

'Victims let down' She said officers and prosecutors CPS were now also being trained to understand the effects of stalking.

Previously officers had recorded individual instances, but not always seen them as part of a "bigger picture", she said. "It's a pattern of behaviour that escalates over time. That's what makes it so dangerous," she said.

Since the review, she said. there had been an eight-fold increase in cases reported to Sussex Police, while the number solved had risen by two-thirds.

"If this is happening in Sussex, what worries me is that this crime is also happening elsewhere and other forces aren't giving it the attention that it needs," she said. "Victims are out there being let down nationally."
LINKS & REFERENCE
http://www.bbc.co.uk/news/uk-england-sussex-43756483
https://

Also see: bollocks buggery penis rape sex sodomy stalking torture