Tony Blair - Prime Minister
In August 1997, Tony Blair and John Prescott were informed of Wealden's impropriety and the estimated cost to the ratepayer.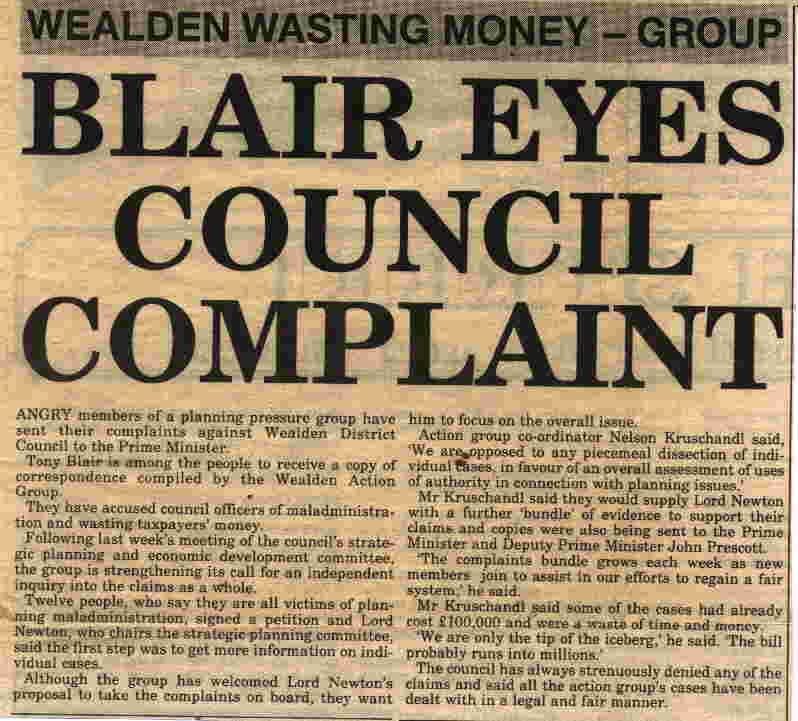 Where the Nolan Committee, headed by Lord Nolan, had recommended that a new criminal offence be admitted to statute, this was intended as prevention regarding a problem the Government was aware of and was looking for a way to curb abuses - especially where officers of local authorities were behaving badly. The term for this kind of misuse of authority is Misfeasance.
Neither the Prime Minister or the Deputy Prime Minister replied to the Group. The Nolan Report recommendations were not implemented and public funding to enable the ill treated to defend themselves, was effectively reduced to nothing with the introduction of the Right to Justice Act.
We wonder if the heads-up to Tony and his pals had anything to do with the fact that Sussex Police did not even open a case file, not give the complainants a crime number. If there is no crime number, how can there have been an investigation?
Effectively, in doing nothing to ensure fair play, this government are condoning and party to the injustices of the planning system. Come on chaps - how much longer are you going to look the other way?
Since that time Tony Blair led Britain into a war with Iraq to protect cheap oil imports (mainly for the USA). We believe he should be spearheading development of solar and other renewable energy to free us from the oil economy.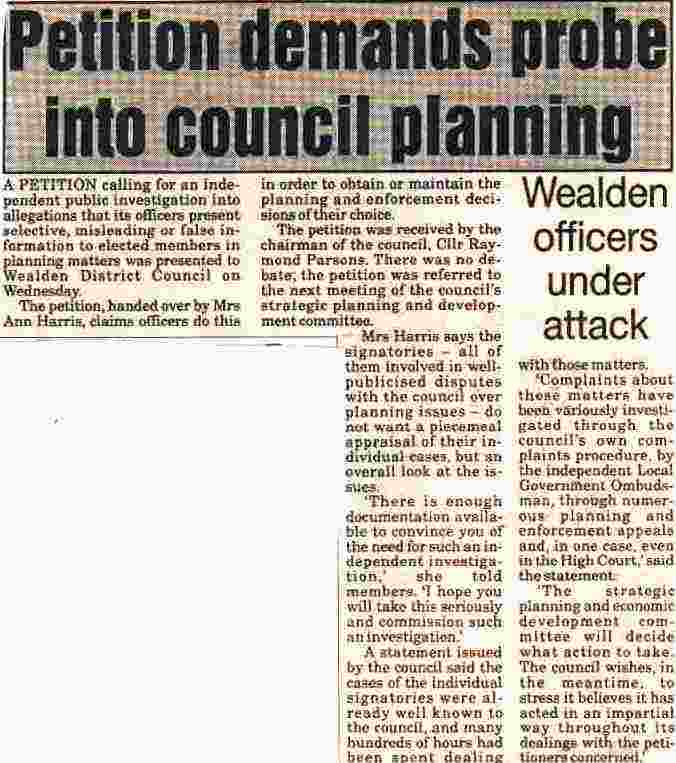 As a result of accumulated complaints of a serious nature directed at Wealden District Council's planning, enforcement and legal departments, a petition was lodged by 12 independent signatories asking for an independent investigation.
LABOUR SHADOW GOVERNMENT 2017-2018
Jeremy Corbyn

MP

Tom Watson

MP

Emily Thornberry

MP

John McDonnell

MP

Dianne Abbott

MP

Nia Griffith

MP

Richard Burgon

MP

Kier Starmer

MP

Barry Gardiner

MP

Jon Ashworth

MP

Angela Rayner

MP

Rebecca Long-Bailey

MP

Debbie Abrahams

MP

Andy McDonald

MP

Andrew Gwynne

MP

John Healey

MP

Valerie Vaz

MP

(Angela) Baroness Smith Basildon

MP

John Trickett

MP

Lesley Laird

MP

.

Christina Rees

MP

Owen Smith

MP

Sue Hayman

MP

Kate Osamor

MP

Ian Lavery

MP

Dawn Butler

MP

Peter Dowd

MP

MP

(Shami) Baroness Chakrabarti

MP

Nick Brown

MP

(Steven) Lord Bassam Brighton

MP

Barbara Keeley

MP

Cat Smith

MP

.

.

.

.

Gordon Brown

Former Prime Minister

Tony Blair

Former Prime Minister
LINKS:
WE ACCEPT NO RESPONSIBILITY FOR THE ACCURACY OF ANY FEATURED LINKS