This site is protected under Article10 of the European Convention on Human Rights and Fundamental Freedoms.

Tony Blair - Prime Minister
In August 1997, Tony Blair and John Prescott were informed of Wealden's impropriety and the estimated cost to the ratepayer.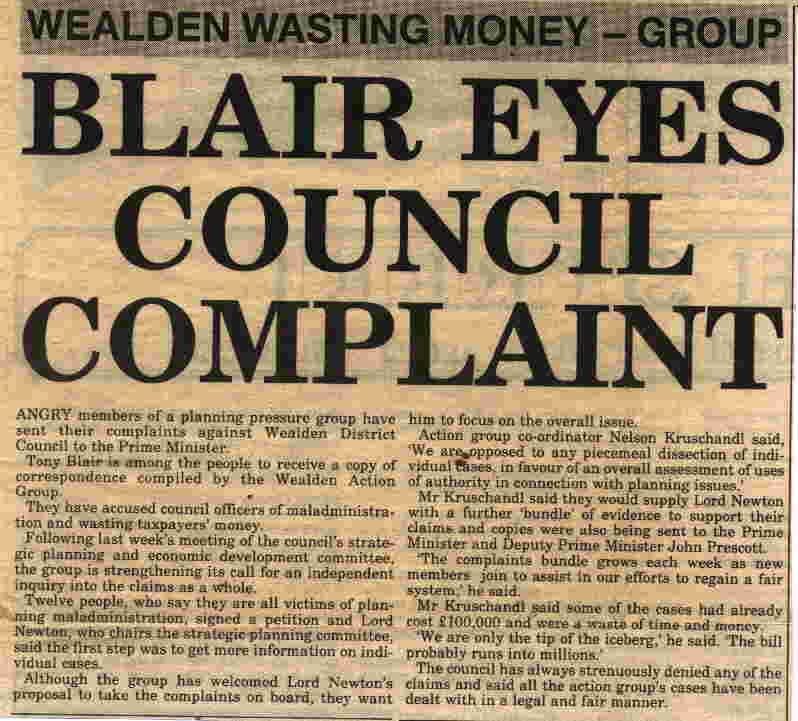 Where the Nolan Committee, headed by Lord Nolan, had recommended that a new criminal offence be admitted to statute, this was intended as prevention regarding a problem the Government was aware of and was looking for a way to curb abuses - especially where officers of local authorities were behaving badly. The term for this kind of misuse of authority is Misfeasance.
Neither the Prime Minister or the Deputy Prime Minister replied to the Group. The Nolan Report recommendations were not implemented and public funding to enable the ill treated to defend themselves, was effectively reduced to nothing with the introduction of the Right to Justice Act.
Effectively, in doing nothing to ensure fair play, this government are condoning and party to the injustices of the planning system. Come on chaps - how much longer are you going to look the other way?
Since that time Tony Blair led Britain into a war with Iraq to protect cheap oil imports (mainly for the USA). We believe he should be spearheadingdevelopment of solar and other renewable energy to free us from the oil economy.
LINKS:
WE ACCEPT NO RESPONSIBILITY FOR THE ACCURACY OF ANY FEATURED LINKS