Two months for girl whose rape lie ruined cabbie's life
24th April 2007
A teenage girl destroyed a taxi driver's life by crying rape at the end of a drunken night out and then refusing to withdraw the claim out of embarrassment.
Married father-of-two Aftab Ahmed, 44, lost his house, livelihood and good name after a 16-year-old passenger accused him of attacking her when she was senseless through drink.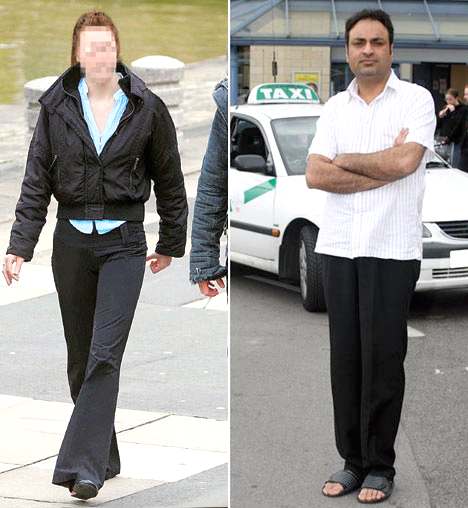 Left: The false accuser, now 17, whose identity cannot be revealed. Aftab Ahmed (right): 'No one wants to talk to me now'
After learning that his accuser could be out of jail in two months, he said: "I'm completely shattered by the news." And he revealed how his family had been ostracised by the local Muslim community because he was wrongly suspected of the sex attack.
"To be accused of rape is the most serious crime in my religion of Islam, it is seen as worse than murder, because we are told to honour women and that they are sacrosanct," he said.
The teenager dialled 999 after being dropped off at home, believing the discomfort she was suffering indicated she had been sexually assaulted by the cabbie.
The court heard she realised Mr Ahmed had not touched her before police arrived to take her statement, but she was too scared to change her story.
Once sober she continued the pretence and took police to the remote moorland spot where she claimed the rape took place and officers carried out a full forensic examination in search of evidence.
Mr Ahmed, who was worried about the girl's health and made sure she got home safely, was immediately arrested in front of his family and locked up as a suspected rapist.
He was released on bail after spending 15 hours in police cells, but his taxi licence was revoked and he was shunned by members of the Muslim community in Bradford where he lived.
It took six weeks and an investigation costing £6,000 before police were satisfied he was innocent.
Although the girl, now 17, was charged with perverting the course of justice, she did not admit her guilt until last month - 14 months after the original incident.
Yesterday the teenager from Shipley, West Yorkshire, was sentenced to a four month detention and training order at Bradford Magistrates' Court and told she would be locked up for half that period.
District Judge David Thomas told the girl: "What you did had disastrous consequences so far as Mr Ahmed was concerned. I accept fully that you have great remorse for what has happened.
"As you said, sorry is a very short word - it doesn't put matters right. I don't want you or anyone else to have the impression that people can make these allegations and get away with it."
Mr Ahmed was parked in a taxi rank in Bradford city centre when he was asked to take the girl home by her elder sister.
Prosecutor Duncan Wilcock said Mr Ahmed gave the sister his registration plate and contact number because they were both concerned at her state.
The teenager was sick six times in his taxi and could not give him directions and Mr Ahmed went to great lengths to find the correct address.
Mr Wilcock said: "These allegations have had a profound effect on Mr Ahmed and his family. He is no longer prepared to work as a taxi driver in the evenings for fear of other allegations against him.
"His wife is taking tablets for depression and it has effected his position within the community."
The teenager, who cannot be named for legal reasons, told the court she "seriously believed" she had been raped after being dropped off at home.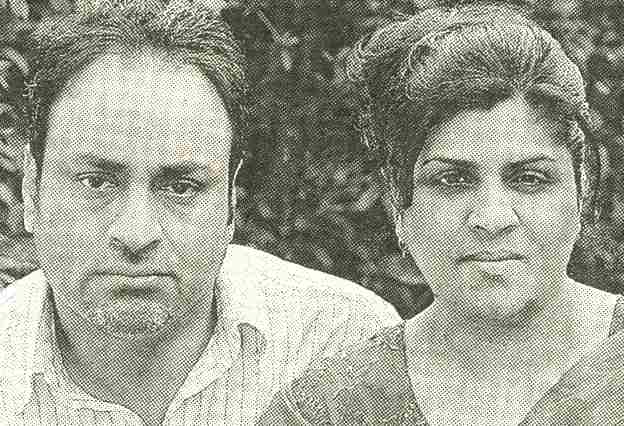 Aftab and Amber Ahmed devastated by false allegations
"I returned to normality and realised it had not taken place," she said. "By that time the police were on their way.
"The incident had spiralled out of control and I was concerned about what would happen if I said it had not happened at all." She apologised to Mr Ahmed and his family and the police.
But it did little to ease Mr Ahmed's pain. Speaking outside court he said:
"Today is the worst day of my life, I can't imagine that the person who destroyed a whole family got only two months. She has destroyed my family life, my social life, and she has destroyed me economically."
Mr Ahmed has a degree in political science and was police officer in Kashmir before he came to England to marry his wife Amber, 32, and they have twin 11-year-old daughters together.
Recalling the night in January last year, he said the girl's friends and sister "abandoned" her into his care and he had done his best to look after the girl, returned to work and was then arrested a couple of hours later.
He said: "During the ordeal I had my taxi badge taken away, which meant I could not work. We fell into arrears with the mortgage and the house is now sold because we can't afford to live here any longer.
"I used to play with my children outside in the driveway. I don't do that now. I don't take them to the park. I just go to work and come home."
Asked about the girl, he said: "If she can do this to me then who else could she do it to next. I believe she should have been named and shamed and put always longer to protect other innocent men.
"She has made my life Hell. Nobody wants to talk to me and I no longer have a social life. I don't know who believes me, but I am full of fear. It's very hard to move forward.
"As an Asian taxi driver you are subjected to racial attitudes from drunken people on a daily basis. They kick out at you cab, swear, call you names, throw up in the back and run off without paying.
"You never get used to it because you are trying your best to help them and provide a service. You hear regularly of a taxi drivers been subject to violence or involved it trouble through no fault of their own."
Mrs Ahmed added: "Her claims have torn this family apart and a weaker marriage might have crumbled, but I believed my husband 100 per cent."
Mrs Ahmed also said she was "horrified" by the girl's sentence.
"She was so lucky that my husband was there to make sure she got home in safe hands. She was so drunk that anyone could have taken advantage of that young girl."
The District Judge rejected an application at an earlier hearing for the teenage to be named and shamed.
In January the Attorney General Lord Goldsmith revealed ministers were considering a change in the longstanding anonymity laws so that women who make false rape claims may no longer have their anonymity protected by law.
Courts could be given the power to reveal an accuser's name if there is a chance she will fake another assault.
Judges can already allow a false accuser to be identified if she is taken to court for perverting the course of justice and the case does not end up as a rape trial.
Under age defendants also have an automatic right to anonymity, but the judge can allow them to be named in certain circumstances.
Detective Constable Mark Wycherley, of West Yorkshire Police, said:
"We investigate all allegations of rape and when they are found to be false we take the appropriate action. If you wanted someone to take your daughter home you would want Mr Ahmed to be that person."
By CHRIS BROOKE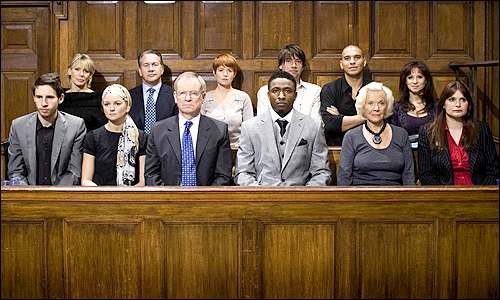 The Verdict - Jury
---
LINKS and REFERENCE
---
CONVICTION QUASHED OVER 'MADE UP' VAMPIRE CLAIM


Paul Lewis - Friday May 19, 2006
The Guardian

A man who was sentenced to eight years in prison in 2004 after a teenager falsely alleged he repeatedly raped her in "vampire" rituals had his conviction quashed yesterday.
Leon Benjamin Forde, 21, of Lincoln, was jailed 18 months ago after the girl claimed he subjected her to a sex ordeal two years previously, when she was 13. But he won his freedom at the appeal court after the prosecution accepted the girl's testimony was undermined by evidence uncovered from a computer diary which suggested she had "made it all up".
Mr Forde later said his time in prison had been "hell".
---
TEACHER CLEARED OF RAPE TOO LATE

Graeme Paton - Published: 21 April 2006

A teacher who died in prison after being convicted of raping one of his pupils has been posthumously cleared by the Court of Appeal.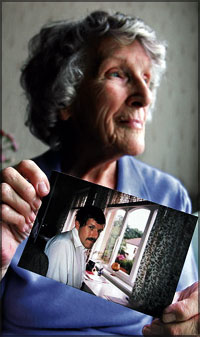 Molly Gee, 88, who has been awarded £62,493 by the appeal court
after battling to clear her son Darryl's name


Darryl Gee was jailed in 2001 despite scant evidence to corroborate his accuser's claims, which related to alleged incidents more than a decade earlier.
The music teacher, who protested his innocence, died in his cell from an undiagnosed blood cancer. He had served 18 months of an eight-year sentence.
This week, campaigners described the case as one of the worst miscarriages of justice they had seen after the Court of Appeal in London quashed his conviction.

It comes as government guidance designed to speed up investigations into alleged abuse of pupils is introduced in schools. Unions say this will reduce the risk of innocent teachers being smeared by false allegations.
Chris Keates, general secretary of the NASUWT, said: "This is an extreme and tragic illustration of the consequences of malicious allegations and underlines the need for these new procedures."
Mr Gee's 88-year-old mother, Molly, awarded £62,493 costs by the court, said the case should be a warning to other teachers.
"It all boiled down to one girl's word against his, and the jury believed her," she said. "That's all it took to send my son to prison and it has left me very angry and grief stricken. I don't think anyone should have to work alone with a child – it is just too easy for an allegation like this to be made."
Mr Gee, a supply teacher who taught brass instruments, was found guilty at Leeds crown court in January 2001 after being accused of raping and indecently assaulting a pupil in a Huddersfield school in 1989. He died aged 55 in August 2002, a month after a second appeal failed.
His conviction was eventually quashed when his mother alerted the Criminal Cases Review Commission, which asked a leading psychiatrist to report on his accuser. The study cast doubt on her mental state. It also emerged that the girl, now 26, made similar allegations against another man, whose conviction was quashed earlier this year.

Read more in the TES including the story of Charlie King. A jury took just half an hour to find him not guilty of sexually assaulting three of his pupils. So why did it take 13 months for the case to reach court?
---
SEX ATTACK LIAR NAMED BY PEER
19th October 2006
A woman with a long history of crying rape who sent an innocent man to jail was named in Parliament amid calls for a change in the law.
Shannon Taylor was unmasked by a peer who told the House of Lords her lies had put father-of-two Warren Blackwell behind bars for more than three years.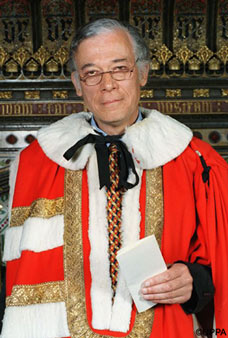 Lord Campbell-Savours
Lord Campbell-Savours used Parliamentary privilege to expose her identity and lambast the 'shabby' police investigation that saw Mr Blackwell imprisoned.
Legal experts praised his decision to speak out to prevent other men falling victim to fake sex attack allegations.
Mr Blackwell, 36, whose loyal wife Tanya never doubted his innocence, was dramatically cleared at the Appeal Court last month after Miss Taylor's background as a serial fantasist was exposed by a Criminal Cases Review Commission investigation.
But although his name was blackened, anonymity laws meant his accuser's was automatically protected, and she became known only as Miss A.
Even the appeal judges wanted to name her - but were powerless to do so - to warn other blameless members of the public.
The Daily Mail led calls for her identity to be revealed before she put another innocent man through torment.
Yesterday, Lord Campbell-Savours - said to be motivated by 'outrage' at the case - stood up and publicly did so.
He asked fellow peers: "Is not the inevitable consequence of the workings of the law, as currently framed, that we will carry on imprisoning innocent people like Warren Blackwell, who was falsely accused by a serial and repeated liar, Shannon Taylor, with a history of false accusations and multiple identities?
"As a result of her accusations, he spent three and a half years in prison following a shabby and inadequate police investigation, and was only exonerated when the Criminal Cases Review Commission inquiry cleared him and exposed her history."
The Labour peer added: "Shouldn't mature accusers who perjure themselves in rape trials be named and prosecuted for perjury?"
Miss Taylor's own daughter backed the decision to disclose her name, saying: "She is a danger and the public needs to be warned. She needs prosecuting for what she did. She is every man's worst nightmare."
Mr Blackwell's ordeal began when his accuser, now 38, claimed she had been seized with a knife outside a village club early on New Year's Day 1999, taken to an alley and indecently assaulted.
She later picked him out of an identity parade and a jury found him guilty, even though there was no forensic evidence against him and he had no previous convictions.
Eventually, the case was investigated by the Criminal Cases Review Commission which found that the woman had made up at least seven other fake allegations of sexual and physical assault, including against her own father. She frequently changed her name and police forces did not realise they were dealing with the same woman.
Her own mother has described her as "a persistent liar, very manipulative and a bully" who frequently claimed to have been beaten, sexually attacked and raped - all of which were untrue. She has a history of mental illness and self-harm.
The original investigation by Northamptonshire Police was exposed as shoddy, with Mr Blackwell's lawyers claiming that normal safeguards and procedures were completely ignored. He plans to sue.
Yesterday, a friend of 63-year-old Lord Campbell-Savours explained why he decided to speak out. He said: "He named her because he was outraged. He doesn't think it's got anything to do with the issue of rape, he thinks it's an issue of perjury.
"This woman made up the story and told lies and he can't see why a person who has perjured themselves should be protected, irrespective of the type of offence.
"Sometimes people have to stick their heads above the parapet in cases where the law is clearly an ass and needs to be reformed.
"He thinks the law around anonymity, particularly where false accusations have been made, needs to be changed."
Welcoming the development, Mr Blackwell, from Woodford Halse, Northamptonshire, said: "It's absolutely fantastic. I didn't think anybody would have the guts to name her.
"This woman needs to be stopped. The fact is, she remains free to carry on crying rape and up till now has been enjoying the full protection of the law. It's absolutely crazy that she could not be named and shamed, because innocent men need to be warned to avoid her like the plague.
"Now I hope she will go on to be prosecuted." But she is unlikely to face charges for perjury or perverting justice.
Northamptonshire Police yesterday claimed there was "insufficient evidence", while Crown Prosecution sources have cited her mental illness as a barrier.
But Mr Blackwell's barrister Anne Johnson said: "There is a clear public interest in her being prosecuted for perjury or the very least wasting police time.
"It's fantastic that somebody of authority has finally come out and named this woman. The issue needs to be aired otherwise nothing will be done."
At Mr Blackwell's appeal last month, Mr Justice Tugendhat admitted that similar tragic cases could follow because of the lies of the 'Miss A', adding that Parliament had not seemed to have considered this possibility when framing the law. Last night the judge said he did not wish to comment on yesterday's twist.
In the 1970s, the Daily Mail campaigned for women in sex cases to be granted automatic anonymity, to protect genuine victims of genuine crimes. Although Miss Taylor has now been publicly named, there is nothing to stop her changing her identity yet again.
Callers to her most recent address were told by her boyfriend that she no longer lived there.
Here's what readers have had to say so far. Why not add your thoughts below?
It is unfortunate that in my opinion women seem to be able to make allegations and men are treated as guilty unless proven innocent. This spills over into family law where this happens all the time. It is time for laws to be changed and the system to be exposed for what it is. I take my hat of to the judge for naming this women. It is about time that more professional people i.e. judges and lawyers started looking at what is right and wrong instead of either following there own political agenda or lining their own pockets.


- Lisa Lipscombe, Burlington, Canada
The sentencing for false accusations of rape should be as harsh, and enforced as harshly, as rape itself.


The USA also needs to wake up to the many false allegations of rape that are putting innocent men in jail.


- Denis, Boston, MA USA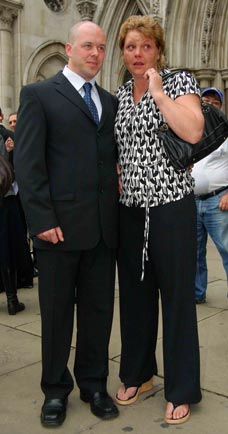 Warren Blackwell and wife Tanya - Guilty until Proven Innocent
Man freed but serial rape accuser remains anonymous
12th September 2006
An innocent man jailed for a sex attack was dramatically cleared after it emerged that his 'victim' is a serial liar with a long history of crying rape.
But because of laws that protect her anonymity, judges are powerless to name and shame her, leaving her free to make more false accusations against blameless members of the public.
Mr Blackwell, 36, hugged his loyal wife Tanya and wept as the Appeal Court quashed his conviction.
He described his accuser as "every man's worst nightmare".
Mr Justice Tugendhat admitted, however, that similar tragic cases could follow because of the lies of the woman, Miss A.
"Parliament does not seem to have contemplated this situation.
"There appears to be no means of displacing her entitlement to anonymity."
In the 1970s, the Daily Mail campaigned for women in sex cases to be granted automatic anonymity, but now there are questions about whether the law has gone too far.
Warren Blackwell's nightmare began when Miss A, now 38, claimed she had been seized with a knife outside a village club early on New Year's Day 1999, taken to an alley and indecently assaulted.
She later picked Mr Blackwell out at an identity parade.
There was no forensic evidence against him and he had no previous convictions.
'She needs to be stopped'
Yet Mr Blackwell, from Woodford Halse, Northamptonshire, was found guilty and spent three years and four months behind bars.
Eventually the case was referred to the Criminal Cases Review Commission (CCRC) which assigned Detective Chief Inspector Steve Glover, to investigate. He discovered that the woman:
• Has made at least five other fake allegations of sexual and physical assault to police in three separate forces.
• Was married twice and made false allegations against both husbands - one of whom was a policeman.
• Once accused her own father of sexual assault, but police concluded she had made it up.
• Accused a boy of rape when she was a teenager, only for a doctor to discover she was still a virgin.
• The CCRC concluded that in the case of Mr Blackwell, she had "lied about the assault and was not attacked at all, her injuries being self-inflicted".
The Crown Prosecution Service did not oppose the appeal.
David Farrell QC, for the Crown, said: "This conviction is unsafe. What has come out of the woodwork paints a picture of a woman with immense personal problems with serious difficulties in distinguishing between truth and lies."
If this information had been known at the time of the trial, he added, "this case would not have made it off the ground".
Mr Blackwell said: "Clearly something has to be done about this woman. She needs to be stopped. The prosecution say she is psychiatrically disturbed, but insane people who murder are tried and if found guilty put away."
Mr Blackwell, who plans to sue police over his ordeal, will now have his name removed from the Sex Offender Register.
His accuser has a history of mental illness and self-harm - once inscribing the word 'HATE' on her body with scissors.
However, because she has changed her name at least eight times, and moved between addresses in at least three counties, it seems police never realised they were dealing with the same woman.
For Mr Blackwell, her accusations meant he missed more than three years of family life. His son Liam, ten, and stepdaughter Holly, 16, were three and nine when his ordeal began.
His 36-year-old wife said: "I never doubted him for a second. We were together six years before it happened, and ever since."
By SAM GREENHILL
---
F.A.C.T. (Falsely Accused Carers and Teachers)
PO Box 3074
Cardiff CF3 3WZ
Tel: 029 2077 7499
E-mail: info@factuk.org
Website: www.factuk.org
Campaigning organisation and support group which provides help and advice to falsely accused and wrongly convicted carers and teachers throughout the UK. The website contains a range of information, leaflets, books and links.
Guidance for education staff and volunteers in schools
Website: www.lg-employers.gov.uk/conditions/education/allegations
This website has guidance on: 1) staff facing an allegation of abuse; 2) preventing 'abuse of trust' for education staff; and 3) the conduct of education staff working with young people.
---
DIGGING THE DIRT: DISCLOSURE OF RECORDS IN SEXUAL ASSAULT CASES
The disclosure of confidential records such as those of doctors, teachers, counselors, and therapists may be sought by the defense as a means of undermining the credibility of complainants in rape and sexual assault trials. The procedure is under section 2 of the Criminal Procedure (Attendance of Witnesses) Act 1965, under which disclosure of the records of third parties may be sought.
---
Wednesday December 13, 2006 - The Guardian

---
BBC Two Winter/Spring 2007
Stan Collymore, Ingrid Tarrant, So Solid Crew's Megaman, Michael Portillo and Sara Payne join the jury for BBC Two's The Verdict
A former England football player, one of Britain's most successful businesswomen, a mother who campaigned for the law to be changed following the murder of her daughter and a rapper who spent time in prison on a murder charge are amongst the line-up of high profile jurors taking part in BBC Two's ambitious television event, The Verdict.
The full line up, announced today, is:

Jeffrey Archer – former Tory MP and author;

Honor Blackman – actress;

Stan Collymore – footballer;

Jennifer Ellison – actress;

Jacqueline Gold – head of the Ann Summers empire;

Alex James – Blur band member;

MegaMan – So Solid Crew member;

Dominic McVey – millionaire teen entrepreneur;

Patsy Palmer - actress;

Sara Payne – mother who campaigned for Sarah's law;

Michael Portillo – former Conservative MP and broadcaster;

Ingrid Tarrant – separated from TV presenter Chris Tarrant.
The 12 jurors are sitting in judgement on a four day trial in a real courtroom, presided over by a real judge, with real barristers prosecuting and defending.
The jury will then retire to the jury room to begin their deliberations.
But the cameras will be there, observing for the first time the dynamics of a how a jury reaches it verdict.
The Verdict, which is being produced by RDF Television, part of the RDF Media Group, will be stripped across four nights on BBC Two, to be shown early next year.
A BBC Three switch-over programme will follow the jury back to their hotel to find out how they have reacted to each day's proceedings.
The case features the rape trial of an internationally famous footballer, Damien Scott, and his friend, James Greer.
Scott and Greer are fictitious characters, but in the weeks leading up to the case the actors playing them have experienced what is like to be arrested, interviewed under caution by real policemen and examined by real forensic experts.
The trial is totally unscripted so that when the witnesses appear in the witness box, they give evidence about experiences that to them, to the jury, and to viewers will seem all too real.
The judge is the highly respected and recently retired His Honour Neil Denison QC .
Jane Humphryes QC and George Carter-Stevenson QC are acting for the Defence and Joanna Greenberg QC is the Crown Prosecution Service barrister.
The barristers are free to prosecute and defend the case in exactly the same way as they would a real trial.
Roly Keating, Controller of BBC Two, says: "This is a hugely ambitious project which brings the law to life in a completely new way.
"It will be fascinating to follow the twists and turns of the case, see the dynamics and power struggles within the jury, learn about the jury system with its inherent flaws and strengths - and engage with the whole experience even more deeply on broadband."
Stephen Lambert, RDF Media Group's Chief Creative Officer, said: "We are delighted that such a wide range of high profile individuals have agreed to serve on our jury.
"It is fascinating to see how they interact and how their different backgrounds and assumptions influence their views on the case.
"A huge effort was taken by everyone involved in the production to ensure that the jury experience was as authentic as possible.
"We were amazed by how seriously our jury treated their task and how emotionally involving it became for all of them."
This series will be accompanied by an extensive broadband service that will offer audiences high volumes of extended material, background videos, witness interviews and documentary evidence to allow viewers to form their own judgement as the case progresses.
Brief biographical details for the jurors
Jeffrey Archer
Former Tory politician and best selling author – served two years in prison for perjury.
Honor Blackman
Actress best known for her role in The Avengers and as Pussy Galore in Goldfinger.
Stan Collymore
Former Premiership footballer.
Jennifer Ellison
Actress and performer who starred in Brookside and is currently appearing in Chicago in the West End.
Jacqueline Gold
Chief Executive of Ann Summers and Knickerbox – regularly voted one of Britain's most powerful and inspirational women.
Alex James
Blur band member and Independent columnist, now lives on an organic farm with his wife and three young sons.
MegaMan
Founder member of chart-topping rap collective So Solid Crew – recently acquitted of murder after three trials and spending 18 months on remand in Belmarsh Prison.
Dominic McVey
21-year-old entrepreneur - imported micro-scooters to the UK and became the country's youngest self-made millionaire at the age of 14.
Patsy Palmer
Actress, best known for her role as Bianca in EastEnders.
Sara Payne
Mother who campaigned for Sarah's law following the murder of her daughter by a known paedophile.
Michael Portillo
Former Tory MP, journalist and broadcaster.
Ingrid Tarrant
Journalist and tv presenter, separated from husband Chris Tarrant.
Biographical details for the legal team
The Judge – His Honour Neil Denison QC
His Honour Neil Denison QC was considered one of Britain's most prominent judges. He was the Common Sergeant of London from 1993 until 2001 when he retired and was replaced by Judge Brian Barber QC. He was called to the bar at Lincoln's Inn in 1952 and became a bencher in 1993. He was a Recorder of the Crown Court from 1979 to 1985. Notable cases include the Salon killing, where a wife killed her husband's girlfriend in a beauty salon, a Muslim father who murdered his daughter in an honour killing and a man who smashed his wife's skull with an axe.
Jane Humphryes QC (1st Defence)
Jane Humphryes is a specialist in serious crime of all kinds. She is experienced in prosecuting and defending a wide range of criminal cases, although more recently nearly exclusively defending, including murder and attempted murder, money laundering, fraud, rape and indecent assault and police disciplinary proceedings.
George Carter-Stephenson QC (2nd Defence)
George Carter-Stephenson is a specialist defence advocate with a varied and wide-ranging practice extending over all types of criminal cases and disciplinary proceedings. He is extremely experienced in dealing with highly involved and complex cases, including serious fraud. Notable cases have included the Damilola Taylor first murder trial, the Millennium Dome Robbery, the Sumurai Sword murder and representing the husband of Joyti de Laurey, the Goldman Sachs secretary found guilty of stealing £4.5m from her bosses.
Joanna Greenberg QC (CPS Prosecutor)
Joanna Greenberg QC specialises in criminal law. She is now best known as a defender, although she continues to do some prosecuting. She has been head of chambers since 2003. Her defence practice has covered all types of crime, including murder, high value fraud cases, very substantial drugs cases and all sorts of sex cases involving serial offenders, witchcraft, child abuse. Listed as one of the "Leaders at the Bar" in Chambers UK client's guide to the UK legal profession, she is described as "an evasive witness's bad dream".
LINKS
---
This site is protected under Article10 of the European Convention on Human Rights and Fundamental Freedoms.
FAIR USE NOTICE
This site contains copyrighted material the use of which has not always been specifically authorized by the copyright owner. We are making such material available in our efforts to advance understanding of environmental, political, human rights, economic, scientific, and social justice issues, etc. We believe this constitutes a 'fair use' of any such copyrighted material as provided for in section 107 of the US Copyright Law. In accordance with Title 17 U.S.C. Section 107, the material on this site is distributed without profit to those who have expressed a prior interest in receiving the included information for research and educational purposes.
For more information go to: http://www.law.cornell.edu/uscode/17/107.shtml. If you wish to use copyrighted material from this site for purposes of your own that go beyond 'fair use', you must obtain permission from the copyright owner.