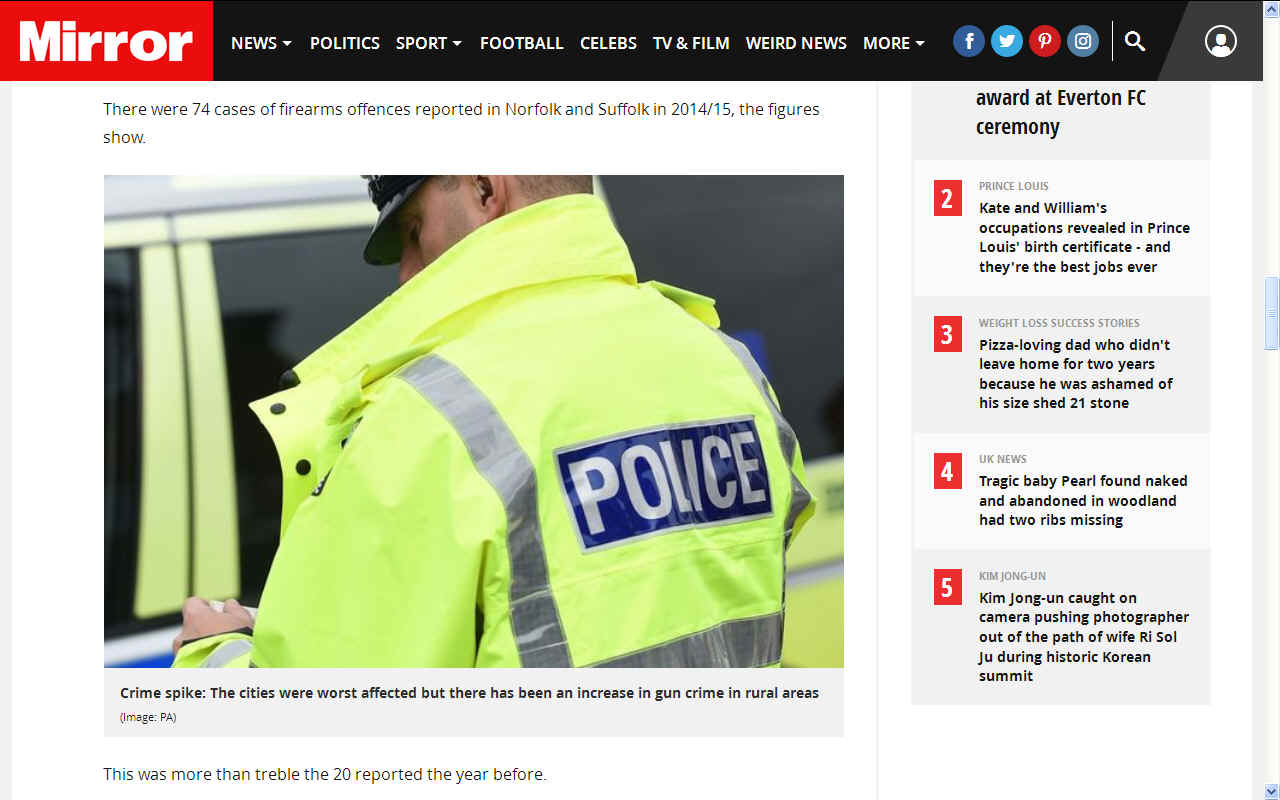 If it is an unlawful shooting by a Sussex Police officer, this force will deny it was unlawful and the officers concerned will carry on serving for many years, siphoning off taxpayers money that could be better spent, even though the officers concerned lied about intelligence with evidence concocted to authorise the raid that killed James Ashley.
The Wilding report found a complete failure of corporate duty by Sussex police. The Hampshire inquiry concluded that three police officers lied about intelligence in order to persuade Deputy Chief Constable Mark Jordan to authorise the raid. The report found that the raid was

"authorised on intelligence that was not merely exaggerated, it was determinably false ... there was a plan to deceive and the evidence concocted."

That is absolutely damning.

The report also showed that the guidelines on firearms put together by the Association of Chief Police Officers was breached. Experts on firearms and the law told Kent police that even if the intelligence had been correct, the firearms should not have been authorised.

The chief constable was castigated. Sir John Hoddinott concluded that Paul Whitehouse, the then chief constable,

"wilfully failed to tell the truth as he knew it, he did so without reasonable excuse or justification and what he published and said was misleading."

Sir John found evidence against Deputy Chief Constable Mark Jordan. That included criminal misfeasance and neglect of duty, discreditable conduct and aiding and abetting the chief constable's false statements. There was suggested evidence of collusion between some or all of the chief officers and an arguable case of attempting to pervert the course of justice.

These statements were contained in those investigation reports. The reports have been kept secret - apart from the leaks made to the press - and have never been available for public scrutiny. After four years, it is reasonable to ask what action has been taken in the face of such gross abuses. It must also be reasonable for any member of the public who might be concerned as to such ongoing gun issues to ask their Crime Commissioners to investigate.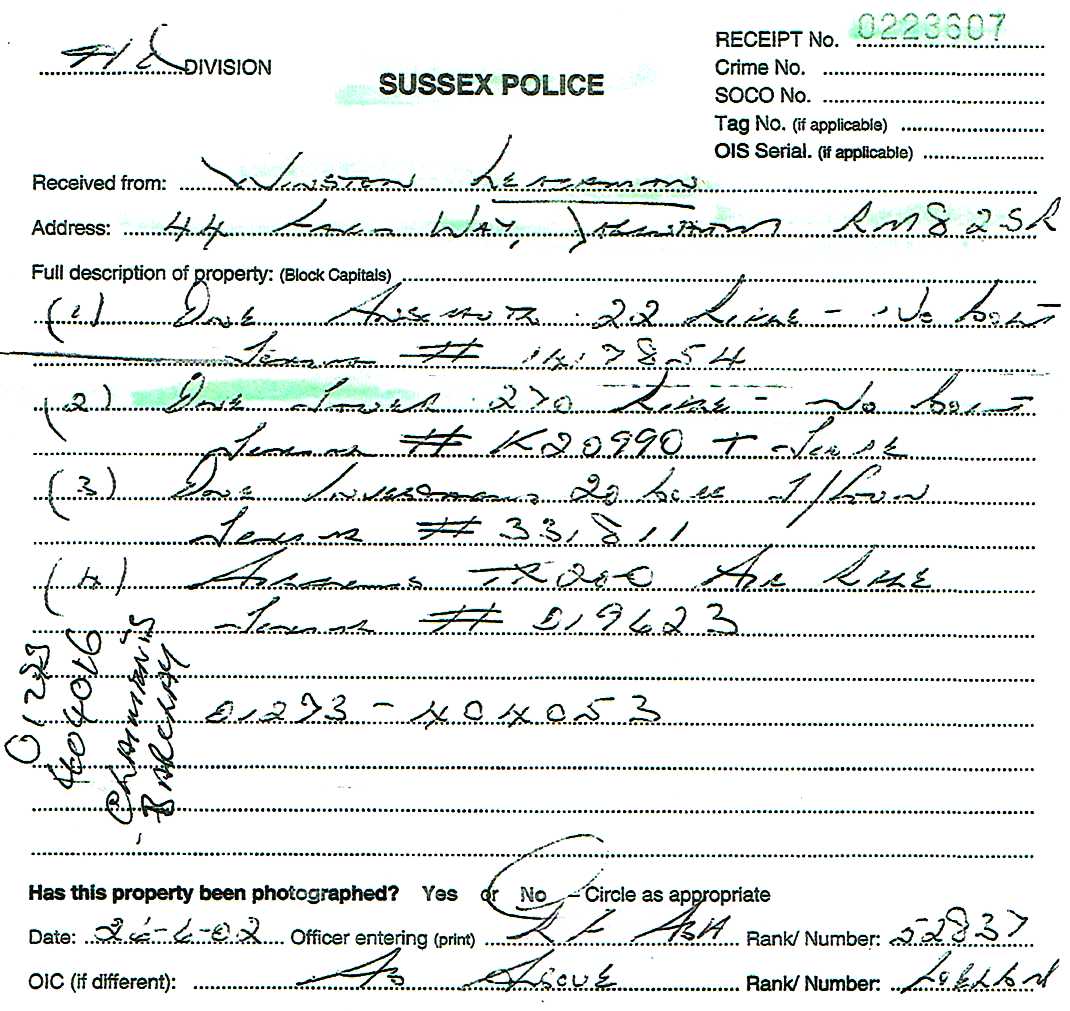 JOHN HOATH Vs KATY BOURNE
John Hoath was assaulted in relation to a claim that Cripps Harries Hall, solicitors, had defrauded himself as to a property matter. Mr Hoath was awarded significant damages by a British court for this assault, where Sussex Police were involved and failed to apprehend the assault, and later Wealden's officers appeared on the scene to assist in what looks like an orchestrated agenda by local authorities to gang up on Mr Hoath in relation to his legitimate business activities. This also included a wrongful conviction for growing drugs in the UK, when Mr Hoath was not the occupier of the site in question and was for long periods out of the country in connection with a fruit haulage business. Mr Hoath was a qualified HGV operator and driver at the time. He alleges involvement of enforcement officials in what he says was a frame up.
In seeking to right the apparent injustice involving wrongful imprisonment, Mr Hoath has uncovered what looks like evidence to challenge his conviction that Ms Bourne and Sussex Police do not want the public to see. One part of a substantial list of arguments and evidence is the receipt above that has been leaked to us. The receipt is a matter of public record and was clearly issued by Sussex Police in June of 2002 by officer Number 52837. We have no idea if Sussex police or their Chief Constable, Giles York, wish to deny the legitimacy of this document and would invite comment if they wish to do so in the interests of fair and balanced reporting and transparency.
That might have been the end of the matter with a stalemate situation, but now we have learned that Ms Bourne is threatening an injunction if Mr Hoath publishes his evidence. That strikes us as rather odd and an attempt to stifle legitimate criticism, where the arguments that are being put forward make compelling, if somewhat lengthy reading. Clearly though, from reading of a letter from solicitor, Gillian Jones, of Weightmans LLP, Surrey Police, Ms Bourne is doing her utmost to frighten Mr Hoath, as to his right to impart information that is true and accurate, and he makes it abundantly clear that he is aware of libel laws and only speaks the truth.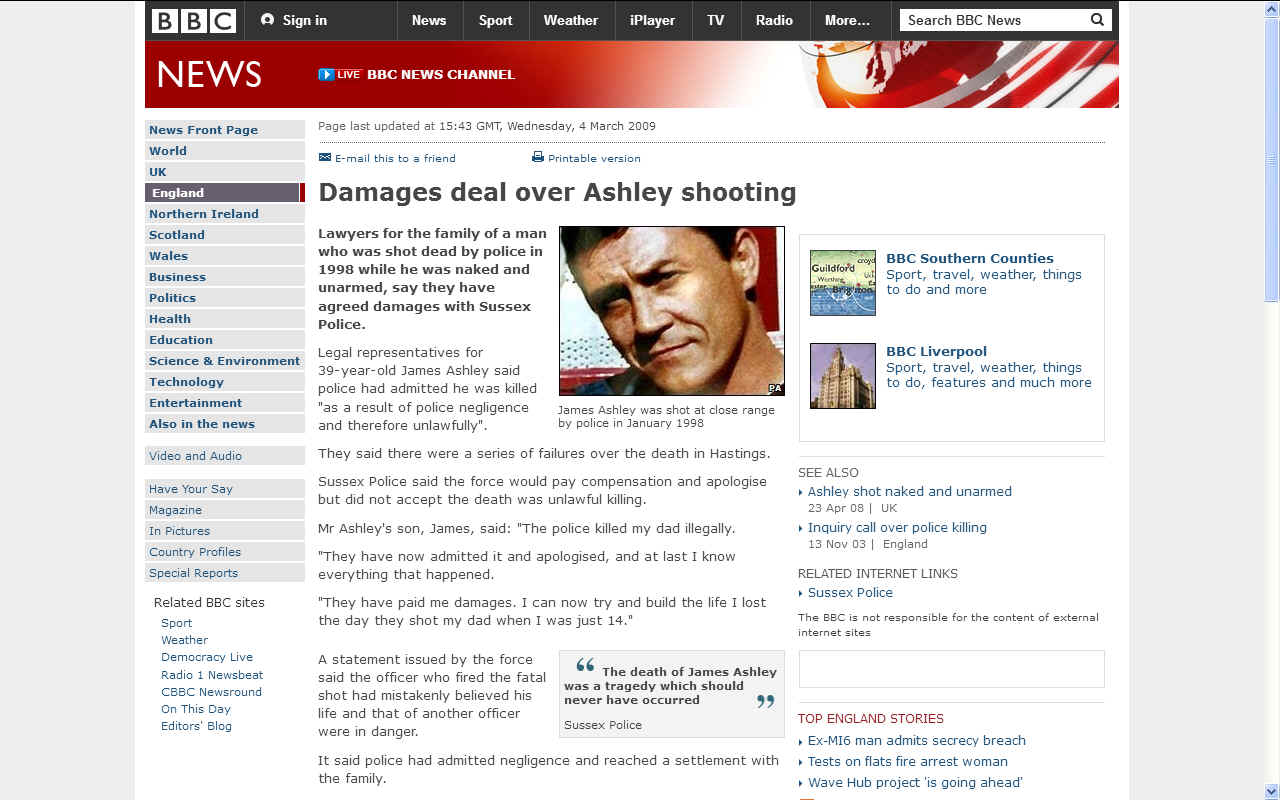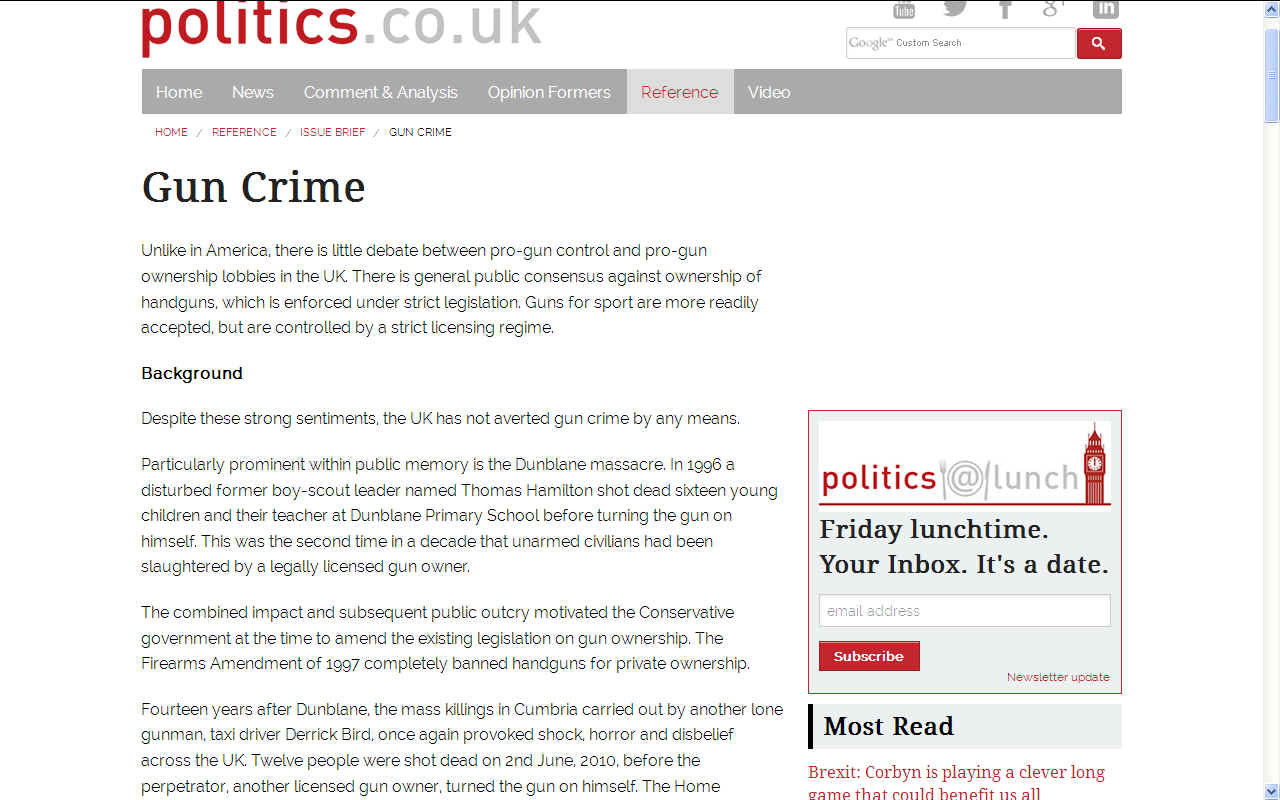 POLITICS UK GUN CRIME - Unlike in America, there is little debate between pro-gun control and pro-gun ownership lobbies in the UK. There is general public consensus against ownership of handguns, which is enforced under strict legislation. Guns for sport are more readily accepted, but are controlled by a strict licensing regime.

Background - Despite these strong sentiments, the UK has not averted gun crime by any means.

Particularly prominent within public memory is the Dunblane massacre. In 1996 a disturbed former boy-scout leader named Thomas Hamilton shot dead sixteen young children and their teacher at Dunblane Primary School before turning the gun on himself. This was the second time in a decade that unarmed civilians had been slaughtered by a legally licensed gun owner.

The combined impact and subsequent public outcry motivated the Conservative government at the time to amend the existing legislation on gun ownership. The Firearms Amendment of 1997 completely banned handguns for private ownership.

Fourteen years after Dunblane, the mass killings in Cumbria carried out by another lone gunman, taxi driver Derrick Bird, once again provoked shock, horror and disbelief across the UK. Twelve people were shot dead on 2nd June, 2010, before the perpetrator, another licensed gun owner, turned the gun on himself. The Home Secretary acknowledged that the shootings would prompt further debate on Britain's gun laws.

In October 2012, the Government announced that, following a public consultation, legislative changes would be introduced to strengthen the laws governing firearms. A new offence of 'possession with intent to supply' would be created and the maximum penalty for illegal importation of firearms increased to life imprisonment.

Controversies - Despite the handguns ban imposed under the 1997 Firearms Amendment, research carried out following the implementation of the Act saw a 40 per cent increase in the number of gun crime incidents in the UK.

While the number of homicides from gun crime remained largely static for over a decade, 2007 proved a decisive year for this issue. A wave of gang related incidents were committed by teenagers against other teenagers, with some high profile cases ending in fatalities. London, Manchester and Nottingham were most notably affected.

In August 2007, these attacks culminated in the murder of an 11-year-old Liverpool schoolboy, Rhys Jones, hit whilst playing football outside his local pub. Following a lengthy police investigation and a trial lasting over two months, an 18 year old youth, Sean Mercer, a member of the 'Croxteth crew' gang, was convicted in December 2008 of the murder and sentenced to life imprisonment.

Other gang members were convicted of offences connected with the murder, including 21 year old James Yates, whose initial seven year sentence for providing the handgun used by Mercer was increased by the Court of Appeal to 12 years.

The then prime minister, Gordon Brown, came under constant pressure to resolve the issues driving these murders. Commentators highlighted a range of social problems which might be responsible including inner city poverty, family breakdown, and the absence of positive black role models in the UK.

The government also faced questions over the apparent availability of guns, which had remained strong despite the handgun ban. Some commentators also suggested the government's legislation, specifically punishments for carrying a gun, were exacerbating gun crime amongst the young.

Following the mass killings in Cumbria on 2nd June, 2010, Home Secretary Theresa May confirmed that two weapons had been recovered by police, a shotgun and a .22 rifle, and that the gunman, Derrick Bird, had held a shotgun licence since 1995 and a firearms licence (for the .22 rifle) since 2007.

Ms May pledged that when the police had completed their investigations, the Government would lead a debate on the country's gun laws, engaging with "all interested parties" and allowing MPs to contribute to the debate.

Concerns also continued to increase about the use of illegal firearms by street gangs and organised criminals.

In February 2012, the Home Secretary launched a consultation on strengthening the law in this area, in particular whether the penalty should be increased for illegal importation of firearms and also whether there was a need for a new offence of possession of illegal firearms with intent to supply.

The consultation was set to run for 12 weeks and sought the views of the public, the police, the CPS, victims groups, the judiciary, and voluntary organisations.

In its response to the consultation published in October 2012, the Government stated that it was clear there was "strong support for taking a tougher stance on control of prohibited firearms."

It had been decided, therefore, to increase the maximum penalty for illegal importation of firearms to life imprisonment and to create a new offence of 'possession with intent to supply' . The changes would be implemented as soon as a legislative opportunity arose.

Statistics - Firearm Crime Statistics

Provisional figures show that 6,285 firearm offences were recorded by the police in the year to September 2011, accounting for 0.2% of all recorded crime. There was a 19% fall in firearm offences in the year to September 2011, compared to the previous year.

In England and Wales firearms were reportedly used in 11,227 offences, 0.3% of all recorded crimes.
There were 7,024 offences in England and Wales in which firearms, excluding air weapons, were reportedly used, a 13% decrease on the previous year, continuing the general decline since 2005/06.

There were 4,203 recorded crimes in which air weapons were reportedly used during 2010/11, a fall of 15% compared with the previous year and 70% below the peak recorded in 2002/03.

In Scotland the police recorded 643 offences which involved the alleged use of a firearm, a 24% decrease on 2009/10. The number of offences has fallen in each of the last four years.

A non-air weapon was alleged to have been used in 410 offences, marginally lower than in 2009/10, while there were 233 alleged air-weapon offences, 45% lower than the previous year.

In England and Wales violence against the person (37%) and robbery offences (26%) accounted for almost two-thirds of all firearm offences recorded by the police in 2010/11. Criminal damage offences represented 29% of all firearm offences recorded.

Due to the different legal system in Scotland it is not possible to provide directly comparable data. 'Reckless conduct with firearms' accounted for 21% of alleged firearm offences in 2010/11, minor assault for 17% and robbery for 14%.

9.3% of all homicides committed during 2010/11in England and Wales involved the use of a firearm, the highest proportion since 2001/02. By contrast 2.2% of Scottish homicides involved the use of a firearm.

In England and Wales handguns were the most commonly used firearm, with the weapon accounting for 44% of non-air weapon firearm offences recorded. Imitation weapons were used in 23%, shotguns in 9% and rifles in 1% of such offences.

In Scotland imitation weapons and handguns were used most often, each accounting for 23% and 22% of the total number of non-air weapon firearm offences respectively. The largest proportion of firearm offences involved weapons in the 'Other firearm' category.

In England and Wales a firearm was fired in 37% of all non-air weapon offences and in 84% of air weapon offences.
In Scotland a firearm was fired in 40% of all non-air weapon offences and in 76% of air weapon offences.

In England and Wales there were 388 firearm offences in which there was a fatal or serious injury, 13% lower than in 2009/10. The number of offences resulting in slight injury in 2010/11 was 5% lower than the number recorded in the previous year. In almost 80% of firearms offences no injury occurred.

The injury classification is different in Scotland. There were 2 fatal injuries and 109 non-fatal injuries in 2010/11. The total number of injuries was the lowest number recorded for at least a decade.

In England and Wales, in 2010/11, there were on average 13 non-air weapon firearms offences per 100,000 population. The rate was highest in London (35 per 1,000 population), and West Midlands (34). The lowest rate was recorded in Lincolnshire (2.4).

Of the alleged firearms offences in Scotland in 2010/11 the majority (56%) were recorded by Grampian police.

Source: House of Commons - 30 January 2012

Firearms offences are geographically concentrated in London, Greater Manchester and the West Midlands.

At the same time young people are disproportionately the victims of gun crime: 15 to 29-year-olds comprise 20 per cent of the population but were victims in 45 per cent of firearms offences (excluding air weapons) in 2010/11.

The maximum penalty for committing a firearms offence under Section 5 of the Firearms Act 1968, which includes "supply" and "possession" but not "possession with intent to supply" is 10 years' imprisonment. The mandatory minimum sentence for those aged 18 and over is five years' imprisonment, and three years for those aged 16-17 years.

Under Section 16 of the 1968 Act it is an offence to possess a firearm with intent to endanger life with a maximum penalty of life imprisonment.

The current maximum penalty for illegally importing firearms or ammunition under Section 170 of the Customs and Excise Management Act 1979, where the weapons are subject to general prohibition under Section 5 of the Firearms Act 1968, is a sentence of 10 years' imprisonment, an unlimited fine or both.

Source: Home Office – February 2012

Responses to Home Office consultation on firearms law:

We received 96 responses to the consultation with a majority supporting the changes to the legislation outlined in the consultation document.

85% of respondents supported the view that the maximum sentence for illegal importation of firearms should be increased.

76% supported the view that a new offence of possession with intent to supply is needed and should be introduced.

Half of the respondents who supported the creation of a new offence and an increase in the sentence for importation stated that the maximum sentence should be life.

A common statement among respondents with experience in dealing with gun crime was that sentencing provisions for the importation and supply of firearms should be aligned with the importation and supply of class A drugs, which have a maximum sentence of life.

Source: Home Office – October 2012

Quotes

"The Government is clear that individuals who manufacture, acquire or purchase, sell or transfer or possess for sale or transfer prohibited guns for criminal use should face a punishment commensurate to the level of harm their actions cause to society. Their actions have a disproportionate effect in our communities and it is right that they should face tougher sentences."

Home Office announcing planned changes to firearms legislation – October 2012
THE MIRROR 15 FEBRUARY 2016

Gun crime capital of the UK has been revealed - is your area on the list?

Total gun crime across England and Wales has risen by 1.2% in 12 months as the worst areas are revealed.

The West Midlands is STILL the nation's gun crime capital - and it's getting worse.

The region has the unwanted crown of the worst gun crime rate in England and Wales for the second year running.

There were 562 crimes where guns were used in the wider Birmingham area in 2014/15, new figures from the Office for National Statistics show.

These were all cases where firearms were actually used rather than just possessed, including firing them, threatening others with them or using them as a club-like weapon.

It means that there were 20 offences for every 100,000 people in the region last year, or one for every 5,000 residents.

Not far behind was London with 19.4 per 100,000.

Greater Manchester had the third-highest rate in the country with 16.0 gun crimes per 100,000.

Read more: Dublin cops want machine guns as brutal gang war kills two

Away from the country's major cities, East Anglia saw a big spike in gun crime last year.

There were 74 cases of firearms offences reported in Norfolk and Suffolk in 2014/15, the figures show.

This was more than treble the 20 reported the year before.

Total gun crime rose slightly by 1.2% across England and Wales. By Rob Grant

CRIME COMMISSIONER VOTING
Tony Armstrong, UKIP 29,327 votes (15%)
Katy Elizabeth Bourne, The Conservative Party Candidate - 59,635 votes (32%)
Ian Chisnall, Independent 38,930 votes (21%)
Godfrey Daniel, Labour Party Candidate - 40,765 votes (22%)
David Rogers, Liberal Democrat 20,579 votes (11%)

As no candidate got over 50% of the first choice votes, the second choice votes for Katy Elizabeth Bourne and Godfrey Daniel are counted.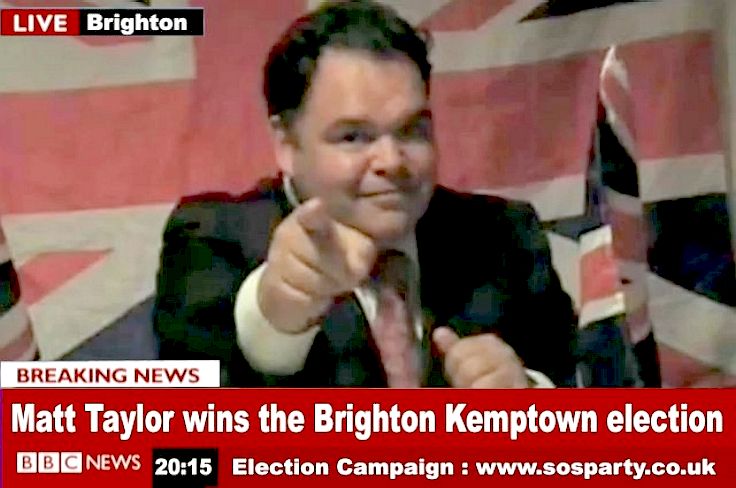 SILENCED - Readers will be too young to know about Adolf Hitler's Gestapo, who's job it was to silence political opposition - unless they studied history and like war movies - but there are parallels between Katy Bourne and the famous Nazi leader, in that she appears to be embarking on a legal crusade to muzzle claims as to her refusal to meet or discuss allegations of gun crime in Sussex. We know of other crimes that Katy Bourne is alleged to have failed to take on as issues where Sussex police may be implicated - as in the Petition of 1997 and subsequent property frauds alleged to have taken place by planning officers of the Wealden District Council. Silencing such claims and the publication of suspected criminal offences are of course in the public interest and a right accorded all citizens under Articles 10 ECHR and Article 19 of the UN Universal Declaration of Human Rights.
TOUCHY SUBJECT - The face of policing in Sussex is Katy Bourne, the Crime Commissioner who is responsible for making sure that the chief constable is tackling crime. This is a very difficult job where under Paul Whitehouse this force were declared unfit for purpose in a leaked report from The Guardian as to the Jimmy Ashley shooting in 1998.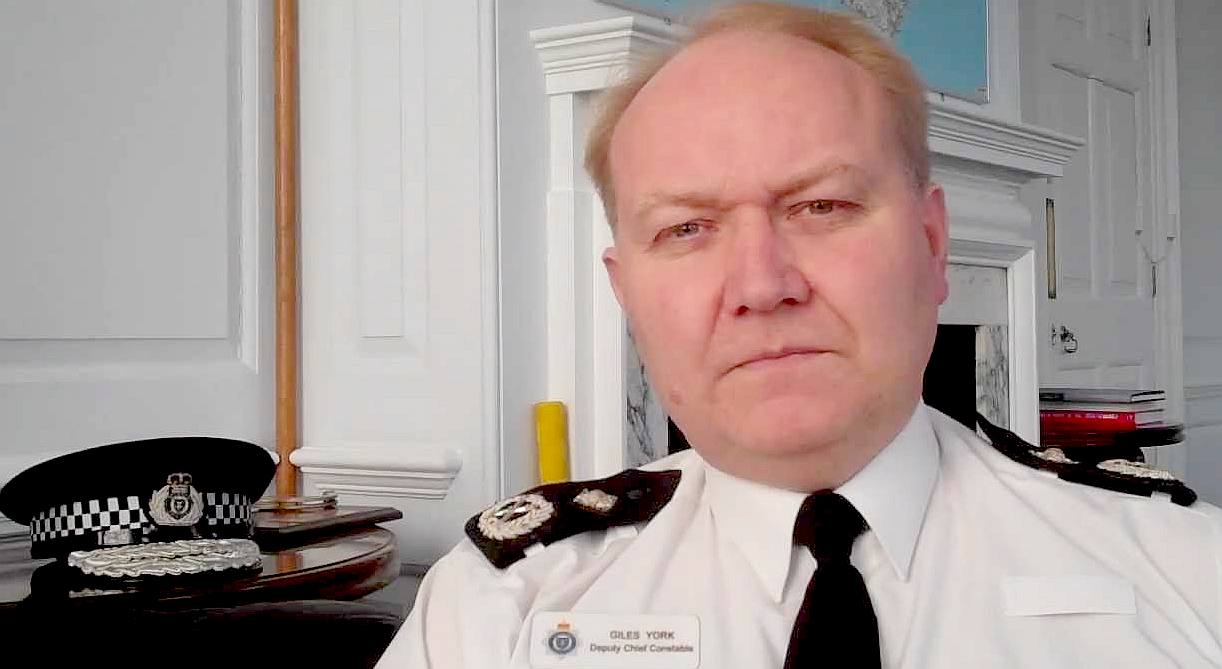 Giles York is the chief constable of Sussex Police taking over from a long chain of chief constables, including Paul Whitehouse (1993-2001), who was finally forced to resign after the Home Secretary more or less directed that he should go. Whitehouse was replaced by Ken Jones (2001-2006). Then Joe Edwards (2006-2007) stepped in the breach followed by Martin Richards (2008-2014) - all apparently receiving the Queens Police Medal for either taking the job or for previous difficult locations, possibly also involving corrupt areas and practices.
We'd like to know why Mr York is not taking the allegation of Mr Hoath seriously, indeed, why it might be that he is encouraging Ms Bourne to injunct a potential state witness, where that witness is so adamant as to his claims and appears to have evidence in support of his allegation.
CONTACT KATY BOURNE
Katy Bourne & Sussex Conservatives
5 Hazelgrove Road
Haywards Heath, RH16 3PH
Email: campaign@katybourne.com
Tel: 0800 023 5793
Twitter: @katybourne

http://www.katybourne.com/
https://www.indymedia.org.uk/en/2014/05/516679.html
MISFEASANCE & MALFEASANCE
When an officer of the courts omits to include evidence that he knows is relevant to a hearing, that is termed misfeasance in public office. Where an officer then tries to cover up his or her misfeasance (as did Ian Kay in the Stream Farm matter), that becomes malfeasance. The difference is that misfeasance is a civil wrong, whereas malfeasance is a criminal offence. The leading case precedent on malfeasance is: R. v Bowden 1995 Court of Appeal (98 1 WLR).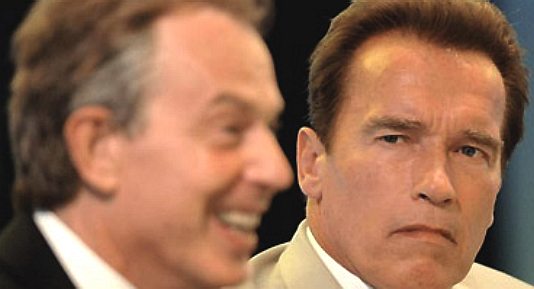 LINKS & REFERENCE
https://www.independent.co.uk/news/uk/crime/knife-gun-crime-stats-latest-england-wales-rise-increase-a8177161.html
http://www.politics.co.uk/reference/gun-crime
https://www.mirror.co.uk/news/uk-news/gun-crime-capital-uk-been-7375468
http://www.sussex.police.uk/
http://www.wealden.gov.uk/
Paul Whitehouse (1993-2001) Ken Jones (2001-2006) Joe Edwards (2006-2007) Martin Richards (2008-2014) Giles York (2014 >>)