WRONGFUL CONVICTION
Sussex Police gained a conviction alleging drug production by John Hoath in their geographical region where it is alleged that such conviction was gained by deception and abused of the judicial system various, details of which we anticipate receipt of.
HAILSHAM GAZETTE 2007 31 JANUARY

According to an article in the above newspaper, John Hoath, who was 61 at the time was jailed after a trial at the Lewes Crown Court for turning his home in The Gages, Hailsham, into a cannabis factory. This also included searches of Princess Close in Uckfield by Sussex Police drugs officers who found numerous cannabis plants and that the electricity supply had been tampered with, presumably to provide artificial heat to grow the drug producing plants.

Mr Hoath had moved into The Gages in July 2004, but left the property after about seven months.

In his defence Mr Hoath mentioned that his half-brother Richard O'Brien and Winston Leachman had taken over both properties using threats and menaces and concluded that they must be responsible for the drugs.

John was a truck driver and haulier importing fruits from Europe and consequently spent long periods in France and Italy. It was during these periods of absence from the UK that his property was used by third parties, but proof of this was unavailable at the time of his trial.

Jailing Mr Hoath, Judge Richard Brown is quoted as saying: "Your pathetic attempts to lie your way out of these offences has obviously not fooled this jury. You have now turned into a thoroughly dishonest man."
When it comes to dishonesty, many of you will agree that Sussex Police are the ones who should be in the dock. Sussex are working with Surrey police and Weightmans LLP, solicitors, with Gillian (Gilly) Jones writing to Mr Hoath to intimidate him with the injunction that they obtained against Matt Taylor in 2017.
Mr Hoath is adamant that he is motivated by a desire to reduce gun crime and put his own house in order after he discovered the evidence of possible collusion by Sussex police concerning evidence of guns being in possession of known criminals. Mr Hoath replies to Gilly Jones as follows, heralding a possible legal dust up of Biblical proportions:
John M. E. Hoath
Flat 6, Duke House, Lewes Road,
Laughton
East Sussex, BN8 6BJ
Tel: Mobile: 07500 485391
Weightmans LLP
Surrey Police, Attn: Gilly Jones.
Legal Services Department,
PO Box 101,
Guildford,
Surrey, GU1 9PE. Wednesday 2nd May 2018

Dear Miss Jones,

Re: your threats against my person of harassment against your client the Sussex Police & Crime Commissioner, Katy Bourne.

I take seriously your threats against my person, pursuant to your letter of the 1st May 2018, a "deliberate premeditated defamation of my character and the intimidation of my person to pervert justice on behalf of your client, to conceal her provable conduct of aiding and abetting crime and assisting criminals whilst acting in a "Public Office", regarding the harassment of your client, "Which is Denied Emphatically" when I have "legitimately made complaints regarding corruption within Sussex Police to your client" when it is your client, who has "knowingly and deliberately" failed in her "Statutory Duty" to protect my person and family from crime by criminals when "Sussex Police", proved by documents and admissions before a High Court Judge, that Sussex Police and Sussex Police Chief Constables have persistently acted in "complicity" with that "premeditated crime", therefore have "assisted criminals" to "evade arrest and prosecution" by "perverting justice", by the commission of granting security to criminals from prosecution for their crime, inter alia, "robbery, assault, battery, theft of firearms and ammunition, theft of property, cannabis cultivation, bribery of Sussex police officers, intimidation of my person and family by making threats to kill and false imprisonment".

As I am sure you are able to appreciate, such criminal conduct is unacceptable to my person, or in the alternative, would be unacceptable to the reasonable person at trial of the matter, therefore your threats would conclusively fail.

I take the following points.

(1) Abuse of Court Process.

It is an abuse of court process to use Her Majesty's Court for unlawful purpose. Your client, on your advice, has used, and it appears, intends to further use, whilst acting in Public Office, Her Majesty's Court to conceal corruption, therefore pervert justice, by the intimidation of persons lawfully making legitimate complaints as to your clients, "provable criminal conduct to knowingly aid and abet criminals", as the Police Reform Act 2002, on which your client relies, "under no circumstances", grants to your client, "dispensation to knowingly" allow criminals on the streets of the UK with firearms and ammunition, due to corruption within Sussex Police, therefore "endanger the lives of the British Citizen from potential gun violence in their homes or on the streets of the UK".

Such a claim to a defence by your client is flawed and would categorically fail at trial. Your client, upon your advice, uses Her Majesty's Court for the criminal purpose to conceal corruption, therefore the "criminal intention" to "pervert justice".

(2) Misappropriation of Public Funds.

Your client receives from "Public Funds", salary and expenses, on the "pretext" that she will act in the best interest of Her Majesty's Subjects and uphold the laws of Her Majesty's Kingdom.

Your client, whilst acting in her capacity of Sussex Police & Crime Commissioner, has "knowingly and deliberately acted" to "cover up corruption" in Sussex Police, as listed at the introductory paragraph of this letter, therefore "knowingly and deliberately", "fraudulently accepts salary and expenses" from the "Public Purse", so as to act in "her capacity to cover up crime and corruption in Sussex Police", therefore her claims to salaries and expenses are by "fraudulent intent", to profit from crime, therefore the "proceeds from her crime" of "aiding and abetting crime", in contravention of:- "Johnson-v-Youden [1950] 1KB, 544 DC Lord Goddard CJ", and furthermore, "assisting criminals" to "evade arrest and prosecution", therefore acting in contravention of "R-v-Sinha, [1995] Crim L.R. 68, CA". and the "Criminal law Act 1967, s4".. Such conduct by the Sussex Police & Crime Commissioner is the offence of "Gross Misconduct in a Public Office".

(3) Proceeds of Crime Act.

It is an offence for any person to "knowingly accept the proceeds of crime". Weightmans, and in particular, Gilly Jones, who are deemed to be fully aware and conversant with the law, and especially the Court of Appeal Authority in R-v-Sinha, [1995] Crim L.R. 68, CA. and the Criminal law Act 1967, s4, therefore are fully aware of the conduct of their client by acting in the fraudulent capacity that she does, in contravention of Criminal Law, therefore their client "fraudulently accepts" from the "Public Purse", "salaries and expenses on false pretences" as being prepared to place innocent citizens of the UK "at risk to gun crime on the streets of UK", therefore Weightmans "knowingly accept from their client" the "proceeds from her crime", to pervert justice on her behalf".

(4) Solicitors Act.

It is an offence for a solicitor or person to "knowingly mislead the court",.[R-v-Sinha, [1995] Crim L.R. 68, CA.]

Furthermore, to do so brings the Solicitors Profession into disrepute, therefore actionable by the Solicitors Disciplinary Tribunal.

Gilly Jones, on behalf of Weightmans, has full knowledge of my correspondence for the past ten years, therefore must advise her client according to the criminal laws of England & Wales, and as such, must refrain from acting for her client if such evidence is not to be made available to the court, on the grounds not to do so, is "perverting justice".

Gilly Jones, has at all times, a "Duty to the Court", therefore has, and furthermore, has the "criminal intention" to "further mislead the court to pervert justice", therefore a complaint to the Solicitors Disciplinary Tribunal, in this case, is the "appropriate cause of action" in the first instance, due to her conduct of affairs at this time.

Whilst a solicitor must always do his best for his client, a solicitor "must never mislead the court".

Clearly Gilly Johnson has at all times, "being aware of all the true facts", has "withheld those facts from the court", therefore "knowingly perverted justice on behalf of her client", and furthermore, received the "proceeds of crime for so doing from her client".

(5) Submission.

I take the point that on the basis of the evidence, previously and now submitted, "no honest solicitor can represent the Sussex Police & Crime Commissioner, before the court", without first providing the evidence to the court, that the defence claimed by the Sussex Police & Crime Commissioner, "has merit", that the Police and Reform Act 2002, grants "dispensation" to "knowingly aiding and abetting firearms crime on the streets of UK", therefore places every UK citizen at risk to gun crime, therefore the Sussex Police & Crime Commissioner has "no obligation to report or prosecute such crime", which is effectively, a "claimed defence" that "does not exist in law", in either "Common or Statute Law".
(6) Human Right Act 1998, Article 10. Freedom of Expression.

I take the point that it cannot be deemed to be harassment by a British Subject, by adopting his "Right of Freedom of Expression" to act in the "Public Interest" to "expose corruption" by posting on the Internet all correspondence to and from the Sussex Police & Crime Commissioner, with Other Documents, that prove beyond reasonable doubt that your client "knowingly and deliberately places citizens at risk to gun crime on the streets of the UK", due to "her deliberate intention not to report or prosecute corruption" within Sussex Police Force, that places all citizens at risk to gun violence.

Such posting includes the letter from Weightmans to my person, and this my reply to that letter, as it is again the criminal intention of the Sussex Police & Crime Commissioner, supported by Weightmans, Gilly Jones, to "intimidate my person", therefore "cause mental injury to my person", a 72 year old, OAP, to "further conceal the identified corruption from public view", an offence pursuant to the "Offences Against the Person Act 1861".

(7) Human Rights Act 1998, Article 3. Torture and inhuman and degrading treatment.

As per the recent Supreme Court Judgement in "Worboys", your client "knowingly and deliberately" causes "distress, trauma, pain and suffering to my person", in contravention of the "Offences Against the Persons Act 1861", and furthermore, can be proved by the evidence, to be the "inhuman and degrading treatment of my person", in contravention of HRA 1998, Article 3.

(8) Contempt of Court

As a young man, when studying law, my tutor advised that you should never venture into the court room with skeletons in your cupboard, as sooner or later, that evidence will materialise.

That evidence is about to materialise.

The conduct of Weightmans and Gilly Jones, on the face of the evidence and conduct to hand, is in fact and law, an "intentional contempt of court to pervert justice".

It seems that the Sussex Police & Crime Commissioner, with her solicitor, Gilly Jones, have forgotten this basic fact, or perhaps, in the alternative, wish to take "criminal advantage" of "innocent persons", therefore have acted in a "conspiracy to conceal crime and corruption before the court", therefore the "criminal intention to pervert justice" in contravention of:- [R-v-Sinha, [1995] Crim L.R. 68, CA.]


John ME Hoath.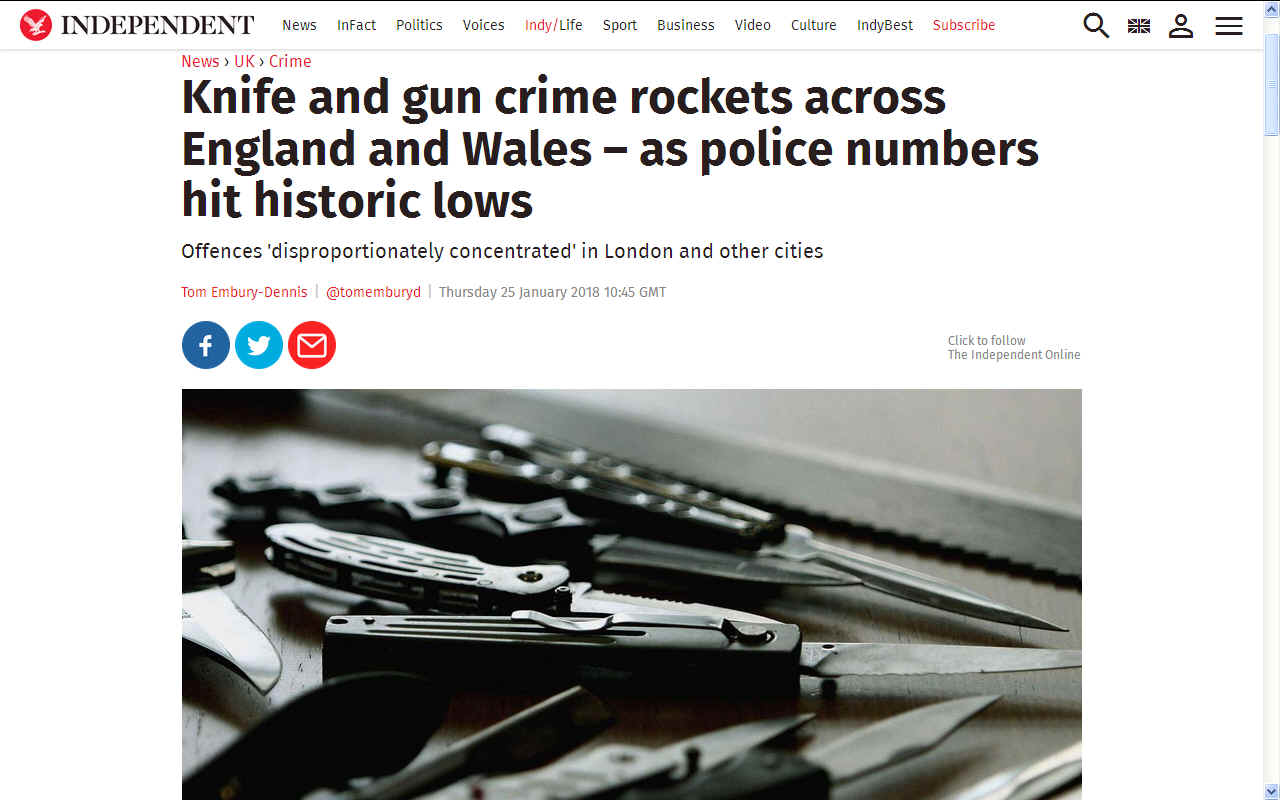 THE INDEPENDENT JANUARY 2018 - Reported knife crime has seen a 21 per cent year-on-year spike across England and Wales, new figures show. Gun crime has also seen a 20 per cent rise amid a surge in incidents being reported to police.

Forces registered 37,443 offences involving a knife or sharp instrument in the year ending September 2017 – the highest tally since comparable records started in the 12 months to March 2011. Gun crime saw 6,694 recorded offences.

The "shocking" statistics came as police numbers over the same 12 months hit historic lows.

In a statement, the Police Federation of England and Wales said falling officer numbers has a "direct influence" on crime numbers.

Forces in England and Wales logged a total of 5.3 million crimes in the 12 months up to September 2017 – a 14 per cent increase compared with the previous year.

Statisticians said the data shows continuing rises in the number of "higher-harm" violent offences, which were most evident in knife and gun crime categories.

The Office for National Statistics (ONS) said knife and gun offences were "disproportionately concentrated" in London and other metropolitan areas.

"While it is possible that improved recording and more proactive policing has contributed to this rise, it is our judgment that there have also been genuine increases," it said.

Vicky Foxcroft, a Labour MP who chairs the Youth Violence Commission, said it was time for the Government to accept its strategy to fight knife crime was failing.

"Enough is enough," she said. "We need an urgent, united and societal response to address this rising epidemic and it is time that the Government wake up to its failing knife crime strategy."

The statistics showed forces logged a total of almost 1.3 million "violence against the person offences", a year-on-year rise of 20 per cent. This is a broad category including murder, assault, harassment and stalking.

"While these figures are useful in giving an insight into the caseload of the police and how this is changing, they are not believed to provide a reliable measure of trends in violent crime," the ONS report said.

The ONS said that police-registered crime must be interpreted with caution, attributing much of the rise to changes in recording practices and increased confidence of victims in coming forward.

Its preferred measure, the Crime Survey for England and Wales, gave a total of 10.6 million incidents, which was a fall of 10 per cent.

ONS statistician Mark Bangs said: "These latest figures indicate that levels of crime have continued to fall compared with the previous year, but this picture varied across different types of crime and not all offence types showed falls.

"While overall levels of violent crime were not increasing, there is evidence of rises having occurred in some of the low incidence but more harmful categories such as knife and gun crime."

Andy Fittes, the Police Federation's general secretary, said the claim that crime was falling was "just smoke and mirrors".

"When you look at the police recorded figures – which represents the reality of what our members deal with day to day - there have been significant and worrying increases in the majority of crime types," he said.

"To say it has fallen is smoke and mirrors. Frontline officers are under increasing pressure and dealing with larger caseloads than ever before. This worrying rise in crime will only add to this pressure.

"The reality is there are around 21,000 fewer officers than there were in 2010 and they are having to deal with an ever-increasing number of crimes. This is on top of the numerous other roles they undertake as they serve the public."

Louise Haigh, Labour's shadow policing minister, said: "These shocking figures reveal that the Tories have lost control in the fight against crime. The truth is, the public are now being forced to pay the price for the reckless risk the Tories took with public safety by cutting thousands of officers."

"Police numbers have hit a historic low, recorded crime is rising faster than ever before and more and more criminals are walking free. It just shows you simply cannot trust the Tories to keep our communities safe."
ONGOING REVIEW

It is alleged that all was not as was portrayed by Sussex Police in gaining this conviction, and that some officers of this force, or former officers of the local authority may have been involved in organised fashion in the production of cannabis, to include gun related crimes.

In the matter of Cripps Harries Hall we understand that Mr Hoath was awarded a significant sum in damages for assault upon his person.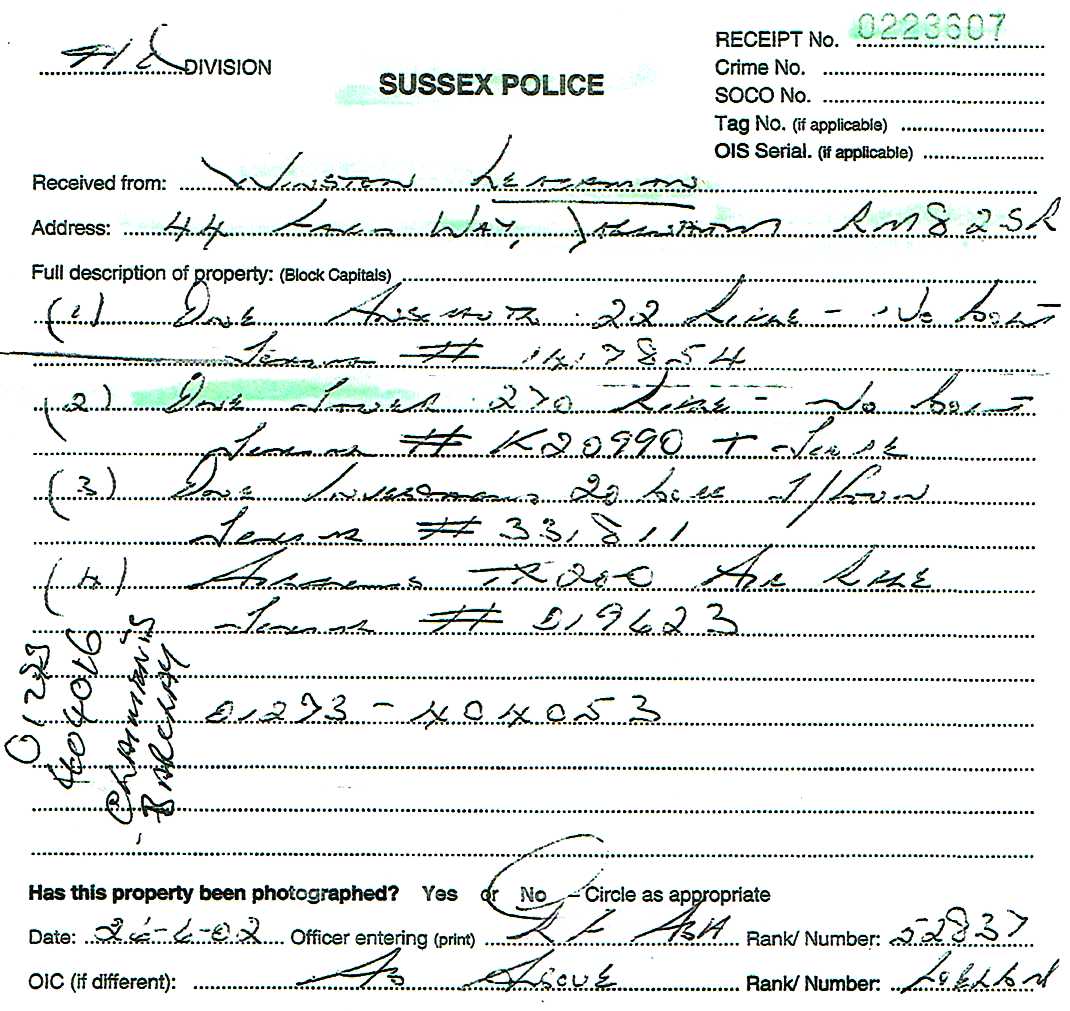 NOT A WORD ABOUT THIS TO ANYONE - Readers will be too young to know about Adolf Hitler's Gestapo, who's job it was to silence political opposition - unless they studied history and like war movies - but there are parallels between Katy Bourne and the famous Nazi leader, in that she appears to be embarking on a legal crusade to muzzle claims as to her refusal to meet or discuss allegations of gun crime in Sussex. We know of other crimes that Katy Bourne is alleged to have failed to take on as issues where Sussex police may be implicated - as in the Petition of 1997 and subsequent property frauds alleged to have taken place by planning officers of the Wealden District Council. Silencing such claims and the publication of suspected criminal offences are of course in the public interest and a right accorded all citizens under Articles 10 ECHR and Article 19 of the UN Universal Declaration of Human Rights.
JOHN HOATH Vs KATY BOURNE
John Hoath was assaulted in relation to a claim that Cripps Harries Hall, solicitors, had defrauded himself as to a property matter. Mr Hoath was awarded significant damages by a British court for this assault, where Sussex Police were involved and failed to apprehend the assault, and later Wealden's officers appeared on the scene to assist in what looks like an orchestrated agenda by local authorities to gang up on Mr Hoath in relation to his legitimate business activities. This also included a wrongful conviction for growing drugs in the UK, when Mr Hoath was not the occupier of the site in question and was for long periods out of the country in connection with a fruit haulage business. Mr Hoath was a qualified HGV operator and driver at the time. He alleges involvement of enforcement officials in what he says was a frame up.
In seeking to right the apparent injustice involving wrongful imprisonment, Mr Hoath has uncovered what looks like evidence to challenge his conviction that Ms Bourne and Sussex Police do not want the public to see. One part of a substantial list of arguments and evidence is the receipt above that has been leaked to us. The receipt is a matter of public record and was clearly issued by Sussex Police in June of 2002 by officer Number 52837. We have no idea if Sussex police or their Chief Constable, Giles York, wish to deny the legitimacy of this document and would invite comment if they wish to do so in the interests of fair and balanced reporting and transparency.
That might have been the end of the matter with a stalemate situation, but now we have learned that Ms Bourne is threatening an injunction if Mr Hoath publishes his evidence. That strikes us as rather odd and an attempt to stifle legitimate criticism, where the arguments that are being put forward make compelling, if somewhat lengthy reading. Clearly though, from reading of a letter from solicitor, Gillian Jones, of Weightmans LLP, Surrey Police, Ms Bourne is doing her utmost to frighten Mr Hoath, as to his right to impart information that is true and accurate, and he makes it abundantly clear that he is aware of libel laws and only speaks the truth.
NO COINCIDENCE
We wonder if it is a coincidence that where Mr Hoath came up against Wealden's Geoff Johnson and David Phillips, that this council again appear to have involved other agencies to gang up on a challenging adversary, transcript of one such secret session recording make interesting reading.
The pattern of abuse of their positions of trust of these local authorities is apparent and demonstrable. Whereas and in perversity, the same police force refused to investigate their chums at Wealden, not even interviewing a single council member of staff - when no less than 12 independent Petitioners lodged complaints with Lord Newton and his co-chairs of a special panel in 1997; Jack Gore and Eddie Powell.
That the police did not consider it necessary at any time to interview any of those accused is incredible because the only way of gaining information for any potential prosecution is to caution the suspect and conduct a taped interview. You can draw you own conclusions from this. To our mind the police knew that if they interviewed any of the suspect officers that those suspects might provide the names of police officers involved in some of the raids and particularly in relation to the unlawful demolition of the Bushy Wood animal sanctuary where the police were present.
Another matter that may have involved the police directly was the inaction on the part of Wealden to protect Anne Harris when her landlord set fires close to her accommodation and removed the roof tiles, yet Wealden allowed this harassment to continue, we presume because her landlord had police protection or other, perhaps, masonic links to the force.
BREACHES OF ARTICLE 6
MOTIVE: WDC FEARED JOHN HOATH
The chief enforcement officer of Wealden District Council, David Phillips, sought authority to engage contractors to remove containers at Withylands Farm, Crowborough. A senior Wealden solicitor, advised the north district planning committee (DCN) not to allow John Hoath his right to a fair hearing, but rather to skip this stage and just take the offending articles. The council's solicitor said it would be a mistake to allow Mr Hoath a platform from which he could defend his use of containers for the storage of wood in the Magistrates or Crown Court. Councillors were told this because the officers knew they would lose the case. This is also the reason why they refused to reveal their case against Mr de Rivaz in a landmark drainage case.
How do we know this? Well, some closed session reports are recorded and supplied to us anonymously. In fact holding a meeting affecting a persons rights in closed session is also a breach of Article 6. This is because a person is entitled to know what is being said about him, doors open, and to address whatever committee (a quasi court) is taking a decision affecting his rights.
Again, the point here is that this council knew it was acting unlawfully in this case and it knew it was acting unlawfully concerning Brian Goodacre and Lawrie Trill. Did it stop these bullies - not on your life. So it's up to us to show you, the public, where this council are routinely abusing the private citizen's rights.
Should officers from Wealden turn up on your doorstep to do something you know is unlawful, call the Police. Demand to see the officers written authorisation - the one authorised behind closed doors in breach of Article 6 of the European Convention of Human Rights and Articles 10 and 11 of the Universal Declaration of Human Rights. This is your right to a fair hearing as seen in the Planning and compensation Act 1991.
If possible film the event as evidence for the Court and keep a record of how many visits the officers make at public expense. In one case we know of there were 186 recorded Gestapo style enforcement visits contrary to Article 5, the prevention of mental torture.
Misuse of public authority is a criminal offence much as failing to do ones duty (as in ensure everyone has a fair hearing) is also an offence as per R v Dytham 1979. It is also an offence to cause public funds to be used for an improper purpose.
If you are threatened with direct action following the issue of an enforcement notice and you know you have a case, write to every member of the relevant planning committee and your MP to complain and put them on Notice. Every council member is charged with keeping their officers in check: see councillor's behaving badly.
If you are an officer in the employ of Wealden District Council and you hear officers advising members to break the law, why not blow the whistle. It can't be held against you and it may save an innocent member of the public from yet further harassment and abuse.
THIS SITE CONTAINS MANY EXAMPLES OF THIS COUNCIL'S UNREASONABLE BEHAVIOUR - With thanks to Action Groups across the country for the supply of real case history and supporting documents. *THAT THE PUBLIC MAY KNOW*
Vicarage Lane, Hailsham, East Sussex, BN27 2AX T: 01323 443322
Pine Grove, Crowborough, East Sussex, TN6 1DH T: 01892 653311