Beckett Group breach Court Order Feb 2008
The Beckett Newspaper Group breached a Court Order preventing publication on a blanket basis, concerning the so-called Herstmonceux Bunny Boiler case. This Order was made specifically to preserve the rights of the parties, to a fair hearing. It begs the question, if such an Order was made and breached, could the parties have received a fair hearing?
It is unclear where this leaves Beckett Newspapers and what action the Police might take to ensure publication of this nature is prevented by over eager Reporters and Editors, who perhaps have an eye on sensationalism to generate headlines to sell newspapers, rather than the damage that could be inflicted on the persons affected. This is the subject of much media attention following the revelation of multiple suicides at Bridgend in Wales, in part attributed by some to the sensationalist newspaper reporting. The latest girl to take her own life by hanging being 16 year old Jenna Parry.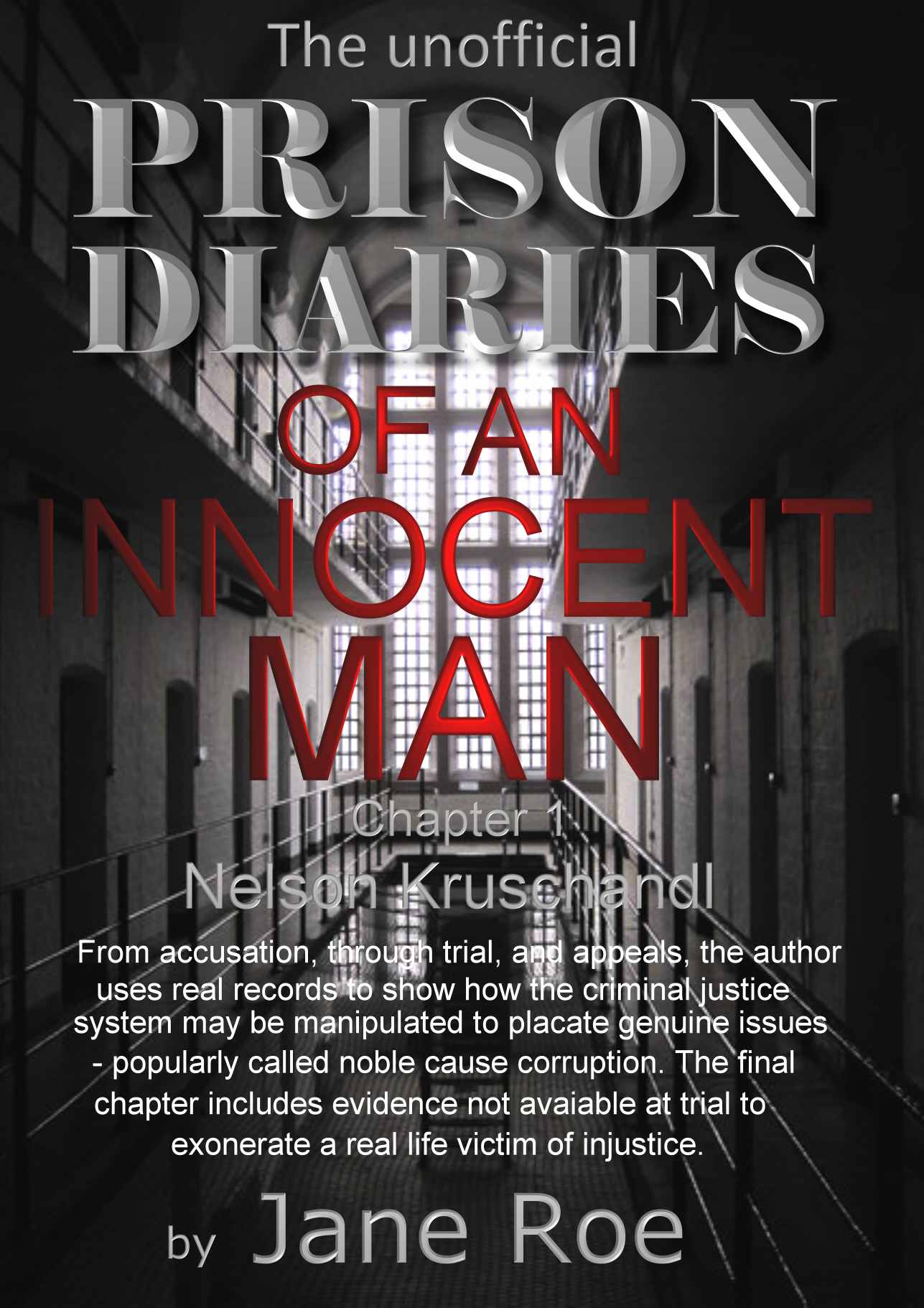 His barrister didn't challenge the so-called scientific evidence produced at trial. He should have. It was junk science. [Junk science is bogus forensic information that the police use to gain a conviction, where they have a weak case.] His barrister didn't show the jury the accused' diaries, he should have, because the girl's mother reminded the accused to send Valentines cards every year - which she, err, seems to have forgotten to mention to the court.
You'll have to wait for the subjects appeals in the ECHR to conclude before this book is published. Maybe then we'll see an official version in 2016/2017? European appeals take 4 years on average, from the date of lodge. But first you have to exhaust any domestic remedy. He has finally, as of February 2013.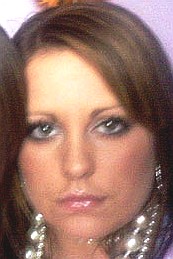 Jenna Parry, 17th Suicide victim Bridgend
Readers will know the Government, after consideration of Lord Goldsmith, are considering moves to protect the identity of those accused of sexual offences, much the same as their accusers. This is because of the rise of innocent men being convicted by Juries, and only after serving considerable time in prison, is new evidence found to render guilty verdicts unsafe.
This could leave news hounds eager for material to print, out in the cold. However, the moral implications are clear. Allegations of a sexual nature ruin lives. See the links below to sample cases in 2007, where publication and subsequent scandal have ruined lives. The accusers inevitably get away scot-free. The newspaper hounds and the editors that helped ruin lives, on occasion even sway public opinion to deliver an incorrect verdict, also find themselves in the clear.
These are some of the examples of women falsely accusing men who were innocent. What is wrong with our legal system?
FACT: Girls making allegations are coached. YES, this is true, they are instructed how to give evidence and cosseted, sometimes isolated via a video link to make it easier for them to appear sweetness and light.
Barristers are loath to question hard, for fear of looking like bullies to a Jury.
Music teacher cleared of rape too late - Died in Prison

Head teacher cleared of assault - 3 October 2003

CONVICTION QUASHED OVER 'MADE UP' VAMPIRE CLAIM - May 19, 2006

Man freed after girl revealed as serial liar - 12th September 2006

Woman jailed for false rape claim - 15/11/2006

My life's in ruins, says teacher cleared of having hotel sex romps with 17-year-old pupil - 4th October 2007

Man freed after six years in jail for double rape because 'accuser was

£20,000 payout for woman who falsely accused her father of rape after 'recovered memory' therapy - 19th October 2007

Taxi driver ruined after false claims of rape - 27 April 2007

BBC Rough Justice - 12 April 2007

Was another man's life ruined by a Bunny Boiler? - February 2008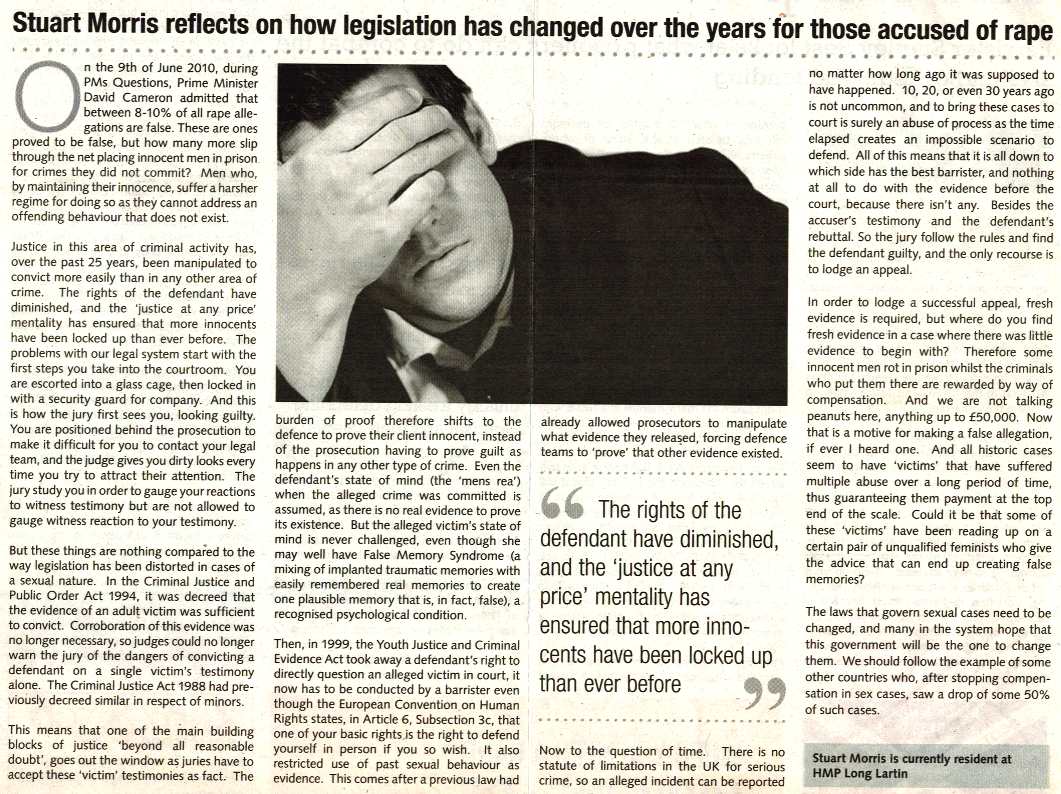 They changed the law knowing a significant number of innocent men (and women) would be wrongly convicted. They don't care of course. It's not their lives they are messing with, they just want your votes. It is though a scandal. Every bit as bad as the eugenic extermination of the Jews. Why do we say that? Because anyone who knowingly violates the right of anyone to a fair trial is himself, or herself a criminal. That applies to anyone in the justice system who knows what is going on and turns a blind eye.
Under the new law reflected in the Sexual Offences Act 2003, any person is deemed guilty, unless there is compelling evidence to show otherwise. What this means in practice, is that to reach targets and for an easy life, evidence that could help an innocent man is not looked at. Investigating police officers will actually look the other way and not secure any evidence that casts doubt on the reliability of a complainant's story.
PUBLIC COMMENT
Here's what readers have had to say!
This is scandalous. I think that if the members of the jury knew just how slow the appeals process is they would be much less inclined to find people guilty when there is 'reasonable doubt'. In practice it is very difficult when people are found guilty on this kind of case where there is NO evidence; if there is no evidence in the first place then where is the 'fresh evidence' that may be required for an appeal to go ahead going to come from? These cases only seem to win on appeals when a false accuser admits to lying and that is very rare. Unfortunately as Mr Carrington-Jones has said there could be many innocent people in prison now as a result of convictions on non-evidence. Where will his compensation come from? Will the woman be charged? - Lily, Hull
Compensation is rightly due to this poor chap, but should the public pay the price of the crimes committed by these lying women? Shouldn't they be made to pay, even if it means their being financially ruined for life? And surely it cannot be the case that parole cannot be considered unless and until a prisoner "admits" the crime for which he/she has been found guilty? - Jim, London
What is wrong with British justice system where allegations of sexual assault are concerned? It all these cases it boils down to one girls word against the persons accused. Heaven forbid the accused should lead an unusual lifestyle. A Jury would not understand this!! This could be one failing of the Jury system, they are ordinary men and women. Perhaps justice is more important than to trust to Juries? The statistics speak for themselves.
The old Generating Station at Herstmonceux is to become a working museum. Archaeologists prove that (Inspector Dannreuther) the Secretary of State was lied to by so-called experts working for Wealden District Council.
A - Z of Sussex officer investigations
The above is just a few of a number of persons likely to be investigated in respect of certain cases brought against Wealden Action Group members, on the instigation of known Masons, councillors, or planning officers, many of which are themselves Masons.
The above is just a few of a number of persons likely to be investigated in respect of certain cases brought against Wealden Action Group members, with the backing of known Masons, councillors, police or planning officers, many of which are themselves Masons.
Its all too easy to set someone up. Nurse a wild allegation, coach and craft a claim of abuse, use a disturbed child or family as an excuse to go after someone who has had the nerve to stand up against the powers that be. When this happens, it makes a mockery of Freedom of Speech, but it shuts down a would be protagonist and preserves the status quo. The law as it stands allows accusers to remain anonymous, while those accused are easy targets for the press as circulation boosters. Lord Goldsmith is considering a change in the law to protect those wrongly accused, especially those more likely to come up against such accusation, such as Teachers. But will he follow through?
And what of the status quo? Global Warming, Government Corruption, Unaccountability, War and Famine. Is this what you want to hear day in and day out? Would you rather see an international society where everyone is treated fairly and decently?
---
F.A.C.T. (Falsely Accused Carers and Teachers)
PO Box 3074
Cardiff CF3 3WZ
Tel: 029 2077 7499
E-mail: info@factuk.org
Website: www.factuk.org
Campaigning organisation and support group which provides help and advice to falsely accused and wrongly convicted carers and teachers throughout the UK. The website contains a range of information, leaflets, books and links.
Guidance for education staff and volunteers in schools
Website: www.lg-employers.gov.uk/conditions/education/allegations
This website has guidance on: 1) staff facing an allegation of abuse; 2) preventing 'abuse of trust' for education staff; and 3) the conduct of education staff working with young people.
News A to Z directory, please click on the links below to find your favourite news or to contact the media to tell your story:
LINKS
http://www.theargus.co.uk/news/10352143.Argus_reporter_nominated_for_top_award/
https://www.facebook.com/brightonargus?ref=stream&hc_location=stream
http://www.eastbourneherald.co.uk/news/local-news/inventor-jailed-for-molesting-11-year-old-1-1418804
Eastbourne Herald inventor jailed for molesting 11 year old
http://www.eastbourneherald.co.uk/news/local-news/man-faces-prison-for-sex-assault-1-1416322
http://gold-moneu.blogspot.co.uk/p/nelson-worked-for-time-at-jewellers.html
Summary headlines January 2014

From Prisoner to President
Questions on rehabilitation
The cost of ruining the prison system
Disabled prisoners
Does anybody care
http://www.insidetime.org/articleview.asp?a=1652&c=a_short_history_of_the_probation_service
Punishment for punishment's sake
Bob Woffinden writes
Month by Month January 2014
Jonathan King writes
The reason it pays to be an optimist
On licence for a sex offence
Representing yourself at your Parole Review
Getting the sack: complaints about dismissal from employment
Long roads to freedom
From over the wall
Unconditionally
Progression for IPP inmates
Tough on crime, tough on the proceeds of crime
Legal aid changes
Public funding for judicial review: a necessary safeguard
Help at last for ex-service personnel
Avoiding the POCA gravy train
Does two plus two equal five
Challenging search warrants
http://converseprisonnews.com/category/prison-oakwood/
http://www.spyholepress.com/latest.html
WE ACCEPT NO RESPONSIBILITY FOR THE ACCURACY OF ANY FEATURED LINKS