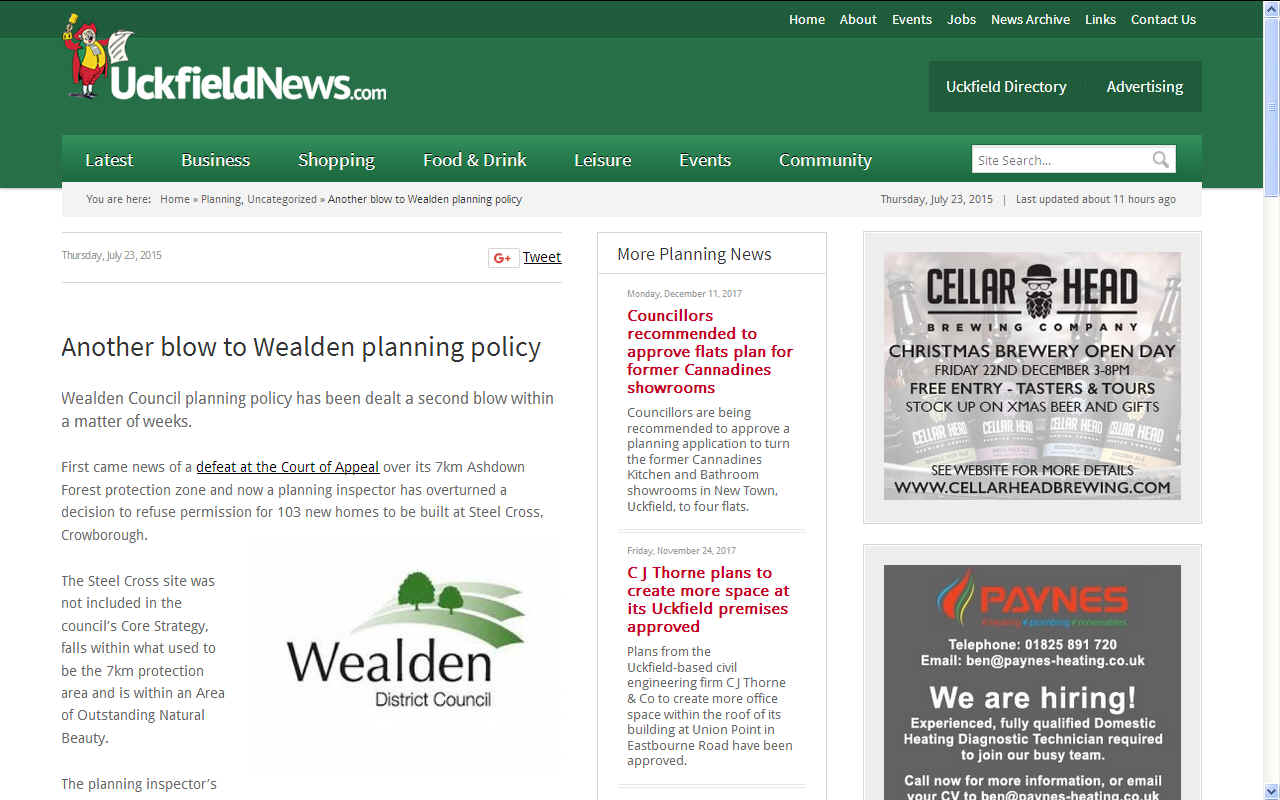 UCKFIELD NEWS JULY 23 2015 - Wealden Council planning policy has been dealt a second blow within a matter of weeks.

First came news of a defeat at the Court of Appeal over its 7km Ashdown Forest protection zone and now a planning inspector has overturned a decision to refuse permission for 103 new homes to be built at Steel Cross, Crowborough.

The Steel Cross site was not included in the council's Core Strategy, falls within what used to be the 7km protection area and is within an Area of Outstanding Natural Beauty.

The planning inspector's ruling can be seen on the Wealden Council website. Follow this link, scroll to Group: Appeal Documentation and see Appeal Decision at the top of the list.

The council has reacted to the news saying it will go to the High Court if necessary to challenge the outcome.
Ashdown Forest

In addition the council says that following the Court of Appeal decision which forced it to remove the 7km Ashdown Forest protection zone it has decided that, in future, development proposals within an increased area of the Ashdown Forest – 15km – will come under scrutiny to counter potential habitat harm there.

Wealden Council says this move is "a direct result of a challenge mounted by landowners to the council's protection policy".

It says visitor surveys used to gauge the recreational pressure on Ashdown Forest have shown that Wealden residents visiting it come from around 15km of the Ashdown Forest Special Protection Area.

But, the council says, mitigation measures which will counter potential habitat harm are being brought forward which will enable "smaller sustainable developments" to proceed in the 15km area.

The council says such proposals will still rely on the Suitable Alternative Natural Green Space, Strategic Access management and Monitoring Strategy and other mitigation schemes.

Cllr Ann Newton, Wealden cabinet portfolio holder for planning said: "The progress we have now made is an opportunity to move forward with a range of smaller sustainable developments which are not reliant on building on greenfield sites close to the forest."

Cllr Newton added: "Whilst I am happy to see that we are now in a position to see certain development with the mitigation take place, it is not open season for unsustainable speculative development in Ashdown Forest and surrounding areas."

Steel Cross, Crowborough - At the same time as announcing the update on measures to protect the Ashdown Forest Cllr Newton commented on the Steel Cross planning appeal decision.

She said the council would be "robustly" challenging the planning inspector's decision and taking it to the High Court if necessary.

"Many people have been justifiably disappointed with the outcome of the Steel Cross housing site appeal in Crowborough.

"The planning inspector's decision grants planning permission in an Area of Outstanding Natural Beauty, and the house numbers exceed any development targets set out in our adopted and sound Core Strategy Local Plan."

Cllr Newton added: "As a forward-thinking council, we appreciate the need to allocate land in appropriate areas for housing growth. This should be undertaken in a planned and sustainable way that does not impact upon our environment and not be wholly developer led.

"This will form part of the 2015 review of the Local Plan which we are currently undertaking in line with our original Core Strategy."
The Uckfield News covers breaking stories in and around Uckfield in a very balanced and informative way, focusing on councils and other local issues of the day.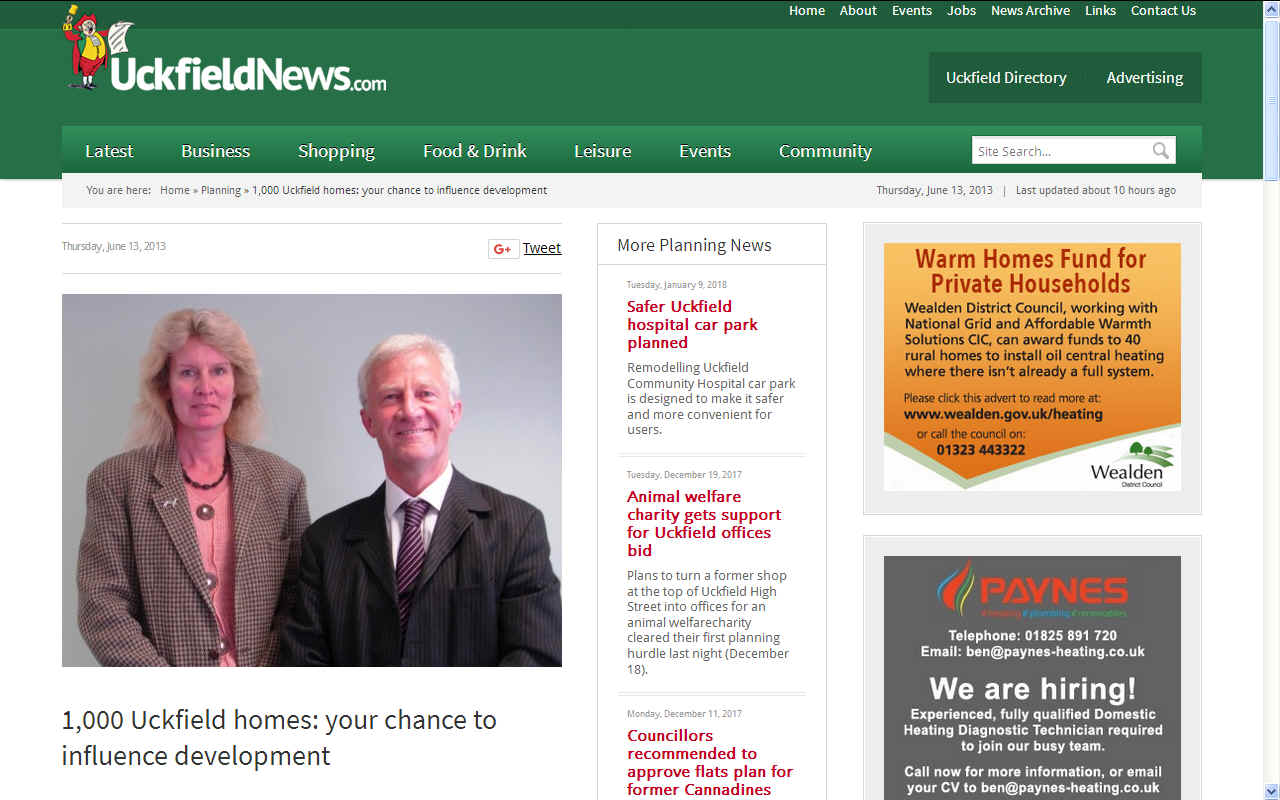 1000 HOMES - Ann Newton and David Phillips (still with Wealden despite his perjury as to photographic evidence on at least two occasions: David Charnley and Nelson Kruschandl) are seen here together in this Uckfield News article from 2013 concerning development alleging 35% affordable housing.
You must be joking, they are not affordable by any means in the legitimate sense of the average person on the average wage in Uckfield. Councillors generally are living in cloud cuckoo land paying lip service to the phrase in an attempt to bribe developers to build in their area. What about Climate Change and the 2008 Act. We don't see any micro energy generating features - and yet this council are making a big deal about the Ashdown Forest. Hypocrites or what!
The main point here is that Councillor Newton is confirmed to be working with a know criminal. Just because Sussex Police will not prosecute any of their friends at Wealden, you should bear in mind that there is no statutory time bar against perjury or attempting to pervert the course of justice. A man with a record like this has not place working in any council with councillors - and his courtroom dramas were well known within this council due to the Petition with Lord Richard Newton as the head of a rigged panel. Why then is Councillor Newton seen here with David Phillips and how was it that Phillips was allowed to swap roles to work on environmental matters such as to qualify for an enhanced pension. This is just as dodgy a decision as one can get, and presumably, the pay off for years of lying on oath and falsifying evidence, allegedly No wonder he has white hair!
UCKFIELD NEWS JULY 9 2015 - 7km Ashdown Forest rule dropped but council says developers must prove plans will not harm forest. The Ashdown Forest 7km rule has been removed from Wealden District Council's Core Strategy Local Plan.
News A to Z directory, please click on the links below to find your favourite news or to contact the media to tell your story:
AFFORDABLE HOUSING | CLIMATE CHANGE | DEVELOPERS | CIRCULAR ECONOMY | FLOOD | HOUSING HISTORY
HOMELESS | LADDER | MORALS | POVERTY | PROPERTY | FINANCIAL SLAVERY | SLUMS | WEALTHY LANDLORDS
LINKS
Timetable covering national rail, tube, buses and walking: http://www.traveline.org.uk
Shopping around for petrol: http://www.petrolprices.com. Key in your postcode to get details of stations with cheapest prices.
http://uckfieldnews.com/wealden-plans-council-tax-increase/

UCKFIELD NEWS


Cathy Watson Associates

Tel: 01825 760102
Email: cathy@uckfieldnews.com
Website: http://uckfieldnews.com/
WE ACCEPT NO RESPONSIBILITY FOR THE ACCURACY OF ANY FEATURED LINKS