PRE-HISTORY
It appears from the files that this is a long running story, beginning in 1991, when Mr Wales agreed to pilot a car that Nelson Kruschandl had designed, which incorporated his patent refueling technology. This was Kruschandl's first electric car and it was called "Bluebird-9-Electric," or BE1. The letter below dated 21-11-91 confirms acceptance of that proposed by Mr Kruschandl by the recipient Mr Wales. At this stage Kruschandl was funding the project entirely from his own pocket in catapult fashion.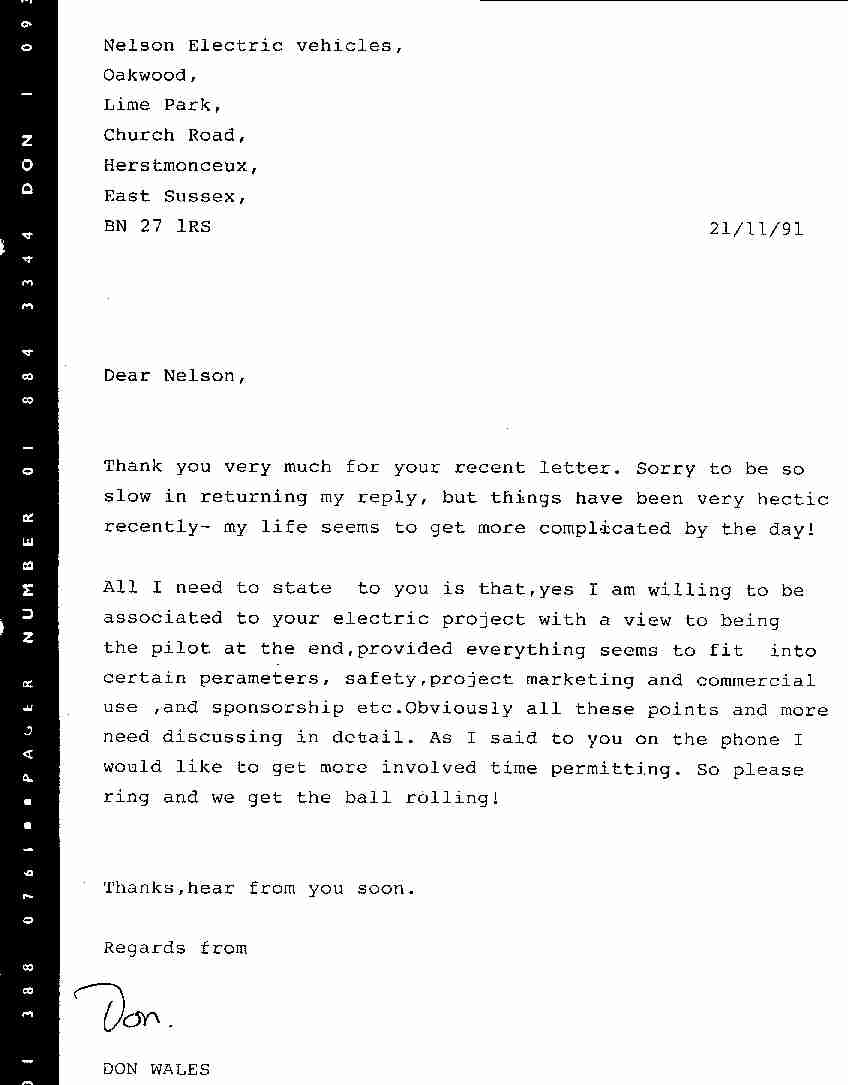 PRESS
The stunning designs of the Inventor soon captured the imagination of the media, taking Wales as an unknown in Land Speed Record terms and placing him behind the wheel of the proposed BE1, a four wheel drive 200mph machine. Press coverage was secured in several national newspapers as the result of PR on the part of Kruschandl and Nicholls PR, who was at the time representing Kruschandl. Well placed photographs of Kruschandl's BE1 car in the motoring press and the Telegraph newspaper, soon attracted sponsors, later boosted on the basis of a faster 300mph design called the BE2.
Kruschandl was already out of pocket substantially in building the BE1, all riding on sponsorship being obtained. On the promise of repayment at an agreed rate of remuneration, not unlike the arrangement between Ken Norris and Donald Campbell in the 1960s, Kruschandl shelved the BE1 and built a full-size wooden buck and made a mould, which was painted to represent the finished BE2 car. The BE2 soon attracted additional sponsors, but it is alleged that Wales refused to settle agreed sums of remuneration, or any part thereof.
It is alleged that Wales took the money raised on the original BE1 and BE2 designs of Kruschandl and used that money to build a third design, a converted Formula Ford, which was incapable of taking the World record that the team had contracted with sponsors to attempt. Kruschandl, alleges that that the actions of Wales was putting him in a position of Breach of Contract with sponsors and undermining his intellectual property.
Kruschandl says that he was forced to obtain an Injunction in the London Patent Court, where the Formula Ford conversion did not have his refueling system, but was being advertised in such manner as to cause confusion in the minds of the public. Such confusion is called 'passing-off'.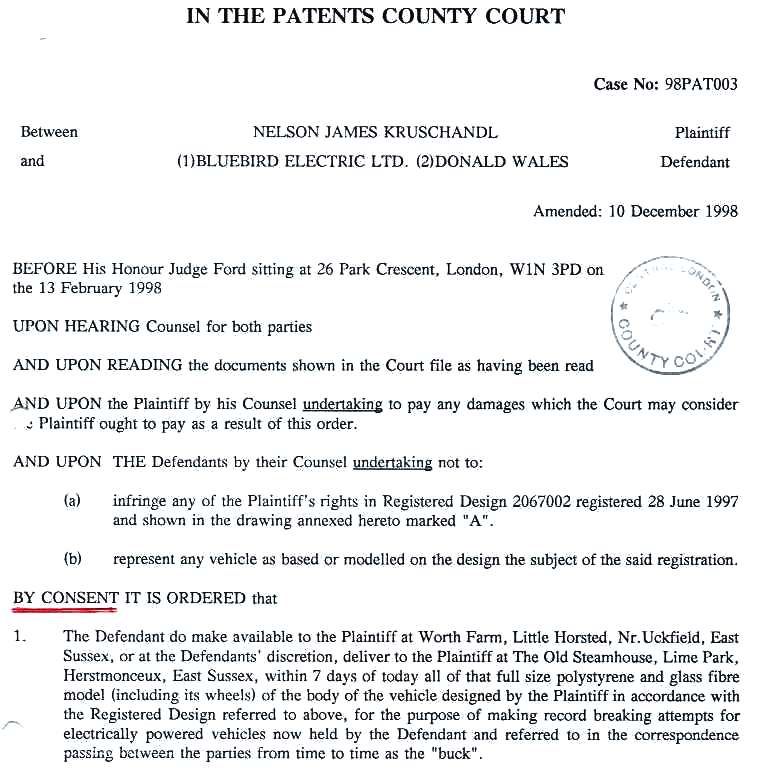 CONSENT ORDER
A Consent Order is an Order where both sides agree issues. It is therefore more binding than any other kind of Order. An Order by Consent is not like an ordinary Order, in that it may not be challenged. You can see from the wording of the Order above that passing-off was the issue at hand, as in Wales agreeing not to " (b) represent any vehicle as based or modelled on the design the subject of the said registration."
The Registered Design referred to is that of the original BE2. An electrically propelled car painted blue and known as the Bluebird Electric 2. Kruschandl alleges that this Injunction would have prevented Wales (1st Defendant) or the company Bluebird Electric Limited (2nd Defendant), from applying for a trademark in person.
Another car based on the BE1 (hence BE2) design is the Tomcat DC50 seen below, also a Registered Design item from 1997. This is a performance sports car featuring the instant refueling system by cartridges, which refueling system is known by the trade name 'Bluebird' and a blue colored bird in flight logo. We think you may agree that this electric sports car came before any sports car from Mr Wales and that it was the original concept of the Design Registrant - otherwise registration could not have been accepted as original. The Tomcat DC50 (direct current) is not that dissimilar to another sports car announced in 2013, which it appears is to carry the Bluebird name.
Let us hope that the new Bluebird sports car does not have EV instant refuelling, or that may trigger yet more trade mark, or possibly passing-off / breach of injunction litigation.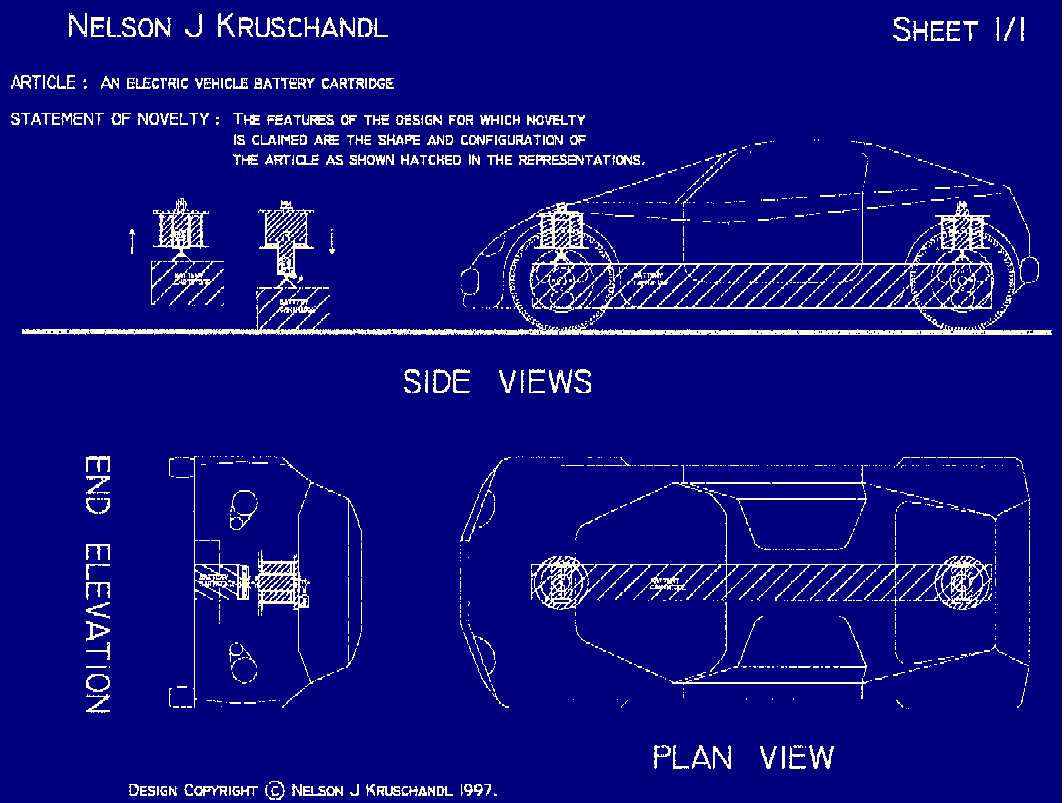 Returning to the Land Speed Record matter, it is alleged that Wales denied that cars subsequent to 1998, that he was racing, called 'Bluebird Electric' were anything to do with him, but rather another company and he had just been invited to drive. As a director of Bluebird Electric Limited, Wales' fiduciary duty as a driver was to Bluebird Electric Limited. Kruschandl alleges that there should have been a service contract to this effect. The letter below from Companies House dated 4-12-2002, advises that Companies House had requested that Bluebird Electric Limited remedy that situation urgently. The car that Wales denied having any hand in producing was raced not only by himself, but also by his son Joe Wales in 2011. This is a matter of fact as may be seen in many newspaper articles in 2011.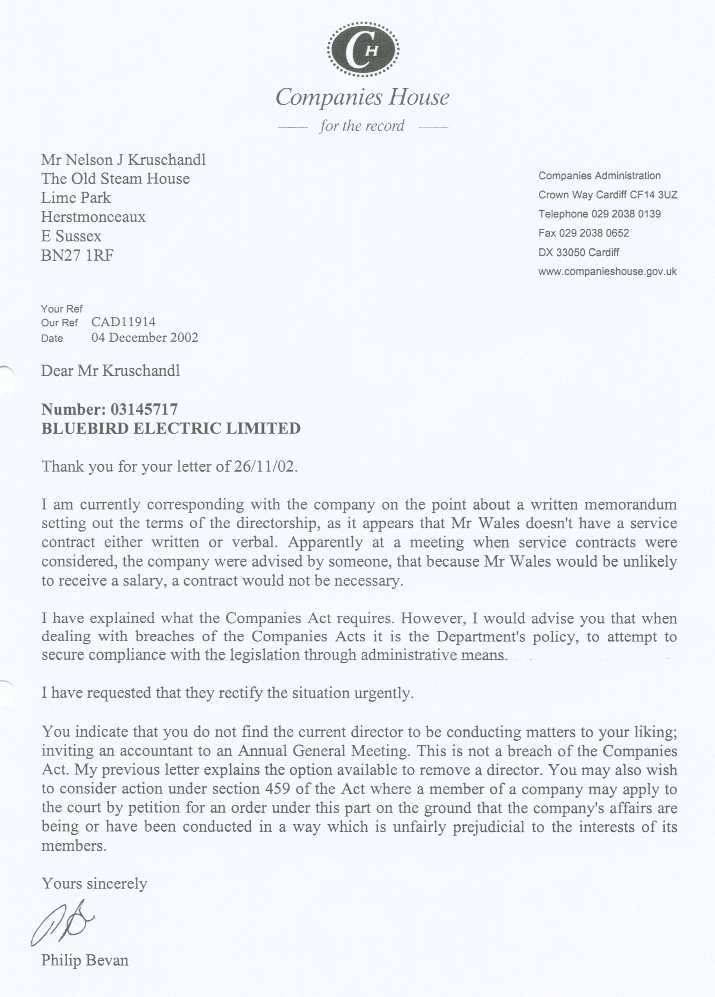 MALCOLM CAMPBELL HERITAGE TRUST APPLICATION 6 NOVEMBER 2002 No: 2315925
The Malcolm Campbell Heritage Trust applied for the mark 'Bluebird' for high speed racing vehicles on 6-11-2002. This application could not proceed due to an Appeal against a decision in Opposition proceedings No: 50452 (App. 2145888). The earlier Application on the part of the Opponent taking precedence. At this stage the existence of the Injunction shown above from December 1998, was not an issue, because Application 2315925 had not been filed in the name of Don Wales.
LICENCE UNDERTAKING
It appears from the above that Don Wales, acting for The Malcolm Campbell Heritage Trust, Undertook to provide a Licence to Nelson Kruschandl, on terms previously agreed. It is alleged that there were no terms agreed previously, save that Kruschandl should withdraw his Appeal in opposition number 50452, which he did, meaning that the Licence terms were unconditional from the point of Kruschandl withdrawing his Appeal. It is alleged that there followed a series of communications where Marks & Clerk sought to negotiate additional terms for The Malcolm Campbell Heritage Trust (MCHT). Why we ask, if terms had been agreed and the Appeal withdrawn?
Unfortunately, some two years later there was no sign of the promised Licence from the MCHT and time was running out. This is a tactic used by many IP firms. They seek to run you out of time for lodging either appeal or opposition, knowing that your state granted right to Opposition is then gone.
LODGE OF FRESH OPPOSITION
A fresh Opposition was duly lodged, on the basis of a letter confirming withdrawal once a Licence was forthcoming from the MCHT. The Opposition was to preserve the status quo in the event that the MCHT failed to perform - as was the case at the time.
The cooling off period was used to continue negotiations which finally led to an Agreement between parties to provide Kruschandl a Trademark Licence and extend the cover of the original application, to include goods that Kruschandl wished additional cover for as to the manufacture of electric cars, presumably for use with his Tomcat DC50. The letter below dated 21-6-2004 form Marks & Cleark appears to confirm that additional goods were added at Kruschandl's request, and the letter dated 30-6-2005 from the Patent Office confirms when Form TM7 was lodged. It is noted that these letters were not available to Kruschandl while a prisoner, because firstly he was denied access to a Justice Laptop, and secondly the Prison Service lost his evidence disc on transferring him from Lewes to Maidstone. This the Prison Service denied despite proof of receipt of an evidence CD by them. Using the internal complaint system had little effect, save only for Ombudsman findings of maladministration in other cases, but no real satisfaction or compensation.
It is alleged by Kruschandl that The MCHT not only failed to perform, but put themselves in a position where they could no longer perform, in that the MCHT transferred ownership of Trust property to one Trustee for is personal use. That Trustee was Don Wales.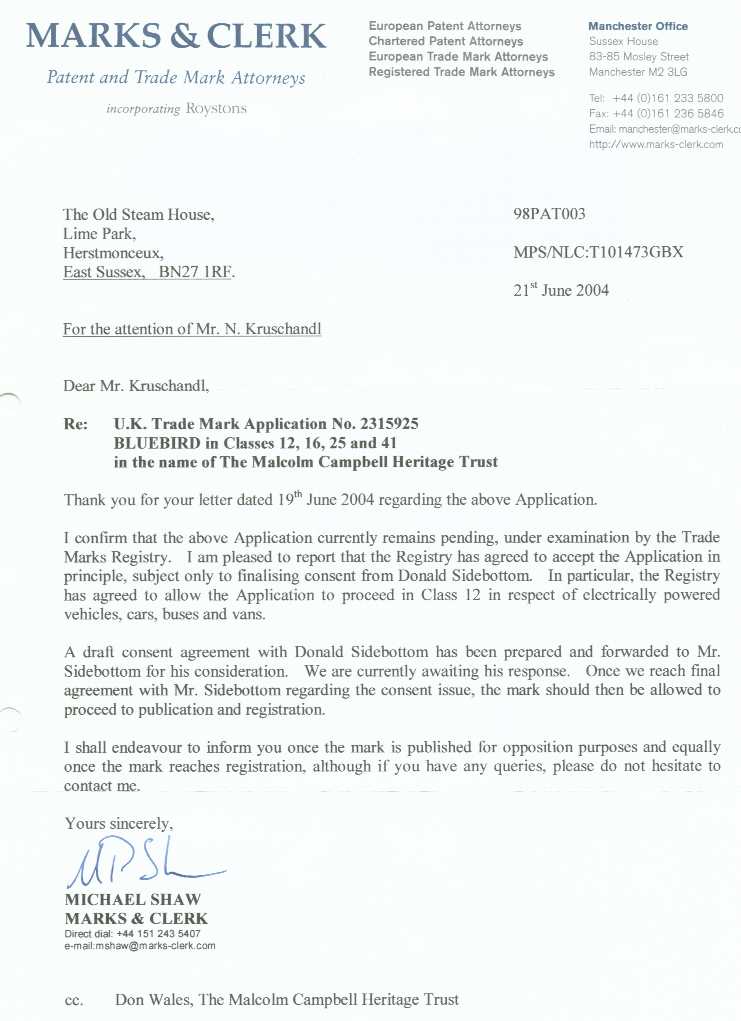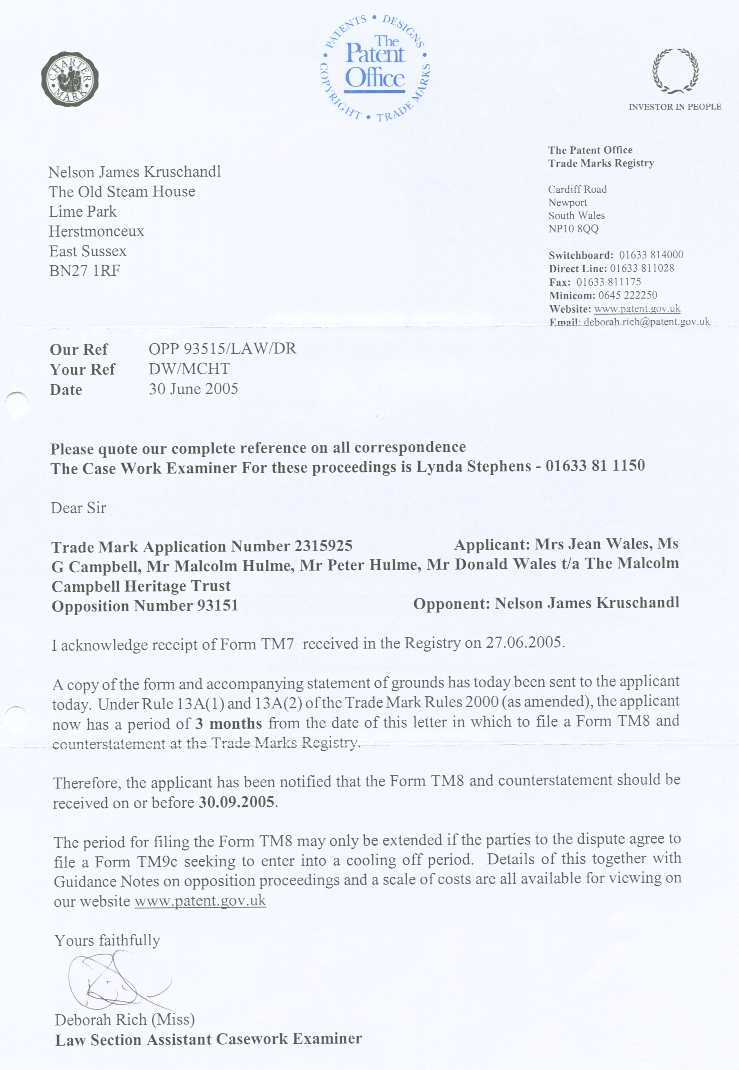 TRADE MARK OPPOSITION

A trade mark that was applied for by the Malcolm Campbell Heritage Trust (MCHT) on the 6th of November 2002, was, while being processed by the Trade Marks Registrar, transferred to Donald Charles Wales in person on or about the 6th of November 2006 (see email from Marks & Clerk below). Donald Charles Wales prefers to be known, or is popularly known as Don Wales.
The validity of that transfer from the MCHT to Mr Wales is the subject of an Application to the European Court of Human Rights under reference number 28536/09 and fresh application in 2013, where, the United Kingdom TM Registry refused to grant the Opponent in the proceedings a hearing at all, without security for costs being lodged amounting to some £2,000 - but where the Opponent was trapped in the judicial system as a prisoner, and as such (the British prison system is not compliant with the European Prison Rules as to earnings)* Mr Kruschandl was not in a position by virtue of UK prison rules, to earn sufficient money to provide said security. We have a copy of the full grounds as lodged with the ECHR if anyone is interested.
The applicable prison rules are reproduced below and the relevant sections that say work shall be assured and that equitable remuneration for that assured work shall be provided. Equitable of course means in line with that normally associated with work. But at HMP Maidstone, event the highest paid kitchen workers received just £10 a week or thereabouts. Can you imagine a cook working for £10 a week. Is that equitable? Prisoners are supposed to be able to save and send money home to their families.
Scan of prisoner WF8716 earnings sheets between March 2009 and January 2010 - Note: Standard Band and No Savings
Standard regime netted WF8716 between £4 and £6 a week to live on. And don't forget that they deduct £1 for your TV.
This particular Trade Mark rule would mean that any prisoner in the United Kingdom who applied for a trademark before he became a prisoner, would be unable to receive a hearing in opposition proceedings, a clear discrimination on the grounds of financial status. In other words, only those with means might achieve a trademark. However, prisoners are encouraged to prepare themselves for release back into society and society is supposed to help reintegration, such as working - or in this case trading on return to society. Clearly, the UK TM rules as they stand do not stack up against other courts, where prisoners (or anyone financially disadvantaged) receive assistance when it comes to fees. Such financial relief is held to be in compliance with Article 6: the right to a fair hearing.
In this case the Trade Marks Registry ruled that if £2,000 was not lodged with them, they would deem the Opposition abandoned. In which case Mr Wales would end up with his trademark by default - without the grounds of the Opposition being heard - and that is precisely what happened.
The Opponent in this case wrote to the TM Registrar asking that the case might be put in abeyance until his release - which request the Trade Mark Registrar refused.
We understand that further information is due to be sent to the ECHR, to include a copy of the transcript below and the details of prisoners earnings. Prisoners earnings in HMP Maidstone were at the time running between £5 and £10 a week, from which the prisoner had to pay for phone calls (at roughly six times the ordinary cost of phone calls) postages, sugar, coffee and decent toothpaste. The situation was so bad, that more than 50 prisoners signed a petition calling for change.
In European prisons, wages are close to that which one might earn as a civilian. I.e. a normal wage. If a normal wage was usual in UK prisons, the Trade Marks Registry could not have ruled that the Opponent in this case was unable to earn a living. In other words, the Trade Marks Registry was admitting on behalf of the UK that British prisons do not comply with the European Prison Rules 1987 (as amended). But in any event, where other UK Courts grant fee exemptions, then by analogy, was it not unreasonable of the Trade Marks Registry to seek to impose conditions that they knew the Opponent could not meet. Was that decision compliant with Article 6?
The Opponent alleges that the transfer from the MCHT to Don Wales in person was in breach of their special duty as Trustees to the Opponent. He cites the Trustee Acts and Limitations Act. The Opponent alleges as trustees of trade mark application number 2315925 that the MCHT were under a special duty to keep him informed as to potential transfers, but that the transfer to Mr Wales was effected without the MCHT notifying him beforehand, where he (the Opponent) is/was a beneficiary of Trust property. We have a full copy of the grounds lodged in the UK Trade Mark court is anyone is interested.
The Opponent in the trademark proceedings is also an Appellant duly lodged with the ECHR in relation to his criminal conviction, since May of 2009 and May of 2012 previously under Application number: 28536/09, (now a fresh application). The ECHR lump cases together for administrative reasons apparently as you can see from the letter below.
It is the custom of the UK Trade Mark Registry to publish cases, but not publish any underlying issues that challenge procedural irregularities, such as their ruling on costs. It appears to us that in this case the IPO may have been biased as to prisoners rights - despite several rulings on the subject.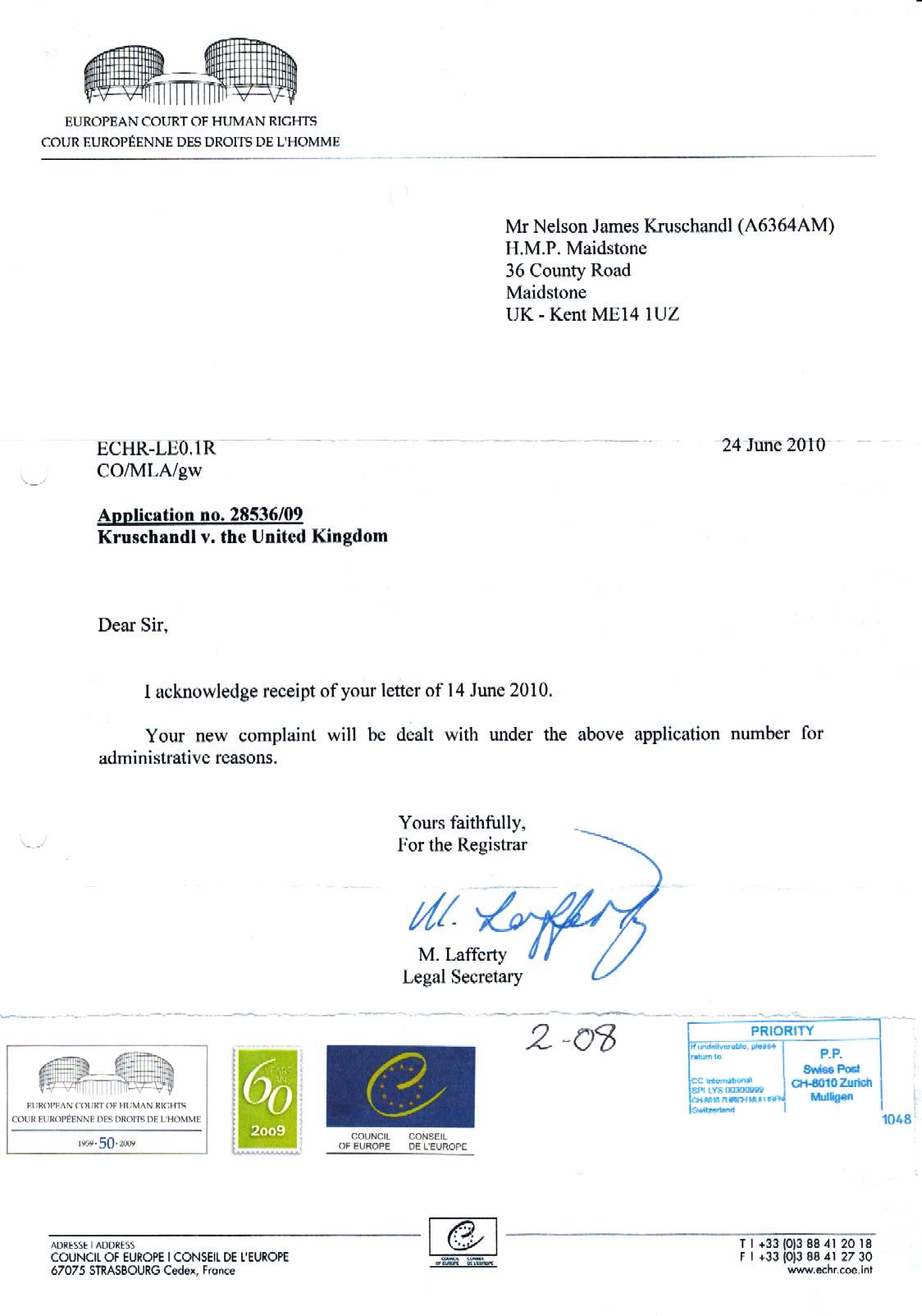 Scan of a typical ECHR receipt and accompanying envelope
* European Prison Rules 1987 (extract)
Work

71.
1. Prison work should be seen as a positive element in treatment, training and institutional management.

2. Prisoners under sentence may be required to work, subject to their physical and mental fitness as determined by the medical officer.

3. Sufficient work of a useful nature, or if appropriate other purposeful activities shall be provided to keep prisoners actively employed for a normal working day.

4. So far as possible the work provided shall be such as will maintain or increase the prisoner's ability to earn a normal living after release.

5. Vocational training in useful trades shall be provided for prisoners able to profit thereby and especially for young prisoners.

6. Within the limits compatible with proper vocational selection and with the requirements of institutional administration and discipline, the prisoners shall be able to choose the type of employment in which they wish to participate.

72.
1. The organisation and methods of work in the institutions shall resemble as closely as possible those of similar work in the community so as to prepare prisoners for the conditions of normal occupational life. It should thus be relevant contemporary working standards and techniques and organised to function within modern management systems and production processes.

2. Although the pursuit of financial profit from industries in the institutions can be valuable in raising standards and improving the quality and relevance of training, the interests of the prisoners and of their treatment must not be subordinated to that purpose.

73.
1. Work for prisoners shall be assured by the prison administration:

a. either on its own premises, workshops and farms; or

b. in cooperation with private contractors inside or outside the institution in which case the full normal wages for such shall be paid by the persons to whom the labor is supplied, account being taken of the output of the prisoners.

74.
1. Safety and health precautions for prisoners shall be similar to those that apply to workers outside.

2. Provision shall be made to indemnify prisoners against industrial injury, including occupational disease, on terms not less favorable than those extended by law to workers outside.

75.
1. The maximum daily and weekly working hours of the prisoners shall be fixed in conformity with local rules or custom in regard to the employment of free workmen.

2. Prisoners should have at least one rest-day a week and sufficient time for education and other activities required as part of their treatment and training for social resettlement.

76.
1. There shall be a system of equitable remuneration of the work of prisoners.
2. Under the system prisoners shall be allowed to spend at least a part of their earnings on approved articles for their own use and to allocate a part of their earnings to their family or for other approved purposes.

3. The system may also provide that a part of the earnings be set aside by the administration so as to constitute a savings fund to be handed over to the prisoner on release.
[The reader might also like to know that prisoners in the UK are not allowed access to the internet and various means are used to deny them computer access for the preparation of complex cases. The Opponent in this case applied for what is termed a Justice Laptop, which is allowed in cell, but having obtained one, he was then shipped to another prison. The reason for shipping litigants about is so that they can remove any justice facilities during transit, and make prisoners re-apply at any new prison. The new prison then denies justice facilities. On the second occasion this prisoner applied for justice facilities, this time while in Maidstone Prison, the governors refused permission. That led to an application for a Judicial Review that took roughly 12 months to get to the High Court in the Strand, shortly before which HMP Maidstone said they'd provide a Justice Laptop (JL). Not long after receiving his JL the prisoner was once again moved to another prison. The whole process is designed by the Ministry of Justice to deny justice facilities to prisoners. In addition, prisoner are not informed of their rights. Certain PSOs (Prison Service Orders) and PSIs (Prison Service Instructions) are not freely available - once again, specifically to thwart any prisoner who is a litigant in person.
Although the UK is a Signatory to the European Convention, Articles 1 and 13 have been omitted from the domestic Human Rights Act 1998. Article 13 is a persons right to an effective remedy.]
---
Below is a verbatim transcript of the proceedings that took place after the Opponent had been denied a hearing as to the Opposition lodged before he was a prisoner. These proceedings are to do with costs for a hearing that never took place. In other words, having denied the prisoner a hearing because UK prisons don't provide equitable remuneration, they then wanted to award costs to the other side by default. So, putting a prisoner at risk as to bankruptcy on his release, should an unscrupulous applicant wish to further disadvantage their opponent. It is alleged that the UK administration still have parts of their justice system incompatible with Article 6. If that turns out to be the case, then Kruschandl will be entitled to what is known as a Declaration of Incompatibility. When such a declaration is made, the UK is then obliged to look at the Declaration. The UK can then decide to amend stature, or pay a fine. For example: razor wire has been held to be incompatible with the Convention of Human Rights, but instead of removing the razor wire, the UK elect to pay a fine of around £20,000 per prison per year to the European Union.
Video Conference Room,
21 Bloomsbury Street,
London, WC1B 3HF.
Friday, 28th October 2011
Before: MR. GEOFFREY HOBBS QC
(Sitting as the Appointed Person)

In the Matter of the Trade Marks Act 1994

-and-

In the Matter of Trade Mark Application No: 2315925

in the name of MR. DONALD WALES

-and-

Opposition thereto under No. 93515 by NELSON KRUSCHANDL

In the Matter of an Appeal to the Appointed Person from the decision of Ms. Judi Pike, acting on behalf of the Registrar, the Comptroller-General dated 15th November 2010.

Transcript of the Shorthand Notes of Marten Walsh Cherer Ltd.
lst Floor, Quality House, 6-9 Quality Court,
20 Chancery Lane, London WC2A 1HP

Telephone No: 020 7067 2900. Fax No: 020 7831 6864
Email: Info@martenwalshcherer.com
MR. NELSON KRUSCHANDL, the Appellant/Opponent, appeared in person.
MR. DONALD WALES, the Respondent/Applicant, appeared in person.

R U L I N G

(As approved by the Appointed Person)

1 THE APPOINTED PERSON: In an official letter dated 22nd September
2 2009 the Registrar of Trade Marks notified
3 Mr. Nelson Kruschandl that his opposition to the registration
4 of trade mark number 2315925 in the name of Mr. Donald Wales
5 was treated as withdrawn in accordance with the provisions of
6 Rule 68(2) of the Trade Marks Rules 2008.
7 For the reasons given in a written decision subsequently
8 issued by Ms. Judi Pike on behalf of the Registrar of Trade
9 Marks on 15th November 2010, Mr. Kruschandl was ordered to pay
10 £1,200 to Mr. Wales as a contribution towards his costs of the
11 opposition.
12 On 14th December 2010, Mr. Kruschandl appealed to an
13 Appointed Person against the making of that order for costs.
14 The appeal was listed to be heard on 12th May 2011. However,
15 it proved to be impossible to proceed with the hearing on that
16 occasion as a result of unresolved technical difficulties in
17 establishing a video conferencing link for the purpose of
18 enabling Mr. Kruschandl to present his case. The hearing of
19 the appeal was rescheduled to take place on 16th June 2011.
20 On that occasion, having regard to the matters raised by
21 the parties and the responses that I received to the questions
22 I raised with them, I adjourned the hearing to allow Mr. Wales
23 a period of 14 days within which to consider whether he wished
24 to waive his entitlement to costs under the Hearing Officer's
25 decision, in which case all further proceedings in the appeal

Page 2

1 would be stayed, or maintain his entitlement to costs under
2 the Hearing Officer's decision, in which case I would give
3 directions for the further conduct of the appeal.
4 By letter dated 29th June 2011, Mr. Wales confirmed that
5 he wished to maintain his entitlement to costs and therefore
6 requested a date for the further hearing of the appeal. I
7 then directed that the further hearing of the appeal should be
8 scheduled to take place on the first occasion after
9 18th September 2011 for which a hearing, with an estimated
10 duration of up to half a day, could be accommodated with due
11 regard for the availability of the parties, the tribunal and
12 the provision of the technical facilities required. I also
13 gave directions for the production of documents which had been
14 discussed in the course of oral submissions at the hearing
15 which had taken place before me in June.
16 Subsequently, on 23rd August 2011 I received a letter
17 from Mr. Kruschandl indicating that he was being denied access
18 to photocopying facilities within HM Prison Bure. On receipt
19 of that letter, I caused the Treasury Solicitor's Department
20 to contact the authorities at HM Prison Bure with a view to
21 ensuring that photocopying facilities were restored for
22 Mr. Kruschandl's assistance so that my directions for the
23 production of documents could be complied with.
24 Under cover of a letter dated 19th September 2011,
25 Mr. Kruschandl produced the documents that he wished to bring

Page 3

1 before the tribunal in connection with his appeal, and these
2 were circulated to myself and to Mr. Wales.
3 I then gave directions for the further hearing of the
4 appeal to be rescheduled to take place on 27th October. Due
5 to diary difficulties that date was subsequently replaced with
6 today's date, 28th October 2011.
7 A considerable degree of effort went into the making of
8 the arrangements for this resumed hearing. I was therefore
9 dismayed to receive a letter dated 10th October 2011 from
10 Mr. Kruschandl indicating that three prison officers had
11 entered his cell on that day and removed his documents, in the
12 files in which he had collated them, relating not only to this
13 appeal, but numerous other pieces of litigation he is involved
14 in.
15 I then caused enquires to be made of HM Prison Bure as
16 to why this had happened and sought confirmation that
17 Mr. Kruschandl would be allowed access to the papers he
18 required for the purposes of presenting his appeal at today's
19 hearing.
20 In response to my enquiries, a letter was sent by
21 Mr. Colin Kerr of HM Prison Bure on 26th October 2011 in which
22 he stated, having confirmed with staff at the prison as to
23 what had happened with regard to the removal of the papers
24 from Mr. Kruschandl's cell, that, "Mr. Kruschandl had his ring
25 binders removed by staff as he is on basic regime. The staff

Page 4

1 offered him the choice to remove the papers contained within
2 the binders. He refused this very reasonable offer. On
3 receipt of your letter, I asked the staff to take
4 Mr. Kruschandl to reception and provide him with manila
5 folders so that he could remove his papers from the ring
6 binders and then locate them into the folders on a like for
7 like basis. This he refused stating the following; that he is
8 entitled to the correct facilities in order to store his
9 paperwork; that putting them into the folders will not allow
10 him to access the information quick enough. He was given at
11 least three chances to ensure that he would be provided access
12 to his paperwork, but he refused all offers. In answer to
13 your letter dated 19th October 2011, the papers were taken to
14 reception and stored as he did not wish to remove them from
15 the binders. He has also not been denied access to the papers
16 and indeed staff have tried to ensure that he has all
17 reasonable access under prison rule, but he has refused all
18 offers."
19 The hearing has commenced before me today, using a video
20 conferencing link to HM Prison Norwich. The position is that
21 Mr. Kruschandl has had an opportunity to equip himself with
22 the papers that he wished to have for the purposes of this
23 appeal, provided that he equipped himself with those papers in
24 manila files rather than ring binders. He has declined that
25 opportunity. In the circumstances, I think that this appeal hearing should proceed.
Page 5

2 The tribunal has a very full set of papers. These have
3 been read and considered in detail. I do not think that it is
4 necessary or appropriate to adjourn this hearing and I think
5 it would be unfair to the respondent if I were to do so. I
6 have been informed for the first time this morning by
7 Mr. Kruschandl that on 21st October 2011 he made an
8 application of some kind to the Administrative Court. I
9 understand that to be directed to the restoration of his files
10 in ring binders as opposed to manila folders. That
11 application, which, as I say, was filed on 21st October 2011,
12 has resulted in no interim emergency order, as apparently
13 requested by Mr. Kruschandl, and it is, in any event, directed
14 to the Governor of HM Prison Bure and the Secretary of State
15 for Justice. It is not directed to this tribunal and I do not
16 understand it to raise any request for an order that this
17 tribunal should do or refrain from doing anything in relation
18 to the present appeal. It is my ruling that the appeal
19 hearing should proceed.
20 For proceedings; see separate transcript.


ECHR - YOUTUBE

Official and Unofficial

This subject matter is under investigation and we will provide you with more details as the facts emerge. The time that Mr Kruschandl spent behinds bars is the subject of an unauthorized Prison Diary. We understand that an authorized version of these Prison Diaries may follow after his Appeals have been heard in the European Court. Mr Kruschandl was on basic regime in the latter part of 2011 because he insisted that he was to be accorded the rights of an appellant. But, in any of Her Majesty's prisons, even where you are an appellant and prison rules say you should not be forced to work as an appellant, they still force you to work, browbeat and mentally bully you.
During 2011 Kruschandl had been attending education regularly (which is classed as work under prison rules) but they without warning removed him from education and tried to firstly force him into the kitchens, then to mop the floors. This became a matter of principle, where Kruschandl is a design engineer and where the prison wished to flex their muscles and force a bona fide appellant to work - to make an example of him, and the appellant knew they were breaching not only prison rules, but also his human rights [in taking away what little justice facilities he had].
Eventually Kruschandl ended up in segregation (the block) but still refused to do work that could not benefit him because as you can see from the rules he was entitled to choose his work. See the extract from the European Prison Rules marked in green above - and you will see that Mr Kruschandl had a point. Kruschandl never made it back to normal population. They kept him locked in his cell except for meals and exercise for many months - until he was finally released. If he had been a prisoner of war, we believe from reading his diaries, that he is the kind of man who would have led an escape attempt. See Steve McQueen and The Great Escape.
Email from Marks & Clerk to Mr Kruschandl 6 November 2006
Subject: Trade Mark BLUEBIRD
Date: Mon, 6 Nov 2006 14:05:21 -0000
Message-ID: <A18974FEAFD93F40AFC05F3B48C05BFF2A74FF@ldnaexc01.patgroup.com>
X-MS-Has-Attach:
X-MS-TNEF-Correlator:
Thread-Topic: Trade Mark BLUEBIRD
thread-index: AccBrJi56D/vYWPHQNiCv/xbiOOGQQ==
From: "Shaw, Mike" <mshaw@marks-clerk.com>
To: "Speedace" <ace@speedace.info>
Cc: <BluebirdSR@aol.com>

Dear Mr Kruschandl,

Following my e-mail of earlier today, I write to inform you of a recent change of ownership of the BLUEBIRD trade mark application owned by the trustees of the Malcolm Campbell Heritage Trust.

For a number of reasons, including the high costs associated with prosecution of the application and the ongoing negotiations regarding the licence, the trustees have decided to remove the trade mark application from the trust property governed by the Trust. The trade mark application has therefore been assigned by the trustees to Don Wales in his personal capacity. The Trust remains in existence, but will no longer be responsible for prosecution and exploitation of the trade mark application against which you have filed opposition. I do not believe that this transfer of ownership will have any substantive impact upon the licence agreement (other than several consequential amendments that will be required), nor upon your private agreement with Don, but if you have any concerns please do not hesitate to contact me.

Best wishes,

Michael Shaw

MARKS & CLERK
Patent & Trade Mark Attorneys
Tower Building
Water Street
Liverpool L3 1BA
United Kingdom

T: +44 (0) 151 243 5407
F: +44 (0) 151 236 2244
E: <mailto:mshaw@marks-clerk.com>
W: www.marks-clerk.com
Following this email, Don Wales sent the Private 'Deed of Compromise' by special delivery number ZV 4994 2309 6GB to Mr Kruschandl, duly signed. This is the envelope that the document was received in. The handwriting is clearly that of Donald Wales, as anyone who knows his writing will attest to. Kruschandl was not consulted about the transfer and would not have agreed to the transfer of ownership without being notified well in advance and thereafter re-negotiating key issues. He alleges that transferring the ownership from the protection of the Malcolm Campbell Heritage Trust, would be bound to cause him difficulties.
The following are 4 scans of the 4 pages of the document that Mr Wales returned to Mr Kruschandl, and please note the signature of Don Wales affixed at the appropriate places. So too that of Mr Kruschandl at the appropriate place. Kruschandl was unable to provide a copy of the signed document to Mr Hobbs, where Mr Wales had for some reason supplied the Court with an unsigned version of the same document, apparently leaving Mr Hobbs thinking that there was not a completed Deed and that perhaps the Opponent was mistaken about his evidence. Matters such as these are material considerations for any judge when making decisions. Mr Kruschandl had been denied access to a justice laptop while the trade mark hearings were in progress. For that reason Kruschandl could not get to many of the necessary documents for these hearings - and that is apart from the prison removing his files shortly before the hearing transcribed above.
It is noted that at least two companies would appear to be supporting Mr Wales in his bid to field a Formula E team. The Bluebird GTL, Formula E car is sign written with the names 'Unipart' and 'Chris Ward.' Our apologies if this is not correct. We would be very much obliged if those companies might confirm the current position.
The Opponent replied to the Registry in a letter sent by Recorded Delivery dated the 28th of August 2012, copy of which is reproduced below. He pointed out that should they decide to publish anything at all, that they had a duty to publish in an unbiased fashion, or breach Articles 14 and (in respect of litigation to come) Article 6(1), the right to a fair hearing. You would imagine that having been reminded of their obligations under Article 14, that the Registry would either publish nothing, or all of the correspondence between the parties. Even the Press are bound by what is called fair and accurate reporting - which prohibits bias - sometimes known as dissembling. Dissembling is where only part of a story is told, that or those parts favoring one side of an argument.
In view of our invasion of Iraq and other indiscretions across the globe too many to mention, you may not be surprised to learn that the British Government (the TM Registry being an executive agency thereof) did not publish any of the Opponents reasoned arguments. To include claims for breaching use of the words "Bluebird" and "Electric" to describe his projects in 2011, when Mr Wales was bound by the terms of the Above Deed of Compromise dated 27th of May 2007. It is alleged by the Opponent that such breaches of contract (and/or trust) will attract claims of damages significantly more than the Costs Order the subject of these communications.
That being the case, it may be seen by some as being perverse to Order Costs, when such an Order has the potential to prejudice claims against Mr Wales for Breach of Contract, or in the case of the transfer of Trust property; Breach of Trust. The letter reproduced below dated the 17th of September 2012, from the TM Registry's Lynda Stephens, confirms the violation described above, and that the published details will "remain" on their website. We think the saying is Tit for Tat, and would remind the British Government about the Boston Tea Party.
It is only be challenging injustice that injustice may be repealed. Revolution is a means to cleanse a country of ingrained practices that violate the laws of natural justice. Revolution in this case must mean a challenge in the European Court of Human Rights against the perceived and ongoing violations of the Articles cited.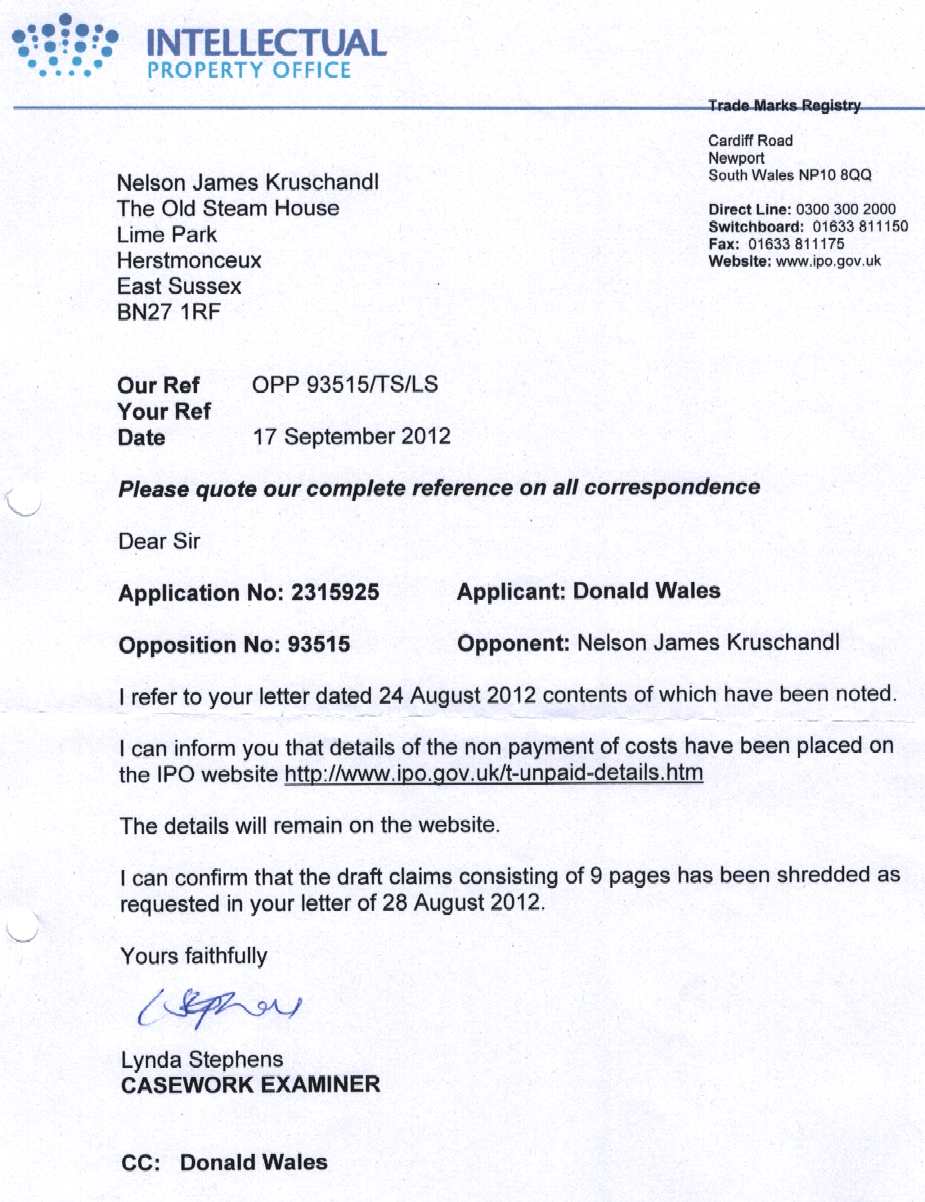 STRATEGIC LAWSUITS - SLAPP WIKIPEDIA
A strategic lawsuit against public participation (SLAPP) is a lawsuit that is intended to censor, intimidate, and silence critics by burdening them with the cost of a legal defense until they abandon their criticism or opposition.

The typical SLAPP plaintiff does not normally expect to win the lawsuit. The plaintiff's goals are accomplished if the defendant succumbs to fear, intimidation, mounting legal costs or simple exhaustion and abandons the criticism. A SLAPP may also intimidate others from participating in the debate. A SLAPP is often preceded by a legal threat. The difficulty is that plaintiffs do not present themselves to the Court admitting that their intent is to censor, intimidate or silence their critics. Hence, the difficulty in drafting SLAPP legislation, and in applying it, is to craft an approach which affords an early termination to invalid abusive suits, without denying a legitimate day in court to valid good faith claims.

SLAPPs take various forms but the most common is a civil suit for defamation, which in the English common law tradition is a tort. The common law of libel dates to the early 17th century and (unusual in English law) is reverse onus, meaning, once someone alleges a statement is libelous, the burden is on the defendant to prove that it is not [According to Nelson Kruschandl, Don Wales has previously threatened action in respect of alleged inaccuracies in publications - hence we have gone the extra mile to give a fair and balanced report, by citing documents, etc, and inviting Mr Wales publicly to say his piece].
Various abusive uses of this law including political libel (criticism of the political actions or views of others) have ceased to exist in most places, but persist in some jurisdictions (notably British Columbia and Ontario) where political views can be held as defamatory. A common feature of SLAPP suits is forum shopping, wherein plaintiffs find courts that are more favourable towards the claims to be brought than the court in which the defendant (or sometimes plaintiffs) live.

Other widely mentioned elements of a SLAPP are the actual effectiveness at silencing critics, the timing of the suit, inclusion of extra or spurious defendants (such as relatives or hosts of legitimate defendants), inclusion of plaintiffs with no real claim (such as corporations that are affiliated with legitimate plaintiffs), making claims that are very difficult to disprove or rely on no written record, ambiguous or deliberately mangled wording that lets plaintiffs make spurious allegations without fear of perjury, refusal to consider any settlement (or none other than cash), characterization of all offers to settle as insincere, extensive and unnecessary demands for discovery, attempts to identify anonymous or pseudonymous critics, appeals on minor points of law, demands for broad rulings when appeal is accepted on such minor points of law, and attempts to run up defendants' costs even if this clearly costs more to the plaintiffs.
COSTS AWARD
The question that arises next from the above Wikipedia article is this: is the use of the [interim] costs awarded by the Appointed Person, a means for the Applicant to bargain with the Opponent as to the License from the Malcolm Campbell Heritage Trust? In this case it appears that the cost of obtaining the costs award is near equal to or exceeds the actual costs award. If that proves to be the case then the efforts by the Applicant to obtain the award may be seen to be strategic - rather than that there was a large legal bill that needed settling and that this was the only way of settling that bill.
Apparently, Mr Wales has written to Mr Kruschandl offering to waive the costs award in return for Mr Kruschandl waiving his right to the License he is owed by the Malcolm Campbell Heritage Trust. Mr Kruschandl says that he cannot do that, for that could lessen his claim in Europe, and that may not have escaped the attention of Marks & Clerk, who advised and handled the transfer from the MCHT to Don Wales in person - despite the existence of two very important Court Undertakings, which in the interests of balanced reporting, we reproduce herein to allow Mr Wales and/or Marks & Clerk the opportunity to comment if he/they so choose. They have not done so in over six years, save the Donald Wales made an allegation to Sussex police that he must have known was false, given the documents reproduced on this page. That did not stop Sussex police from raiding premises, smashing doors down and confiscating documents some of which were never returned. Is not that called stealing Mr Giles York and was this raid not to order in pursuit of the real agenda that was to keep Mr Kruschandl at a disadvantage to allow Mr Wales to make hay while he could. Giles York is (or was) the Chief Constable, supported by Katy Bourne, a former dance instructor turned crime commissioner. Sussex police were the ones who murdered James Ashley in 1998 then tried to cover that up. In the end Paul Whitehouse was asked to resign by David Blunkett, no angel himself when it comes to Human Rights. See the Sexual Offences Act 2003. A British Act that says a person is guilty when entering a dock for trial, rather than: Innocent until proven guilty. And for that little Nazi like eugenics performance they knighted Lord Blunkett. Makes you wonder if we'd have been better off under Adolf Hitler? At least Adolf would only have shot you. Nice and quick. In the UK they torture you mercilessly for years on end, knowing that you have been buggered by the system and there's not much you can do about it.
VIRGINITY TESTING - A virginity test is the practice and process of determining whether a female person is a virgin, i.e., whether she has never engaged in sexual intercourse. The test involves an inspection of a female's vagina and hymen , on the assumption that her hymen can only be torn as a result of sexual intercourse. In fact the test is far more scientific than you'd imagine, involving using a colposcope to measure internal organs and distances. In the case in point the girl was a virgin. The police expert must have realised that and having realised that the girl was lying, the expert failed to follow through with the rest of the examination to allow the police to gain a fraudulent conviction as part of their malicious campaign. Why? Good question. It's all to do with a Petition from 1997, where the victim in this case would not allow Sussex police to get away with not investigating 12 complaints of malfeasance in public office, most of which involved Ian Kay, David Phillips, Derek Holness and later on Charlie Lant.
The Judge in this case must have been blind to the facts, lost his faculties or simply in on the malicious element of the prosecution, or maybe had masonic connections. For the complainant's grandfather was the head of Tyrian Lodge, South Street, in Eastbourne, a stones throw away from the then police HQ in Grove Road. What a coincidence! We wonder if Mr Wales had any masonic chums in this lodge from his time at Eastbourne College?
MALICIOUS PROSECUTION
As to the cost of obtaining a costs award, it is necessary to look not only at the cost of obtaining a costs award, but also the cost of recovering the costs of a costs award, especially if the purpose of obtaining the costs award is not to recover costs, but to cause other harm to the opponent.
If it is demonstrated that the cost of obtain an award for a relatively minor sum exceeded the cost of the award, the, or any court must then take into consideration the costs of recovery, which when stacked with the cost of the award is cumulative, in the context of motive for pursuing an award in such manner.
Should it transpire that the cost of recovery is also a significant factor, then following through with recovery proceedings simply for the sake of harassing the subject, may be viewed by a court as malicious, or with malicious intent. Such costs may include the costs of those instructed to pursue the costs, such as a series of collection agents or bailiffs.
FIGHTING DIRTY
The trouble with fighting dirty is that airing ones grimy laundry in public does no side any favours in the long run. We have now obtained copy of a transcript of an audio recording of the annual general meeting of Bluebird Electric Limited held in Chichester in the offices of Spofforths on the 28th of July 2000. It is alleged by Mr Kruschandl, that the first thing Mr Wales did when confronted with this transcript, was to threaten him should he publish it. The question is why would anyone threaten another person for simply revealing a verbatim copy of a conversation between two shareholders of a company at an AGM, unless there was something in that conversation that was a revelation in one measure or another.
WHO WE WERE FIGHTING AGAINST FROM 1939 TO 1945
Adolf Hitler

German Chancellor

Herman Goring

Reichsmarschall

Heinrich Himmler

Reichsführer

Joseph Goebbels

Reich Minister

Philipp Bouhler SS

NSDAP Aktion T4

Dr Josef Mengele

Physician Auschwitz

Martin Borman

Schutzstaffel

Adolph Eichmann

Holocaust Architect

Rudolf Hess

Commandant

Erwin Rommel

The Desert Fox

Karl Donitz

Kriegsmarine

Albert Speer

Nazi Architect
WEALDEN'S OFFICERS FROM 1983 TO 2018
Ian Kay

Assist. Dist. Plan.

Charles Lant

Chief Executive

Victorio Scarpa

Solicitor

Timothy Dowsett

Dist. Secretary

Christine Nuttall

Solicitor

David Phillips

Planning

Daniel Goodwin

Chief Executive

J Douglas Moss

Policy

Kelvin Williams

Dist. Planning

Trevor Scott

Solicitor

David Whibley

Enforcement

Christine Arnold

Planning

Beverley Boakes

Legal Secretary

Patrick Coffey

Planning

Julian Black

Planning

Ashley Brown

Dist. Planning

Derek Holness

Former CEO
LINKS
http://www.nextgreencar.com/news/6264/Bluebird-to-officially-unveil-two-new-EVs
http://www.telegraph.co.uk/motoring/news/10262211/Bluebird-reinvented-as-electric-coupe.html
Billionaire bluebird electric powered vehicles mean and green
http://www.billionaire.com/cars/250/bluebird-electricpowered-vehicles-mean-and-green
http://www.ipo.gov.uk/types/tm/t-os/t-find/t-challenge-decision-results/o40011.pdf
http://en.wikipedia.org/wiki/Strategic_lawsuit_against_public_participation
http://www.ipo.gov.uk/types/tm/t-os/t-find/t-challenge-decision-results/o40011.pdf
http://www.uncjin.org/Laws/prisrul.htm
http://en.wikipedia.org/wiki/Deed
Wikipedia - strategic_lawsuit_against_public_participation
http://www.autoexpress.co.uk/car-news/64955/bluebird-launch-electric-dc50-sportscar
Auto Express bluebird launch electric dc50 sports car
http://www.classicdriver.com/en/article/autos/electric-blue-50-electric-bluebird-sports-cars-go-sale
Classic Driver 50 electric bluebird sports cars go sale
Car Magazine Bluebird DC50 electric tribute to Land Speed Record legend
http://www.evo.co.uk/news/evonews/290290/bluebird_dc50_sports_car_and_electric_racer_announced.html
http://www.evo.co.uk bluebird_dc50_sports_car_and_electric_racer_announced
http://www.aldnews.co.uk/eInsight/index.php/ald-article-list/5020-bluebird-name-returns-on-electric-sports-car
http://www.autoblog.com bluebird to launch electric sports and race cars
http://www.autoblog.com/2013/07/08/bluebird-to-launch-electric-sports-and-race-cars/
http://www.aldnews.co.uk bluebird name returns on electric sports car
http://www.bbc.com/autos/story/20130806-bluebird-recharged
http://www.bbc.com bluebird recharged
http://cars.uk.msn.com new bluebird british electric sports car
http://cars.uk.msn.com/news/new-bluebird-british-electric-sports-car
http://cars.uk.msn.com delta motorsport e 4 coupe review
http://cars.uk.msn.com/reviews/delta-motorsport-e-4-coup%C3%A9-review
http://www.autocar.co.uk/car-news/new-cars/bluebird-reveal-sports-car-and-electric-racer-september
http://www.autocar.co.uk/car-news/new-cars/bluebird-reveal-sports-car-and-electric-racer-september
Autovolt Magazine new bluebird electric and formula e cars
http://www.topspeed.com/cars/others/2014-bluebird-dc50-ar159226.html
http://www.autovolt-magazine.com/2013/07/new-bluebird-electric-and-formula-e-cars/
Car Scoops bluebird goes from land speed records
http://www.carscoops.com/2013/07/bluebird-goes-from-land-speed-records.html
Bluebird reinvented electric coupe
Elettrica Bluebird esordio sorpresa Motoexpo Beaulieu
Next Green Car Bluebird to unveil two new EVs
http://cleantechnica.com/2013/08/28/bluebird-electric-supercar-coming-next-month/
Clean Technica Bluebird electric supercar coming next month
Blue is a very popular color for cars at the moment as you may agree from this small sample of the market. These are some nicely finished cars, all of which are production models (or limited production designs), save for the MCV6 electric concept car (2nd row). It is a little known fact that certain shades of blue attract common English flies. Why that might be is unknown. It could be paint formulation, or it could be something to do with the light spectrum. If you have any scientific evidence in support of any theory, we'd appreciate a heads up. Take care then when deciding to paint a car blue, that you use a pantone that is more an insect repellent. Modern production cars use metallic, chrome effect and pearlescent paints that do not appear to suffer the dilemma.