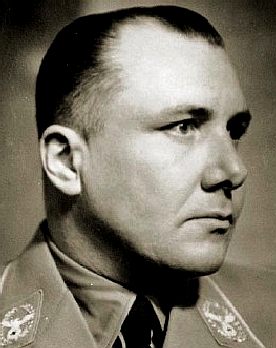 MARTIN BORMAN
Martin Bormann (17 June 1900 – 2 May 1945) was a prominent official in Nazi Germany as head of the Nazi Party Chancellery. He gained immense power by using his position as Adolf Hitler's private secretary to control the flow of information and access to Hitler. He succeeded Hitler as Party Minister of the National Socialist German Workers' Party after Hitler's suicide on 30 April 1945.

Bormann joined a paramilitary Freikorps organisation in 1922 while working as manager of a large estate. He served nearly a year in prison as an accomplice to his friend Rudolf Höss (later commandant of Auschwitz concentration camp) in the murder of Walther Kadow. Bormann joined the Nazi Party in 1927 and the Schutzstaffel (SS) in 1937. He initially worked in the party's insurance service, and transferred in July 1933 to the office of Deputy Führer Rudolf Hess, where he served as chief of staff.

Bormann used his position to create an extensive bureaucracy and involve himself as much as possible in the decision making. He gained acceptance into Hitler's inner circle, and accompanied him everywhere, providing briefings and summaries of events and requests. He began acting as Hitler's personal secretary on 12 August 1935. Bormann assumed Hess' former duties, with the title of Head of the Parteikanzlei (Party Chancellery), after Hess' solo flight to Britain on 10 May 1941 to seek peace negotiations with the British government. He had final approval over civil service appointments, reviewed and approved legislation, and by 1943 had de facto control over all domestic matters. Bormann was one of the leading proponents of the ongoing persecution of the Christian churches and favoured harsh treatment of Jews and Slavs in the areas conquered by Germany during World War II.

Martin Bormann returned with Hitler to the Führerbunker in Berlin on 16 January 1945 as the Red Army approached the city. After Hitler committed suicide, Bormann and others attempted to flee Berlin on 2 May to avoid capture by the Soviets. Bormann probably committed suicide on a bridge near Lehrter station. The body was buried nearby on 8 May 1945, but was not found and confirmed as Bormann's until 1972; the identification was reaffirmed in 1998 by DNA tests. Bormann was tried in absentia by the International Military Tribunal in the Nuremberg trials of 1945 and 1946. He was convicted of war crimes and crimes against humanity and sentenced to death by hanging.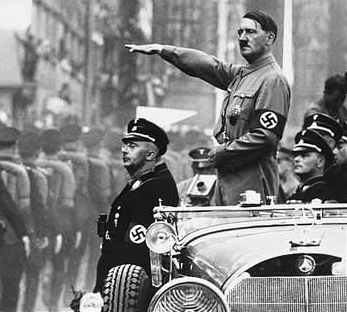 Adolf Hitler and chum Heinrich Himmler [Allegedly, Adolf Hitler did not die in that bunker incident C.1949. Apparently, he was fired into England, strapped to a V1 rocket, leaving behind his false teeth. He parachuted into Wealden that night hoping to meet some deviants, who'd arranged a new identity for their fallen comrade. Apparently, he landed in Crowborough, shaved off his moustache and was mistaken for a council official, whereupon he infiltrated the ranks of the local council and trained them how to use his terror tactics to control the peasant civilians]
Victorio Scarpa, David Whibley, Julian Black, Daniel Goodwin, Christine Arnold
Christine Nuttall, David Phillips, Douglas Moss, Ian Kay, Charles Lant
Abbott Trevor - Alcock Charmain - Ditto - Arnold Chris (Christine) - Barakchizadeh Lesley - Paul Barker - Bending Christopher
Black Julian - Boakes Beverley - Bradshaw Clifford - Brigginshaw Marina - Brown Ashley - Coffey Patrick - Douglas Sheelagh
Dowsett Timothy - Flemming Mike - Forder Ralph - Garrett Martyn - Goodwin Daniel - Henham J - Holness Derek
Hoy Thomas - Johnson Geoff - Kavanagh Geoff - Kay Ian - Kay I. M. - Barbara Kingsford - Lant Charles - Mercer Richard
Mileman Niall - Moon Craig - Moss Douglas, J. - Nuttall Christine - Pettigrew Rex - Phillips David - Scarpa Victorio - Scott Trevor
Kevin Stewart - Wakeford M. - Whibley David - White, George - Williams Kelvin - Wilson Kenneth - White Steve
LINKS & REFERENCE
Adolf Hitler

German Chancellor

Herman Goring

Reichsmarschall Luftwaffe

Heinrich Himmler

Reichsführer Schutzstaffel

Joseph Goebbels

Reich Minister Propaganda

Philipp Bouhler SS

NSDAP Aktion T4

Dr Josef Mengele

Physician Auschwitz

Martin Borman

Schutzstaffel

Adolph Eichmann

Holocaust Architect

Erwin Rommel

The Desert Fox

Rudolf Hess

Auschwitz Commandant

Karl Donitz

Submarine Commander

Albert Speer

Nazi Architect