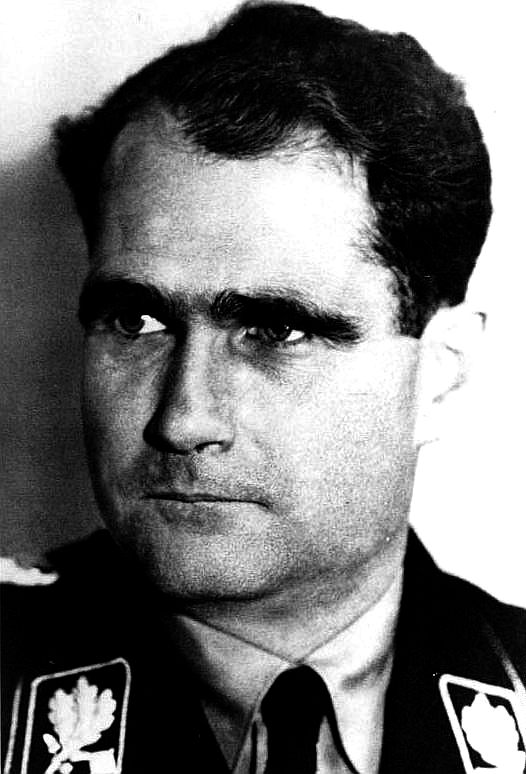 Rudolf Hess
In 1919, Rudolf Hess enrolled in the University of Munich, where he studied geopolitics under Karl Haushofer, a proponent of the concept of Lebensraum ("living space"), which later became one of the pillars of Nazi Party (NSDAP) ideology.
Hess joined the NSDAP on 1 July 1920, and was at Hitler's side on 8 November 1923 for the Beer Hall Putsch, a failed Nazi attempt to seize control of the government of Bavaria. Whilst serving time in jail for this attempted coup, Hess helped Hitler write his book, Mein Kampf, which became a foundation of the political platform of the NSDAP.

After the Nazi seizure of power in 1933, Hess was appointed Deputy Führer of the NSDAP and received a post in Hitler's cabinet. He was the third most powerful man in Germany, behind only Hitler and Hermann Göring. In addition to appearing on Hitler's behalf at speaking engagements and rallies, Hess signed into law much of the legislation, including the Nuremberg Laws of 1935, which stripped the Jews of Germany of their rights in the lead-up to the Holocaust.

Hess continued to be interested in aviation, learning to fly the more advanced aircraft that were coming into development at the start of World War II. On 10 May 1941 he undertook a solo flight to Scotland, where he hoped to arrange peace talks with the Duke of Hamilton, whom he believed to be prominent in opposition to the British government. Hess was immediately arrested on his arrival and was held in British custody until the end of the war, when he was returned to Germany to stand trial in the Nuremberg Trials of major war criminals in 1946.
During much of the trial, he claimed to be suffering from amnesia, but later admitted this was a ruse. Hess was convicted of crimes against peace and conspiracy with other German leaders to commit crimes and was transferred to Spandau Prison in 1947, where he served a life sentence. Repeated attempts by family members and prominent politicians to win him early release were blocked by the Soviet Union. Still in custody in Spandau, he died by suicide in 1987 at the age of 93. After his death, the prison was demolished to prevent it from becoming a neo-Nazi shrine.
RUDOLF HOES
Rudolf Höss (Höß, Hoeß or Hoess; 25 November 1901 – 16 April 1947) was a Nazi German SS-Obersturmbannführer (lieutenant colonel) and the longest-serving commandant of Auschwitz concentration and extermination camp in World War II. He tested and carried into effect various methods to accelerate Hitler's plan to systematically exterminate the Jewish population of Nazi-occupied Europe, known as the Final Solution. On the initiative of one of his subordinates, SS-Hauptsturmführer (captain) Karl Fritzsch, Höss introduced pesticide Zyklon B containing hydrogen cyanide to the killing process, thereby allowing SS soldiers at Auschwitz to kill 2,000 people every hour.

Höss joined the Nazi Party in 1922 and the SS in 1934. From 4 May 1940 to November 1943, and again from 8 May 1944 to 18 January 1945, he was in charge of Auschwitz where more than a million people were killed before the defeat of Germany. He was hanged in 1947 following a trial in Warsaw. During his imprisonment in Poland, at the request of the Polish authorities, he wrote a book, which was released in English under the title Commandant of Auschwitz: The Autobiography of Rudolf Hoess. It consists of two parts, one about his own life and the other one deals with other SS-men with whom he had become acquainted, mainly Heinrich Himmler and Theodor Eicke, but several others as well.


Rudolf Walter Richard Hess (Heß in German; 26 April 1894 – 17 August 1987), was a prominent politician in Nazi Germany. Appointed Deputy Führer to Adolf Hitler in 1933, he served in this position until 1941, when he flew solo to Scotland in an attempt to negotiate peace with the United Kingdom during World War II. He was taken prisoner and eventually was convicted of crimes against peace, serving a life sentence until his suicide.

Hess enlisted as an infantryman at the outbreak of World War I. He was wounded several times over the course of the war and was awarded the Iron Cross, 2nd class, in 1915. Shortly before the war ended, Hess enrolled to train as an aviator, but he saw no action in this role. He left the armed forces in December 1918 with the rank of Leutnant der Reserve.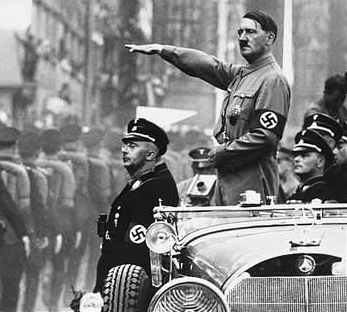 Adolf Hitler and chum Heinrich Himmler [Allegedly, Adolf Hitler did not die in that bunker incident C.1949. Apparently, he was fired into England, strapped to a V1 rocket, leaving behind his false teeth. He parachuted into Wealden that night hoping to meet some deviants, who'd arranged a new identity for their fallen comrade. Apparently, he landed in Crowborough, shaved off his moustache and was mistaken for a council official, whereupon he infiltrated the ranks of the local council and trained them how to use his terror tactics to control the peasant civilians]
Victorio Scarpa, David Whibley, Julian Black, Daniel Goodwin, Christine Arnold
Christine Nuttall, David Phillips, Douglas Moss, Ian Kay, Charles Lant
Abbott Trevor - Alcock Charmain - Ditto - Arnold Chris (Christine) - Barakchizadeh Lesley - Paul Barker - Bending Christopher
Black Julian - Boakes Beverley - Bradshaw Clifford - Brigginshaw Marina - Brown Ashley - Coffey Patrick - Douglas Sheelagh
Dowsett Timothy - Flemming Mike - Forder Ralph - Garrett Martyn - Goodwin Daniel - Henham J - Holness Derek
Hoy Thomas - Johnson Geoff - Kavanagh Geoff - Kay Ian - Kay I. M. - Barbara Kingsford - Lant Charles - Mercer Richard
Mileman Niall - Moon Craig - Moss Douglas, J. - Nuttall Christine - Pettigrew Rex - Phillips David - Scarpa Victorio - Scott Trevor
Kevin Stewart - Wakeford M. - Whibley David - White, George - Williams Kelvin - Wilson Kenneth - White Steve
LINKS & REFERENCE
Adolf Hitler

German Chancellor

Herman Goring

Reichsmarschall Luftwaffe

Heinrich Himmler

Reichsführer Schutzstaffel

Joseph Goebbels

Reich Minister Propaganda

Philipp Bouhler SS

NSDAP Aktion T4

Dr Josef Mengele

Physician Auschwitz

Martin Borman

Schutzstaffel

Adolph Eichmann

Holocaust Architect

Erwin Rommel

The Desert Fox

Rudolf Hess

Auschwitz Commandant

Karl Donitz

Submarine Commander

Albert Speer

Nazi Architect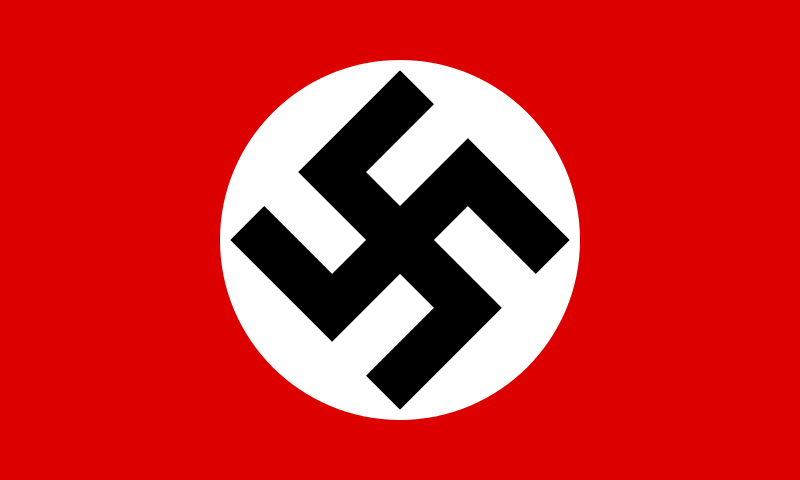 This site is free of © Copyright except where specifically stated 1997 - 2021. Any person may download, use and quote any reference or any link, and is guaranteed such right to freedom of information and speech under the Human Rights and Freedom of Information Acts. However, be aware that we cannot be held liable for the accuracy of the information provided. All users should therefore research matters for themselves and seek their own legal advice and this information is provided simply by way of a guide. Horse Sanctuary Trust UK All trademarks herby acknowledged.
This site contains copyrighted material the use of which has not always been specifically authorized by the copyright owner. We are making such material available in our efforts to advance understanding of environmental, political, human rights, economic, scientific, and social justice issues, etc. We believe this constitutes a 'fair use' of any such copyrighted material as provided for in section 107 of the US Copyright Law. In accordance with Title 17 U.S.C. Section 107, the material on this site is distributed without profit to those who have expressed a prior interest in receiving the included information for research and educational purposes. FAIR USE NOTICE