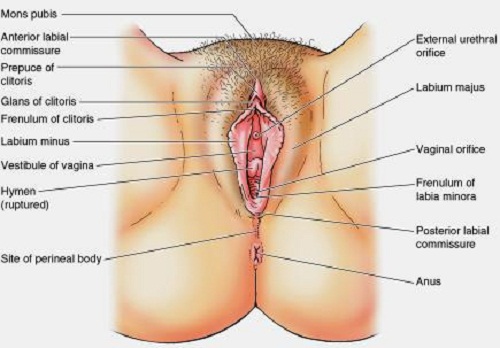 In the case we are following where a man was convicted of rape of a young girl, apart from the fact that the girl was "tightly closed", there was also no signs of tearing of the fourchette, or other trauma associated with digital penetration (without foreplay = dry). The girl claimed regular assaults of this type that would have produced scars and the like in 83% of cases, but there were no scars, a finding which is clearly inconsistent with her claims.
An engagement to be married is a pre marital agreement between couples aiming for a wedding in the not too distant future. To be living together and indulging in sexual activity was held to be living in sin. This is an outdated concept and what with the complications of calling off an engagement that leads to ill feeling on the part of the abandoned party, can have serious consequences now that the Sexual Offence Act 2003 has reversed the burden of proof, making any man accused of rape, guilty on entering a courtroom, rather than innocent until proven guilty.
What kind of Nazi like eugenics programme was David Blunkett thinking of. His law gives any woman who wants to take revenge on a partner for jilting her, carte blanche. All she has to do is fabricate a reasonably convincing story and the cops will help her to perfect it with some naughty coaching. It is basically a witch hunt.
Our advice is not to get engaged in the first place. Secondly, carry a tape recorded at all times and record permission before you indulge in sexual intercourse. Is she worth it?
Further down the line you have division of assets and bucket loads of legal expenses. Then there is alimony and child visiting rights. Wow!
In an age where you can buy a fully functional sex doll, should you not be considering one of the voluptuous full size models complete with a full featured vagina. Otherwise, keep in in your pants.
SINFUL REGIME 1939 TO 1945
Adolf Hitler

German Chancellor

Herman Goring

Reichsmarschall

Heinrich Himmler

Reichsführer

Joseph Goebbels

Reich Minister

Philipp Bouhler SS

NSDAP Aktion T4

Dr Josef Mengele

Physician Auschwitz

Martin Borman

Schutzstaffel

Adolph Eichmann

Holocaust Architect

Rudolf Hess

Commandant

Erwin Rommel

The Desert Fox

Karl Donitz

Kriegsmarine

Albert Speer

Nazi Architect
CIVIL SERVANTS INVESTIGATED FOR POSSIBLE ISSUES 1983 TO 2018
Ian Kay

Assist. Dist. Plan.

Charles Lant

Chief Executive

Victorio Scarpa

Solicitor

Timothy Dowsett

Dist. Secretary

Christine Nuttall

Solicitor

David Phillips

Planning

Daniel Goodwin

Chief Executive

J Douglas Moss

Policy

Kelvin Williams

Dist. Planning

Trevor Scott

Solicitor

David Whibley

Enforcement

Christine Arnold

Planning

Chris Bending

District Planning

Beverley Boakes

Legal Secretary

Patrick Coffey

Planning

Julian Black

Planning

Ashley Brown

Dist. Planning

Derek Holness

Former CEO
Abbott Trevor - Alcock Charmain - Ditto - Arnold Chris (Christine) - Barakchizadeh Lesley - Paul Barker - Bending Christopher
Black Julian - Boakes Beverley - Bradshaw Clifford - Brigginshaw Marina - Brown Ashley - Coffey Patrick - Douglas Sheelagh
Dowsett Timothy - Flemming Mike - Forder Ralph - Garrett Martyn - Goodwin Daniel - Henham J - Holness Derek
Hoy Thomas - Johnson Geoff - Kavanagh Geoff - Kay Ian - Kay I. M. - Barbara Kingsford - Lant Charles - Mercer Richard
Mileman Niall - Moon Craig - Moss Douglas, J. - Nuttall Christine - Pettigrew Rex - Phillips David - Scarpa Victorio - Scott Trevor
Kevin Stewart - Wakeford Michael. - Whibley David - White, George - Williams Kelvin - Wilson Kenneth - White Steve